Last year, a developer of some of my favorite games from many years ago released PowerWash Simulator, published by Square Enix, on Steam and Xbox platforms including Game Pass. There are tons of simulator games out there, with more releasing daily, but something about PowerWash Simulator struck a chord with many people including myself. I featured it as one of the best Steam Deck games of 2022. Today, it sees a collaboration with a legendary game with the PowerWash Simulator Midgar Special Pack bringing in iconic Final Fantasy VII vehicles, locations, and more as levels. In the lead up to today's launch, I spoke to Futurlab lead designer Dan Chequer about how the team decided to do PowerWash Simulator, the studio's future, a potential iOS version, gyro suppoer, the response to the new ports, and more.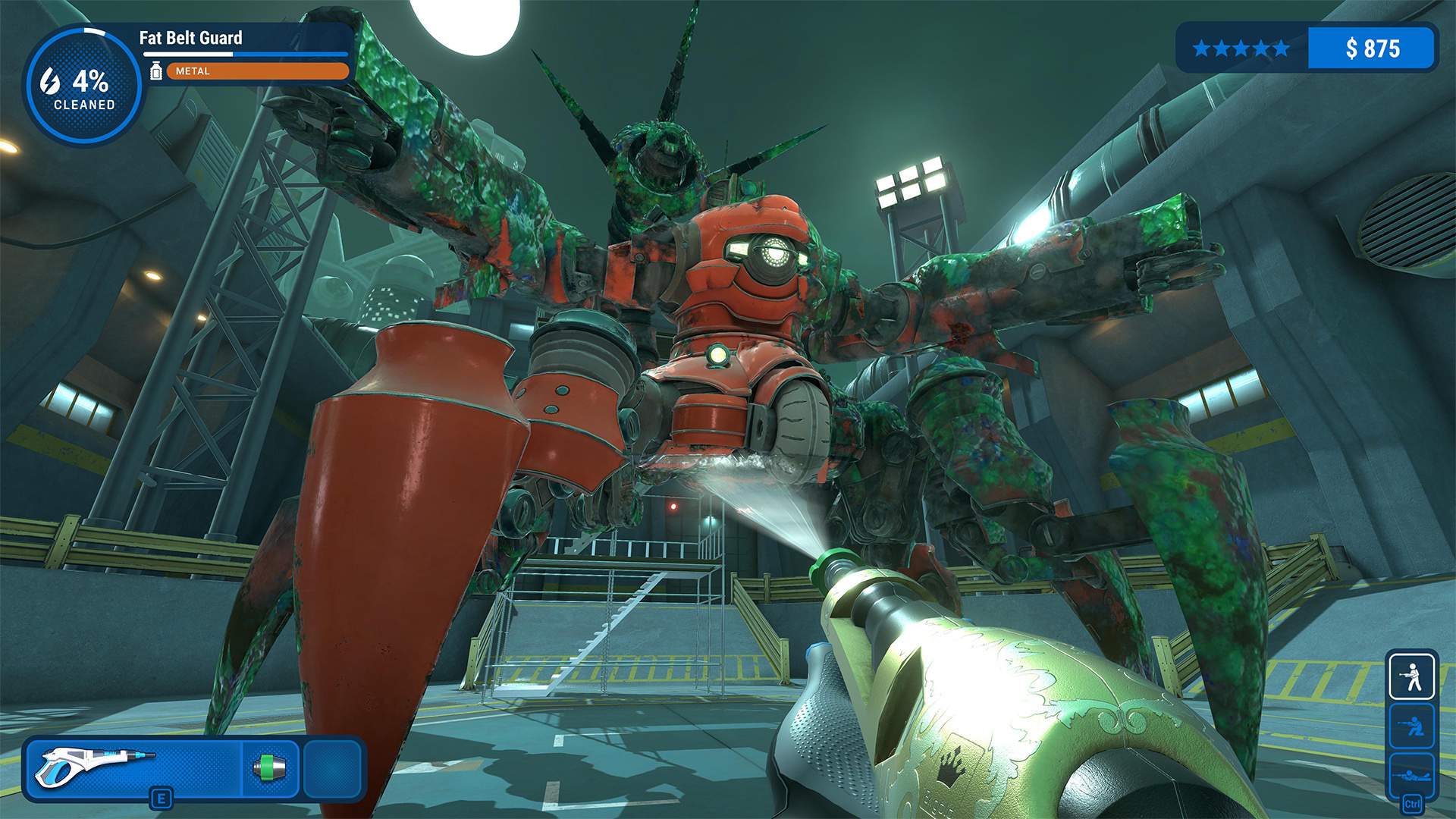 TouchArcade: I've been a fan of FuturLab from the days of Surge and Coconut Dodge. How has the studio evolved over the years with its size and how it approaches games today?
Dan Chequer: I joined FuturLab in 2020, but had always been aware of FuturLab since their early games. They had gradually scaled up to be a team of around 20 or so people when work on PowerWash Simulator started.
I joined at the start of the game's pre-production phase, and during my interview I asked the company founder James Marsden about the eclectic selection of games they had made over the company's (then) 16 years. He said they have always been genre-agnostic and simply follow where the good ideas take them.
Since the success of PowerWash Simulator the size of the team has increased significantly, but that open and exploratory spirit is very much alive.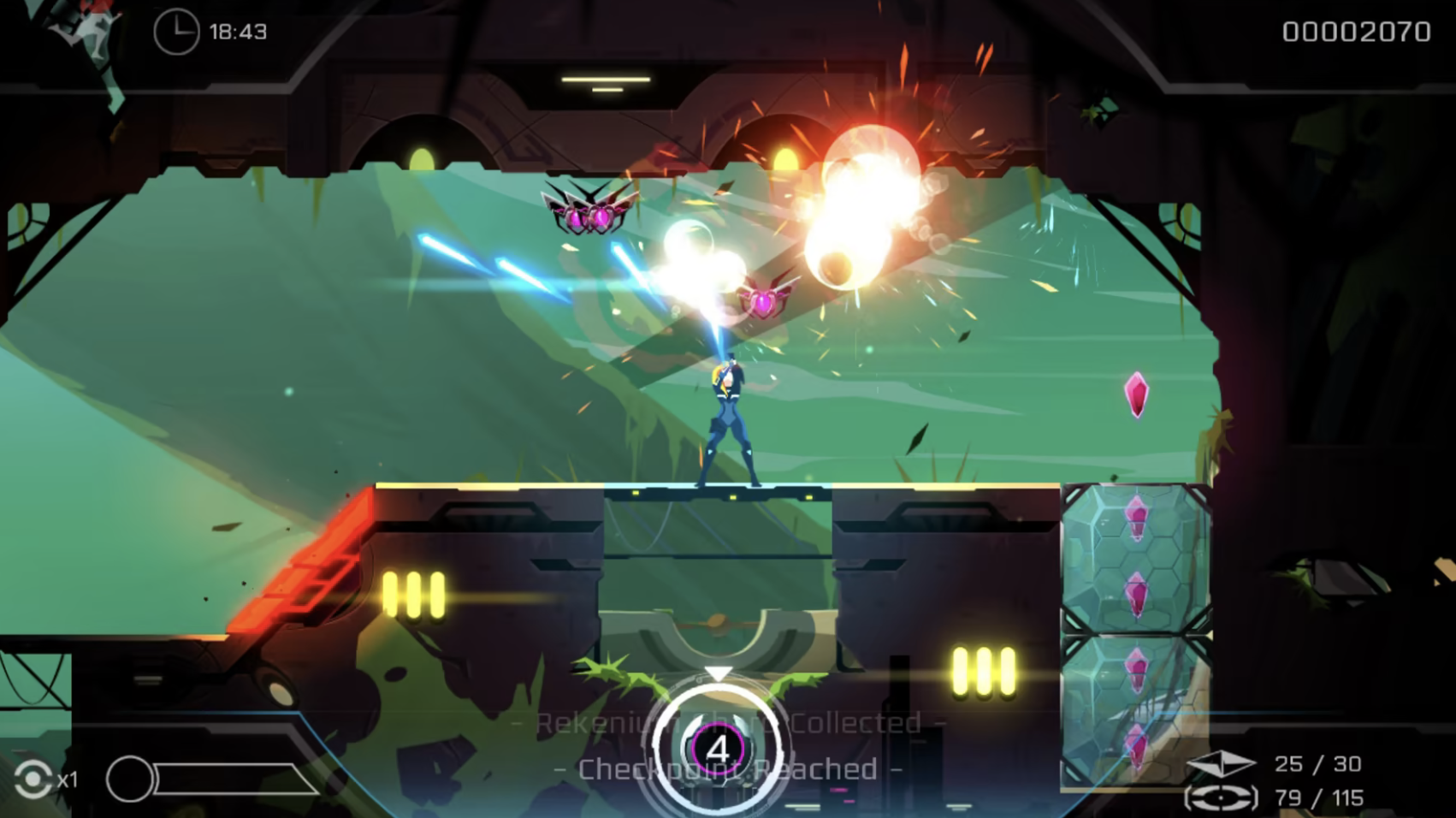 TA: Velocity 2X is a superb game, but it seems like PowerWash Simulator is the biggest success for the studio. How did the team decide to tackle something like this?
DC: There was a future projects brainstorm meeting and one of the points on the agenda was to come up with ideas for a first-person shooter that could be attempted with a team as small as FuturLab. It had also been noticed that one simulator game or another always seemed to be high up in the Steam charts.
During the meeting, James made a throwaway comment about perhaps making a FPS pressure washer game, which was immediately and very enthusiastically leapt upon by the Development Director Kirsty Rigden, who had just so happened to have been recently watching a series of short powerwashing videos online.
A prototype was made soon after, which was released on itch.io to a warm reception from those who played it in 2020. This gave FuturLab the confidence to take the idea into pre-production.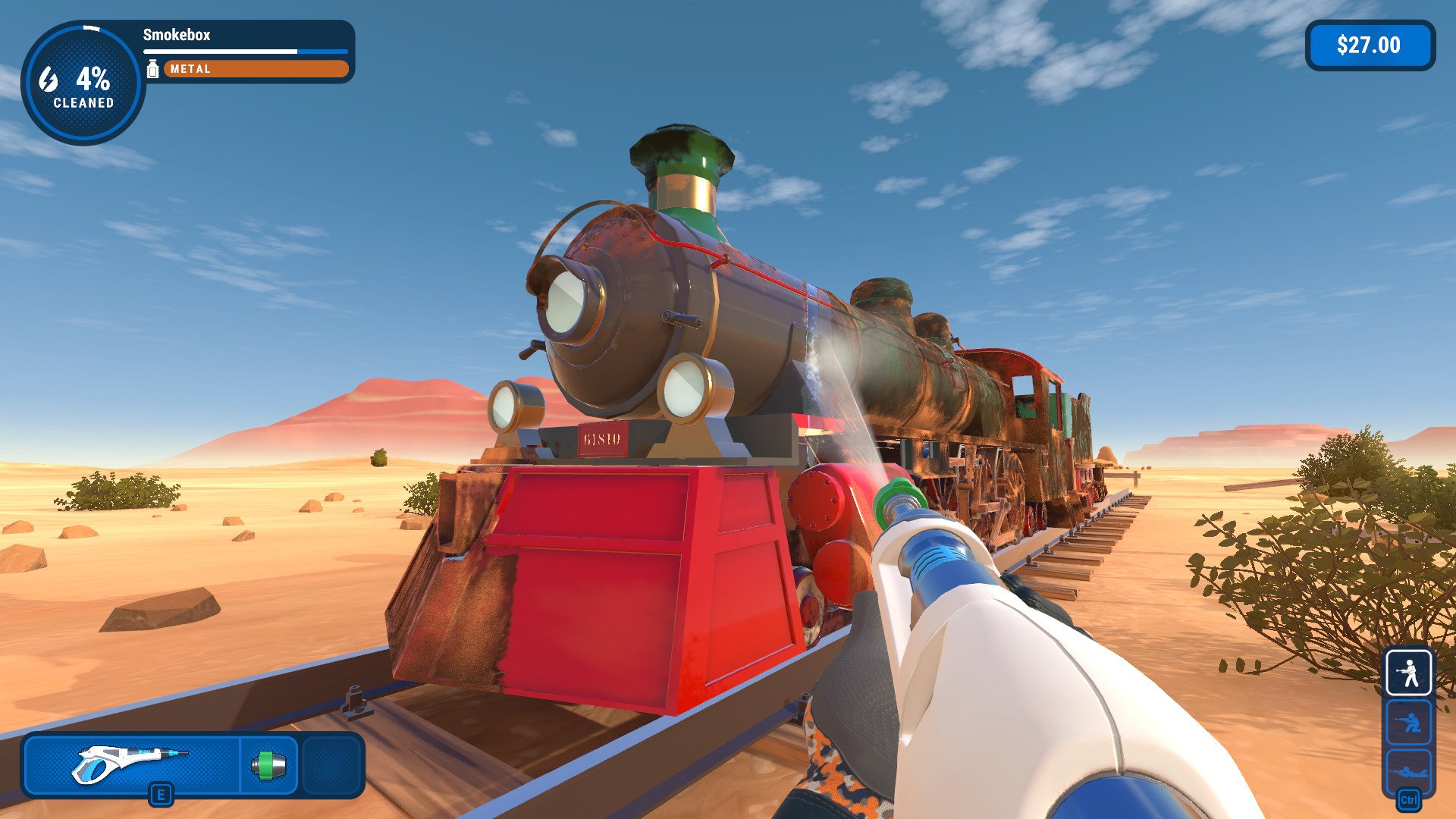 TA: What has been the highlight of the PowerWash Simulator development cycle so far?
DC: Our initial Early Access release was definitely a highlight for me. We knew we had something fun, but we had no idea how broad of an appeal it would have. When we started to see people enjoying it on Twitch and YouTube it was very rewarding, and its continued popularity on such platforms has been incredible to see.
Keeping up to date with player reviews on Steam also continues to be very enjoyable, and a huge motivation while making the new content. It's really fulfilling to read what a positive impact PowerWash Simulator has had for so many people.
The whole development has honestly been a joy, the team is incredible, and we're thrilled that people are enjoying the game so much!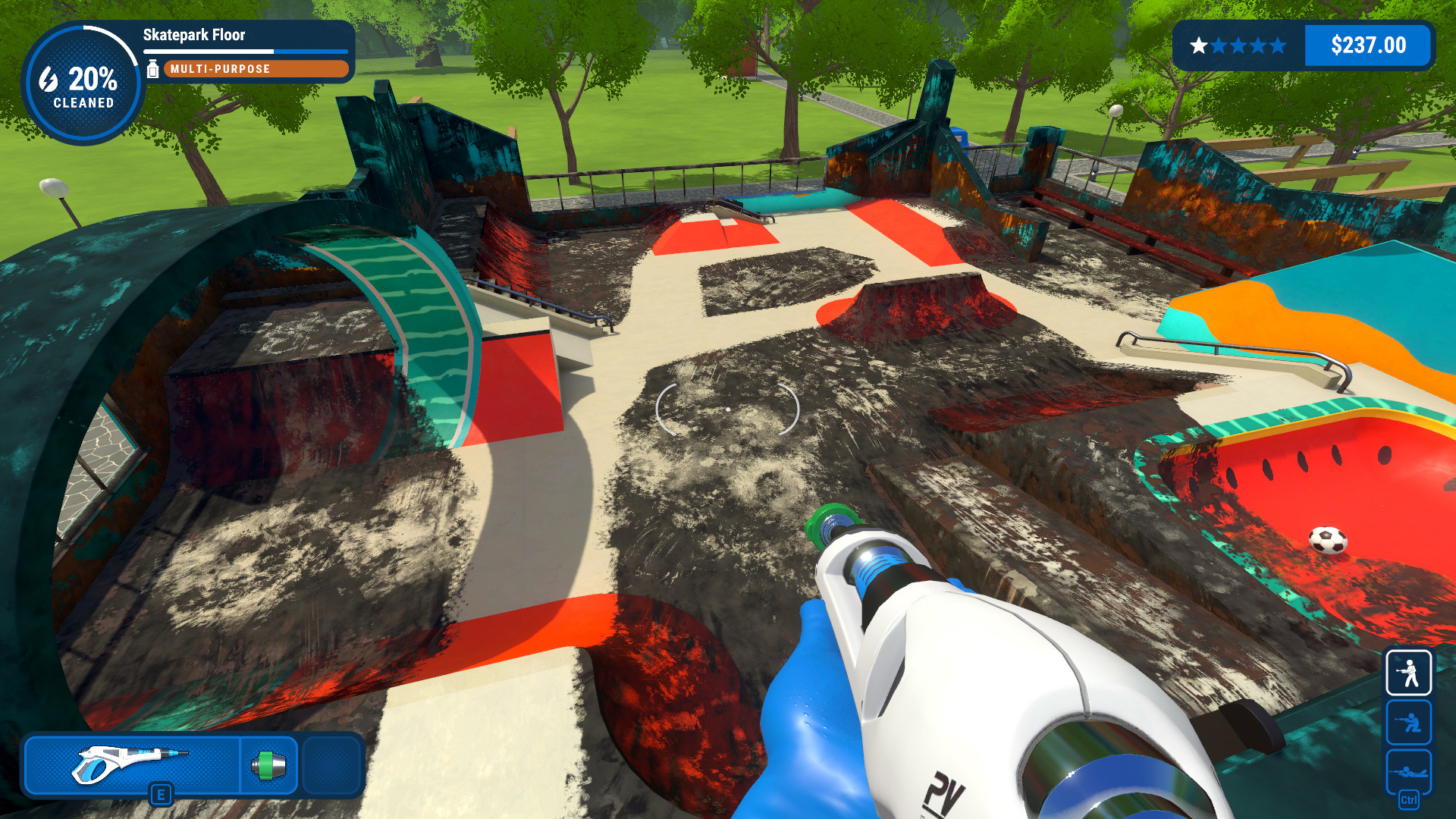 TA: How has the response been to the game's new platform launches last month?
DC: It has been fantastic to get the game into a whole new audience's hands with both the Nintendo Switch and PlayStation 4/5 launches. We are always blown away by the response of the community and it has been fun to see first time players discover the story and new content.
TA: There are tons of simulator games out there, but PowerWash Simulator managed to get its hooks in me and many others unlike anything else. How did FuturLab work on making the core gameplay loop this good?
DC: One of the advantages that PowerWash Simulator has over many, if not most, simulator games is that its theme is also its primary action, so the core gameplay is exactly what the player expects it to be from the title.
The washing also happens to be very input-intensive to perform, with almost constant positive feedback. Our aim was to emphasize that feedback to that as we could, maximizing the contrast between the dirty and clean surfaces, and making sure that the act of cleaning felt powerful and exaggerated while still seeming plausible. We also ensured that the objects to clean were as varied in shape and size as possible.
Breaking the objects down into sections that are meaningful to the player is also a huge part of the design process when creating a job for the game. The white flash and audible 'Ding!' that accompanies each of those sections being complete is an incredibly satisfying mini-payoff that permeates the experience.
With a core mechanic this strong, our main focus for the design was to keep everything else out of the way of the player. For example, the story is an almost optional element delivered via text messages that can happily be ignored if the player isn't interested (although we hope they are, as we put a lot of time and love into it!).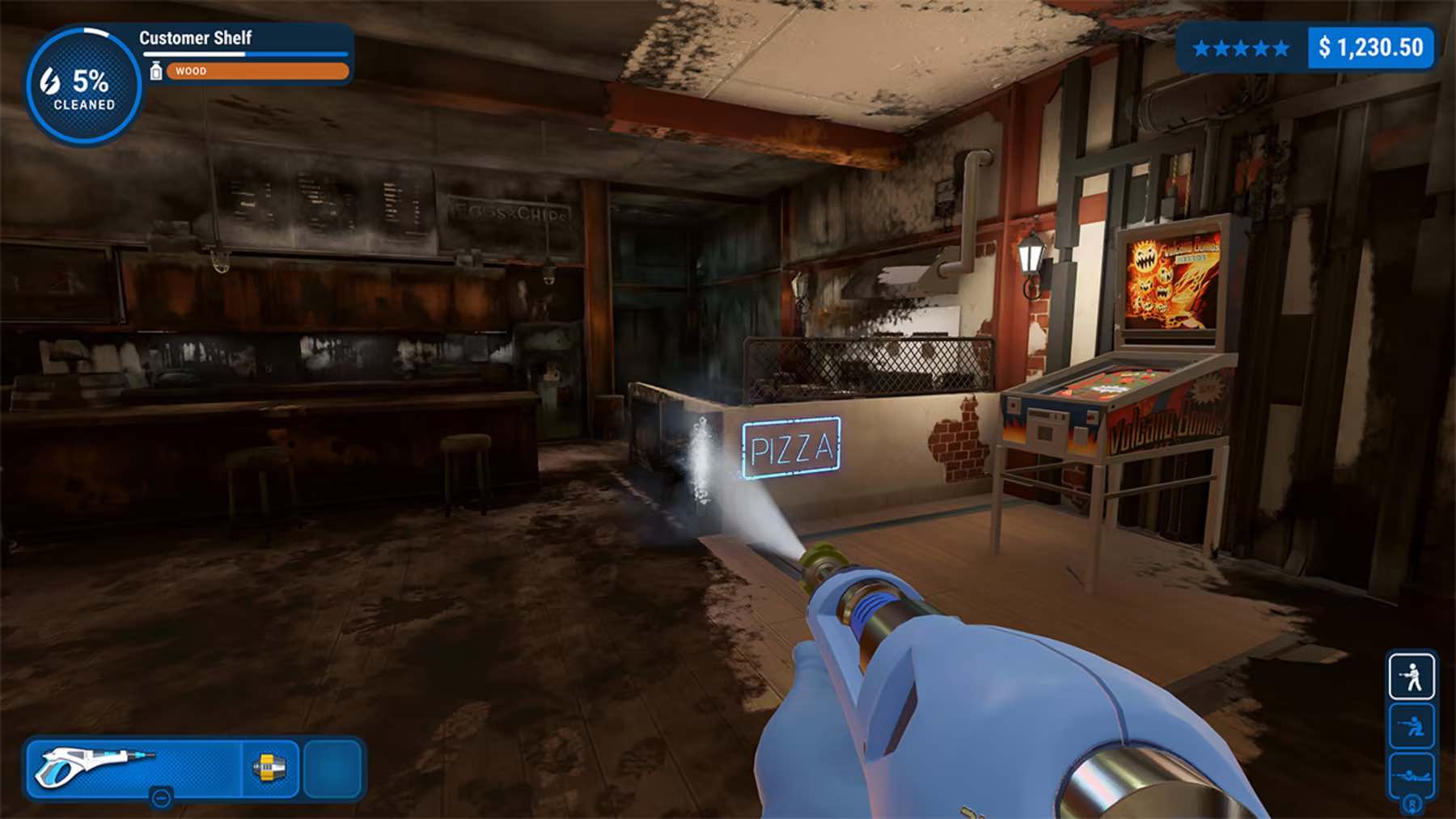 TA: The Tomb Raider DLC was a nice surprise, but the Midgar Special Pack is superb in every way. How was it working on this beloved Final Fantasy game's iconic vehicles, locations, and more?
DC: Whenever you work with another company's IP there is a huge sense of responsibility, and we certainly felt that with both the Tomb Raider and Midgar packs, both of which are beloved by fans and our own team alike. It's a bit of a dream for us all really – we joked it would be great to one day work such packs in when we started work on the game, and its success has meant that these have now become a reality!
The first time I saw the Scorpion Sentinel in PowerWash Simulator was a big moment that really embodied how far the game had come. It's amazing to be clambering over these vehicles and locations from a first-person perspective, and we had a lot of fun identifying all the different components that they are consisted of.
Tying the story and cleaning jobs into the original timeline was also a great challenge. We hope players feel we did the crossover justice!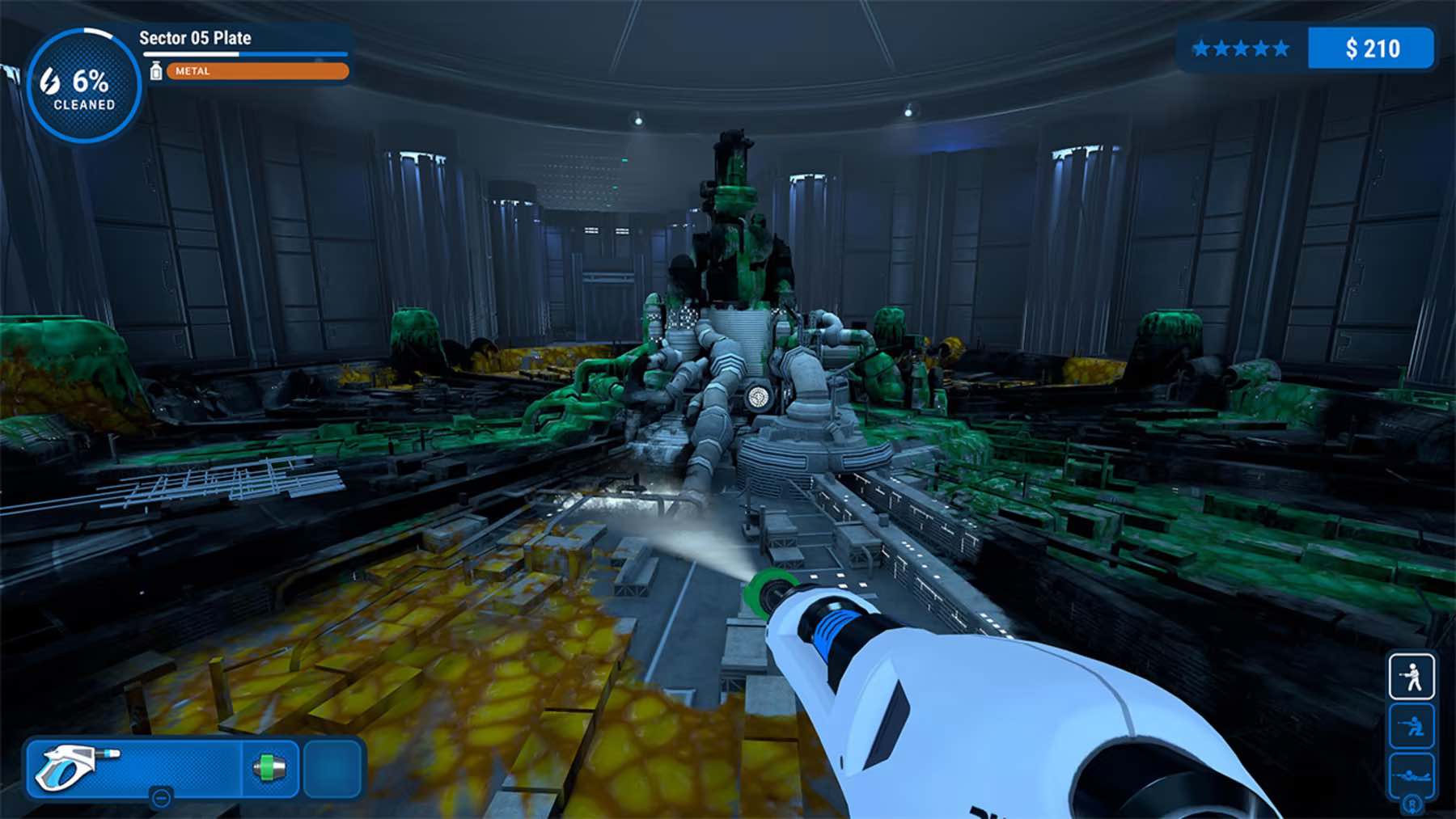 TA: How much input did the team in Japan have on this DLC?
DC: Everything from the original job concepts, to the models and the story was run past and approved by the team in Japan. It was always very reassuring to get their critiques and approval of what we were making. They had fantastic advice, suggestions and feedback throughout the pack's creation that ensured the Midgar pack became the authentic experience that it is!
TA: PowerWash Simulator shines on Steam Deck thanks to gyro controls. Will we see those implemented on PS5 and Switch in the future?
DC: They are being investigated currently, and we will be revealing more when it's ready.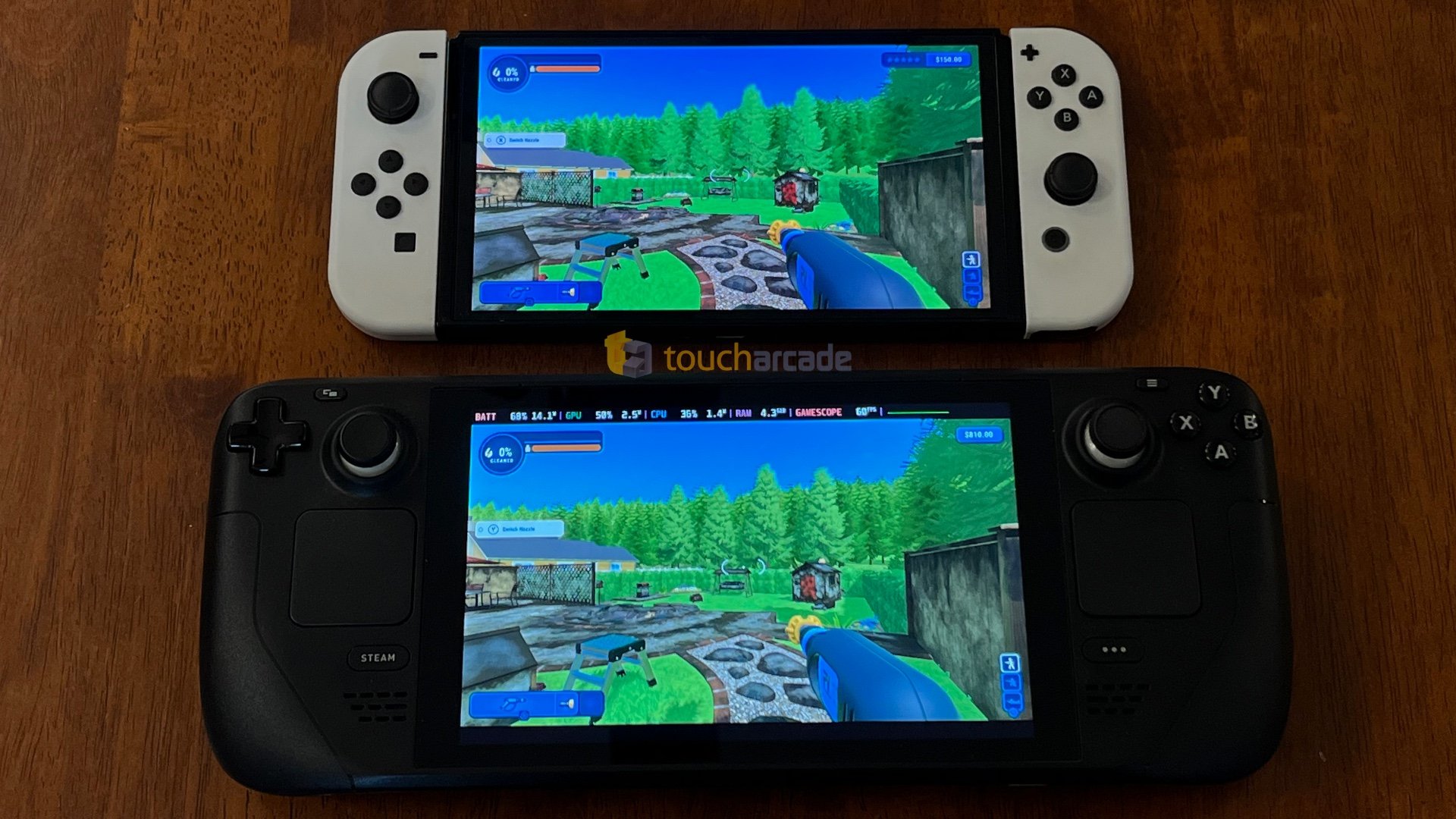 TA: What about DualSense haptics and adaptive trigger support on PS5?
DC: We're also investigating these features. More details will be coming soon!
TA: There's an in-game tablet, and we are primarily a site covering mobile games so I want to know if there's any possibility of PowerWash Simulator coming to iOS and iPadOS?
DC: There are currently no official plans, but we'll let everyone know if that ever changes.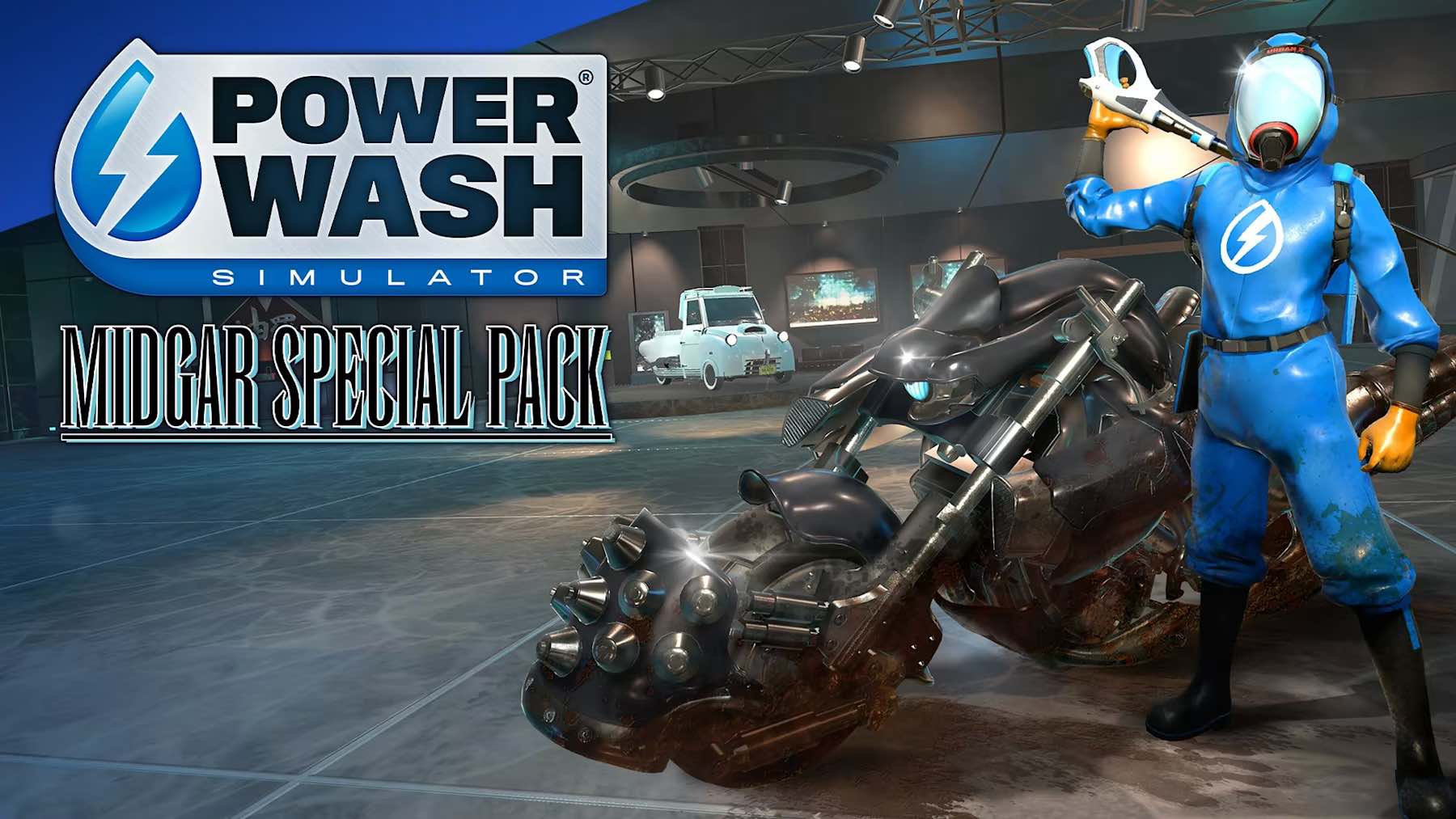 TA: Can we expect more collaboration projects like the Midgar Special Pack DLC in the future?
DC: We have a lot of content for PowerWash Simulator being worked on right now but can't share any specifics just yet. However, 2023 is going to be a great year for PWS fans!
TA: I was listening to the Final Fantasy VII Remake soundtrack while playing the DLC on PS5. The combination of the attention to detail in the DLC levels and the music made me want to revisit the original game on PS5 again. Is there any chance that we can see this DLC expanded on through additional content in the future?
DC: It has been an honor to work on content set in this iconic Final Fantasy franchise, but there are no current plans to expand this right now.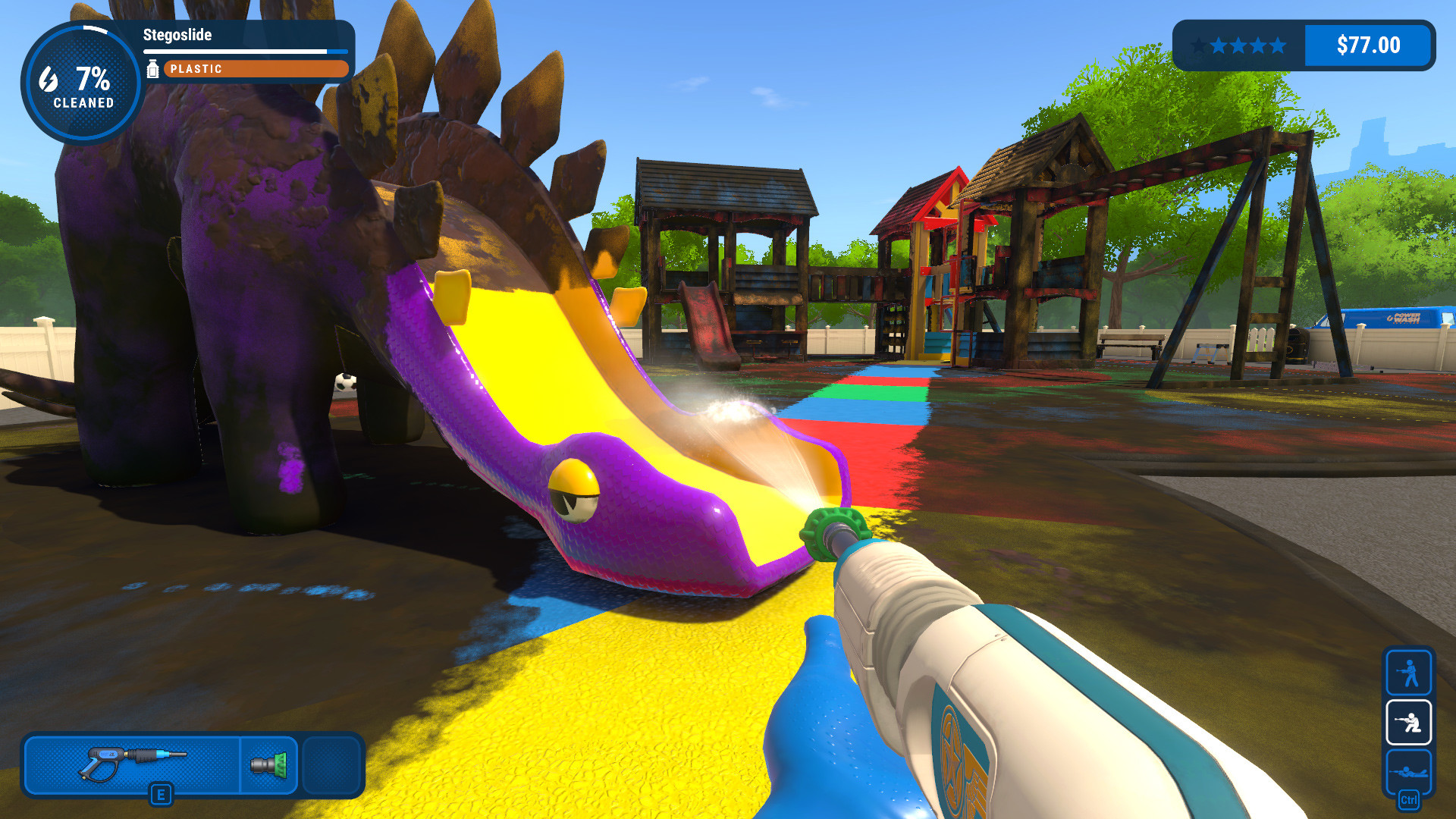 TA: What can we expect from FuturLab in 2023?
DC: As mentioned, FuturLab has an expanding team working on lots more content and updates for PowerWash Simulator.
We also have a separate team working on a brand-new IP signed by publisher Thunderful. This unrevealed title is a stylish sci-fi adventure, high-intensity third-person combat game that's a spiritual successor to the Velocity series. Though there's no release dates or formal reveal just yet, it is something else we're hard at work on behind-the-scenes. We can't wait to share more in the future.
With such a rapidly expanding studio we've also taken steps to make sure it's a happy one and have recently hired a Head of People and appointed a Studio Welfare Manager to achieve that.
Thanks to Dan Chequer (Lead Designer at FuturLab) and FuturLab for their time here and to fortyseven communications for facilitating this interview leading up to this week's launch of the PowerWash Simulator Midgar Special Pack DLC on PC and consoles.