There's nothing I love more than a perfect mobile game. What do I mean by that? Well, no game is actually perfect, but there's something special about a game you know you can just whip out at a moment's notice and dive into, and you know it will offer an engaging experience even if you only have a few moments to play. I obviously love bigger and longer games too, and everything in between, but I always keep a folder of those quick hit "perfect for mobile" games right on my home screen for those inevitable moments of time to kill throughout the day. Fitting that bill to a T and flying pretty under the radar this week is a game from Mickey Tangerman called Cards Infinity.
If you've ever played the popular Fairway Solitaire from Big Fish Games, Cards Infinity is similar mechanically. The game starts with cards laid out face down in a pyramid-like position, and a row of your own home cards at the bottom that starts out with just two cards showing. Cards that haven't been dealt out yet sit in a pile in the center of your home card row, and the first row of cards in the "pyramid" is laid out face up. The goal is to simply remove cards from the pyramid by matching them either one higher or one lower to any of your home cards. As you play and make matches you can unlock two additional slots in your home row, and the extremely clever "infinity" part of the game's title comes from the fact that any cards you clear from play can then be dealt back onto the playing field, so in theory you could keep the game going on forever. This almost makes it like Survival Golf Solitaire. In fact, that would be a great subtitle.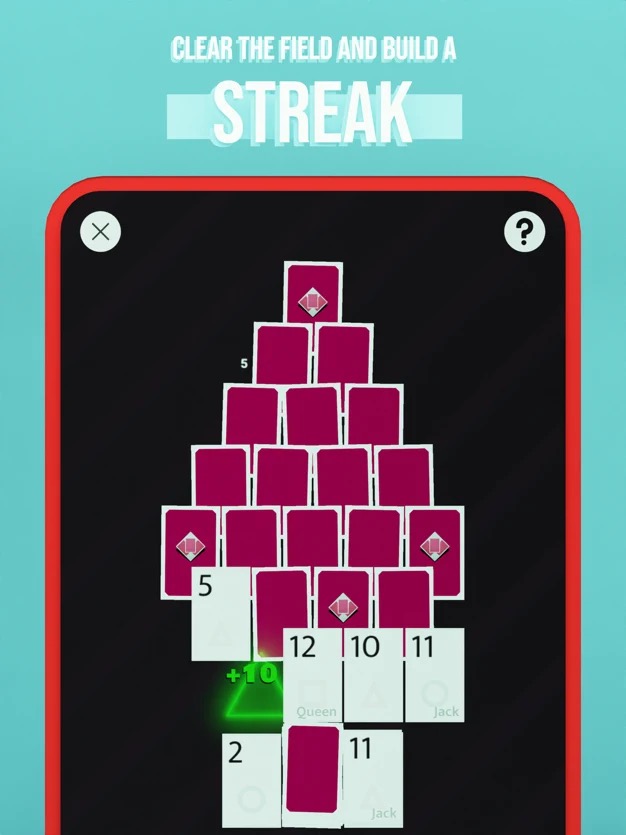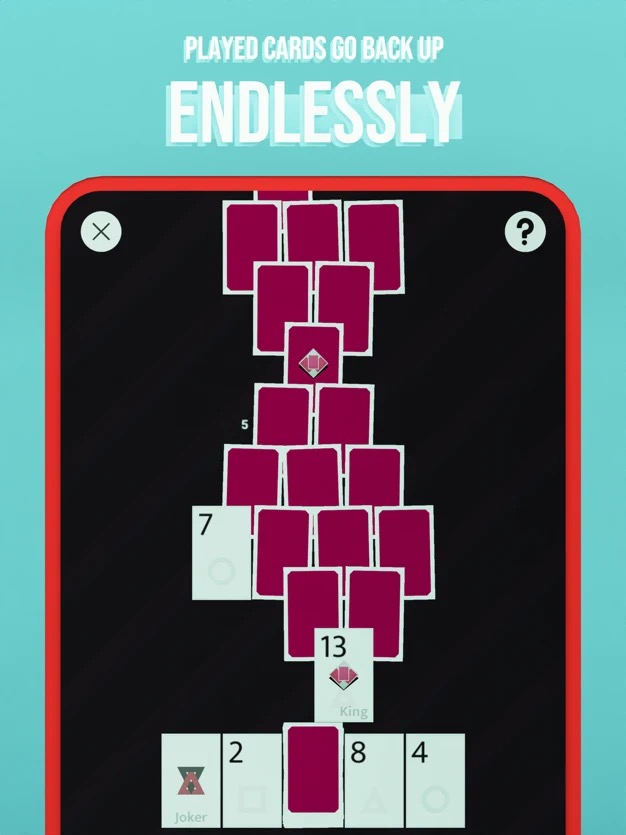 Anyone who has enjoyed the aforementioned Fairway Solitaire will know there's no greater feeling that getting a big, long streak of cards removed in a row. That's actually a huge strategy to doing well in that game. Well, Cards Infinity makes that a major part of the scoring. Playing cards to the board will cause a constantly ticking down timer to appear and what's left on the timer when you make a match is the points you'll add to your score. So there's incentive to move quickly, and additional bonuses for getting those big streaks. It adds a dash of excitement to a game that you might otherwise just stare at for far too long looking for your next match, but it never feels like unwanted pressure that the clock is ticking down like it can in some other timed games.
I'm not sure what the special sauce is exactly, but Cards Infinity has it. I can't stop playing. It also doesn't hurt that it's just a phenomenally well-built game, with gorgeous animations and these dynamic piano sound effects that add tremendously to the excitement you feel when setting up huge streaks. It's just a very playful presentation, and since it's such a simple game it's nice to see a lot of work put into that element of it. Finally, there are daily, weekly, monthly, and even yearly leaderboards so you always have a way to see how you stack up against the rest of the world. I… do not stack up well, friends, but it's fine because at least I'm having fun, right? Cards Infinity is just a buck with no ads or IAP, so if you enjoy solitaire-style games that are perfect for those quick hits throughout the day, this is one you should check out.