Hello gentle readers, and welcome to the SwitchArcade Round-Up for February 2nd, 2021. In today's article, we've got a full-sized review of the recently-released Turrican Flashback from ININ Games. We also take a quick look at both of today's new releases, then head into the usual lists of new and finishing sales. Let's check it out!
Reviews
Turrican Flashback ($29.99)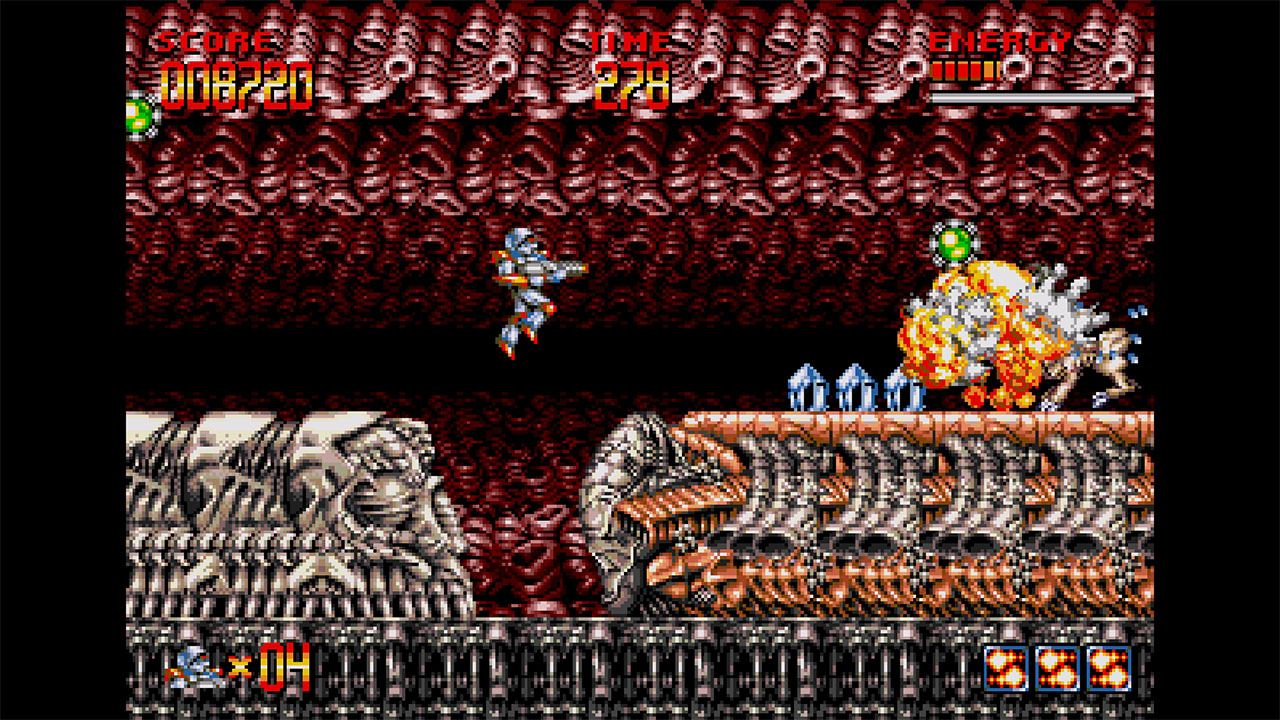 The thing about game compilations is that the kind of people who are typically drawn to them usually place a high value on completeness. For a variety of reasons, they often don't get what they want in that regard. Turrican Flashback is another incomplete collection from ININ Games, who recently brought us the similarly incomplete Space Invaders Forever. In both cases, a remedy is available in the form of a more expensive limited physical version, but those more complete versions don't have digital counterparts.
How big of a problem is that? It depends on how you look at it, I suppose. You're missing a lot of games in this set that people would consider important, and getting the lesser versions of two games where improved ones exist. The original Commodore 64 games that kicked off the series are absent, along with the NES Super Turrican and Super NES Super Turrican 2. There are official Director's Cut versions of the included Super NES Super Turrican and Genesis Mega Turrican, but we're stuck with the vintage versions here. There's no question that one or two additions and a swap or two would have made for a more pleasing, complete collection.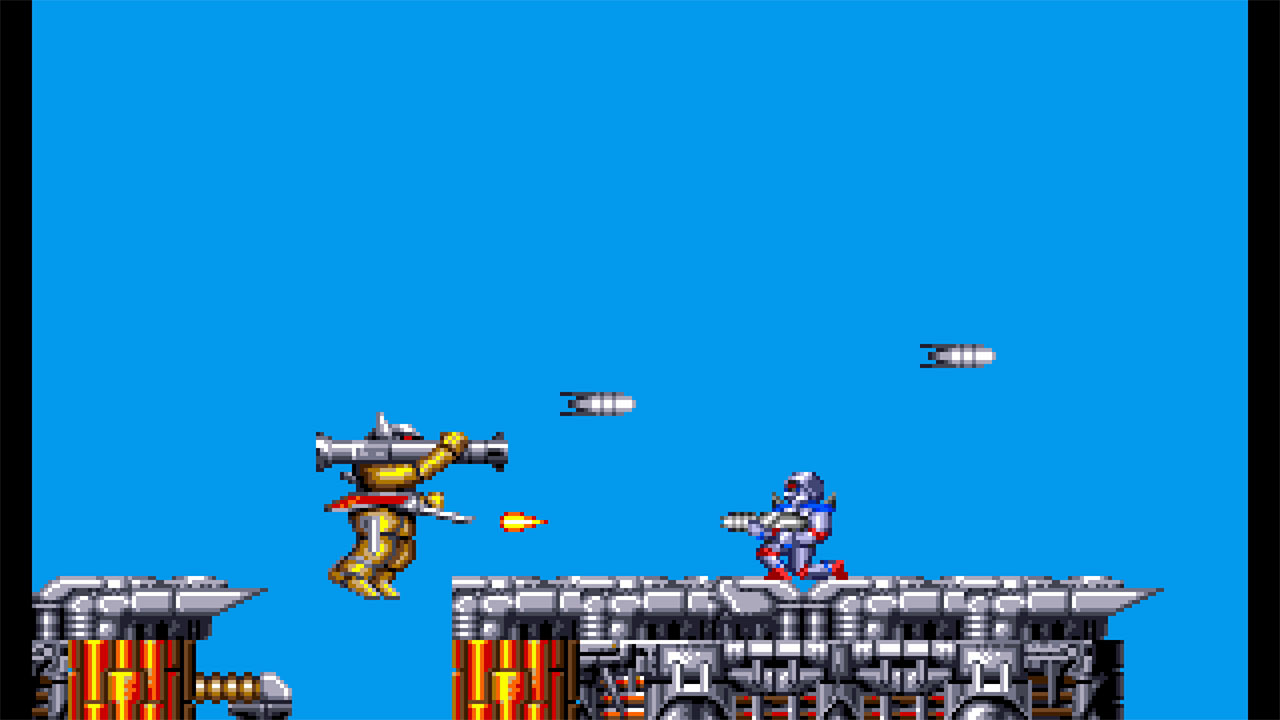 On the other hand, you do get a solid slice of the series in the included four titles, with more than enough excitement and action to justify the price of the set. The well-regarded Amiga versions of Turrican and Turrican 2 lead the charge, and aside from a bit of choppiness that is likely a result of conversion from the PAL standard they were designed for, they're excellent emulations of games for a platform that seldom sees re-releases of its titles. Turrican 2 in particular is often hailed as the peak of the series, making it a key player in this assortment.
The path of the series went a little weird after Turrican 2, but Mega Turrican is essentially Turrican 3. I'm no Turrican expert, but my understanding is that this game was originally designed for the Genesis and was ported to the Amiga under the Turrican 3 title. It's seen by many fans of the series as having had its design compromised for the console audience, and it certainly hits a bit differently than the first two games. More linear, a different feel in terms of the atmosphere, and a grappling hook mechanic that never quite works as well as one suspects the developer hoped. I still found it rather fun.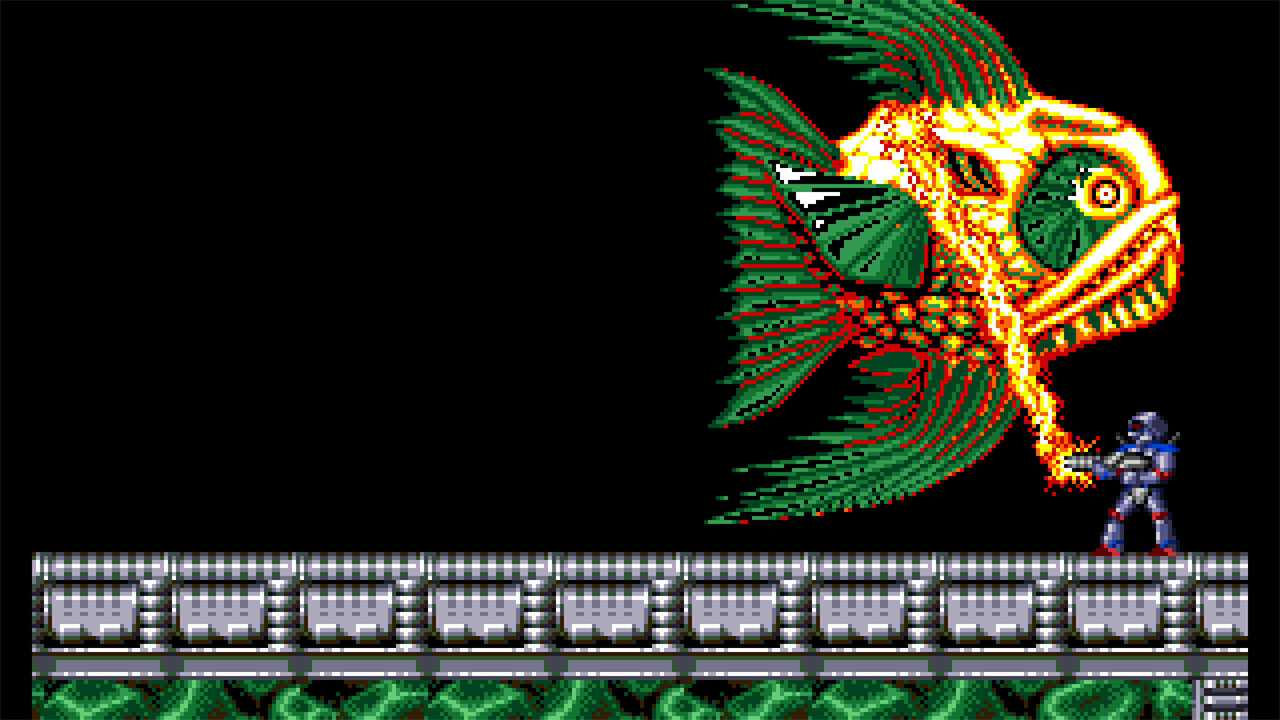 Finally, there's the Super NES Super Turrican, which is curiously enough a distinct game from the NES Super Turrican. It remixes elements from the first two games with a few new features and feels a bit light on content compared to previous games. The reason for that is that the publisher decided at the last minute to cut costs, forcing the developer to squeeze the game onto a smaller sized cartridge. That resulted in a fair bit of cut content that was restored in Super Turrican: Director's Cut. Unfortunately, that's not the version we have here. It's still enjoyable but it's not the version you'd want to be playing, ideally.
All good titles, to varying degrees, and they're well-realized here in spite of covering three different hardware platforms. You get lots of nice options and extra features, like cheats and a rewind you can use to undo mistakes. Naturally, you also get save states and a number of filters that try their best to emulate the imperfections of displays of the time. There's precious little in terms of extra content such as production art or "making-of" materials, instead focusing on the games themselves.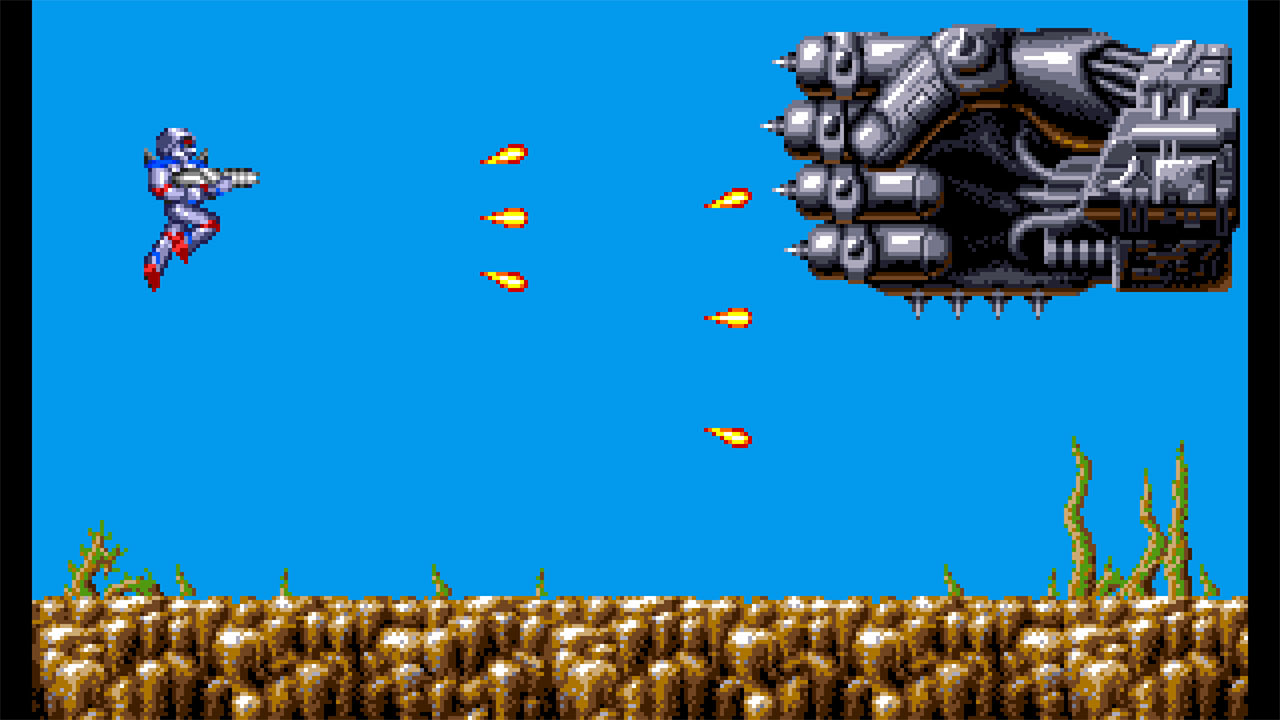 They really are interesting titles and it's easy to see why the series is held in such high regard by many. An odd blend of run-and-gun, platforming, exploration, and even sometimes shoot-em-up action, Turrican has a very "kitchen sink" approach to action that shouldn't work but somehow does. Note that the first two games in particular feel like the 1990s European computer games that they in fact are, so you can look forward to (or dread) massive levels that don't always do the best job of communicating where you ought to be going. The collision detection is also incredibly nasty as you continually take damage the longer you touch a hazard. It's very easy for one enemy to drain your entire life bar if you aren't careful.
But that's Turrican, isn't it? For better or worse, these are the games more or less as they were back in the day. Sure, some games are missing. Generally speaking, some always will be. It would have been nice to have more historical materials to build the context of this influential series for a new generation, as well. But right here, right now, you get four very good 16-bit classics, restored in fine form with a lot of nice options to play with. It's not perfect, but it is a lovely reintroduction for the series and a good primer for those encountering Turrican for the first time.
SwitchArcade Score: 4/5
New Releases
Cresteaju ($6.99)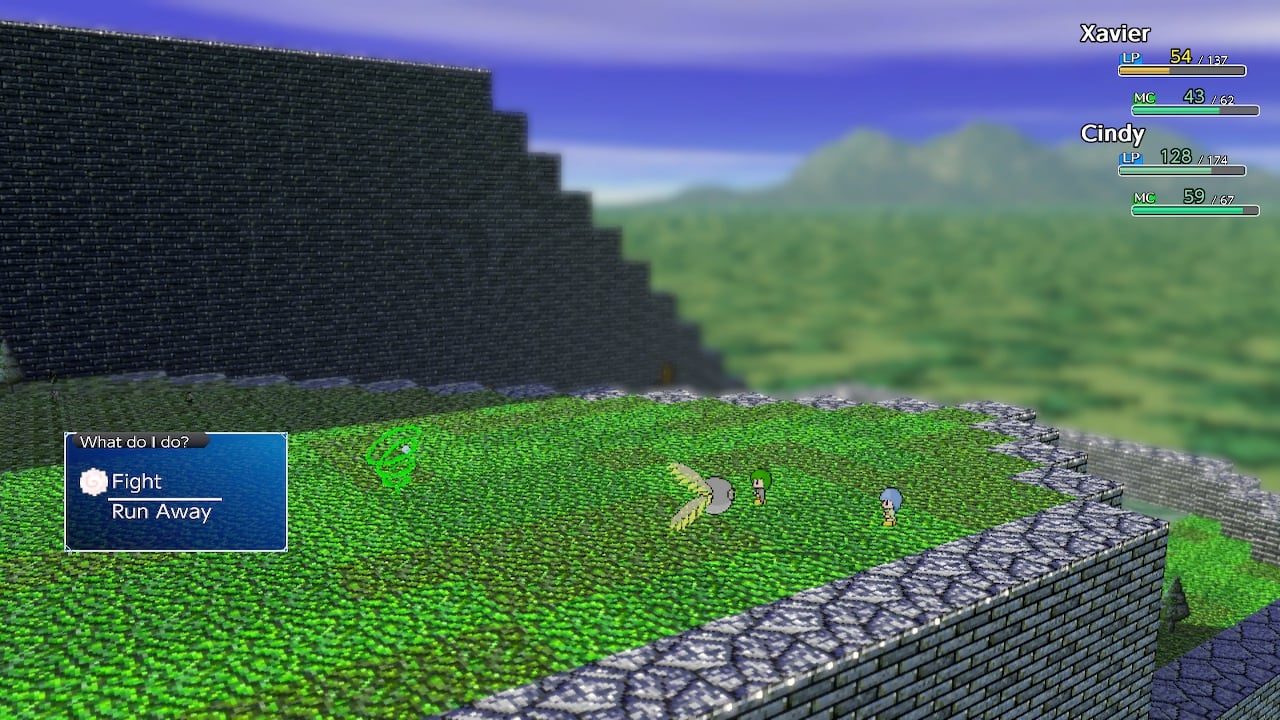 Here's where I stick my neck out a little. And I do this without carefully checking the localization, so this could blow up in my face. Anyway, Cresteaju is an indie JRPG that first came out in Japan in 2001, which makes it twenty freaking years old. It was the work of a single person, and it was praised for its solid story, lengthy quest, and ambitious production values. Well, two of those things have aged well. This is a remaster of sorts, but it still looks like… something one person made in 2001 for DirectX. If you can deal with that, you'll find a surprisingly solid RPG here for a very low price.
Cultist Simulator: Initiate Edition ($19.99)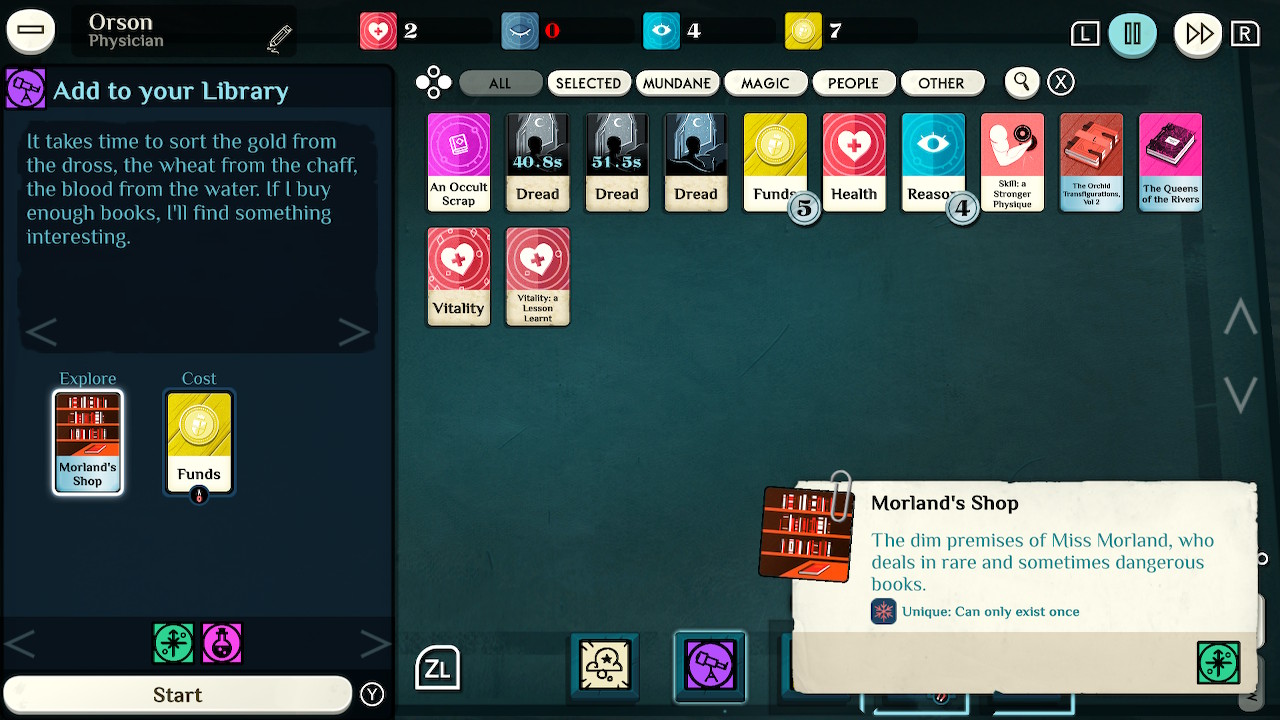 Cultist Simulator has gained a cult following on almost every platform it has launched on, and I expect the same will happen with this Switch port. It's a single-player narrative card game where you get to dive into the world of cults without any of the nasty consequences that normally come from such affairs. In gameplay terms, this is a rather interesting roguelite from the creator of Sunless Sea and Fallen London. The Switch version, dubbed the Initiate Edition, includes the first three DLCs at no extra cost. You get Dancer, Priest, and Ghoul along with all of the extra goodies that come with them. That still leaves the Exile DLC as an extra purchase, so it's not quite the total package. Just be warned that it's way cheaper to grab the game and all of its DLC on mobile, if you're okay playing it there. Like… almost a quarter of the price of the other versions, including this one.
Sales
(North American eShop, US Prices)
Not a bad batch of new sales, I suppose. Nothing too thrilling in there, but there's a fair bit to look through. Gunslugs is a nice diversion for a couple of bucks, and both Nowhere Prophet and Vambrace: Cold Souls offer some decent crunch for those discounted prices. The outbox is once again quite slim, but have a look through it just in case there's something you had your eye on.
Select New Games on Sale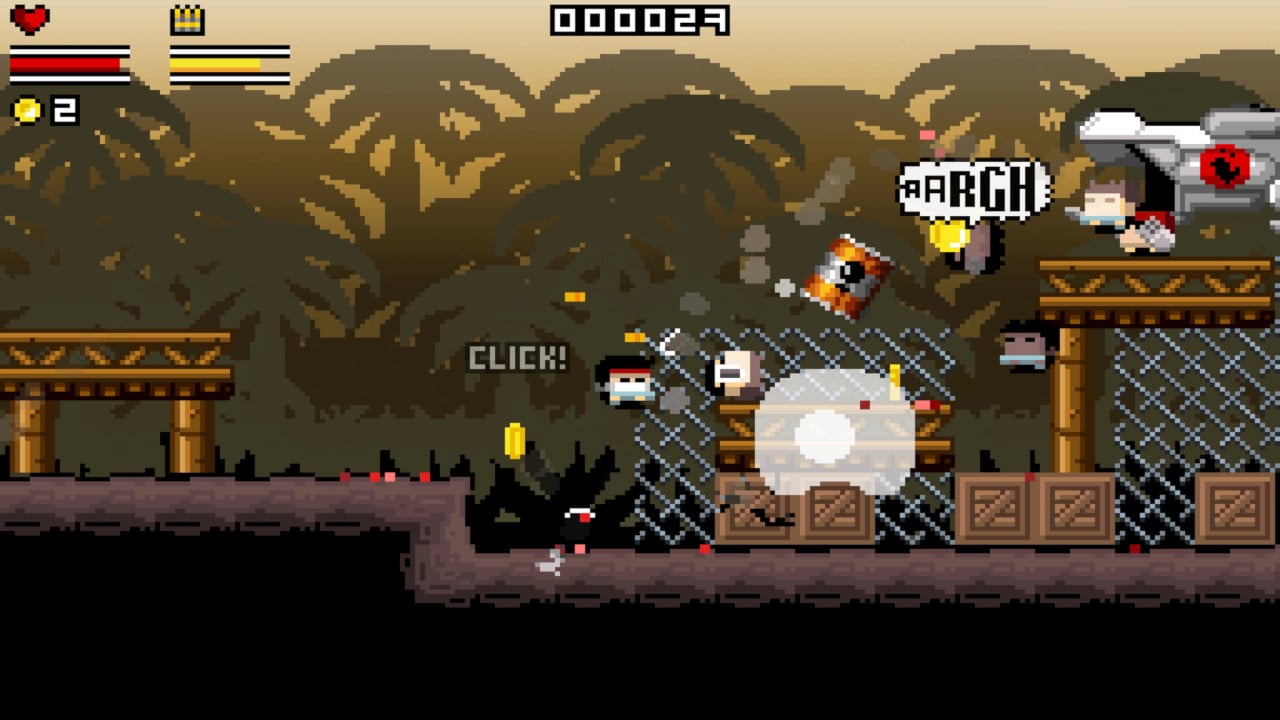 Gunslugs ($1.99 from $7.99 until 2/4)
Space War Arena ($1.99 from $4.99 until 2/4)
Food Truck Tycoon: Asian ($1.99 from $4.99 until 2/7)
Revertia ($4.29 from $4.99 until 2/7)
Cresteaju ($5.99 from $6.99 until 2/7)
Street Basketball ($1.99 from $5.99 until 2/8)
Get 10 Quest ($2.09 from $2.99 until 2/8)
Puzzle Box Maker ($9.99 from $14.99 until 2/8)
Adrenaline Rush: MD ($1.99 from $3.99 until 2/8)
Freecell Solitaire Deluxe ($1.99 from $8.99 until 2/8)
Pet Shop Snacks ($1.99 from $4.99 until 2/8)
Landflix ($11.99 from $14.99 until 2/8)
Beat Me! ($2.59 from $12.99 until 2/13)
BDSM ($13.39 from $19.99 until 2/14)
Hardcube ($3.50 from $7.00 until 2/14)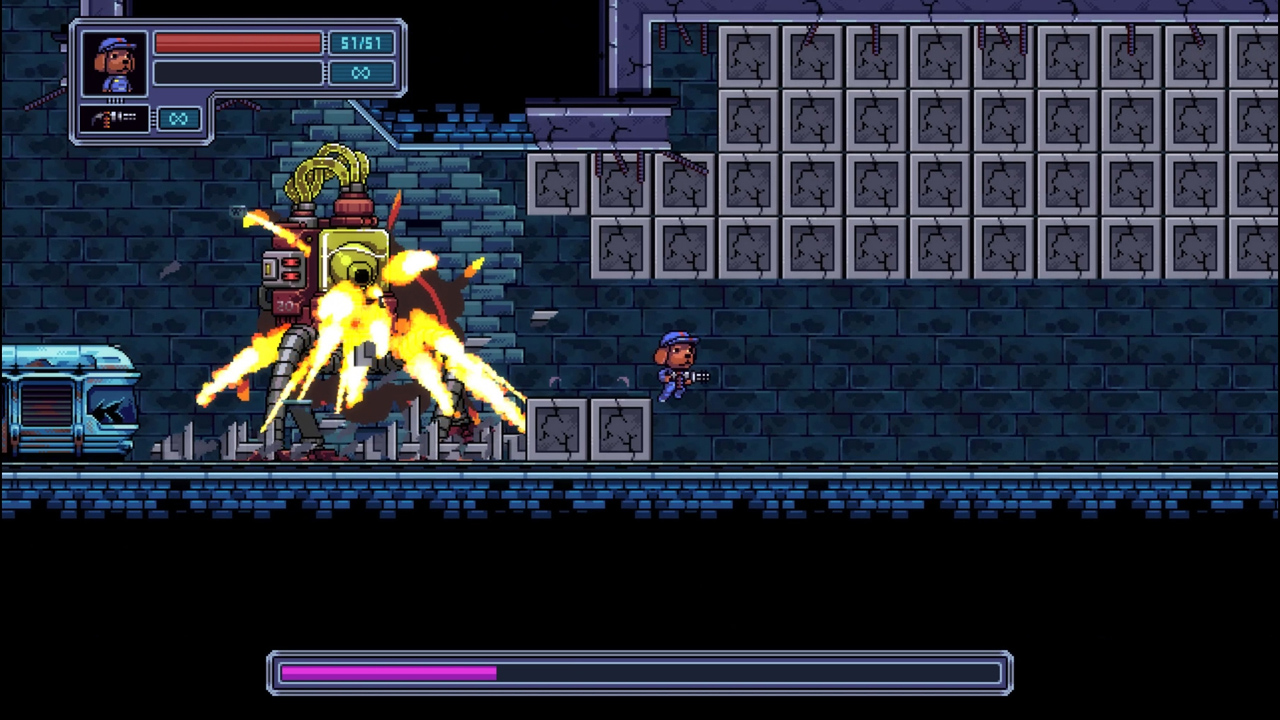 One Dog Story ($7.49 from $14.99 until 2/14)
Pirate Pop Plus ($1.99 from $4.99 until 2/15)
Runbow ($2.99 from $14.99 until 2/21)
Werewolf Pinball ($2.00 from $2.99 until 2/21)
Halloween Pinball ($2.00 from $2.99 until 2/21)
Mummy Pinball ($2.00 from $2.99 until 2/21)
Pirates Pinball ($2.00 from $2.99 until 2/21)
Colt Canyon ($8.99 from $14.99 until 2/21)
The Coma: Recut ($8.99 from $14.99 until 2/21)
The Coma 2: VS ($8.99 from $14.99 until 2/21)
Rigid Force Redux ($11.99 from $19.99 until 2/21)
Outbuddies DX ($7.99 from $17.99 until 2/21)
Bloo Kid 2 ($1.99 from $4.99 until 2/21)
Dead End Job ($1.99 from $16.99 until 2/21)
Curious Cases ($3.99 from $4.99 until 2/21)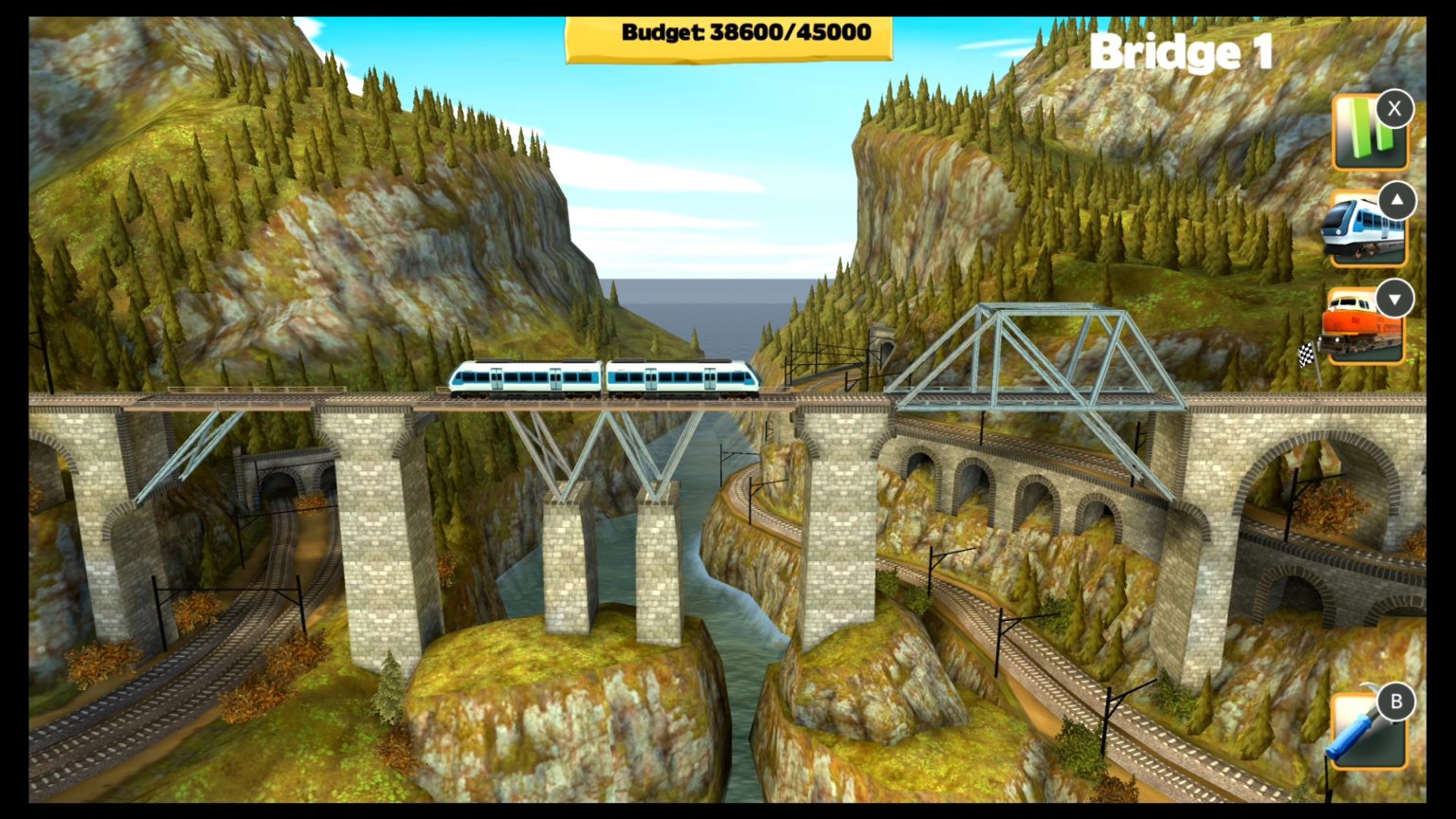 Bridge Constructor Ult. ($5.99 from $14.99 until 2/21)
Blood Will Be Spilled ($2.99 from $14.99 until 2/21)
Escape First ($3.99 from $4.99 until 2/21)
Experiment: Escape Room ($3.19 from $3.99 until 2/21)
Truberbrook ($11.99 from $29.99 until 2/21)
Boxing Champs ($2.85 from $9.50 until 2/21)
Super Treasure Arena ($1.99 from $9.99 until 2/21)
Feudal Alloy ($3.39 from $16.99 until 2/21)
Oxyjet ($2.49 from $9.99 until 2/21)
Tied Together ($1.99 from $14.99 until 2/21)
Nowhere Prophet ($12.49 from $24.99 until 2/21)
Not Tonight: Take Back Control ($2.49 from $24.99 until 2/21)
Super Blackjack Battle 2 ($1.99 from $7.99 until 2/21)
Slime-san ($2.99 from $11.99 until 2/21)
Woodle Tree Adventures ($1.99 from $4.99 until 2/21)
Woodle Tree 2: Deluxe ($4.02 from $12.99 until 2/21)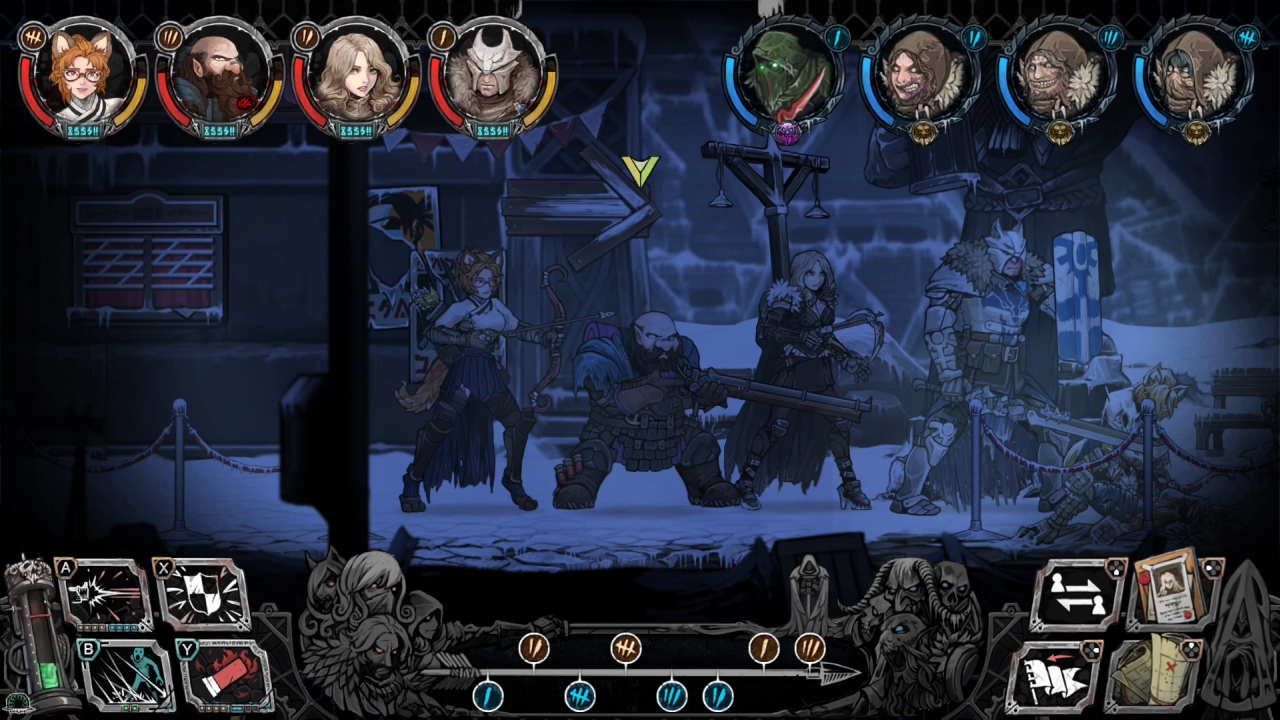 Vambrace: Cold Soul ($9.99 from $24.99 until 2/21)
Descenders ($18.74 from $24.99 until 2/22)
Detective Case & Clown Bot ($4.99 from $9.99 until 2/22)
Dreamwalker: Never Fall Asleep ($2.09 from $14.99 until 2/22)
King's Heir: RttT ($2.09 from $14.99 until 2/22)
AeternoBlade ($4.99 from $14.99 until 2/22)
Crazy Strike Bowling EX ($3.99 from $9.99 until 2/22)
Wanderjahr TryAgainOrWalkAway ($3.99 from $9.99 until 2/22)
Sales Ending Tomorrow, Wednesday, February 3rd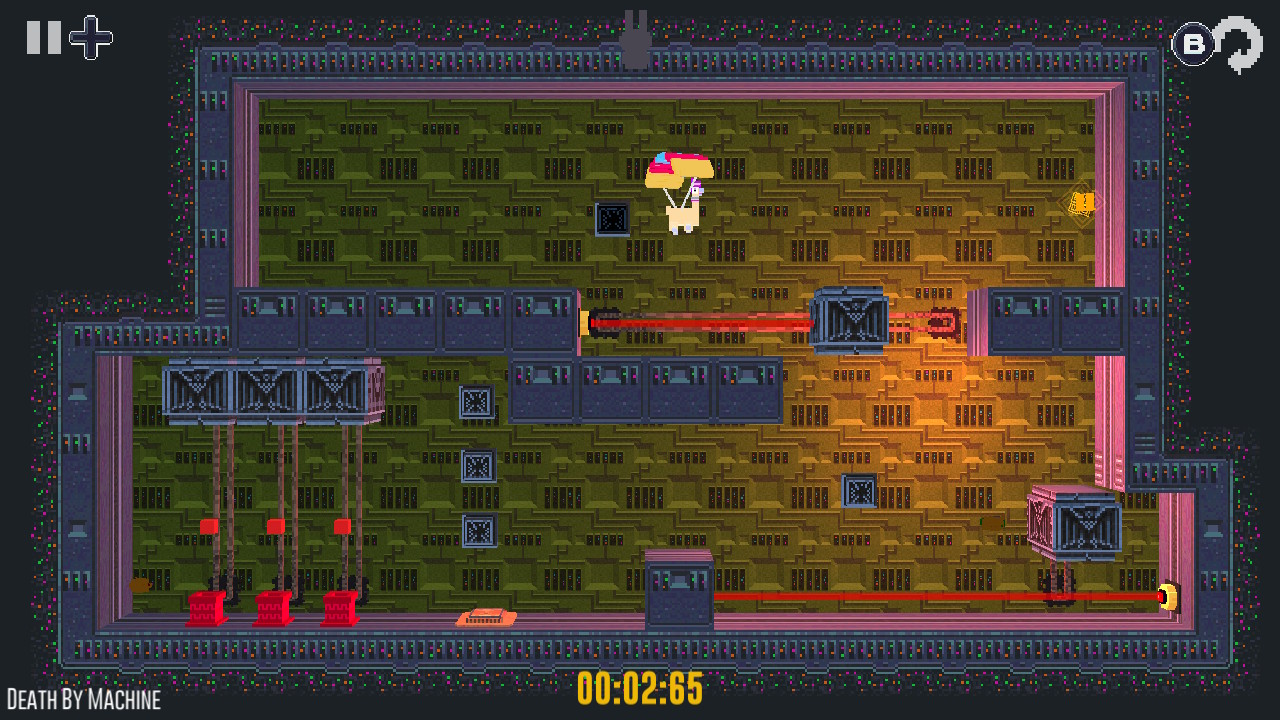 Adventure Llama ($1.99 from $2.49 until 2/3)
Fear Effect Sedna ($1.99 fromm $19.99 until 2/3)
Forgotton Anne ($7.99 from $19.99 until 2/3)
Galactic Trooper Armada ($3.59 from $5.99 until 2/3)
Octahedron: Transfixed ($2.07 from $12.99 until 2/3)
Oh My Godheads ($2.99 from $14.99 until 2/3)
Ping Redux ($3.99 from $4.99 until 2/3)
Save Koch ($6.00 from $20.00 until 2/3)
Trax – Build It Race It ($2.99 from $14.99 until 2/3)
That's all for today, friends. We'll be back tomorrow with a look at some new releases, a summary of the news of the day, and the usual lists of incoming and outgoing sales. Perhaps there may be a Mini-View if time allows. I hope you all have a great Tuesday, and as always, thanks for reading!