Mobile Legends: Adventure is an incredibly popular idle RPG. It's currently racked up over 10 million downloads on Google Play alone. This is partly thanks to a constant stream of updates keeping the content fresh with the latest bringing some Christmas-themed content to Mobile Legends: Adventure. But the base game itself is also excellent.
It possesses a gorgeous manga art style where each character is brimming with personality and a distinctive look from the rest of the roster. The artists have spent a lot of time bringing extensive details to the game and the battle effects look visually spectacular particularly each characters' Ultimate ability.
It also promises a tonne of rewards whether you're actively playing the game or offline. There are numerous prize pools available that allow you to select the type of hero you're after or even a specific character. Alternatively, you can leave it entirely up to chance, it's your decision.
There will be more rewards unlocked the further you progress through the Campaign Stages. And, of course, as it's an idle game you don't have to be involved all the time. However, if you would prefer a more hands-on approach you can manually complete all of the battles and deploy your own strategies.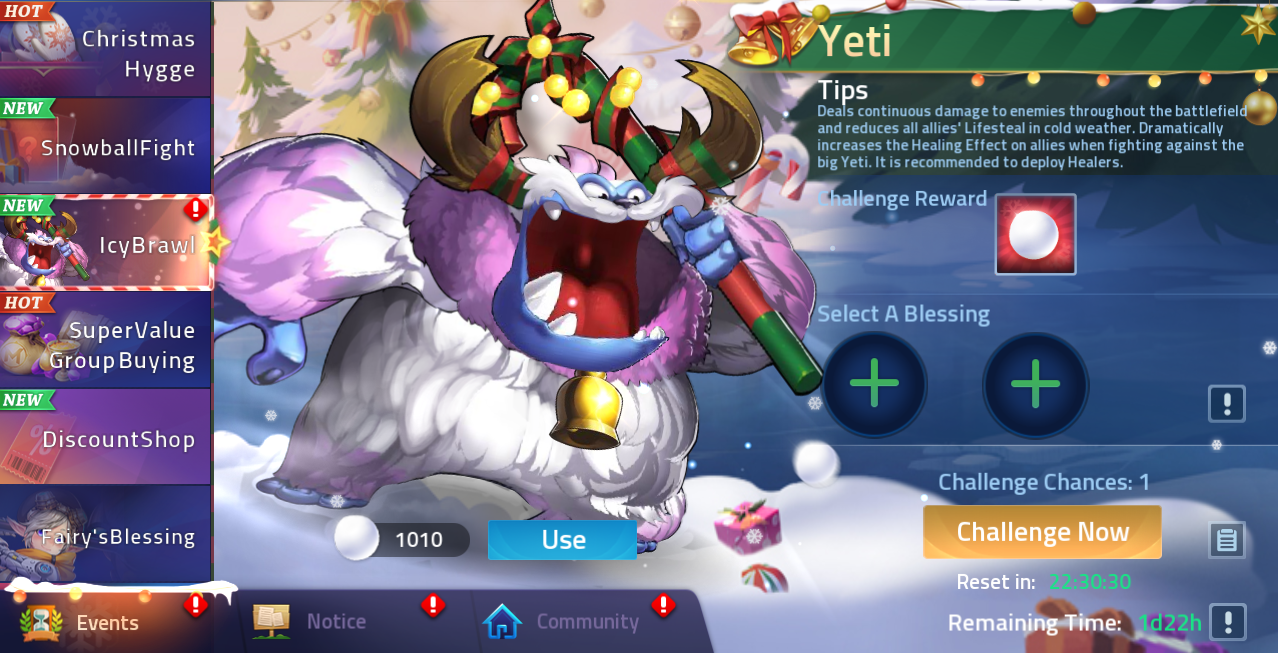 The storyline itself delivers a mysterious and immersive narrative where you'll encounter the likes of the forgotten twins, the nameless gods and the devil in the mirror. All of which are found within Akashic's memory palace.
There is a huge roster of Heroes to choose from when creating your team too with over 70 of them available that are split into seven Types. That means a plethora of composition strategies to pick from and ways to upgrade your heroes as they battle their way through dungeons.
So what content is arriving in the game for Christmas? Well, there will be several events for you to participate in with a bevvy of rewards available. These events are set to run from today until December 31st giving you plenty of time to earn some new heroes.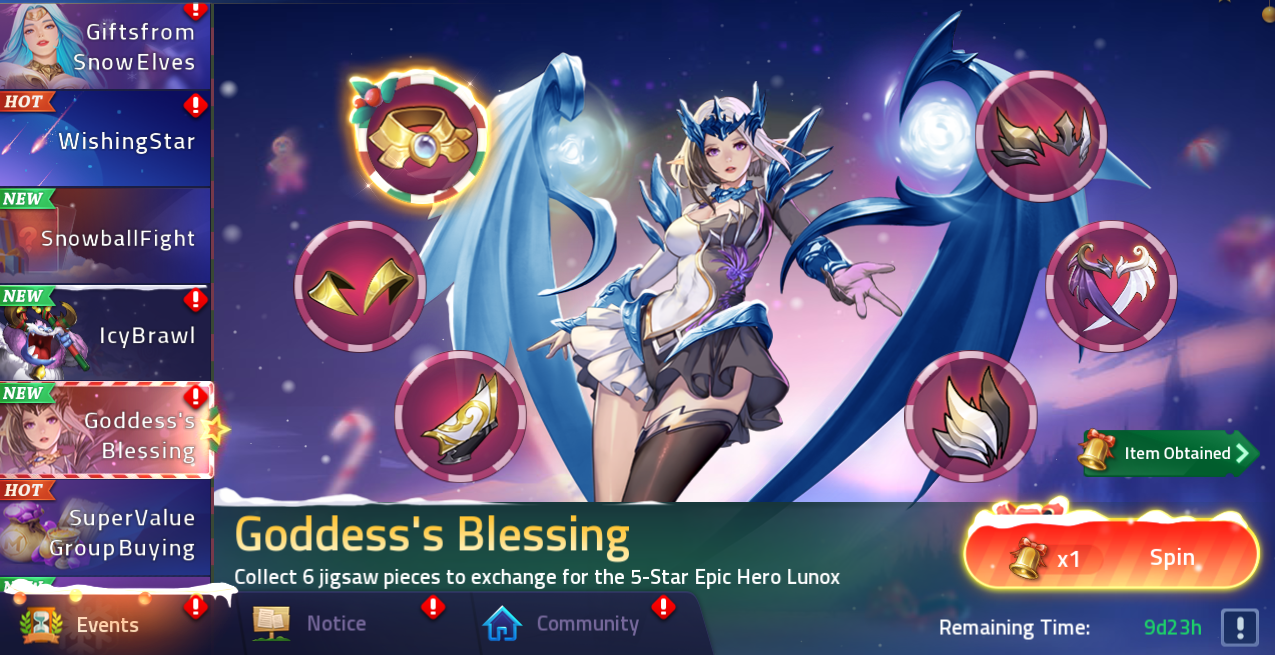 Until December 25, there will be a login event called Goddess's Blessing that will ask you to complete a series of tasks alongside checking in each day. Doing so will net you the epic hero Lunox, who has received a festive reindeer skin to celebrate the season. More gifts will then be received from December 25th to 31st by logging in each day. On the seventh day, you can pick between Vaxana, Freya, Harry, Claude and Nana.
Beyond that, you will be able to tangle with the powerful Christmas Boss Yeti in an event called Icy Brawl. This foe can be challenged once per day and the more damage you manage to deal to this creature the more rewards you'll get in return.
Another event taking place this Christmas is Snowball Fight. This will see you collecting snowballs throughout the event as you begin your hunt for different heroes. There are 13 in total up for grabs during the month that will include the likes of Alice, Kagura, Gusion and Badang.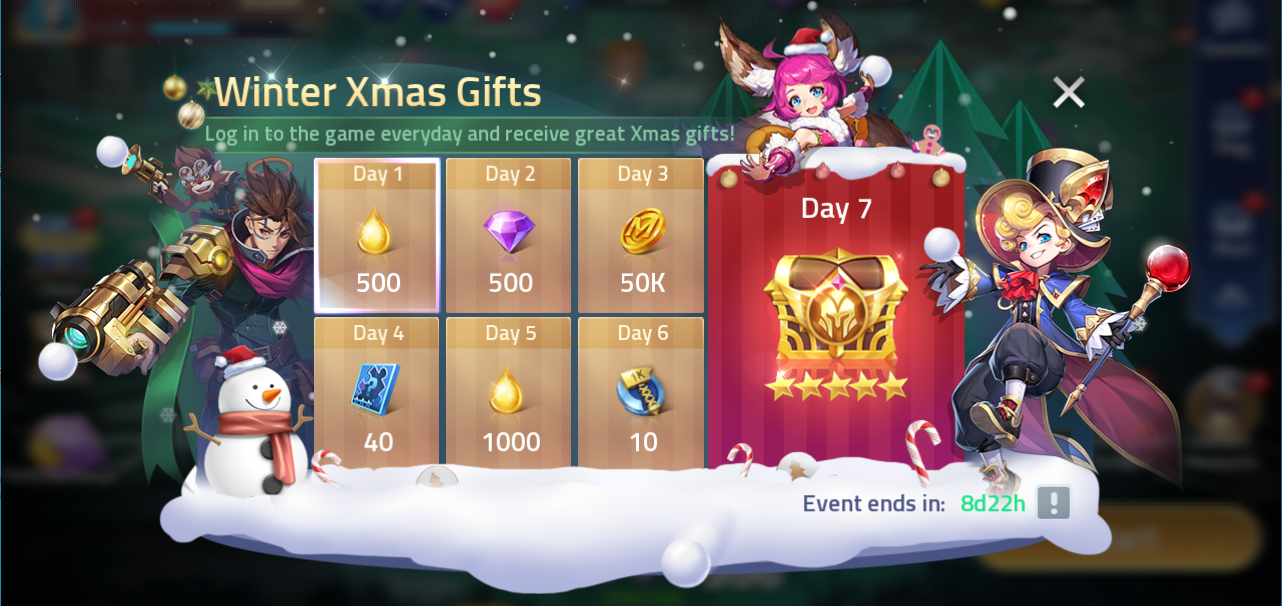 Finally, we all know Christmas is a time for giving and developer Moontoon has given us a way to do so through Christmas Hygge. This will involve earning a gift box of gloves for earning hang-up rewards and tackling various missions. The gloves can then be sent to other players to spread the feeling of goodwill among folks.
Looking for a new idle RPG to play over Christmas and beyond? You can grab Mobile Legends: Adventure for free on iOS and Android now.
Sponsored Content
This article is sponsored content written by TouchArcade and published on behalf of Moonton to promote the Christmas-themed content update for Mobile Legends: Adventure. For questions or comments, please email [email protected]