I think it's far enough into the year that it's not a spoiler to say that Interloper ($5.99) is one of my very favorite mobile games of 2020. This project by Anchorite aka solo developer Matt Purchase arrived back in July and offered some of the most intense space dogfighting action around, with an incredible visual style and lots of fancy effects. What made it really suitable for mobile was its roguelike-inspired structure which had you completing multiple missions in a row and earning loot for each successful completion, with the option to go back to your base with all the loot you've collected or press on through more and more missions for increasingly better loot with the caveat being if you don't make it out alive you'd lose all of your previously earned loot. Classic risk vs. reward design applied perfectly to a first-person space shooter. For all of these reasons we chose Interloper as our Game of the Week when it launched.
Well if you bought Interloper when it came out then you are well aware that Anchorite has been going HAM on releasing updates on what feels like an almost weekly basis. These have largely centered on bug fixes and gameplay balancing, but have also included some cool new features along the way like new enemy types, new mission types, a cool Drift Flight option, and a Daily Run that acts as an endless mode that changes each day and features Game Center leaderboards to compete on. It's a pretty darn full-featured game as is, but a huge new update this week has taking Interloper to the next level.
The new update includes a Pilot feature, which basically means a pilot will be randomly generated for you the next time you fire up the game. This pilot will represent the stats for all of the runs you've beaten, enemies you've destroyed, and more. Every time you successfully complete all the waves in a particular run you'll be given an option of up to 3 different Pilot Perks. These perks come in various rarities just like the other loot in the game and can alter the gameplay in significant ways, from augmenting how weapons work, to increasing the chances of rare loot dropping, and plenty more. Once chosen these perks will be permanent for your pilot and you won't see perks you've already obtained showing up after future runs.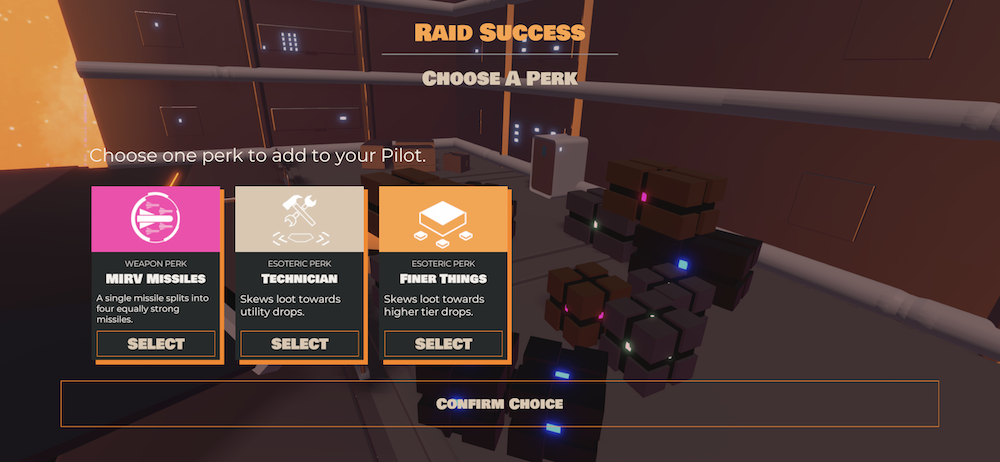 HOWEVER, as the developer says in the update notes, "this wouldn't be Interloper if there wasn't a risk involved." That risk is that your pilot has the potential of permanently dying, and thus losing all of the perks you've amassed up to that point. Each time you die during play your pilot is "wounded" and each wound also acts as a sort of counter-perk in that some sort of negative effect will be bestowed on you from that point on. If you receive 4 wounds then your pilot dies, and a new pilot will be generated the next time you play and your perk-collecting will have to start all over.
This new feature fits right into the style of Interloper and adds an entirely new layer of depth and strategy onto the existing loot and unlock system. One of my very favorite roguelike shooters of all time is Steredenn and given the structure of Interloper and especially with this new Pilot perk system it very much feels like a first-person 3D cousin of Steredenn. If you're a mobile gamer who is frequently lamenting the free to play state of affairs on the App Store, then you definitely owe it to yourself to plop down some cash on the fully premium Interloper and see just how well a "hardcore" game can work on the touchscreen if it's developed from the ground up for the mobile platform.