Appropriate timing, Hearthstone (Free). With school starting, Blizzard is finally letting us put a study group together, but instead of hitting the books, we're hitting the new Battlegrounds Parties feature starting September 8. This limited time event is called The Forbidden Library, will run until September 29, and is shaping up to be a very fun experience.
Battlegrounds Parties will usher in the event and will let you queue up for Battlegrounds matches with friends and frenemies. The way it works is you and three friends can queue for a normal ranked Battlegrounds match together. If more than 4 of you join, then the game becomes a private Battlegrounds match for 5-8 players, which is bound to be a lot of fun and perfect for finally seeing who can reign supreme or who's been lying about their Battlegrounds skills (you know who you are). In addition to the parties, we're getting new heroes, which will be initially available only to those with Battlegrounds Perks until September 22 when everyone gets access.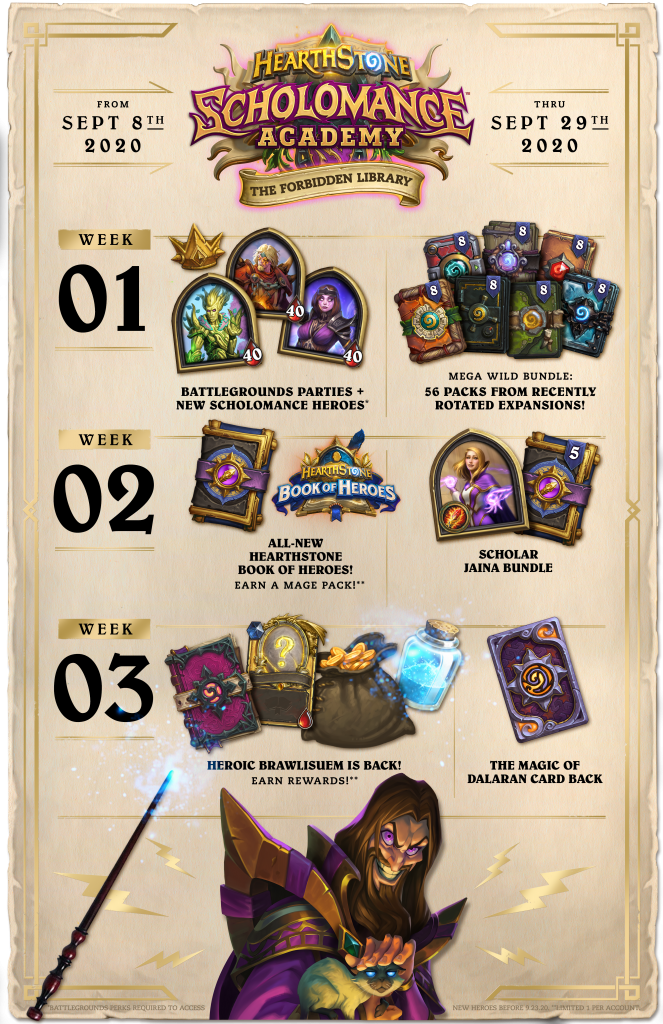 On September 15, or week 2 of the event, we're getting Jaina Proudmoore's free solo adventure, which will be a chapter from the Book of Heroes. We will continue getting free content over the next 12 months until we get stories for all 10 core heroes.
And, finally, on September 23 we'll get the Heroic Brawliseum, a competitive Tavern Brawl. You join for 1000 gold, or $9.99, and then use your own cards to battle with others until you either win 12 matches or lose 3. If you're a card back collector, between September 22 and September 29, you will also be able to buy the Magic of Dalaran card back from back in June 2017. Enjoy the party everyone!