Over the last few months, Apple has been either releasing a new game on Friday or pushing out major updates to existing games. With iOS 14, lots of new features are coming to Apple Arcade and the App Store. If you have a device running iOS 14, the "See All Games" tab reveals the next four releases for the service including some big surprises. What's more interesting is that the release dates have also been indirectly revealed through the App Store for all four of the newly revealed games. Samurai Jack: Battle Through Time is coming to consoles and PC on August 21st and features the original voice actors in an action platform game. It arrives on Apple Arcade on the same day going by the iTunes release date. This is a game releasing for $39.99 on other platforms. Check it out on Apple Arcade here. Watch the trailer below:
The Last Campfire from Hello Games was revealed at The Game Awards back in 2018 before being showcased this March in a Nintendo Indie Showcase for Nintendo Switch. No release date was announced. It is coming to Apple Arcade on August 27th going by the App Store. The Last Campfire is an adventure experience with gorgeous visuals where choices matter. Check it out on Apple Arcade here. Watch the trailer for it below:
Next Stop Nowhere from the creators of the fantastic Oxenfree was showcased yesterday on Twitter and was revealed to be coming "very soon" exclusively to Apple Arcade. Next Stop Nowhere is also in the "coming soon" part of iOS 14's Apple Arcade section and it is arriving on August 14th. As expected, it looks great. Watch the teaser for it below:
Couldn't we all use a galactic road trip right about now?

Next Stop Nowhere.

Coming very soon, exclusively on @AppleArcade. pic.twitter.com/QB75bncBA0

— Night School Studio (@nightschoolers) August 4, 2020
Izanagi Games recently brought the excellent Death Come True to iOS, Android, Nintendo Switch, and PC. It is an FMV game that is worth experiencing. Read my review of it here. Death March Club was revealed before as a game directed by Kotaro Uchikoshi (Zero Escape), Kazutaka Kodaka (Danganronpa), and Takumi Nakazawa (Ever17). It hadn't been dated beyond "2020". It has shown up thanks to the iOS 14 listing revealing the World's End Club with a September 4th release date. Check out the official website here.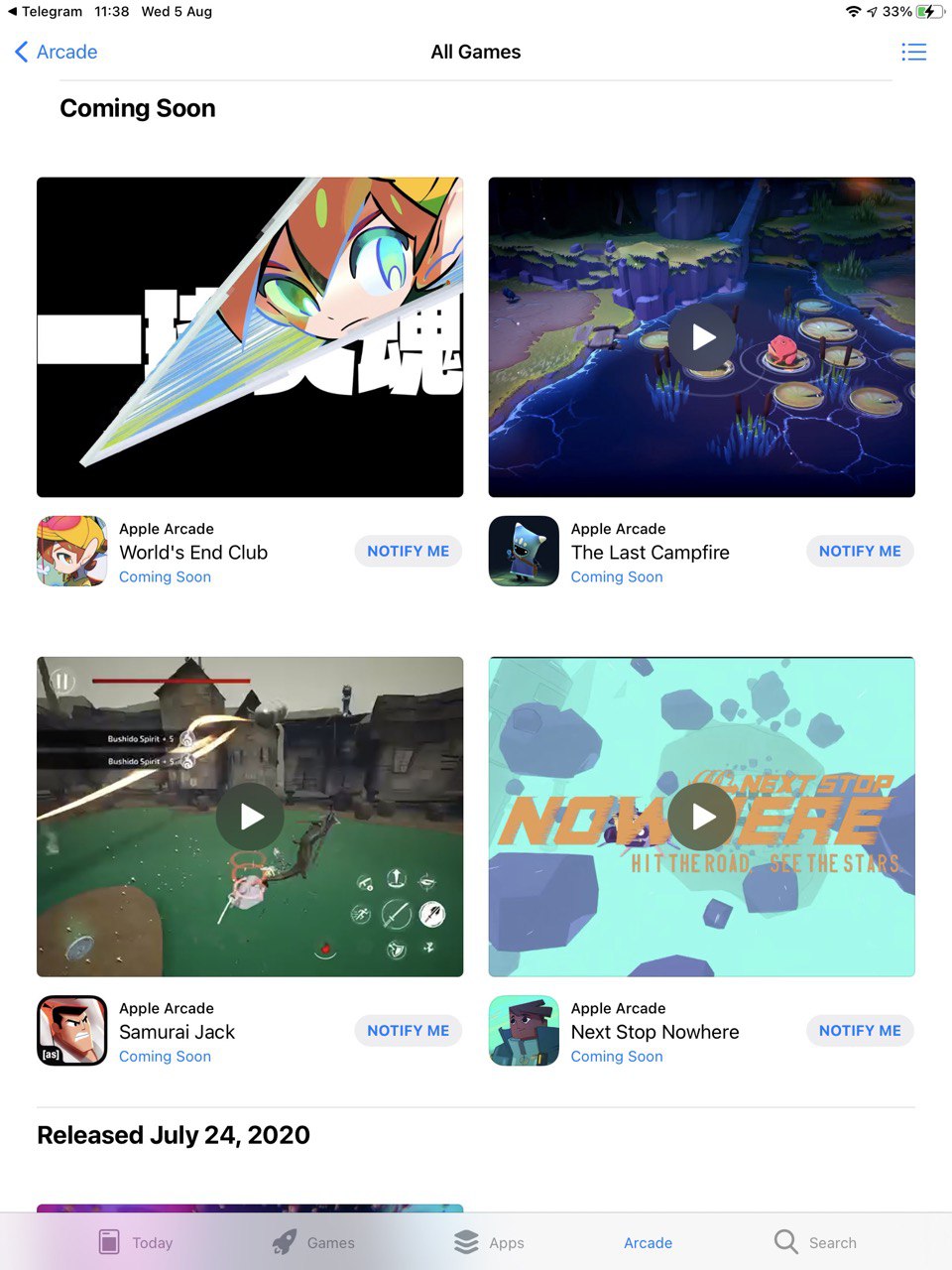 We have forum threads for all the games above now. Check out our forum thread for World's End Club here, Samurai Jack: Battle Through Time here, Next Stop Nowhere here, and The Last Campfire here. For all other Apple Arcade related things, check out our dedicated Apple Arcade forum for discussion on the service and every game included here. What do you think of the newly revealeed games?