Hello everyone, and welcome to the week! It's time once again for our look back at the noteworthy updates of the last seven days. It's Easter Monday today, which may have had an effect on the regular flow of updates. I've somehow managed to find a festive basket full of new updates to check out as you dine on your ham and eggs. Of course, you can keep an eye out for updates yourself using AppShopper or by participating in the TouchArcade forums. This weekly summary is just here to fill you in on the things you might have missed. Let's go for it!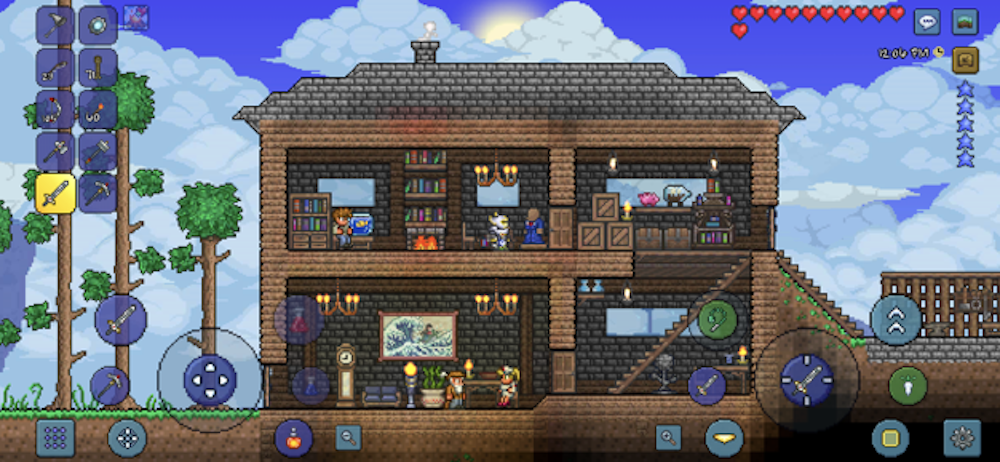 Terraria, $4.99 Oh, neat. We don't see Terraria show up here all that often. Very cool game, certainly something you can sink hours on end into. Anyway, this update has some useful additions that aren't exactly thrilling to read about. You can change your control layout, which is a big improvement all on its own. To go with that, you can now set up to four virtual control profiles. So if you and your siblings or kids all play the game and want the controls in different places, you just pop into your profile and you're good to go. Another big addition: controller support! Wow, that's super useful. There are some other goodies here, but that's the gist of it. You know what? I'll give this the coveted UMMSotW this time around. You have to respect the hustle.
Jetpack Joyride, Free Easter, Easter! It's pretty much over by the time you read this! Easter, Easter! It was kind of crummy this year on account of the big global pandemic thing! But the games… the games will never forget. Jetpack Joyride goes full Easter with special exclusive vehicles, new jetpacks and outfits, and a free Chocolate S.A.M. skin you can unlock. Most of that stuff will probably not be easy to get your hands on without opening your heart and wallet, but hey, it is there.
Dan The Man, Free Along with its stablemate Jetpack Joyride, Dan the Man has also received an Easter update. Kind of a similar idea going on, with a special Spring costume that is essentially just an Easter bunny. There's also a special offer on gold if you want to spend some real money, and some bug fixes. Mmm, not that exciting, if I'm to be honest. Well, no time to replace it with something more interesting. We'll just have to soldier on.
Fire Emblem Heroes, Free Time for the monthly Fire Emblem Heroes update, it looks like. Some of Fire Emblem's updates have been amazing, but it's getting on in years now, so we probably shouldn't expect a lot. The biggest thing in this update seems to be that if you summon 40 times from a New Heroes summoning event, you can pick a free 5-star Focus Hero. Spoils are now available for Limited Hero Battles and Lost Lore, as well. Finally, you can now use Divine Codes to compile limited-time Combat Manuals. Hey, an update's an update.
Disney Heroes: Battle Mode, Free Never mind those Fire Emblem Heroes, let's check in on the Disney Heroes. As always, we've got some new playable characters joining the roster this time around. It's fun because all of the new characters added to this game are called Heroes because, you know, branding. So your first new HERO this time around is Syndrome from The Incredibles. You also get Kristoff and Sven from Frozen 2, who are admittedly slightly more heroic than Syndrome. The new Cosmetic Collections feature is also new as of this update. I don't know… doesn't it follow that if everyone's a hero, then no one is? I'll have to call Jason Lee and ask.
MARVEL Strike Force: Squad RPG, Free Here's our highlight Marvel title for this week. Marvel Strike Force is apparently two years old, which is pretty wild as it feels like it came out only a little while ago. Time: it makes fools of us all? There are some celebrations going on connected to that, and there are also two new playable characters in the form of Corvus Glaive and Proxima Midnight. That fits the latest event, titled Enter the Black Order. A bunch of new options, improvements, bug fixes, and such are included in this new version as well. Probably as big an update as we're going to see for this game for a little while.
Transformers: Earth Wars, Free This is still going, which is great to see. Only the free-to-play games I play seem to go defunct anymore. I promise I won't play this one, Transformers fans. For its safety. The latest update adds some of the smaller bots to the game, including Ravage, Nightstalker, Firedrive, Blowpipe, Pteraxadon, Terror-daxtyl, Flak, and Cratermaker. You can use these bots to modify the weapons of your characters to make them stronger. That's a pretty cool way to implement characters that may have otherwise been hard to fit into this sort of thing.
Gardenscapes, Free Our obligatory free-to-play matching puzzle game update for this week sees us once again return to Austin's turf. As with many other games right now, Gardenscapes is all up in that Easter and Spring business. Decorate the garden for Easter and you can win some cool prizes like a unique mansion redesign. Collect eggs in the puzzle levels and you'll get even more rewards. There's a new story chapter to play through, along with a new pet parrot. The new puzzle element this time seems to be Trays, which can be removed by making matches near them. That will fill up the glasses with lemonade and send them on their way. Alrighty.
Star Traders: Frontiers, $6.99 I've said it before, but I could probably include this game in each and every one of these articles based on how often its hard-working developers update it. This new version sees two new ship components added to the game, the Peak Velocity Matrix 2 and 3. The existing Peak Velocity Matrix has been re-balanced to take these new ones into account. Aside from that, this update is mostly about tweaking the game's balance in various ways. There are some bug fixes as well, of course.
CSR 2 Multiplayer Racing Game, Free CSR Racing 2 (or as it is apparently now known, CSR Racing 2 – #1 Racing Games) is once again tying in with those wild characters from the Fast & Furious series. More of the cars from the movies are featured in this latest event. On top of that, there's an Easter event where you can earn a Purple Star Rocket Bunny Nissan Fairlady Z (Z33) for your collection. A new feature called Elite Customs has been added that allows you to upgrade your cars like never before. Now that's kind of thing I like to see in the #1 Racing Games.
That about wraps it up for last week's significant updates. I'm sure I've missed some, though, so please feel free to comment below and let everyone know if you think something should be mentioned. As usual, major updates will likely get their own news stories throughout this week, and I'll be back next Monday to summarize and fill in the blanks. Have a great week!