The idea behind the TouchArcade Game of the Week is that every Friday afternoon we post the one game that came out this week that we think is worth giving a special nod to. Now, before anyone goes over-thinking this, it doesn't necessarily mean our Game of the Week pick is the highest scoring game in a review, the game with the best graphics, or really any other quantifiable "best" thing. Instead, it's more just us picking out the single game out of the week's releases that we think is the most noteworthy, surprising, interesting, or really any other hard to describe quality that makes it worth having if you were just going to pick up one.
These picks might be controversial, and that's OK. If you disagree with what we've chosen, let's try to use the comments of these articles to have conversations about what game is your game of the week and why.
Without further ado…
Grand Mountain Adventure
Despite being available for pre-order on iOS for more than a month, and being available over on Android for the better part of a year, Grand Mountain Adventure (Free) from Swedish developer Toppluva was just totally not on my radar. I'm not really big on skiing or snowboarding games, so perhaps even if I did come across it at some point it just didn't register. However, I feel like my lack of awareness for Grand Mountain Adventure was a blessing in disguise because, as mobile gamers know all too well, there is nothing better than a game that releases out of the blue and just completely knocks your socks off. And in the case of Grand Mountain Adventure my socks are circling the Earth somewhere out in orbit.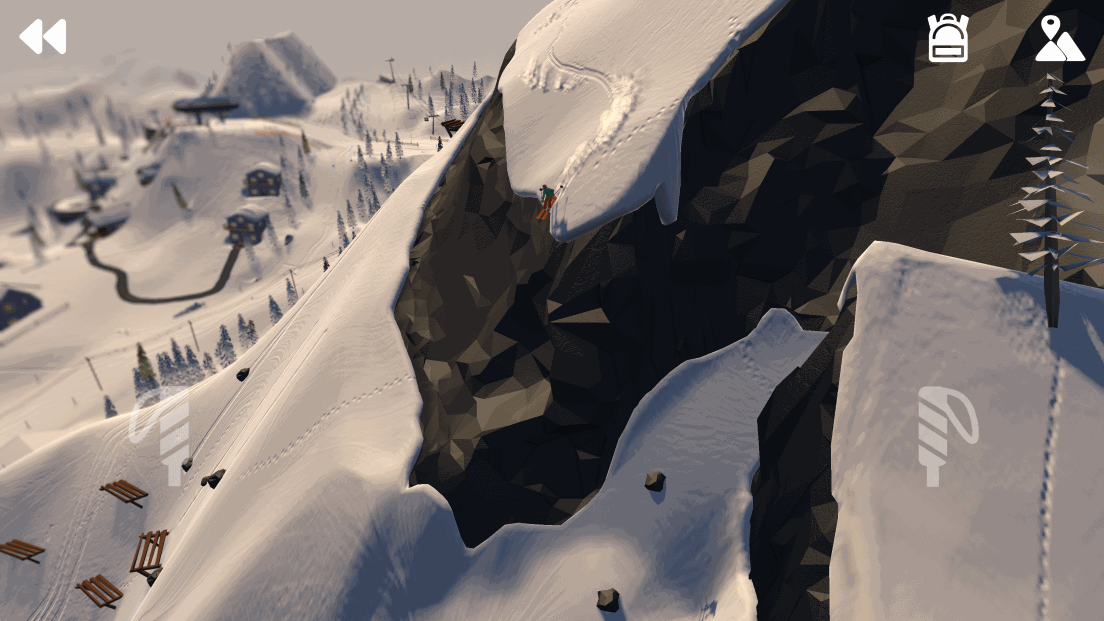 This is a skiing and snowboarding game that features eight large open world-ish mountains to explore. Each mountain is filled with a variety of different challenges like slaloms, time trials, big air jumps, and more. Completing challenges earns you Ski Passes which lead to opening up new ski lifts and new parts of each mountain. Beyond the dedicated slopes though, there are also back country areas which have hidden challenges and Ski Passes to find. Grand Mountain Adventure is pretty non-linear and you're able to explore and complete challenges as you see fit, and that's really the most appealing part of it to me. It's like playing a game like Skyrim or Grand Theft Auto where you can just get lost exploring around and enjoying finding interesting things when you're not out there trying to complete the dedicated challenges and goals. If you wanted to say it was a mobile-fied version of console and PC game Steep, I don't think that would be too far off.
There's really nothing like cruising around and discovering new parts of each mountain. It doesn't hurt that Grand Mountain Adventure is an absolutely gorgeous game either, with a cool depth of field effect and tremendous lighting effects that frequently make you just stop and admire the scenery. The mountains also feel "alive" with lines carved into the snow from yours and other people's skis and boards, adults and children skiing or boarding around or just sitting around and chilling, wildlife prancing about, giant tractors grooming the mountains, avalanches, tumbling boulders… just SO many details that make you feel like you're really out exploring an actual ski resort. The music is also super calming and the perfect accompaniment to just zoning out and shredding around.
All of that shredding is made incredibly easy too thanks to a brilliantly simple and intuitive control scheme that uses taps and simple gestures on either side of the screen. Just because the control scheme is easy to pick up and learn doesn't mean that there's not a huge variety of tricks and things you can do though, and it also doesn't mean that there's no challenge to the various goals in the game. Everything gels together into something that feels too good to be true, and Grand Mountain Adventure is something I didn't know I needed in my life until I got my hands on it. Thankfully getting your hands on it is totally free to do with the first entire mountain available to play to your heart's content and the rest of the game unlocked with a one-time IAP of five bucks.
You could easily spend hours just in that first mountain resort too, so I'm begging anyone and everyone reading this right now to go check out the free portion of Grand Mountain Adventure now, and I'd be willing to bet that most everybody who does will be unlocking the full game just minutes into the experience.