Initially released on the App Store in May this year, King's Throne: Game of Lust (Free) has until now been a bit of an overlooked idle game. In fact, that description might be a clue as to why it hasn't garnered many reviews so far. For whatever reason, the app stores have it listed as an MMO which it most definitely is not. It's actually an idle medieval empire builder. That's quite a mouthful and makes for a fairly niche game but an extremely accomplished title, nevertheless.
So far we've managed to log close to 40 hours of playing it so far. For an idle game that's quite a hefty amount of playtime and should give you an idea of how addictive it is. There are still a few features yet to be unlocked (note: we're pursuing a completely purchase-free playthrough), but to put it simply, King's Throne places you at the helm of one of five medieval kingdoms. It starts with you discovering your father (the king) slain in his chambers. Which of course is all part of a fiendish plot of treachery and deceit to try and usurp your father, and by extension yourself, from ruling the kingdom.
It's immediately apparent that King's Thone's strength doesn't lie in having an original narrative. A lot of the quests follow time-tested medieval fables, with the occasional crossover into Shakespearean and Renaissance-era lore. That's fine of course, as we're not grading King's Throne based on its plot. However, the classic revenge storyline does serve as a nice raison d'etre to get you started.
Before heading into battle to avenge your father, you're introduced to your first two heroes: Sir Oliver and Marcello. The former serves as your councilman and will provide opportunities to issue Royal decrees (these provide resources and experience in return), whilst the latter acts as the chancellor of your kingdom, providing levies for three key resources: Gold, Grain, and Soldiers.
Soldiers are of course necessary for military campaigns, whilst Grain will be needed to recruit more soldiers. You'll quickly find the main use for Gold is to continually upgrade your heroes. Powerful heroes, maidens, and children are key to growing your kingdom so investing Gold in your heroes is a top priority.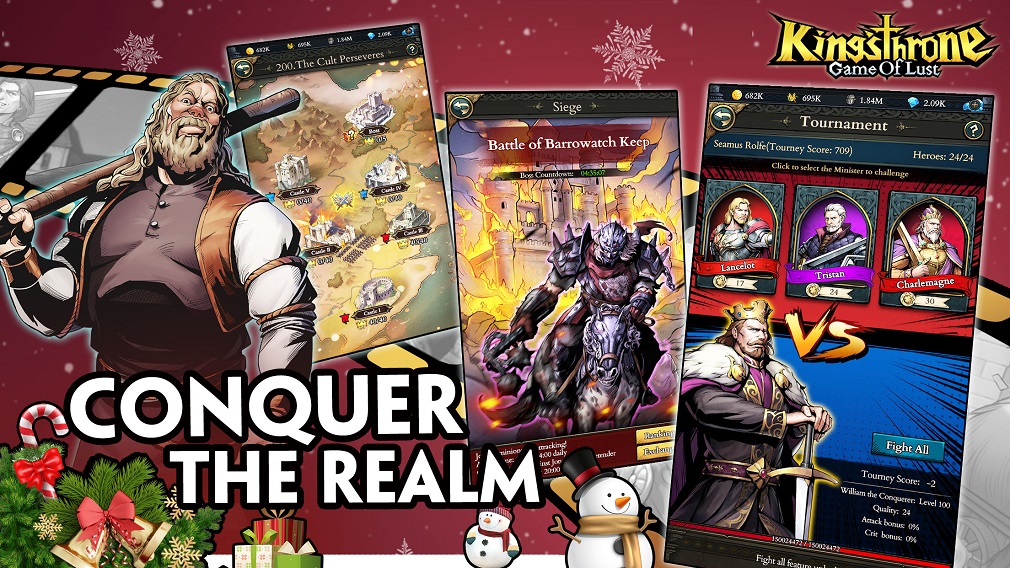 The game primarily centers around two main screens: your castle and the city. The city will be something you continue to explore as you progress and unlock new content. There's a lot of fun stuff to enjoy once you do – a personal favourite being the Tourney feature. The Tourney is King's Throne's PvP mode, which lets you pitch one of your heroes against another player's heroes. So it's akin to a card battler where superior HP, damage points, and critical hit percentage are all deciding factors in a battle.
King's Throne isn't a game that delivers flashy battle animations but it does feature a very appealing American style comic book aesthetic, with an elegant colour palette and simple but expressive character designs. This simplistic feel is where King's Throne excels, presenting a unique aesthetic that stands apart from other games on the market while keeping focus on where the game shines most – its empire building and resource gathering elements.
The bulk of your resource collection is done via the castle menu which is a real pleasure to navigate. Everything is neatly organised so that flitting between different features, like punishing prisoners in your dungeon or attending feasts, only requires a few simple swipes and clicks.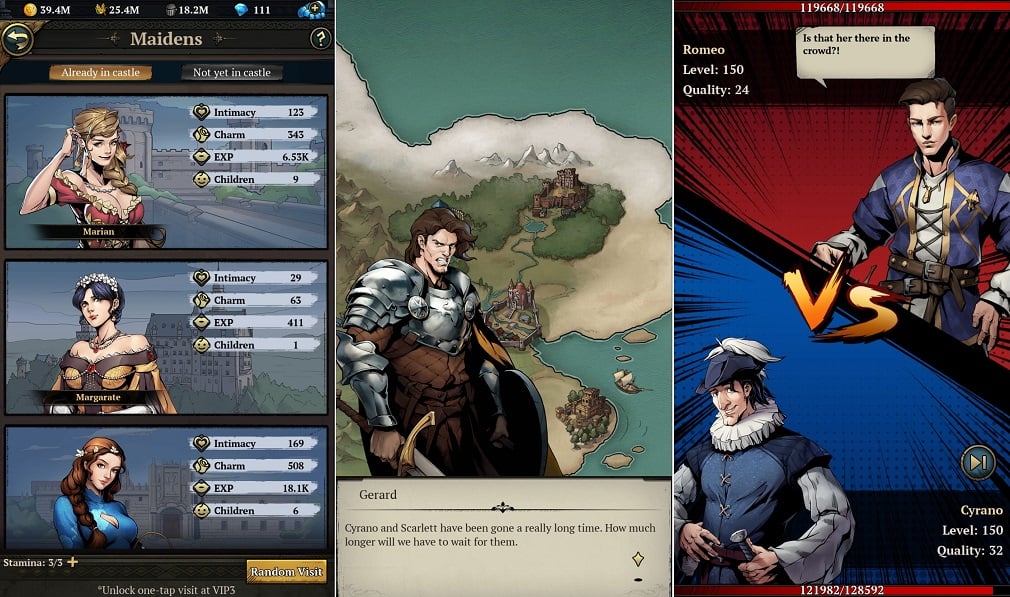 At the very beginning, resources will only take a minute to renew which allows you to plow through the opening campaigns in no time at all. Granted some of the most interesting features like alliance, council, and feast modes, become available once you've achieved certain kingdom levels.
As mentioned before, one of the key elements to growing your kingdom is your maidens, each with her own brilliantly unique artwork, which you can invite to be part of your royal consort by completing event quests or by going on processions. The latter affords you opportunities to receive tribute from members of your kingdom but requires some luck if you hope to pique the interest of a maiden. It takes a lot of attempts and quite a bit of patience but it's well worth it.
Our entire playthrough has been purchase free so far and that's one of the things we appreciate most about this game. Whilst there are certain heroes and maidens that can only be obtained by paying for them, King's Throne provides a fair and fun experience for players who wish to invest in the game without having to dip into their pockets. As long as you play the game intuitively and with a little patience, purchasing items is something you can do out of pleasure rather than necessity.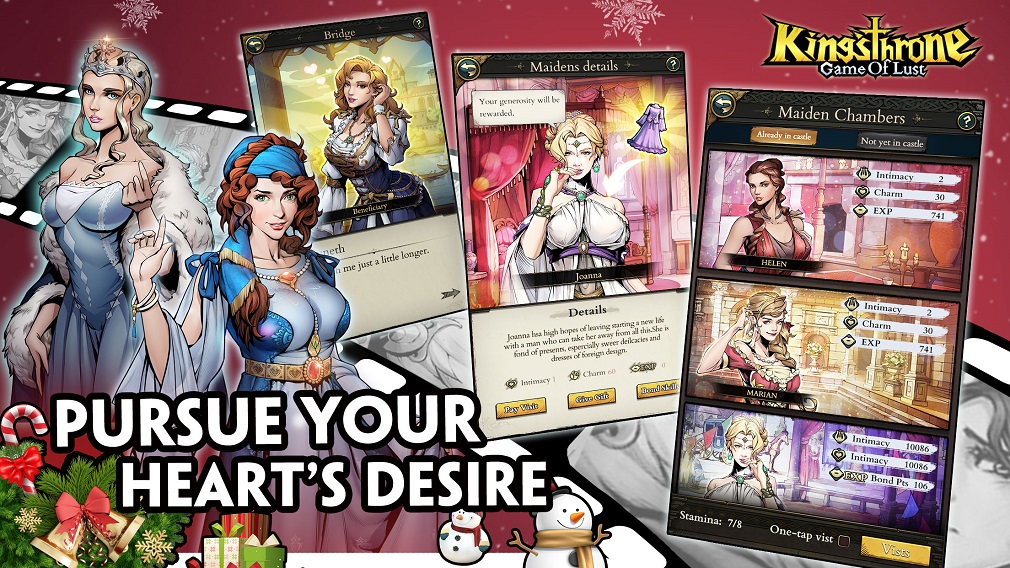 King's Throne is definitely a worthwhile choice if you want to try something a little more imaginative than the standard run-of-the-mill empire builders. And with plenty of events and new content like the recently added 'Occupy the Castles' feature making their way to the game, it can definitely keep you busy for a long time.
If you'd like to give the game a try, you can find it available to download for free from the App Store and Google Play.
Sponsored Content
This article is sponsored content written by TouchArcade and published on behalf of Goat Co. Ltd to promote their medieval empire builder King's Throne: Game of Lust . For questions or comments, please email [email protected]