Back in March, GameClub announced their intentions of resurrecting some of the best mobile games of all time which had either broken due to software compatibility issues, become financially untenable to keep updated, or were removed from the App Store for one reason or another over the past decade. It was an idea that struck a chord with me personally as some of the games announced for the GameClub service were among my all-time favorites, not just on mobile but on any platform, and it was heartbreaking seeing so many of those games no longer available or so woefully outdated they weren't even enjoyable to play anymore. Our own Eli Hodapp felt similarly, and left his ten-year tenure as our Editor in Chief back in March to go help GameClub with their endeavors. We've supported GameClub's efforts and wished Eli well not just as a former colleague but because we ourselves as lovers of mobile games strongly believed in what the company is doing, and so it's very exciting to see that today the GameClub service has officially gone live on the iOS App Store. Here's a brand new launch trailer which features quick hit looks at the many games that are part of the GameClub service.
While we haven't posted about every single game that has been announced for GameClub, we have covered some of the more prominent titles and ones that are especially close to our hearts. There's the Hook Champ trilogy from Rocketcat Games and their SNES-inspired action RPG Mage Gauntlet, Vlambeer's Super Crate Box, our 2010 Game of the Year Space Miner and its arcade spinoff Space Miner Blast, and so many more. In all there are more than 50 titles launching as part of GameClub today, and new games will be added to the service every week with next week's addition being the TouchArcade community fan-favorite Minigore. While it's unlikely that you'll be familiar with or even a fan of every single game in the GameClub library, that's not really the point, as the selection of games so far covers such a wide variety of genres and game types that there's bound to be something for everybody even in this initial launch lineup.
GameClub had been running an Early Access program since March and so I've had a chance to play may of these updated titles already, and it's really impressive the amount of work they've put into each game to get it up to modern standards (in some cases even re-drawing all the graphics in high resolution for games that pre-dated the Retina Screen of the iPhone 4). So yeah, I knew the games were good, just as they were originally. But what has really blown my mind about GameClub and what I hadn't had a chance to check out before this official launch is the official GameClub app.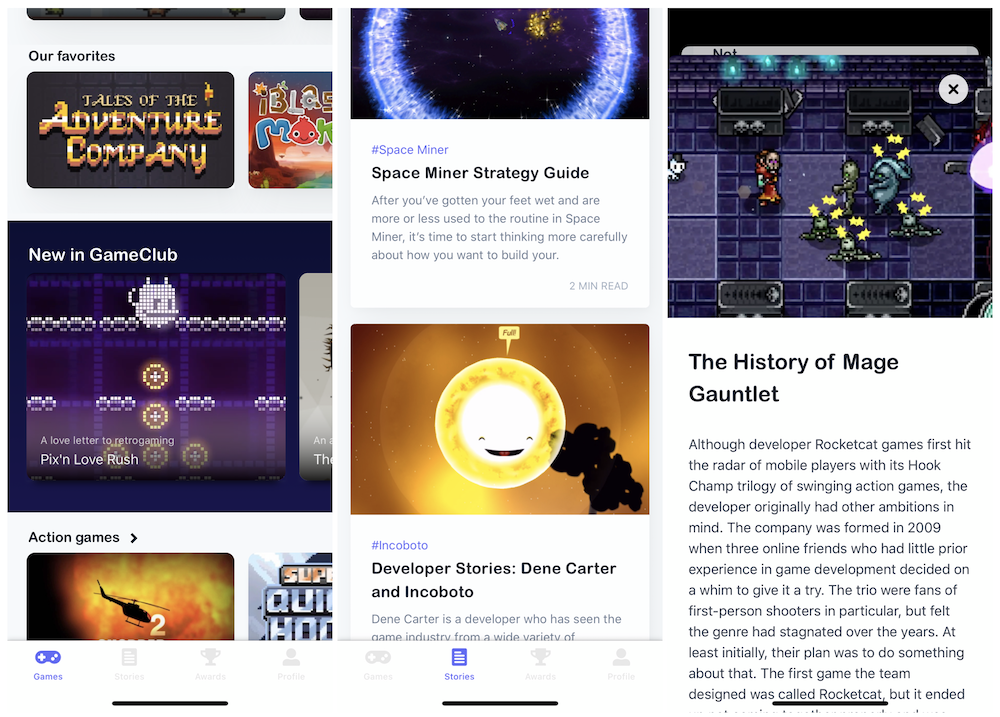 This acts as a hub for all the GameClub games and will link you straight to the App Store to download them, but holy moly it is so much more than that. There are historical perspectives, deep dive reviews, developer interviews, tips & tricks articles, and tons more editorial-type content inside the app that makes it worth spending time in other than as just a way to access the library of games. Part of me is sort of annoyed that Apple put the kibosh on our own app several years back for doing most of the things the GameClub app is doing now, but I'm happy that these guys have somehow found a way around all that because the content inside and its functionality is top-notch. Just to reinforce this further, all of the content found under the "Stories" tab in the GameClub app has actually been written by our own long-time writer Shaun Musgrave, so you know it's the good stuff.
As had been previously announced, GameClub works as a subscription service through the App Store and you can subscribe for $4.99 per month with a one month free trial and the ability to cancel anytime. As an awesome bonus, if you've previously paid for any of the games in the GameClub library then you'll be able to download their updated versions for free whether you subscribe to the service or not. In many cases it'll just automatically know you owned it and you'll be able to play like normal, in other cases you'll need to load up the game and wait for the "I already bought this game" prompt to manually restore your purchase, and in rare cases if neither of those things work you can hit up this link to tell GameClub there's a problem and they can manually unlock the updated game for you.
I know people are apprehensive about subscription gaming, and Lord knows we've all had situations where some scummy update or other thing happened that messed with a game we previously paid for and loved, but I truly believe GameClub is trying very hard to do everything the right way for previous owners of theses games. As Apple Arcade has shown, there's something really special about being able to play a huge selection of games where you don't have to worry one bit about in-app purchasing, ads, or online requirements. That's all true of GameClub as well but they're offering a different type of library to players with all these classic games, and honestly the two services really complement each other. It's kind of crazy to think that for $10 a month combined, you can have access to well over a hundred awesome games with no bullsh*t across both Apple Arcade and GameClub. That's far less than I normally spend per month on mobile games anyway.
To get started, simply download the GameClub app with the link below and at the very least sign up for the one month free trial. That'll give you ample time to test out the games already in the lineup, and experience at least a few of the new weekly additions that are planned including Minigore next week. We've set up a stickied thread in our forums for talking about all things GameClub, and of course you can find existing threads for every game in the service in our forums too that are filled with tons of player impressions and general discussion from over the years. I'm going to try and go through and tag each of those threads with a big blue GameClub prefix so that they stand out a bit, but definitely feel free to dig around our archives for tons of info on these classics and definitely give the GameClub free trial a spin and sample some of the App Store's amazing history.