Hello gentle readers, and welcome to the SwitchArcade Round-Up for October 21st, 2019. To all my fellow Canadians out there: it is the day of voting. Go and do that little thing! To non-Canadians: you saw nothing. In today's article, we've got a review of the somewhat dismal port of A Hat in Time, summaries of four new releases including Monaco: Complete Edition, a couple of news nuggets, and the usual list of incoming and outgoing sales for you to check out. Let's check it all out!
News
'Zumba Burn it Up!' Coming November 19th, Digital Pre-Orders Now Open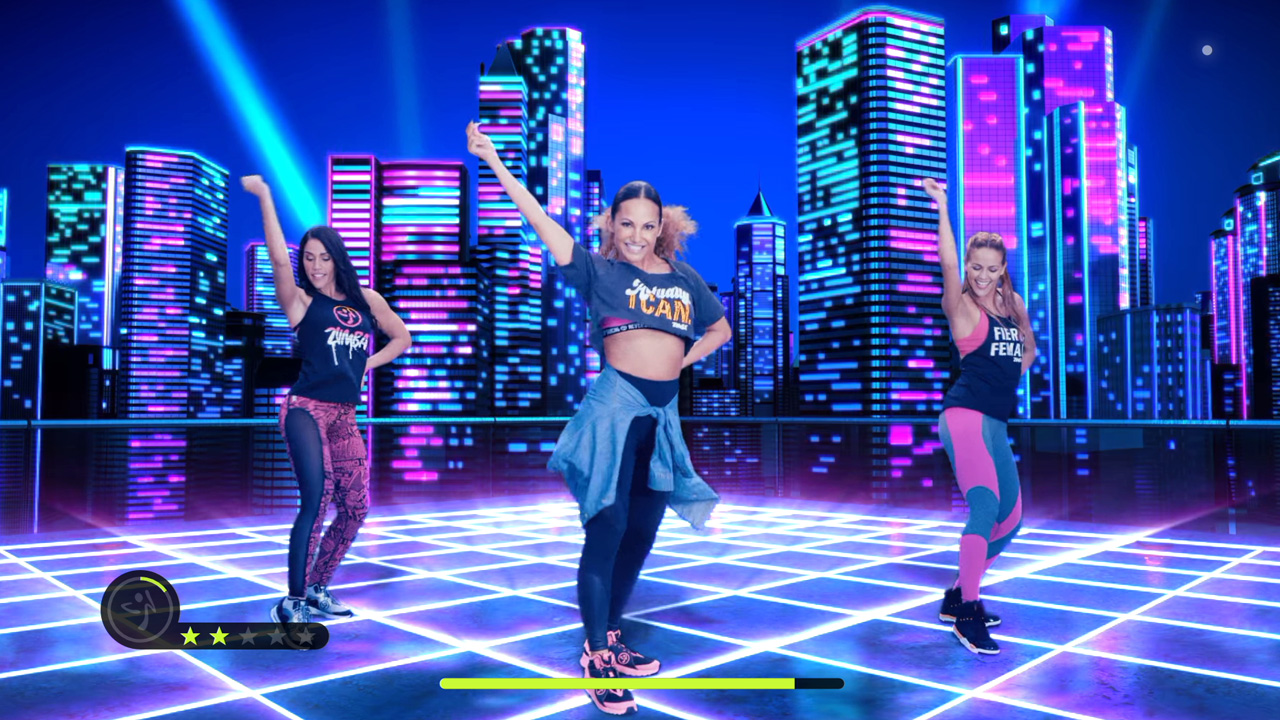 It seems like fitness games are in again on a Nintendo platform. Ring Fit Adventure is out there doing things in its own way as usual for Nintendo, but if you're looking for a more traditional workout experience, you may want to keep your eye on the upcoming Zumba Burn it Up!. Nintendo consoles are no strangers to the popular Zumba fitness program, and although this one is coming from a different publisher than those Wii versions that just about everyone owned, it looks to offer just as much value for those who want to dance the calories away. You get more than 30 songs, including a number of licensed tracks, intensity options, a variety of instructors, a four-player party mode, and all of the lessons, goals, and progress tracking you'd want from something like this. Zumba Burn it Up! launches on November 19th for $39.99 and is currently available for digital pre-order.
GameCube-Like Joy-Cons Now Available For Those Whose Desires Are Unconventional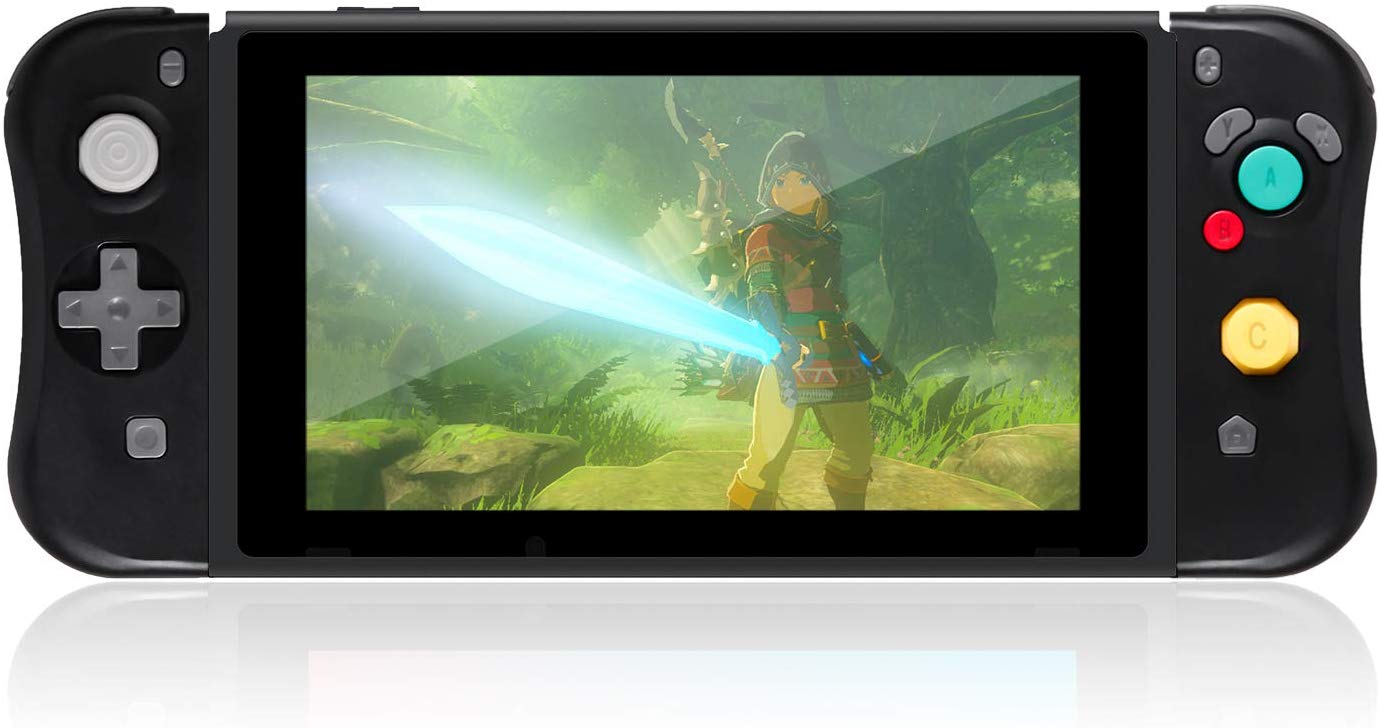 Uh, so this is a thing. Look, as a die-hard SEGA Saturn fan, I know every console has its dedicated fans, and it's not unusual for them to be nostalgic for call-backs to their hardware of choice. So all of you GameCube fans out there, face front: your moment has arrived. Gaming peripheral manufacturer SADES has a brand-new set of Joy-Con replacements out there, and they're patterned after the GameCube's unique controller. Bean-shaped Y and X buttons, the big green A button in the middle of the layout, and even that wacky little yellow C-stick. Even the texture on the left analog stick is designed to match. If you want to get a pair for yourself, just head on over to Amazon. If nothing else, they'd be pretty good for Super Smash Bros. Ultimate in portable mode.
Reviews
A Hat in Time ($29.99)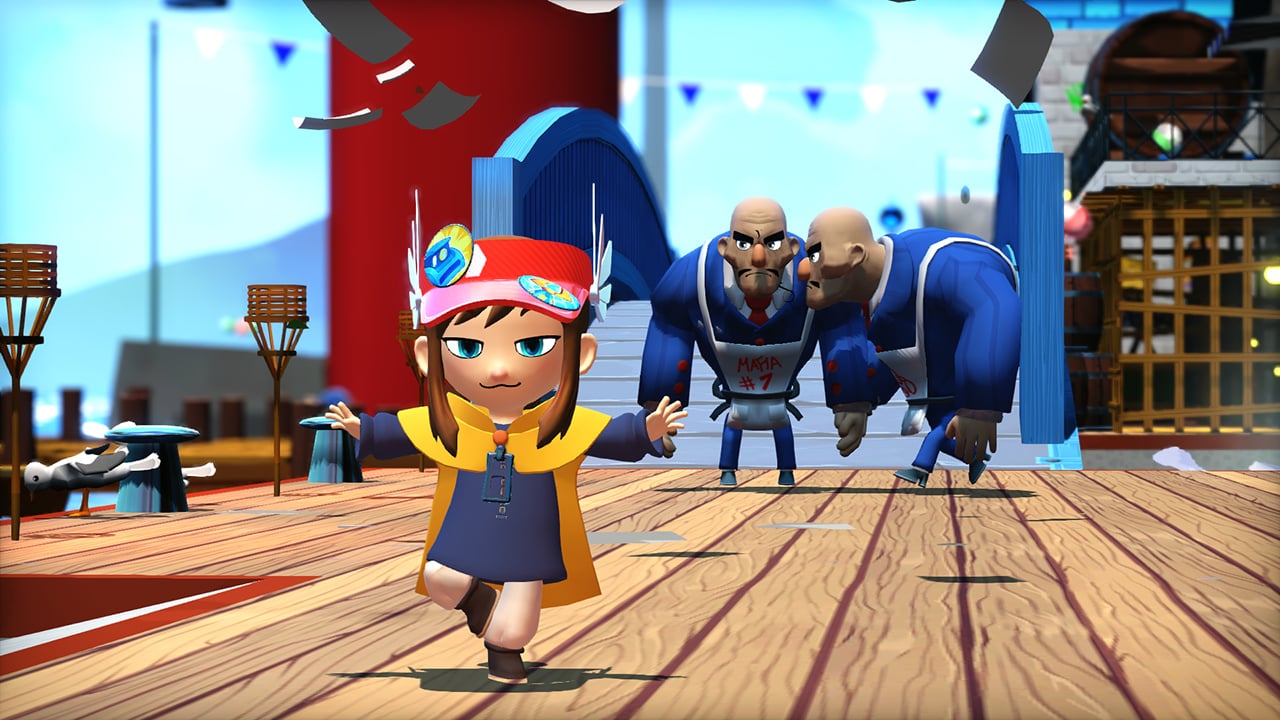 I feel like Switch owners are used to dealing with some compromises when it comes to ports. This is essentially the lowest-powered piece of dedicated gaming hardware in the market, and that means sacrifices in the presentation are the norm, not the exception. The size of those sacrifices vary, and the results tend to be equally mixed. For me, as long as the game's playability isn't compromised too much, I'm satisfied. I don't expect miracles, even if we do sometimes get them. While I was playing the first world of A Hat in Time, I thought it was going to be one of those ports. Unfortunately, the deeper in I got, the more the game's many issues started affecting my enjoyment of the adventure.
A Hat in Time is an indie-developed homage to classic collectathons like Banjo-Kazooie and Super Mario 64. You play as a little girl whose spaceship is powered by fuel cells that look like little hourglasses. After a run-in with some hostile space mafia, all of your fuel cells drop down onto the planet below. If you can't recover them, you won't be going anywhere. The cells work like the Power Stars or Jiggies of Nintendo and Rare's games. You'll accomplish some sort of task and be rewarded with one for your trouble. Those tasks run a wide gamut, ensuring that you're always doing some kind of interesting new thing. It also allows the game to get a lot of mileage out of each of its levels as it sends you this way and that to do different things. You can explore at your leisure and find some neat secrets, including new hats that give you special abilities.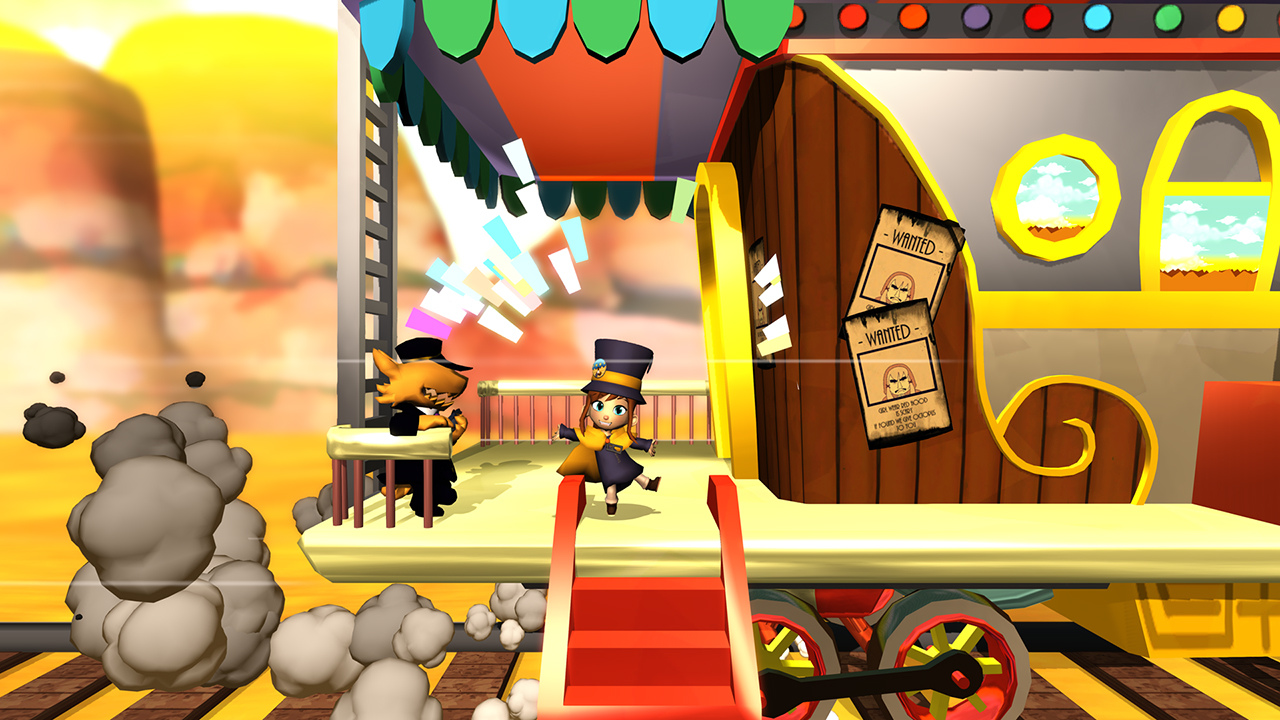 The levels are well-constructed, and they're filled with all sorts of neat set-ups and amusing characters. The controls are spot-on, and just running around in these huge playgrounds is a lot of fun as a result. Most of the missions are enjoyable, with only a couple feeling tedious. In other words, A Hat in Time got almost all of the hard stuff right. I'd argue it gets more right than a lot of games from far bigger names. If you like 3D platformers, particularly the sort that Rare used to make, you really need to play A Hat in Time. Just maybe don't play it on Switch. Not in its current state, anyway.
There are some red flags right from the get-go if you've had a lot of experience with the whole Switch port thing. One is that the game's file size is really, really big. Bigger than it is on any other platform. In and of itself, not a problem, but it perhaps suggests that the game isn't as optimized as it could be. But whatever, it's just space on the memory card. After firing up the game, you'll probably notice the somewhat lengthy loading times. Those are also not that strange these days, but it does hurt the game's snappy flow. The first level will reveal the game's extremely variable framerate, which appears to target a respectable 30 FPS but spikes badly depending on what's happening on screen. For me, this is still tolerable. I'd imagine some of you will have already checked out.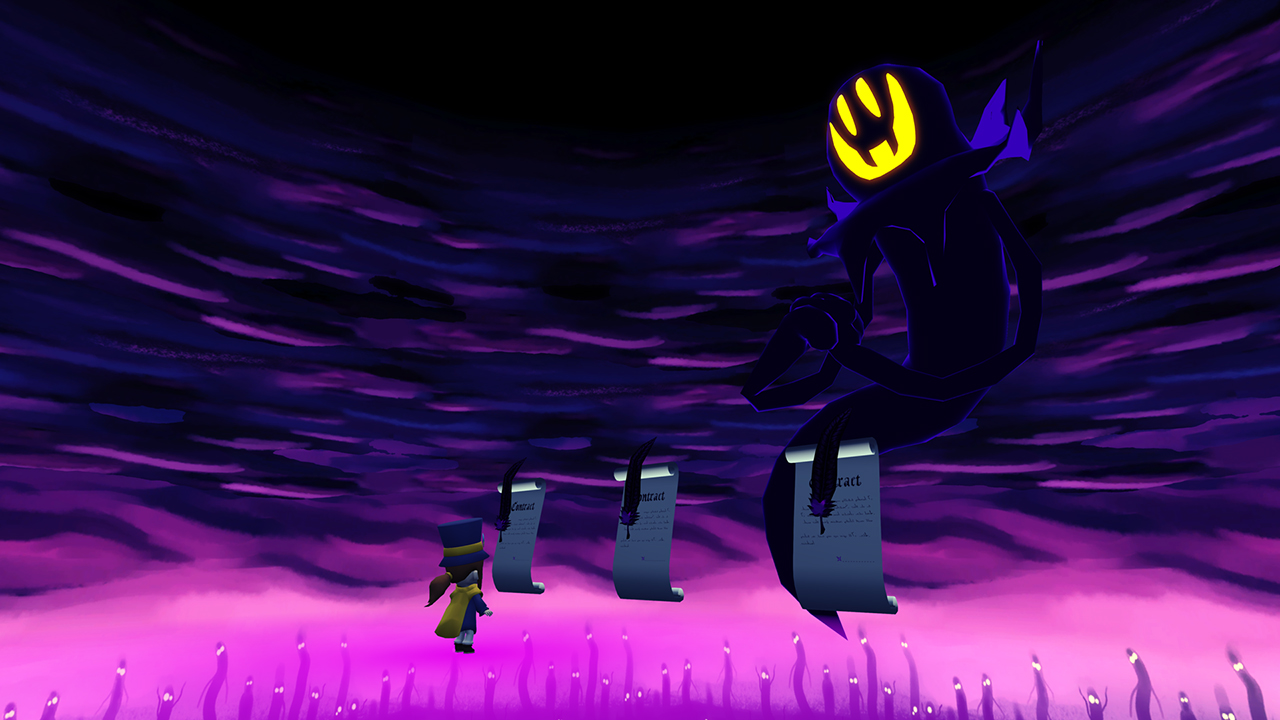 Unfortunately, the farther I got into the game, the more problems started occurring. Bizarre graphical glitches appeared in some levels. At times the levels wouldn't properly load, leaving me in a completely black space with a few lines in it. Quitting back to the ship and re-entering usually fixed this problem, but that naturally involves sitting through a couple more loads. Certain set-pieces in later levels dragged the framerate to its knees, to the point that it became difficult to properly time my jumps and movements. Much like the Switch version of Bloodstained: Ritual of the Night at launch, A Hat in Time doesn't feel like it's quite finished.
This doesn't plague the entire game, and when it's behaving itself A Hat in Time is just as charming on the Switch as it is anywhere else. But it happens often enough and severely enough that it dramatically affected my enjoyment of the game on the whole, which makes me very hesitant to recommend this particular port in its current state. It may well be patched in the future, but in the here and now this is a severely compromised port of a very good game. If you have literally any other option to play it, I'd strongly encourage avoiding this Switch version. Otherwise… well, you won't get nothing out of it.
SwitchArcade Score: 3/5
New Releases
Monaco: Complete Edition ($14.99)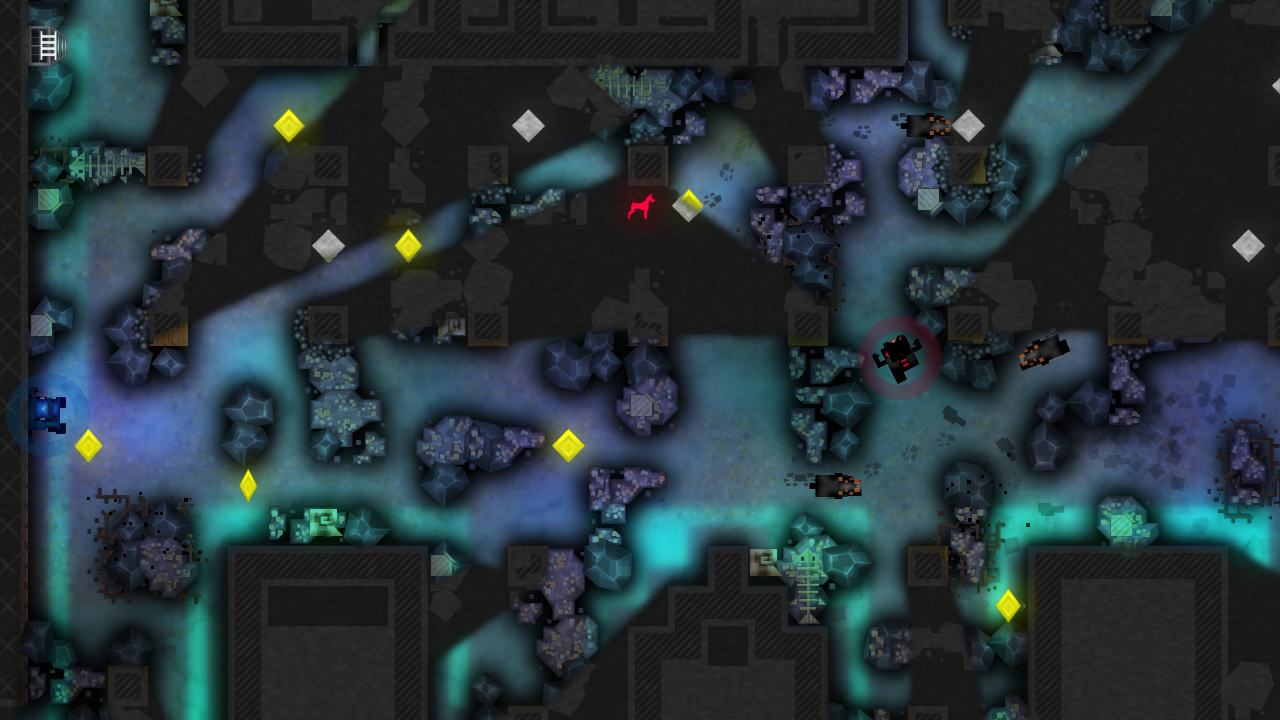 SwitchArcade Highlight!
This is a really cool game where you play as one of an assortment of convicts, each with their own specific talents. You play through top-down stages that involve a variety of goals. This Complete Edition also includes some extra modes including survival and zombie modes. There's also a new campaign that puts a cap on the story and puts your skills to the ultimate test. It's a good enough game when you play on your own, but the real fun in Monaco comes when you gather a few friends or family members for local co-op. Each of you takes control of a different character and can use your specific skills to help contribute to the group's success. If you don't have anyone nearby, you can hop online and play with others that way.
Home Sheep Home: Farmageddon Party Edition ($9.99)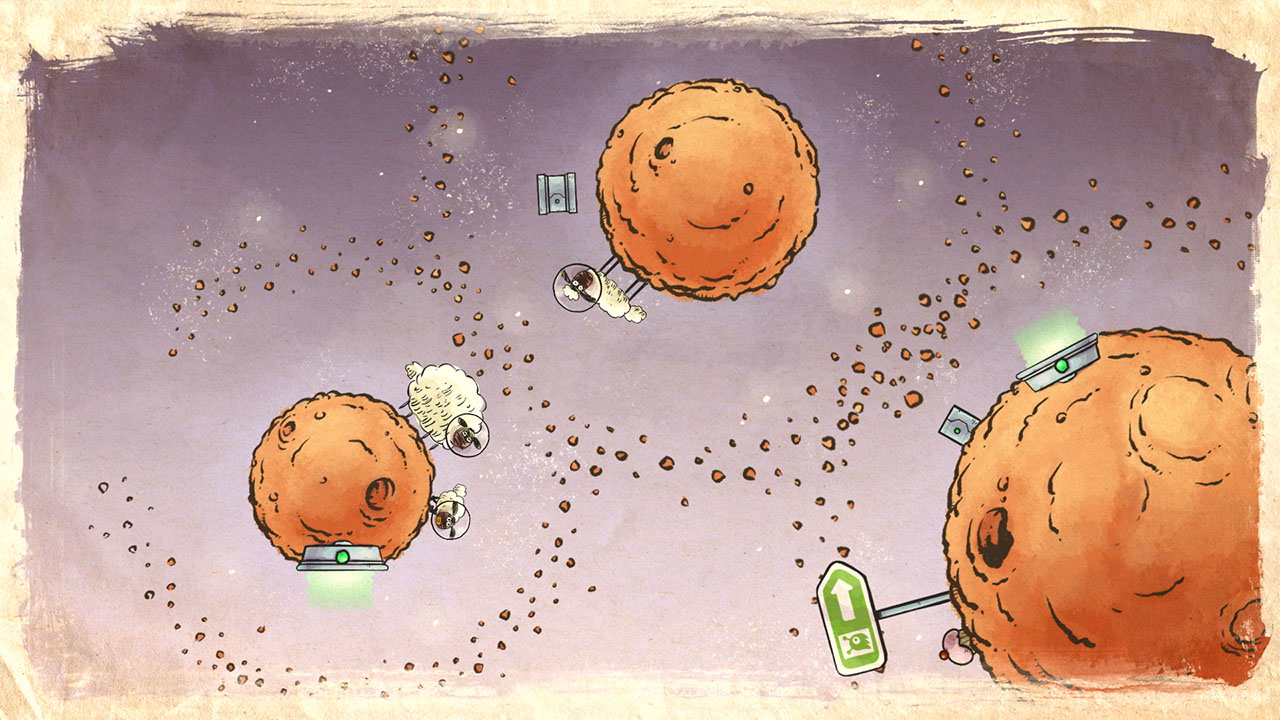 SwitchArcade Highlight!
Shaun the Sheep is a really great show that has a new movie out right now. And look at this! We have a game based on that movie, which is not something you see a lot these days on consoles. Well, it's kind of based on the movie? If my understanding is right, this is an updated version of Home Sheep Home 2, which has been around for quite a long while and is itself a rather modest update of 2011's Home Sheep Home, a game that should be familiar to longtime mobile gaming fans. If you're not familiar with the series, it's a sort of puzzle game where each sheep has its own abilities that you need to take advantage of in order to get home. Some new movie-themed party games have been added that you can enjoy with up to four players locally. Probably not worth it if you've already played Home Sheep Home 2, but if it's new to you, it's definitely a good pick-up.
Tower Climb ($6.00)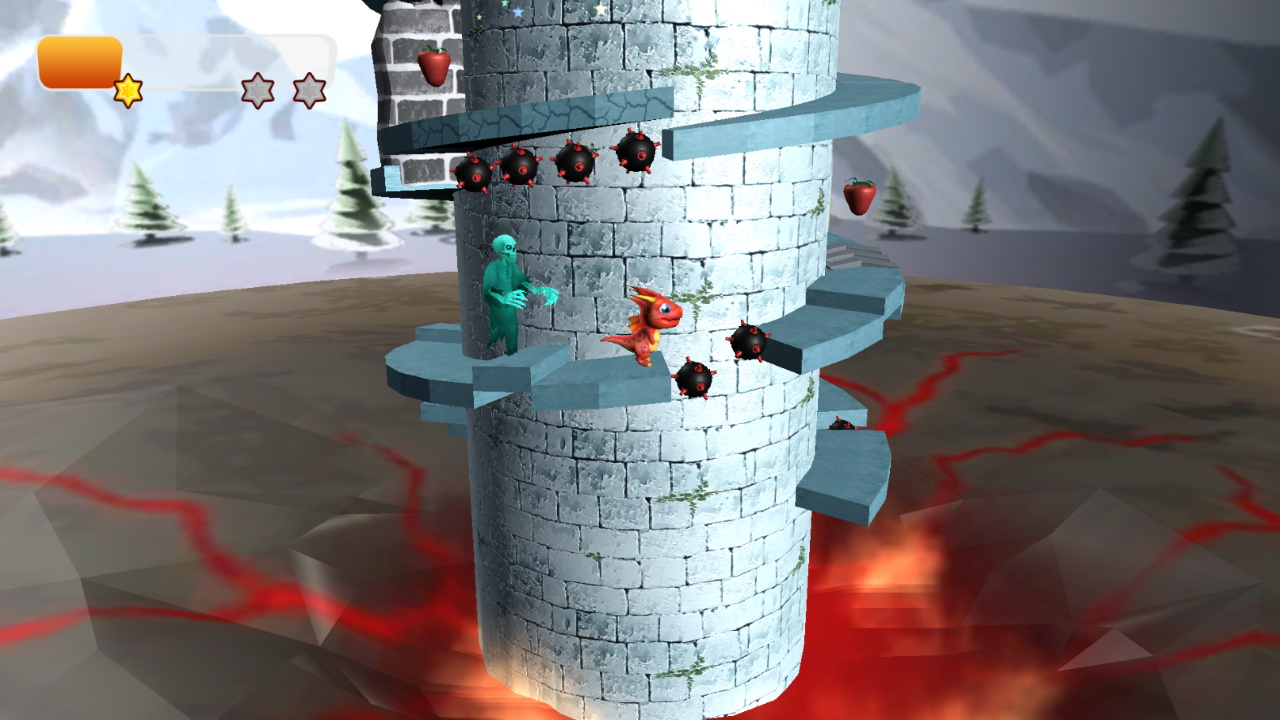 This one kind of reminds me of the Mr. Crab games, or I suppose if we really want to dig back into the past, Castelian/Nebulus. You play as a little red dragon who has to climb towers that rotate around as you ascend. It seems to have forty or so levels, and some kind of three-star system to encourage you to replay them. Certainly doesn't seem like anything special, but if you're interested I'd encourage you to check the game out first on your mobile device where it goes under the name Dragon Climb. It's free to play there, with a $0.99 IAP to unlock the full game. Choices, choices.
Rawr-Off ($2.99)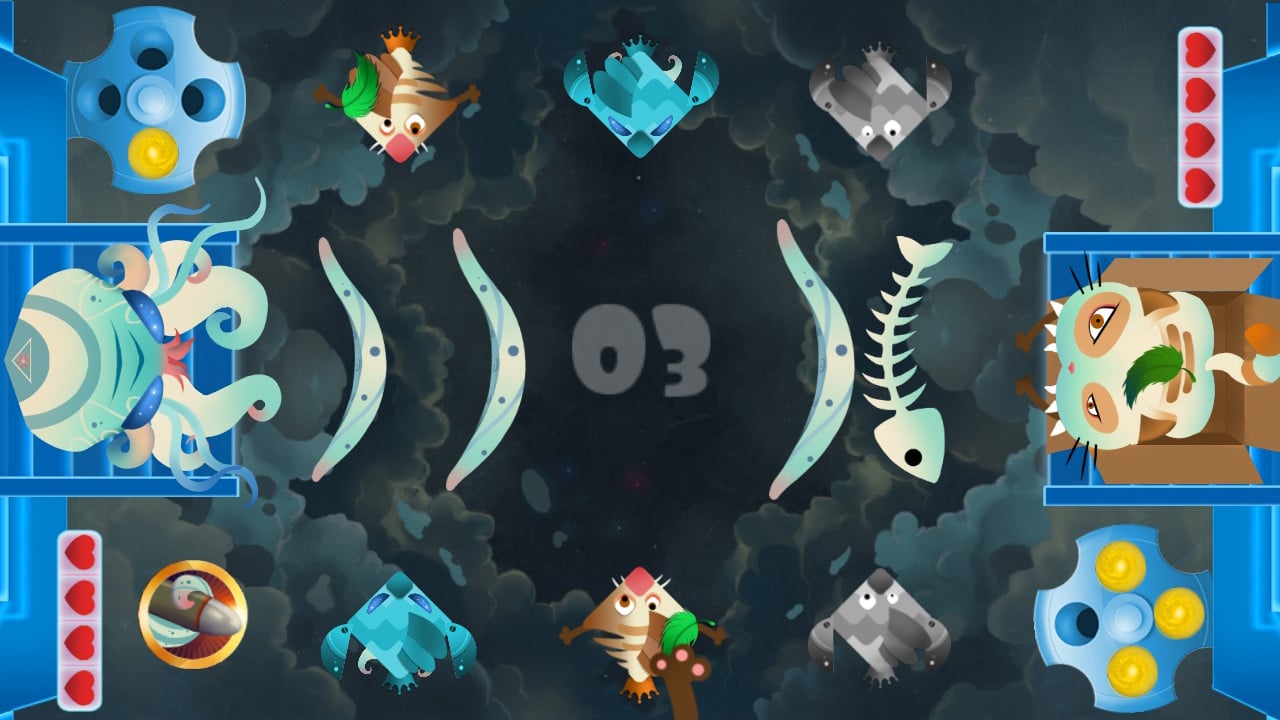 This is another party game, though it's kind of hard to make out what it's all about. You choose a character from a wacky and slightly meme-ish bunch and then battle against an opponent by firing off waves of shots at them. It only supports up to two players, which doesn't seem so much like a party to me, but I'm no party doctor so you'd have to ask Andrew WK to be sure. There are power-ups to grab and other things to paw at while you play, and you can either use motion controls in the TV mode or share the touchscreen for some wild action in handheld mode. Doesn't really do much for me, but it's only three dollars so it's hard to judge it too harshly.
Sales
A couple of new releases had their launch sales kick in over the weekend, and an assortment of other fairly frequently discounted titles also made appearances. A mysterious stranger going by the name "Sebgo" told me that ATOMIK is a pretty good runner, so you may want to grab that one if you trust such suspicious characters. Aside from that, I'd say Crawl is worth considering if you do the local multiplayer thing often enough. Some good games in the outbox, but nothing that won't be back around again, I'm sure.
New Games on Sale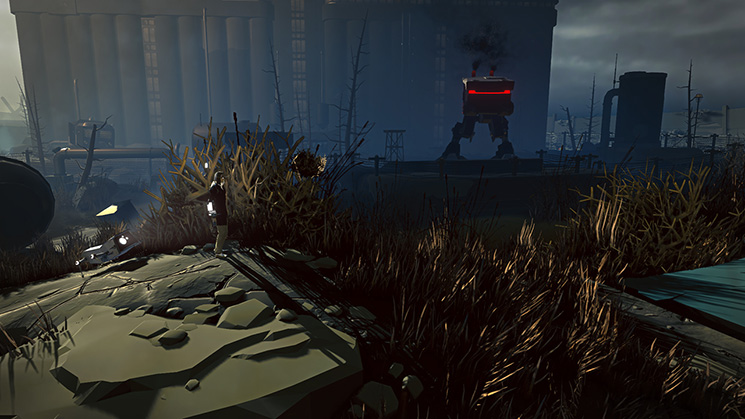 Black The Fall ($0.99 from $14.99 until 10/21)
Crawl ($7.49 from $14.99 until 11/2)
ATOMIK: RunGunJumpGun ($1.59 from $7.99 until 10/26)
Spot The Difference ($1.99 from $9.99 until 11/8)
Milanoir ($6.49 from $12.99 until 10/26)
Rise: Race The Future ($13.19 from $16.49 until 11/3)
Moorhuhn Remake ($5.59 from $6.99 until 11/9)
Moorhuhn Wanted ($5.59 from $6.99 until 11/9)
Bring Them Home ($4.89 from $6.99 until 11/9)
Classic Games Collection Vol. 1 ($3.74 from $4.99 until 10/29)
Werewolf Pinball ($1.97 from $2.99 until 11/7)
Mummy Pinball ($1.97 from $2.99 until 11/7)
Halloween Pinball ($1.97 from $2.99 until 11/7)
Pirates Pinball ($1.97 from $2.99 until 11/7)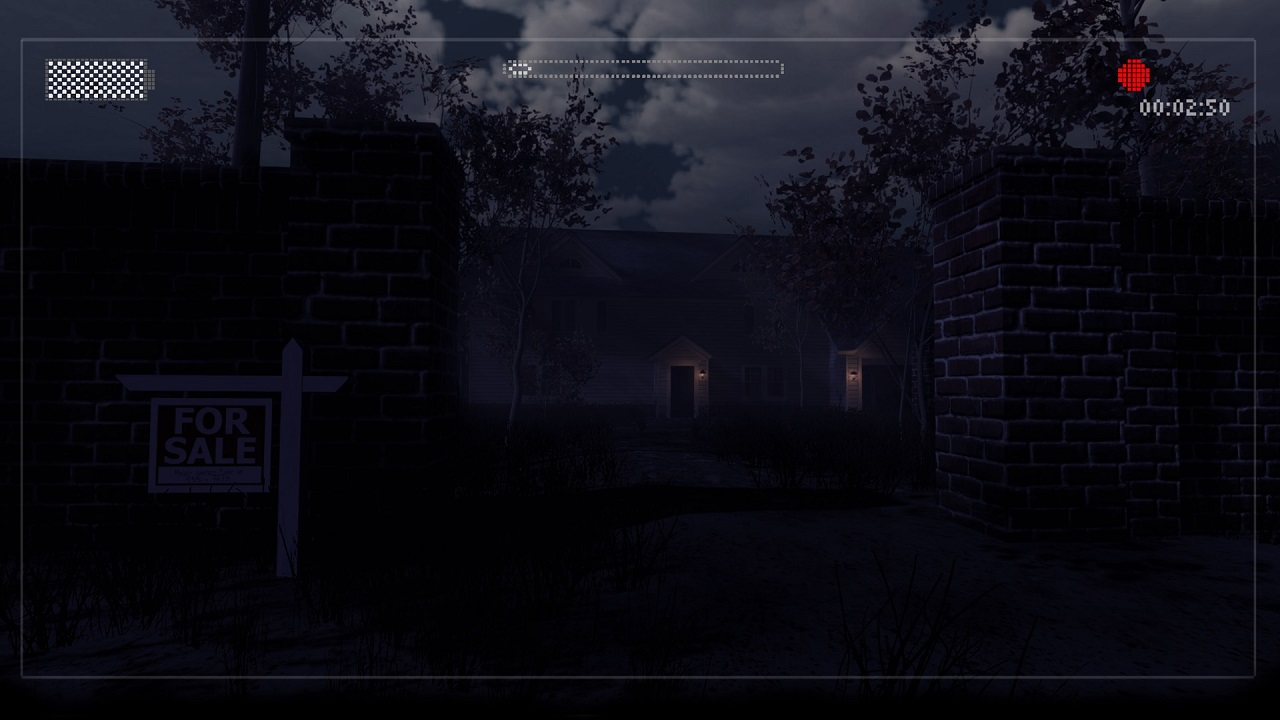 Slender: The Arrival ($4.99 from $9.99 until 11/1)
Hidden ($1.99 from $9.99 until 11/7)
Megaquarium ($22.13 from $24.59 until 10/25)
Just Ignore Them ($3.99 from $4.99 until 11/4)
A Gummy's Life ($10.49 from $14.99 until 11/4)
The Missing: J.J. Macfield ($19.49 from $29.99 until 11/7)
Basketball ($1.99 from $9.99 until 11/7)
Dark Quest 2 ($6.59 from $10.99 until 11/6)
Zarvot ($13.37 from $19.99 until 10/26)
The Lion's Song ($6.99 from $9.99 until 11/9)
Demetrios ($4.99 from $9.99 until 11/4)
Xenon Valkyrie+ ($6.69 from $9.99 until 11/4)
Riddled Corpses EX ($6.69 from $9.99 until 11/4)
Sales Ending Tomorrow, Tuesday, October 22nd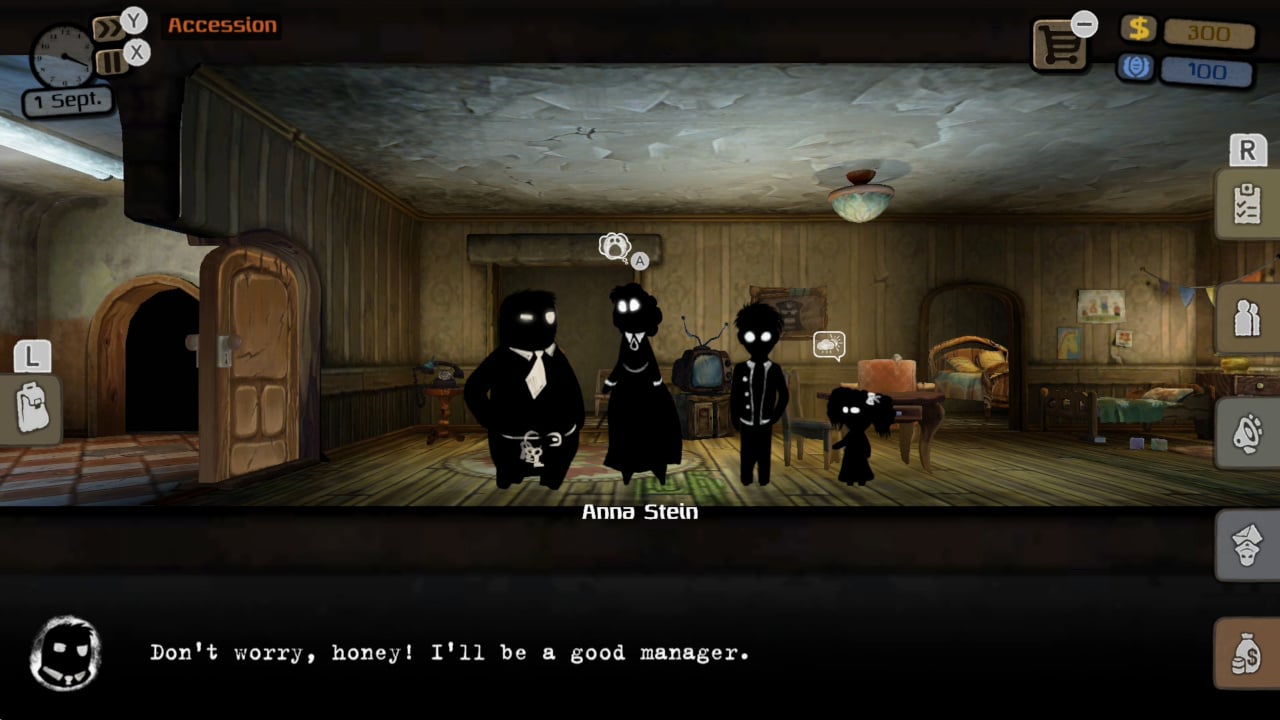 Beholder: Complete ($5.99 from $14.99 until 10/22)
Bomber Crew ($5.24 from $14.99 until 10/22)
Day and Night ($14.99 from $19.99 until 10/22)
For The King ($14.99 from $24.99 until 10/22)
Geki Yaba Runner Anniversary ($0.74 from $2.99 until 10/22)
Grid Mania ($0.49 from $0.99 until 10/22)
Hive Jump ($0.99 from $9.99 until 10/22)
Jumping Joe & Friends ($0.49 from $1.99 until 10/22)
Manual Samuel ($2.99 from $9.99 until 10/22)
Motorsport Manager ($10.04 from $14.99 until 10/22)
Not Not – A Brain Buster ($0.49 from $1.99 until 10/22)
Rogue Aces ($1.99 from $12.99 until 10/22)
Serial Cleaner ($5.99 from $14.99 until 10/22)
Snake Pass ($6.99 from $19.99 until 10/22)
The Flame In The Flood: Complete ($5.24 from $14.99 until 10/22)
The Swindle ($5.24 from $14.99 until 10/22)
Velocity 2X ($6.99 from $19.99 until 10/22)
When Ski Lifts Go Wrong ($7.49 from $14.99 until 10/22)
That's all for today, friends. This is going to be another busy week, with titles like Mary Skelter 2, Skullgirls 2nd Encore, Cat Quest 2, and Anthill all hitting at some point. We'll be back tomorrow with summaries of all of the new releases, along with some news, sales, and perhaps a review or two. I hope you all have a great day, and as always, thanks for reading!