Tangle Tower is a point-and-click (or tap, in this case) murder mystery game that feels and sounds a lot like the Deponia series. You play as the charming duo of Grimoire and Sally. The former is a classic detective in any comedy genre, and actually starred in another murder mystery adventure on mobile a few years back called Detective Grimoire. Grimoire wears a patented trench coat and likes to take long walks on the beach, catch murderers, and say something that could either be witty, funny, or just crazy enough to never be true in a million years.
Sally, on the other hand, is a green-haired… human, probably? Where Grimoire takes his approach in a charming sort of aloofness, Sally is direct, flat, and sarcastic in the best of ways. She's much more of a partner than a sidekick and the banter between his charm and her sarcasm definitely hits a good note with me. They never felt like the same character but just a successfully working unit dedicated to solving the murder of one Freya Fellow.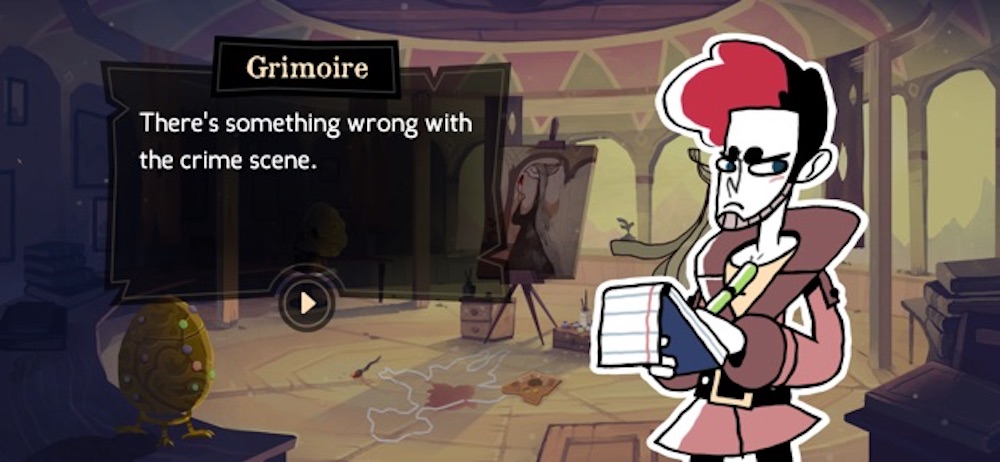 The entirety of this game will take place inside of Tangle Tower, a tall structure that's actually really two towers kind of conjoined into one middle building. The towers themselves are actually rather important as each one is designated to the Fellow family members or the Pointers. Both families were married into the Remingtons at one point and it's been unhappiness inside Tangle Tower ever since.
Your pair of detectives are called in to investigate the tower and find who killed Freya Fellow, a young resident of the Fellows who only wanted to paint her friend and distant family member. Sometime during the portrait, however, Freya is killed from inside the locked room. The poor girl, stabbed dead. She had so much to live for! So much to give! She was the best of them all… at least, that's what pretty much everyone will tell you. Not one of the eight different members of the house will tell you otherwise and so it's up to you to figure it out in this classic whodunit.
A good portion of your time in Tangle Tower will be spent searching for items across a whole slew of different rooms. There's quite a few bedrooms but also a music room, astronomy tower, gardens, and a few others. Each one feels like its own little comforting space and has a ton of cute, voice-acted lines that really make the setting feel alive. I loved searching around not only for items but just to find every different thing that Grimoire and Sally had to say.
Much of the game will be spent in painfully long dialogues. I love hearing some exposition, don't get me wrong, but when you've got over 40 items in the game and 9 characters you can (and pretty much have to) ask about, it gets a little much. As much as I enjoyed the story and the mystery behind it all, I did find myself desperately wanting to skip more and more as time progressed. That said, it is also a rather necessary evil so I can't really punish the game for that. Detective games tend to have lots of dialogue and the fact that it's all well-written and voiced helps immensely.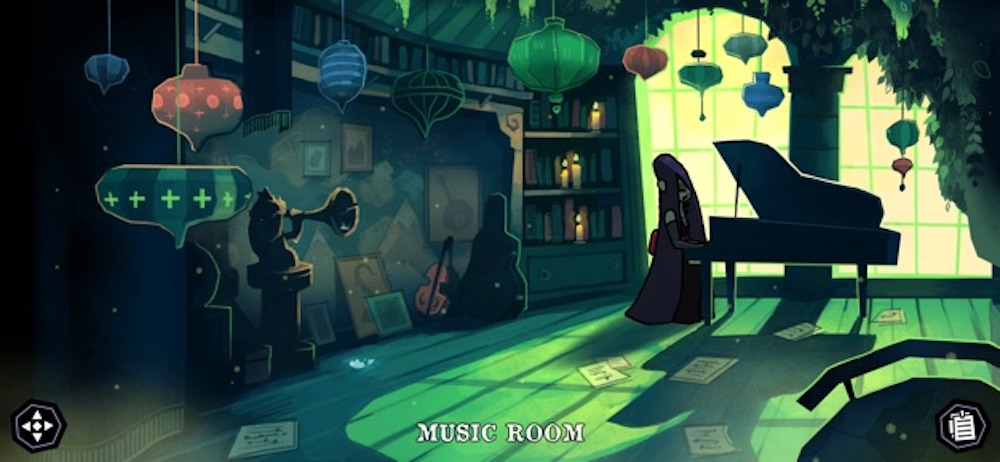 There's also quite a few hidden clues to be found around the house. Many of the rooms have a puzzle or two that are both engaging and fun. Never will you find one that's the same as another and that's one thing I do love. A part of me does have to question why so many members of the household have puzzle boxes… but hey, maybe they all just secretly love puzzles. One great thing about these puzzles is that they include hints which will in no way punish you. If you find yourself stuck, you can click the "complete" button and it'll tell you one of three clues, with the third almost giving you the answer. It's a really helpful system and I found myself using it occasionally.
Finally, gameplay-wise, you'll also find yourself in moments of deduction. These are fun and enjoyable ways for you to explain exactly why this clue or story doesn't add up. It'll give you a list of around 8 plausible items and some various phrases for you to stick together to make one coherent thought. It's a system that I found enjoyable and intuitive. The majority of the time, I found myself knowing what I was looking for but other times I stumbled around a little, which makes it feel perfect in terms of difficulty.
The graphics in Tangle Tower are one of the main things that remind me of Deponia. They're weirdly simple but very lovable. I found myself falling in love with the tower itself just as much as I was the gameplay. Every room was its own space and yet a working part of the tower. The characters, on the other hand, are a little bit stiff. Once you talk to someone for the first five minutes, you kind of already know almost exactly who they are. There are a few surprises in store, of course, but it is a very cliched games in terms of characters.
Overall Tangle Tower is great and very enjoyable. The story is well done and will always have you guessing who the killer might be, the controls are very simple which leaves you to investigate rather than fumble around, and the atmosphere helps to draw you in. All of that coupled with the superb voice-acting found in almost every action in the game will surely leave you satisfied with your time. I for one am excited to see what comes next.
🤔 Like this article?
We pride ourselves on delivering quality, long-form articles like this one instead of the SEO-driven click bait that is slowly taking over the internet. Unfortunately, articles like these rarely generate the traffic (and as a result, the ad revenue) of listicles, cheat guides, and other junk.
Please help us continue producing content like this by supporting TouchArcade on Patreon, doing your Amazon shopping by first visiting toucharcade.com/amazon, and/or making one-time contributions via PayPal.
NOTE: Tangle Tower is available exclusively as part of Apple Arcade, a premium gaming subscription service from Apple. Without being a subscriber to Apple Arcade you cannot download and play this game. Apple Arcade is $4.99 per month and does come with a free one month trial, you can learn more about it on Apple's official website or by visiting our dedicated Apple Arcade forum.