Hearthstone(Free) has been getting a steady flow of new content over the last year through expansions and more. Beginning tomorrow, you will be able to jump into the Haunted Tomb until the end of the month. This event will be spread over different festivities each week. In addition to special Tavern Brawls, 23 important cards that were Wild will join Standard rotation for a limited time. Dual-class arena also returns for a limited time. Blizzard has a lot planned for the game this month. I'm very curious what announcement we will get at Blizzcon this year for Hearthstone. Hopefully more than just new expansions. Watch the trailer for the Doom in the Tomb event below:
If you login from October 8th until October 30th, you will earn a bundle of 5 packs that includes 2 Saviors of Uldum packs, 2 Rise of Shadows packs, and 1 Rastakhan's Rumble pack. This is available to everyone. A new Hex Bundle is available that features 20 Rise of Shadows packs and a random legendary from the set for $19.99 during this event. A Flex Bundle includes 20 Saviors of Uldum packs and a random legendary from the same set for $19.99. Certain Wild cards will be added to your collection in all new event variants. These will be gone after the event ends. The Wild cards that return are below:
Druid – Astral Communion, Kun the Forgotten King
Mage – Babbling Book, Flamewaker
Paladin – Mysterious Challenger, Avenge
Hunter – Lock and Load, Call of the Wild
Shaman – Evolve, Thing from Below
Rogue – Shaku, the Collector, Swashburglar
Priest – Lightbomb, Vol'jin
Warlock – Imp Gang Boss, Renounce Darkness
Warrior – Varian Wrynn, Bloodhoof Brave
Neutral – N'Zoth, the Corruptor, Sylvanas Windrunner, Ragnaros the Firelord, The Curator, Emperor Thaurissan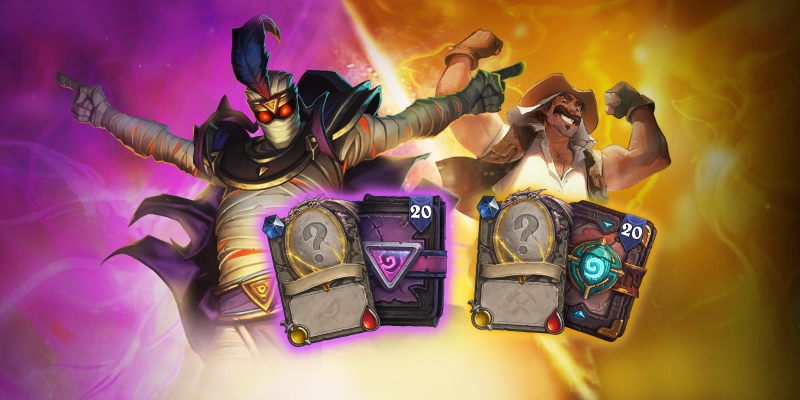 Hearthstone is available for free on the App Store and Google Play. The Doom in the Tomb event will begin tomorrow with a big update and it will be on until October 30th. I'm always up for more unique tavern brawls. WOW Classic has made me think of what a potential Hearthstone Classic would be. What is your favourite Hearthstone expansion in recent times?