There was a time just last week where I thought I'd seen it all from apps. I'd given up on seeing a remarkable game. Countless idle games would appear before me, city-building games made every other week. There was a time that I thought I'd seen it all, and then came Assemble With Care.
Assemble With Care is an absolutely amazing game with puzzles in the form of real-world items to be repaired, simple controls, and a story that'll keep you reading until the very end. Literally. I am guilty of skipping through dialogues in countless games, but I couldn't skip this one. Every scene is beautifully voice acted and each moment in the story is an adventure in and of itself.
You play as Maria, a young woman that succeeded in becoming a Restorer. Your job in this narrative is to fix objects of all shapes in sizes. You start out in a very short tutorial in which you must unpack your suitcase. I know, it sounds a little dull, but it ties in well with the entire story and is simply meant as an introduction. Luckily, the controls are simple enough and require only tapping and dragging on the screen.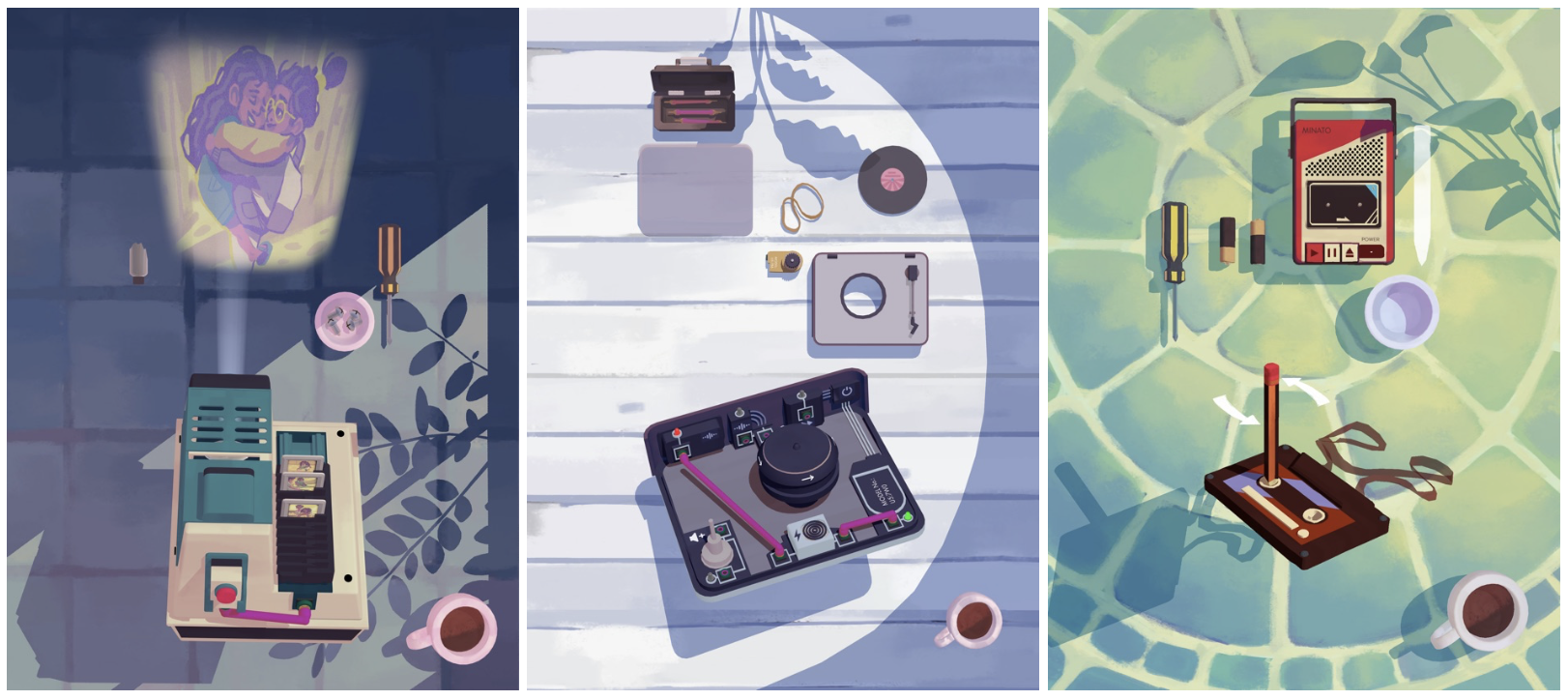 Once the tutorial is over, the real fun begins. After each cutscene (which I highly recommend you watch as the story is one of this game's strongest points) you'll take apart, fix, and reassemble various items. This could include anything from a simple yet meaningful cassette recorder to a rich woman's camera and even a cafe's neon sign with customizable options. You'll be repairing broken, mangled gears with shiny new ones, changing out and hooking up wires appropriately, replacing smashed or otherwise damaged parts, and screwing and unscrewing and re-screwing things over and over again. There are even a few mini-games which I'd hate to spoil for you, so I'll opt to keep them a secret.
But that's not the place where this game shines. If ever there was a game to show how games are an art form, this is it. The graphics paint a peaceful and picturesque landscape that puts you at ease, especially when in conjunction with the music. The story is whimsical, simple, and meaningful. Every chapter, when you're restoring items, you're not just repairing them, you're helping to repair a family. It's a story I can't get behind enough and a game I'm certain to play again.
Assemble With Care is, however, a short game. With 13 chapters to play, you'll find yourself done in about 2-4 hours depending on how quickly you figure out how to restore each individual item. Each chapter shouldn't take more than 20 minutes and the vast majority will take less, so if you're looking for a long-lasting game or one that's more of a traditional puzzler, this isn't it. There are also no major hints in the puzzles and so you may end up temporarily stuck. Luckily, no puzzle has more than around 15 pieces, so you shouldn't be stuck for very long at all. You also have the benefit of having manuals in a couple of the chapters to help you along further.
This game is perfect for anyone with a love of stories, puzzles, and fixing things alike, but I highly recommend everyone take a quick peek at it. There's an even balance between story and puzzle so I doubt you'll find it lacking in any one area. Assemble With Care is truly one of the best apps I've played in far too long and really left me wanting more even though the story was wrapped up quite well. No matter if you're still in your parents' house or already having children of your own, I feel confident in recommending this game to each and every one of you.
🤔 Like this article?
We pride ourselves on delivering quality, long-form articles like this one instead of the SEO-driven click bait that is slowly taking over the internet. Unfortunately, articles like these rarely generate the traffic (and as a result, the ad revenue) of listicles, cheat guides, and other junk.
Please help us continue producing content like this by supporting TouchArcade on Patreon, doing your Amazon shopping by first visiting toucharcade.com/amazon, and/or making one-time contributions via PayPal.
NOTE: Assemble with Care is available exclusively as part of Apple Arcade, a premium gaming subscription service from Apple. Without being a subscriber to Apple Arcade you cannot download and play this game. Apple Arcade is $4.99 per month and does come with a free one month trial, you can learn more about it here: https://www.apple.com/apple-arcade/