Hello gentle readers, and welcome to the SwitchArcade Round-Up for September 16th, 2019. Today we've got news of some great RPGs and classics hitting the Switch soon, along with a full review of Star Wars Pinball from Zen Studios. There's also a summary of today's new release, and a whole bunch of sales to check out. Let's hit the ground running!
News
The First Three 'Dragon Quest' Games Release on September 27th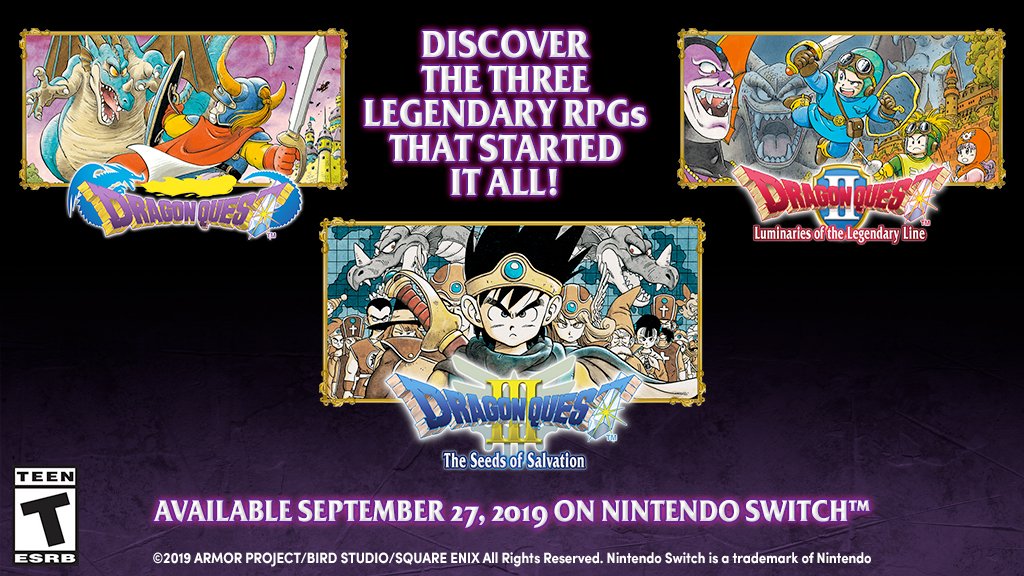 It wasn't that long ago that we heard news of the mobile ports of Dragon Quest 1, Dragon Quest 2, and Dragon Quest 3 hitting the Switch eShop in Japan. Then there was news of an Asian release that had English options included. Even with that, I wasn't too sure these ports would be coming to the Switch in the West as the Nintendo 3DS and PlayStation 4 versions that were release some years back didn't. Well, here we go. The amazing Erdrick Trilogy will be available in the West on September 27th, just in time for the release of Dragon Quest XI S. The first game will be $4.99, the second $6.49, and the third $12.49. If you simply can't wait, these are… well, they're pretty much the same as the mobile versions that came out on iOS four or five years ago. You could buy those if you really want them now.
The 'Atelier Dusk' Trilogy is Coming to Switch
The Atelier series of crafting RPGs has been running for more than 20 years now, appearing on a variety of platforms. In recent years, the Nintendo Switch has played host to not only newer releases in the series, but also ports of previous entries. The beloved Arland sub-series hit the platform earlier this year, and it must have met expectations because the Dusk sub-series is now set to join it. Atelier Ayesha, Atelier Echa & Logy, and Atelier Shallie will be coming to the Switch as a Deluxe Trilogy, just as the Arland games did before. More information will apparently be revealed soon.
Further 'Arcade Archives' Releases Revealed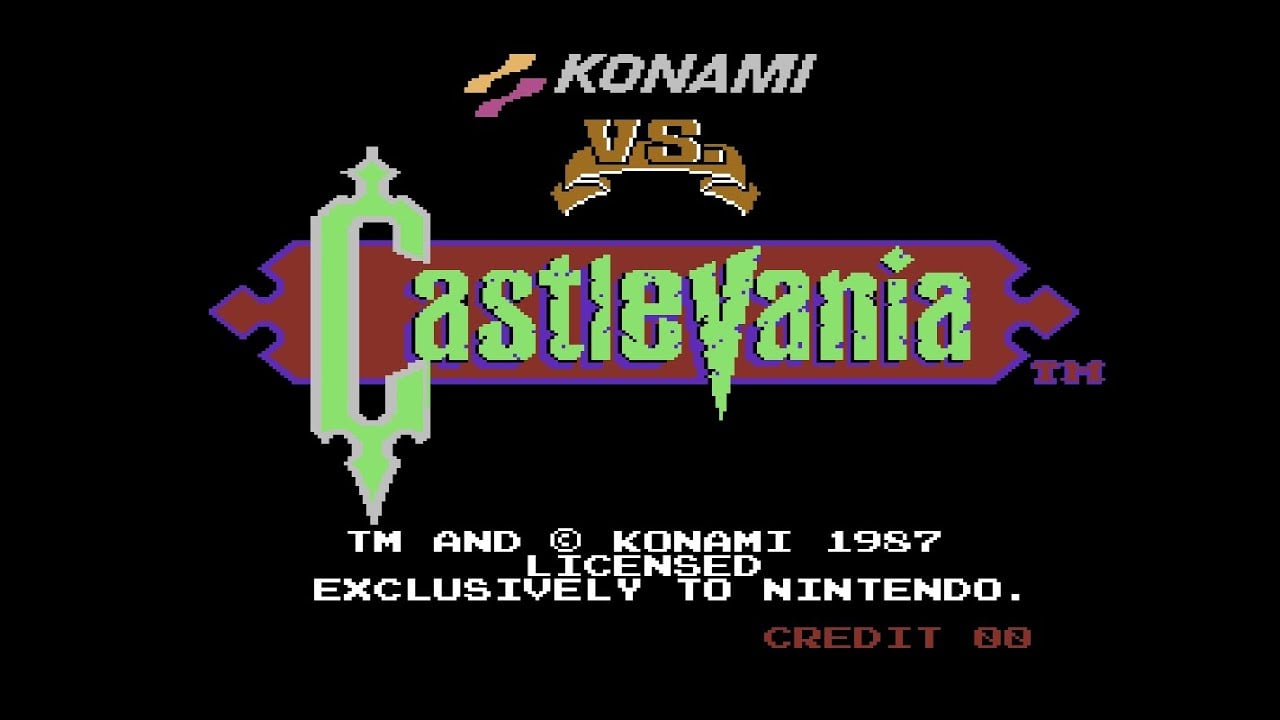 Hamster has announced a few more games that will be joining the Arcade Archives line-up on the Switch in the future and re-confirmed a few that had already been mentioned before. Konami's Scramble, Detana!! TwinBee, and Vs Castlevania were announced, along with Taito's Time Tunnel, SNK's TNK III, Irem's In the Hunt, and Nintendo's Golf. Hamster had previously mentioned Nintendo's Balloon Fight, Data East's Karate Champ, Tecmo's Tecmo Bowl, and Konami's Yie Ar Kung-Fu, but they reaffirmed that those games would also be coming in the near future. TwinBee and In the Hunt are of particular note. The former is the fifth game in its series and is quite a well-made shooter, while the latter was created by the same team that went on to make Metal Slug for SNK and shares a lot of its sensibilities.
Reviews
Star Wars Pinball ($29.99)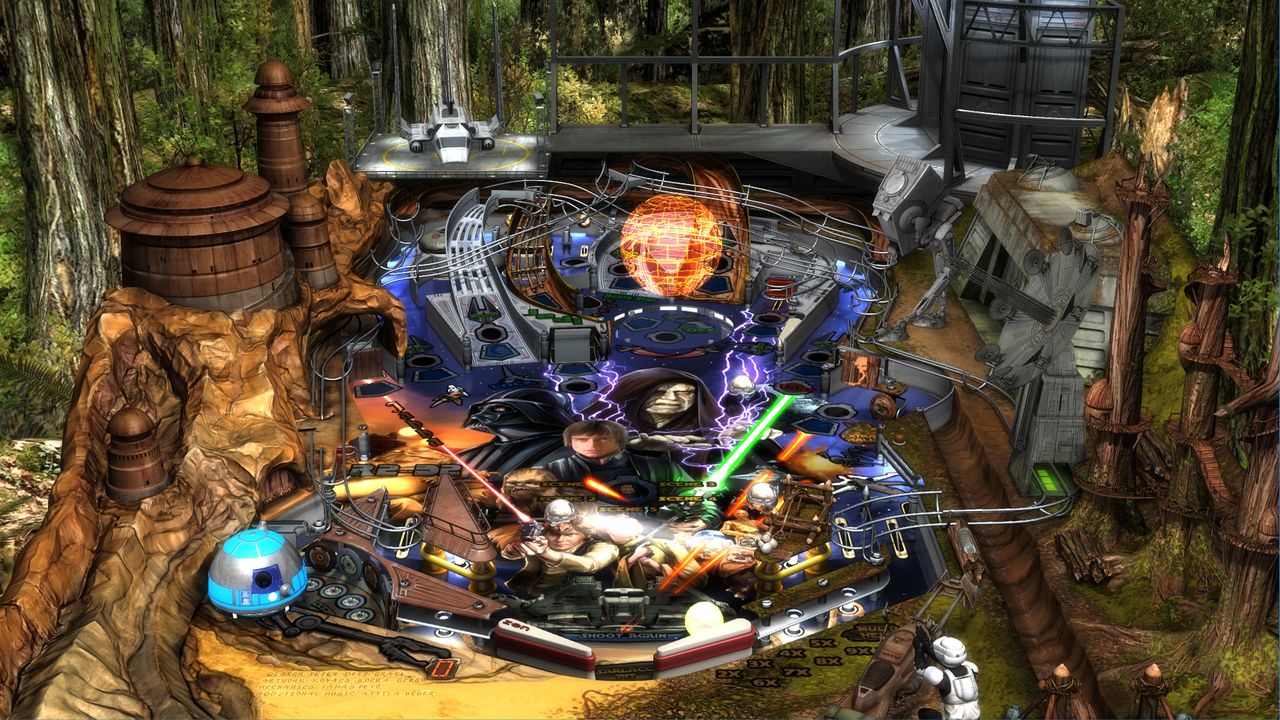 Switch owners have a lot of compelling options when it comes to video pinball. Whether it's Stern, Williams, Gottlieb, or even Zaccaria, replicas of real pins abound. There's also a healthy supply of original pinball tables, with the very best coming from Pinball FX creators Zen Studios. Pinball FX3 has been available on the Switch for a while now, offering a large selection of wholly original tables and new creations based on various licenses. When it arrived, however, it came without some of the really big brands that it sported on previous platforms. One of those absentees has finally arrived on the system in the form of Star Wars Pinball, a comprehensive collection of all of Zen's work with the iconic franchise with some cool extras thrown in.
First, the details. You get 19 tables covering a wide range of the Star Wars universe. There are tables based on the Original Trilogy, the Disney-era movies, some of the TV shows, and a few that are simply inspired by the setting in general. Just on sheer numbers alone, this set is an incredible value. You're paying under a buck and a half per table, which is even less than those half-baked Dinosaur Pinball or Pirate Pinball games that you see in the sales list now and then. While they share a similar broad theme and the aesthetics all revolve around one media property, the variety of gameplay you'll find across these tables is rather large in pinball terms. Zen could have just tossed these together in a bare bones pack and it still would have been a good pick-up.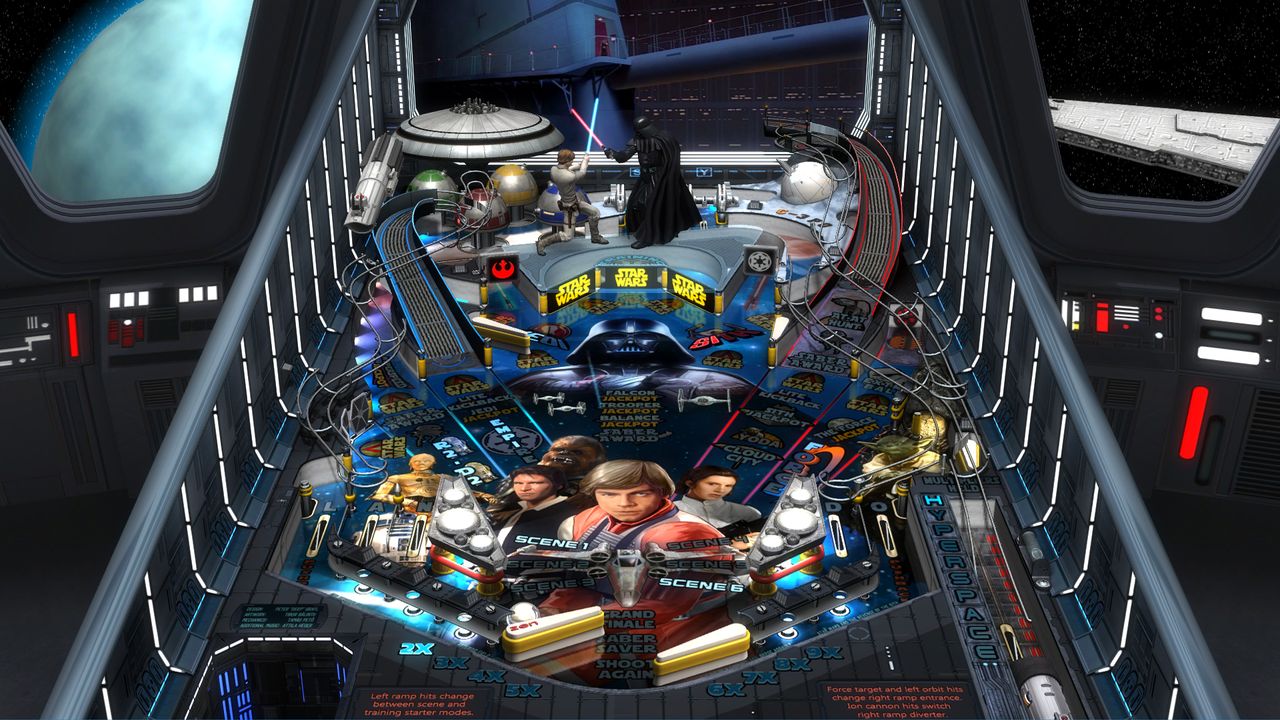 Fortunately, they didn't stop there. In addition to the basic single player mode that allows you to pick a table and have at it, you also get the League Play mode where you take on other players online on selected tables, the Galactic Tournament mode which pits everyone against each other online in a massive tournament, and the Career Mode where you play on select tables trying to achieve certain goals. The latter mode is particularly neat, as you can unlock and use Force Powers that give you an edge. It also gives a guided experience with a fair difficulty progression for those who are a bit overwhelmed by the amount of content available from the get-go. There are different goals including timed challenges, achieving a certain score with a set number of flipper presses, and so on. There are also some mini-games that are, uh, well… not that good, but I appreciate the effort.
All of this is powered by the Pinball FX3 engine, ensuring superb physics and reasonably good production values. Licensed music is in, but virtually all of the voice samples use sound-alikes of varying degrees of quality rather than the real actors. The interface and overall system for online modes will be quite familiar for anyone who has played one of Zen's previous pinball titles, and that means you can indeed flip the display to play in vertical orientation as the Force intended. Setting aside the quality of each individual table, Zen has created an excellent platform for pinball, and that's something that works greatly to Star Wars Pinball's benefit.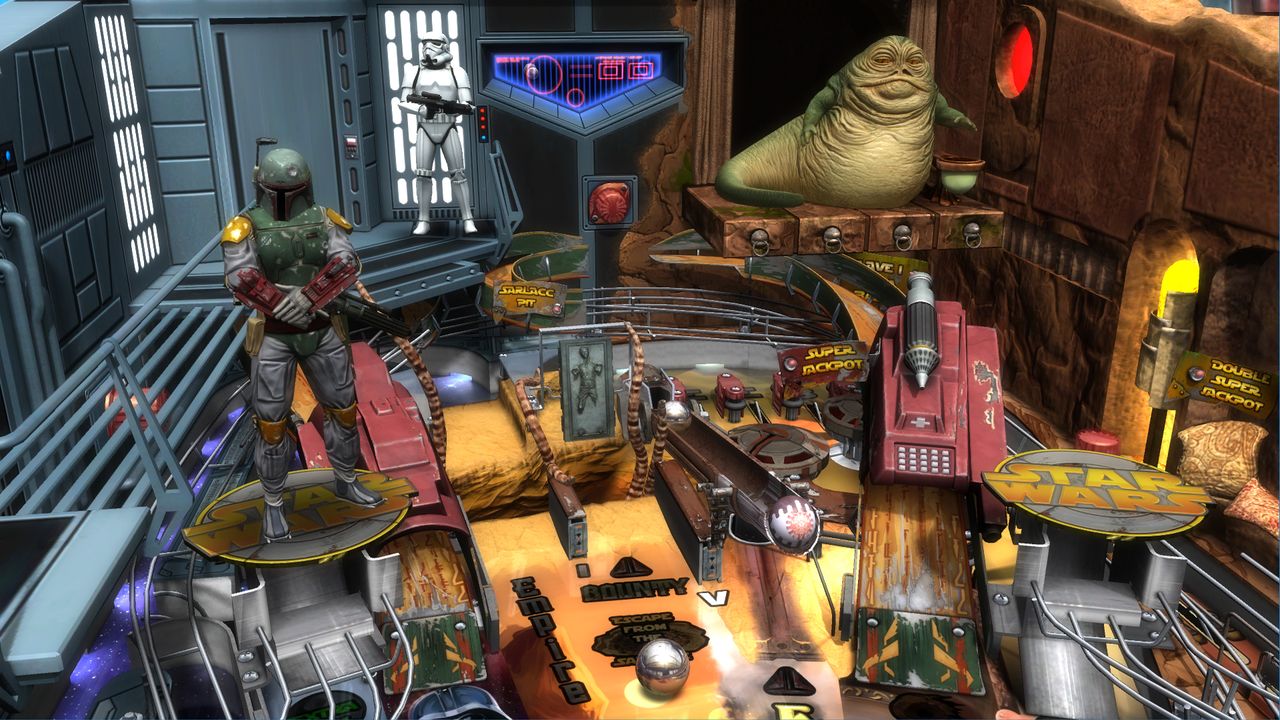 In some ways, this is one of the easiest reviews I've ever written. Do you like Star Wars? Do you like pinball? If you said yes to both, buy this game right away. It's exceptionally well-done and packed with content. If you said yes to one or the other, you may still want to consider this. The Star Wars fan service is strong enough that even those who don't love pinball may have a good time here. The Career Mode provides a natural jumping-on point for those unfamiliar with silver ball. The tables themselves are largely of such high quality that you similarly don't need to like Star Wars to get your pinball thrills here. And if you answered both of those questions with no, then I'm not exactly sure why you read all of this, but I suppose I must admit that Star Wars Pinball may not be for you! At any rate, this is one of the best pinball experiences available on Switch, and the best value per table on top of that. Now, where's Marvel Pinball?
SwitchArcade Score: 4.5/5
New Releases
Akash: Path of the Five ($29.99)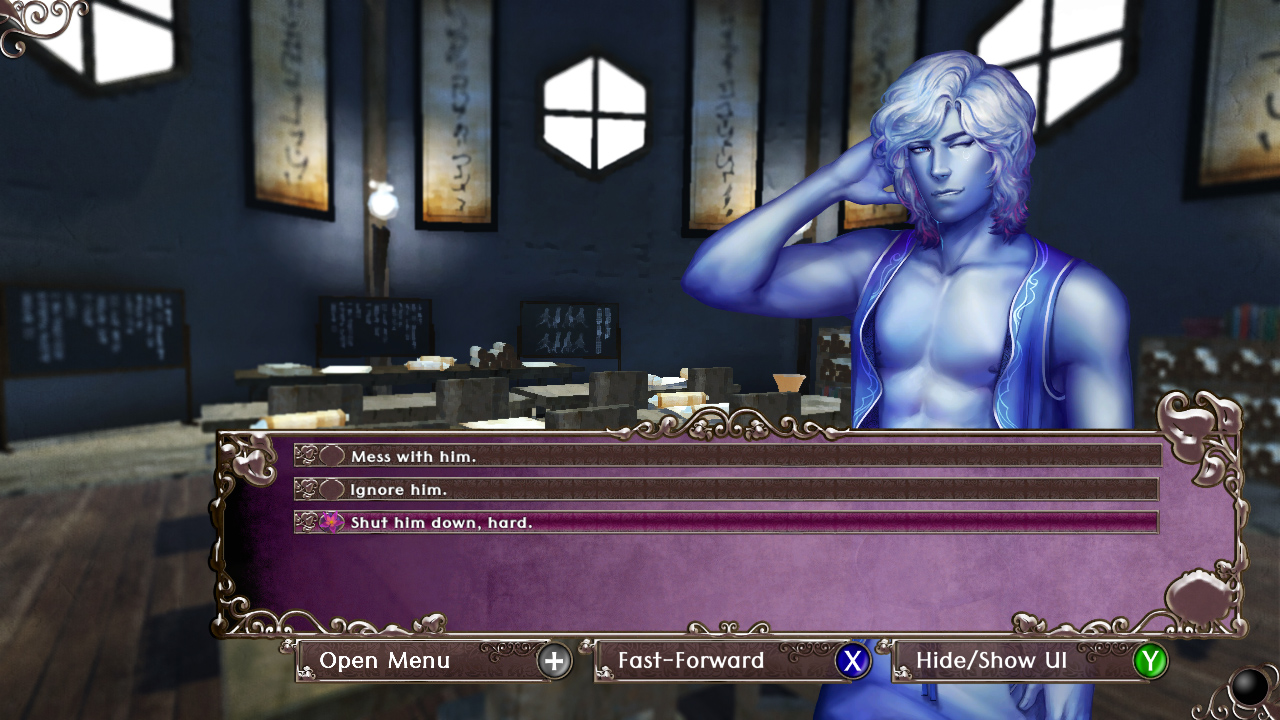 SwitchArcade Highlight!
This is an otome visual novel where you play as Aurora, the only female elemental to come of age in the last 200 years. As you'd expect, this puts some pressure on her to hook up with one of the many eligible elemental men and start producing some offspring so that her species doesn't die out. A heavy burden, and a responsibility she understands, but does she want it? This is a bit of a rarity for the genre as it was created by an American developer, and it certainly shakes out a bit differently from what you may be used to in the otome genre. The broad strokes are, at least, familiar. Choose the dude you want to hook up with and make choices towards making that happen. There are multiple endings based on who you end up with, so you'll want to play through several times to see it all. I was skeptical, but this is actually quite good, provided you're into the genre.
Sales
Some unusual faces in today's sales line-up. At the very least, I'd like to nudge you in the direction of Tin Man Games's wonderful adaptation of the classic Warlock of Firetop Mountain. That price is the lowest it has ever been, and the game really is quite neat. It's like a wordier variant on Hero Quest or Warhammer Quest. It also seems to be a good time to load up on junky simulator games if that's your particular bag. It is not my particular bag.
New Games on Sale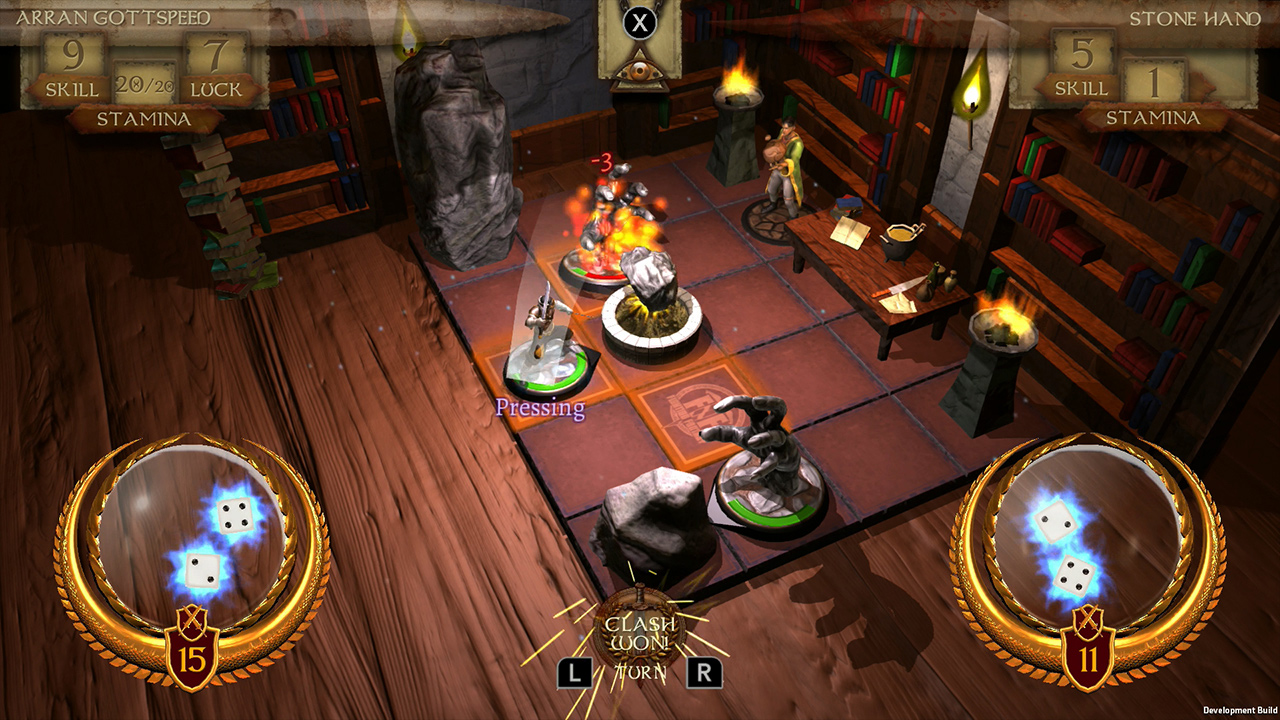 The Warlock of Firetop Mountain ($8.99 from $29.99 until 9/24)
Moonlighter ($12.49 from $24.99 until 9/30)
This War of Mine: Complete ($15.99 from $39.99 until 9/30)
Car Mechanic Simulator ($4.49 from $14.99 until 10/5)
Construction Machines Simulator ($26.54 from $29.49 until 10/3)
Car Mechanic Manager ($1.19 from $3.99 until 9/29)
Car Trader ($1.19 from $3.99 until 9/29)
Garage Mechanic Simulator ($4.89 from $6.99 until 9/26)
Beat Cop ($8.99 from $14.99 until 9/30)
Metaloid: Origin ($6.99 from $9.99 until 10/1)
Tardy ($2.49 from $9.99 until 9/23)
Event Horizon ($1.49 from $5.99 until 9/23)
Dead Dungeon ($0.99 from $4.99 until 9/23)
Sweet Witches ($4.99 from $9.99 until 9/23)
Damsel ($6.79 from $16.99 until 10/1)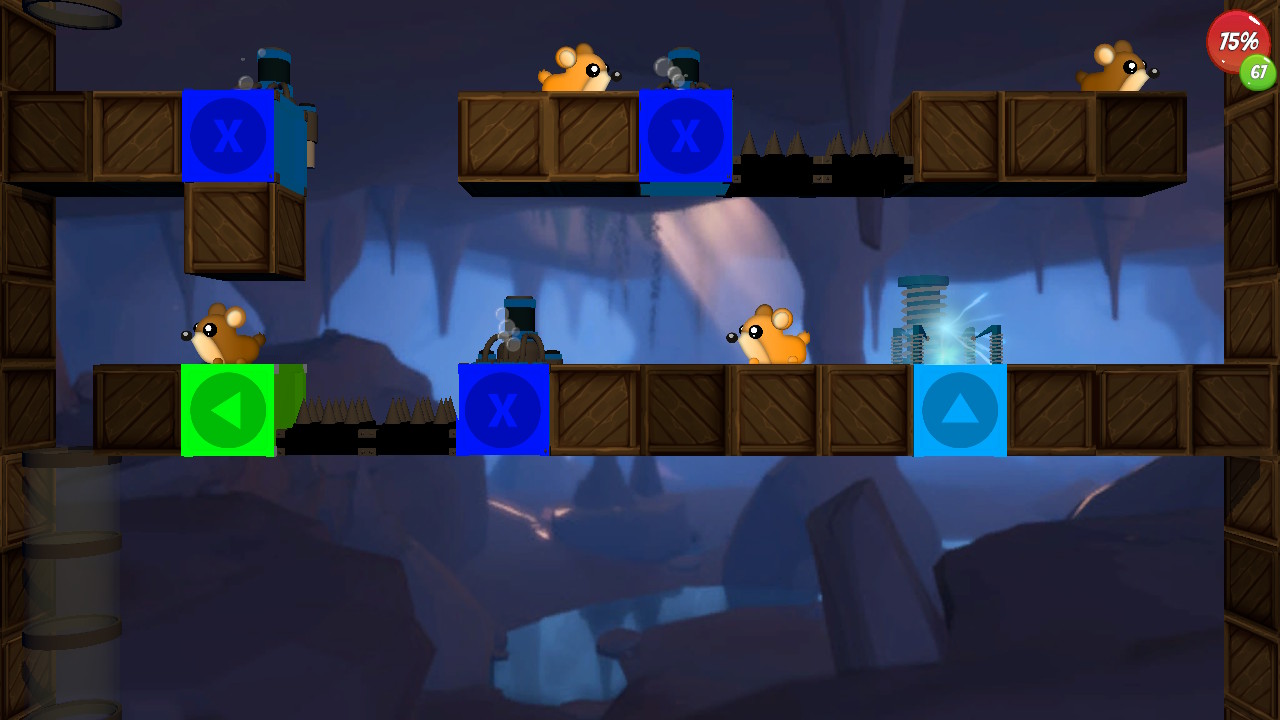 Henry the Hamster Handler ($0.30 from $0.60 until 9/20)
Saboteur! ($7.20 from $8.00 until 10/3)
Saboteur II: Avenging Angel ($7.20 from $8.00 until 10/3)
Unicornicopia ($2.49 from $4.99 until 9/20)
Mad Age & This Guy ($4.49 from $4.99 until 10/3)
Preventive Strike ($1.79 from $1.99 until 10/3)
Submerged ($3.49 from $9.99 until 9/23)
SpaceColorsRunner ($4.19 from $5.99 until 10/3)
Kaiju Khaos ($2.29 from $4.59 until 9/20)
Ellen ($7.19 from $7.99 until 9/27)
Distraint: Deluxe ($4.79 from $5.99 until 9/29)
Galaxy Champions TV ($4.89 from $6.99 until 10/3)
Ben 10 ($7.99 from $19.99 until 10/1)
Hotel Transylvania 3 ($11.99 from $29.99 until 10/1)
Adventure Time: Pirates ($15.99 from $39.99 until 10/1)
PAW Patrol: On a Roll! ($27.99 from $39.99 until 9/30)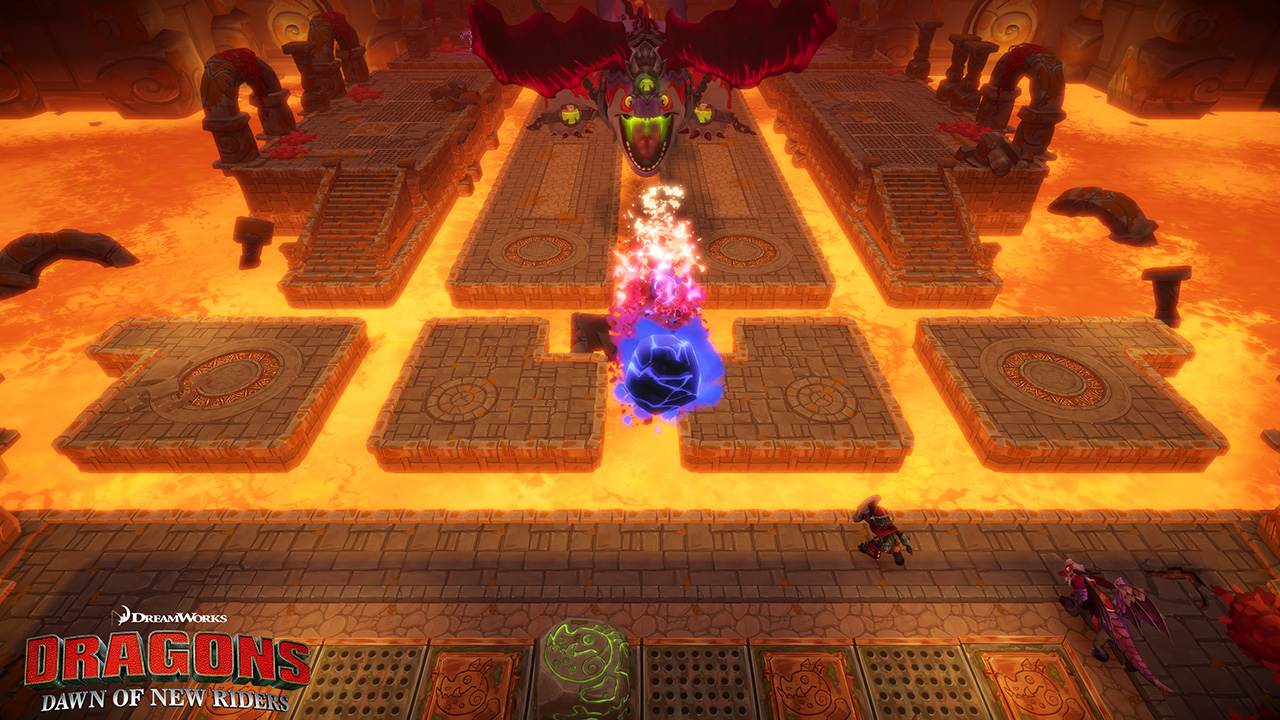 Dreamworks Dragons ($23.99 from $39.99 until 10/1)
UglyDolls: An Imperfect Adventure ($23.99 from $39.99 until 10/1)
Pato Box ($8.99 from $14.99 until 9/23)
Distrust ($7.19 from $11.99 until 9/30)
Catch a Duck ($3.49 from $4.99 until 9/26)
Attack of the Toy Tanks ($3.74 from $4.99 until 9/30)
Cybarian: The Time Traveling Warrior ($3.74 from $4.99 until 9/30)
Neon Junctions ($3.74 from $4.99 until 9/30)
Warlock's Tower ($3.74 from $4.99 until 9/30)
Bird Game+ ($3.74 from $4.99 until 9/30)
Sales Ending Tomorrow, Tuesday, September 17th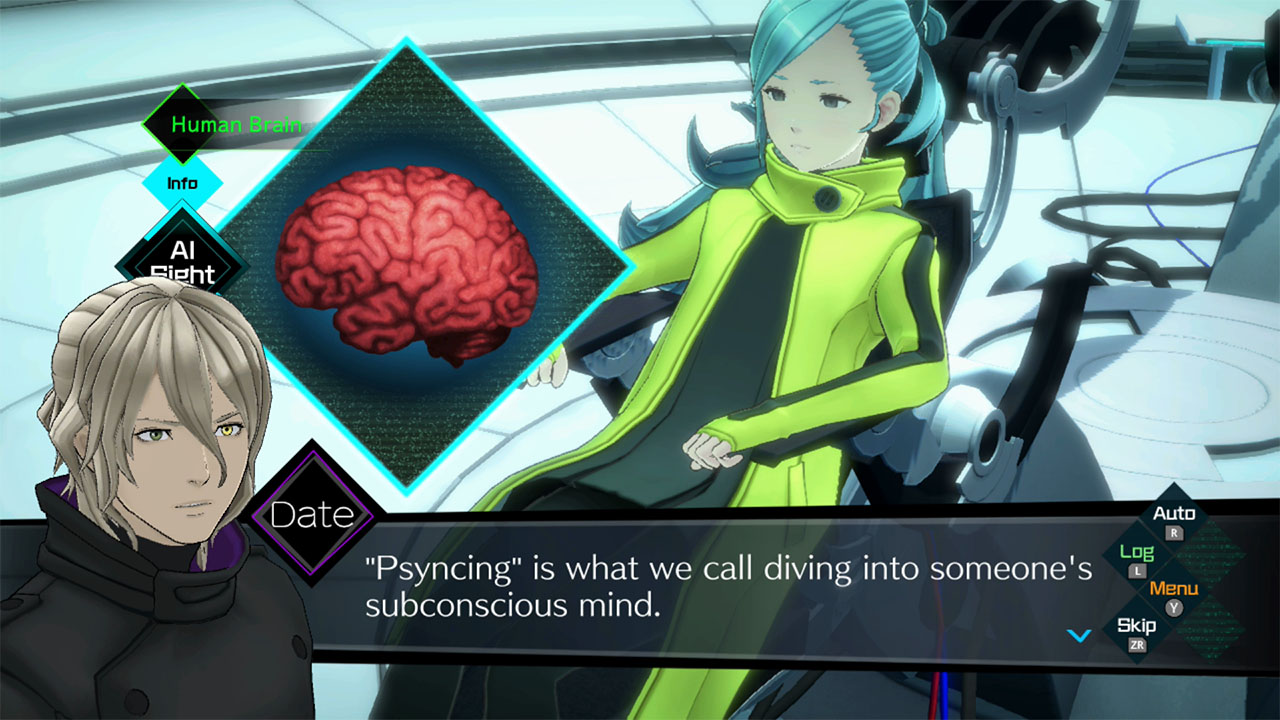 AI: The Somnium Files ($53.99 from $59.99 until 9/17)
Gem Crash ($1.99 from $5.99 until 9/17)
Invasion of Alien X – Earth in Crisis ($7.99 from $9.99 until 9/17)
Jet Kave Adventure ($17.99 from $19.99 until 9/17)
Swaps and Traps ($3.99 from $8.99 until 9/17)
Undead's Building ($3.99 from $5.99 until 9/17)
That's it for today, but tomorrow is looking to be a surprisingly busy day for new releases. You can look forward to summaries of all of those new games including Castle Crashers, along with any news and sales that come along in the interim. As for me, I'm just happy to have the Tokyo Game Show behind me for another year. I'm getting too old for this stuff! Glad to be back in my comfortable routine. I hope you all have a great day, and as always, thanks for reading!