Hello gentle readers, and welcome to the SwitchArcade Round-Up for July 23rd, 2019. While we've got bigger days ahead of us this week, today has lots of goodies to dig into. A demo for an upcoming game, some free extra stuff for a couple of games, a trio of new releases, a 2K Games sale, and more! It's like I wrote the title twice there. Well, that's just how it goes sometimes. No reviews today as the ones I'm working on need a little more time in the oven, but I suppose I don't need to bury you all in text every single day. Let's head off to the races!
News
'Oninaki' Demo and Pre-Purchase Now Available
The rest of the summer from this week on is going to be kind of wild for new releases on Switch. Square Enix's Oninaki is scheduled for release on August 21st, which is somehow less than a month away. It's the latest work from Tokyo RPG Factory, the developer behind I Am Setsuna and Lost Sphear, but instead of following in a similar fashion mechanically to those games, it's an action-RPG. The game is now available for pre-purchase on the eShop for a discounted price of $44.99 (regular price $49.99), and a demo has been made available so you can give it a swing and see if the game is for you. Your progress in the demo will carry over to the full game, so don't worry about having to drive the same road twice, so to speak.
Grab Some Free 'Splatoon 2' In-Game Gear in North America via My Nintendo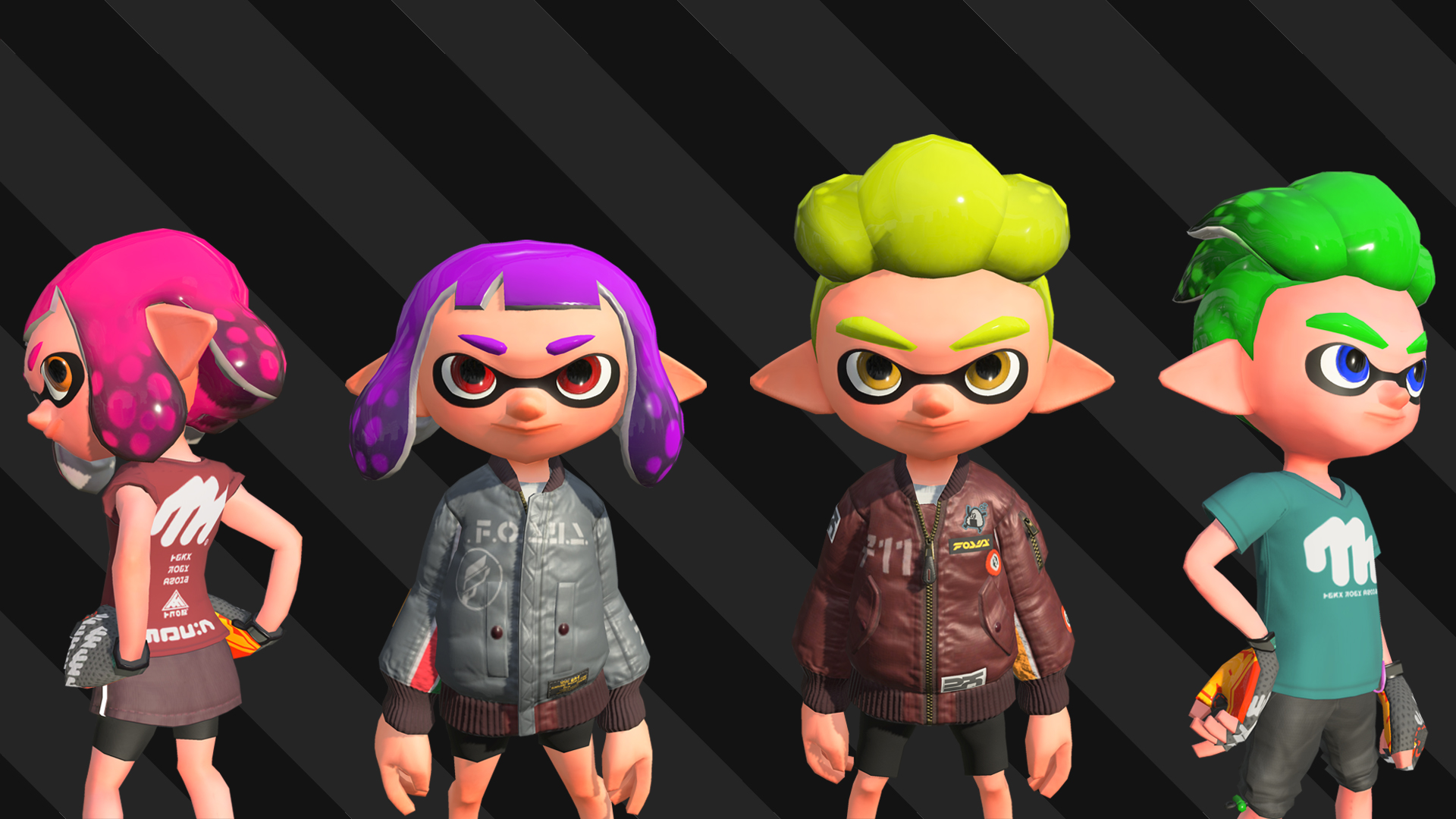 Looking for some new in-game gear for your character to wear as they push boldly into this new post-Splatfest era? Do you have 100 Platinum My Nintendo coins that you aren't using for anything whatsoever? The North American My Nintendo site has your back, friends. Simply exchange your extremely valuable 100 Platinum coins for the appropriate prize and you'll have a code for four spiffy new outfits your Squidling/Octoling can wear. There are two different colors of bomber jackets, and two different colors of V-neck shirts. Sure, it's not much, but it's basically free so it's hard to complain.
Pre-Purchase 'Daemon X Machina' Digitally and Get Some Bonuses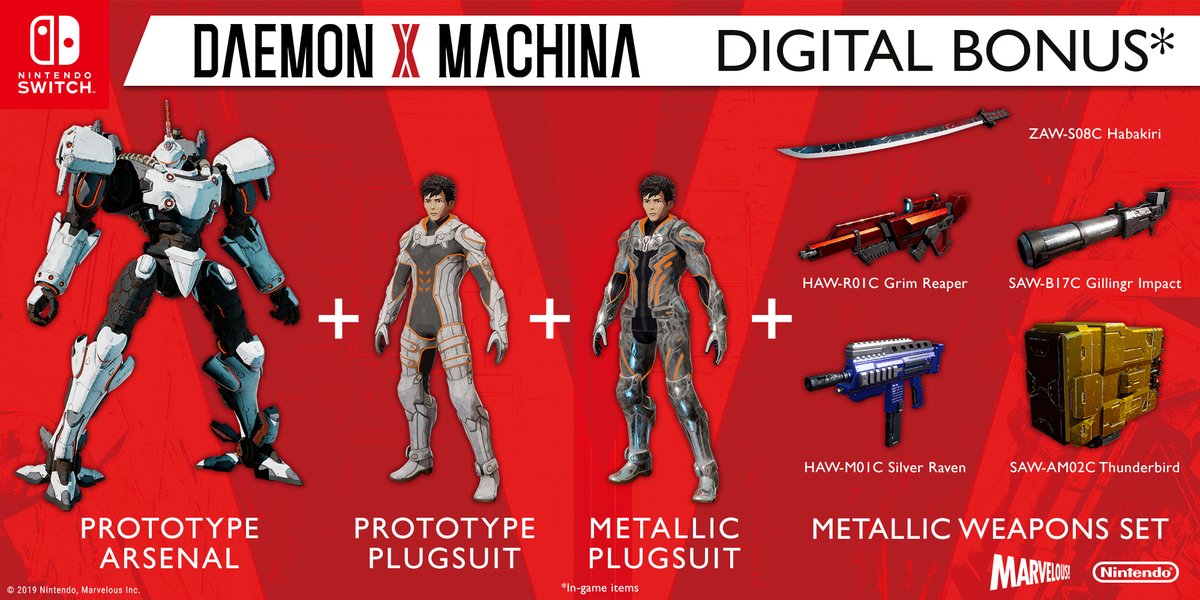 Depending on how you define summer, Daemon X Machina is either coming near the end of the season or a couple of weeks after. Either way, the game is coming on September 13th and you can go ahead and pre-purchase it digitally right now. It's something like 5.8 GB, so you may need to clear some room in the fridge, but there it is. To entice you to find said room, pre-purchasing the game digitally will get you a nice bonus pack of goodies when the game releases. It looks like a few character skins and five weapons, and I have no idea how useful they are. But as we established in the last news bit, it's hard to complain about things that are free. Hard, but not impossible. Dream big, friends.
New Releases
Run the Fan ($3.99)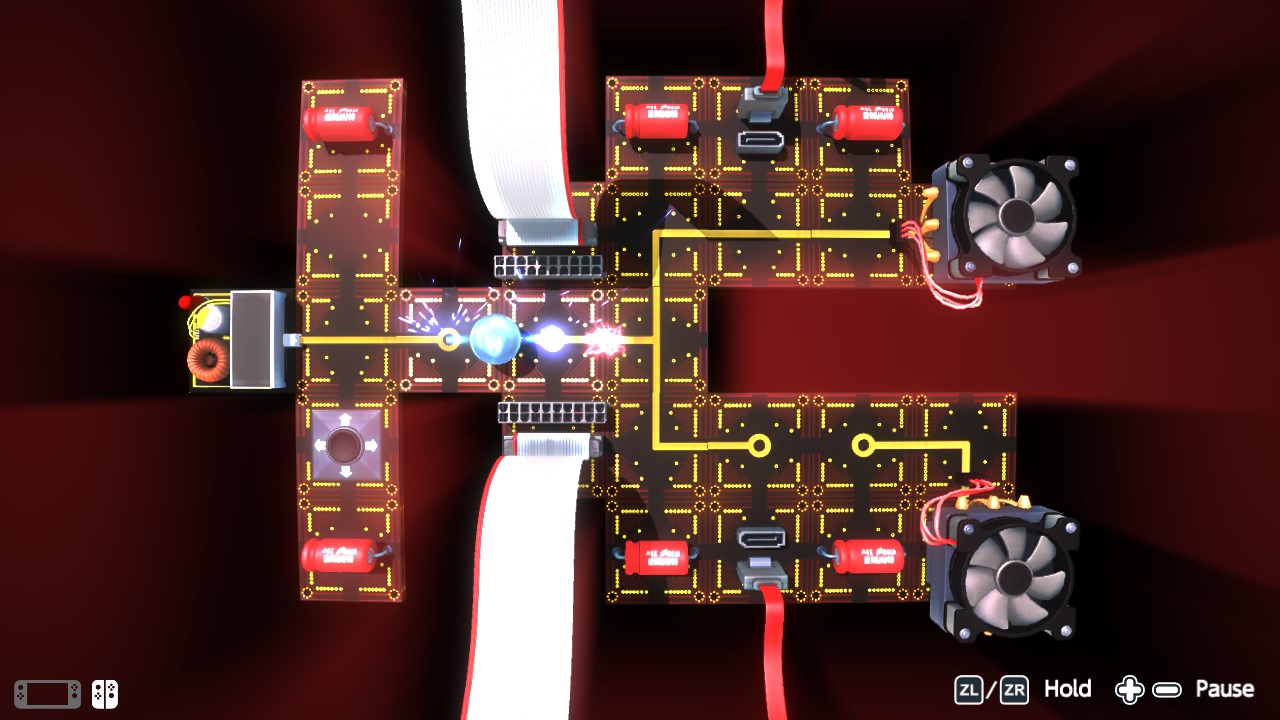 This definitely has an interesting visual theme going for it, but don't be too intimidated. It's a variation on a well-worn puzzle game, so you don't need any particular engineering skill to enjoy yourself here. In each of the game's 50+ stages you need to get the fan running again by creating a path between the current generator and the fan itself. Well, the path is already created, more or less. It's just broken in spots. So you have to create electric arcs over the non-connected points using a metal ball to make sure the current can reach the fan. Basically, you roll a metal ball around using tilt controls to specific locations on a board. Not a bad little puzzler, especially for the price.
High Noon Revolver ($2.99)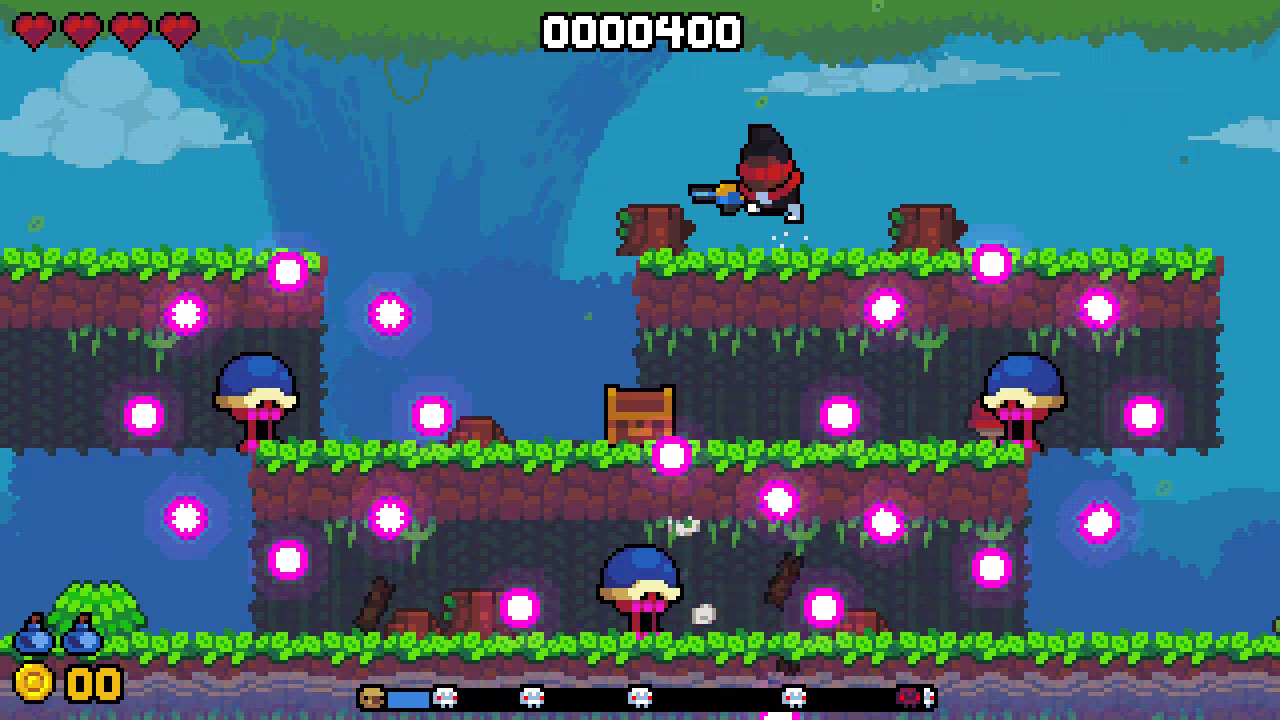 This odd little duck reminds me of Capcom's SonSon or SNK's Psycho Soldier. It's a side-scrolling with autoscroll where your character can hop between multiple floors to battle enemies and score power-ups. Every so often, the screen will stop scrolling and you'll have to fight a bunch of enemies or a boss before moving on. Some mild roguelite elements are sprinkled in as levels are randomized and you collect coins that can be exchanged for various abilities that you can keep until the end of that run. It's a decent game that hearkens back to the earlier days of arcades. I'll be doing a review of this one sometime in the next few days, so keep an eye out for that.
Automachef ($14.99)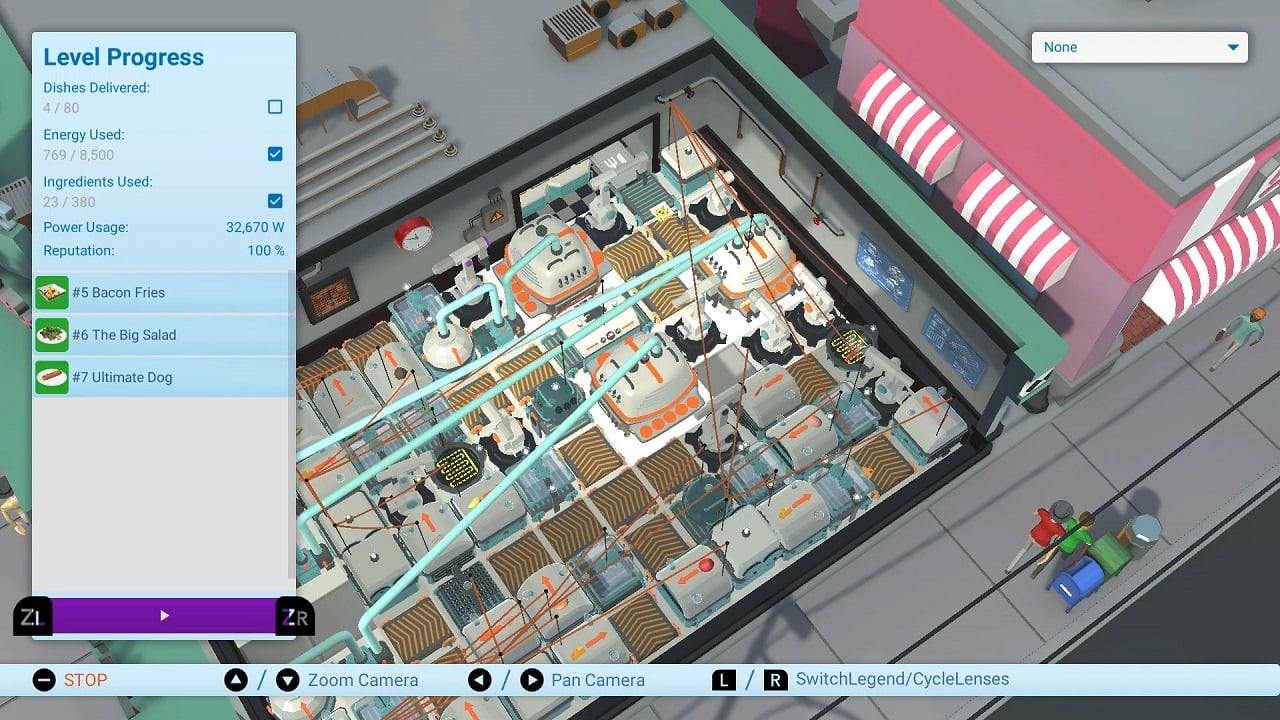 Well, here's a different take on the cooking sim genre. From the same publisher that brought us Overcooked and a completely different developer comes Automachef, a game where you have to build the ultimate cooking machine. Manage resources carefully, make optimal use of your space, and try to seek out the greatest flavors in order to be the very best in the cooking world. Automachef actually seems really complicated from what I've seen of it. I'll have to put my hands on it to see whether that's actually the case, though, and I haven't gotten the chance to do that yet.
Sales
Hey, 2K Games is having another one of its fairly frequent sales. The price on NBA 2K19 isn't quite as nice as it was last time and we're ever nearer to the release of the next game, but I won't stop you if you want it. I will, however, stop you from picking up WWE 2K18 with every bit of power I have. The Switch version remains a garbage fire to this day. Some decent non-2K games in the list today as well, including Runbow, Pirate Pop Plus, Ape Out, and Vaporum. The outbox doesn't have too much to get up in arms about in it, but if you somehow don't have Yoku's Island Express yet, it's never a bad time to buy it.
New Games on Sale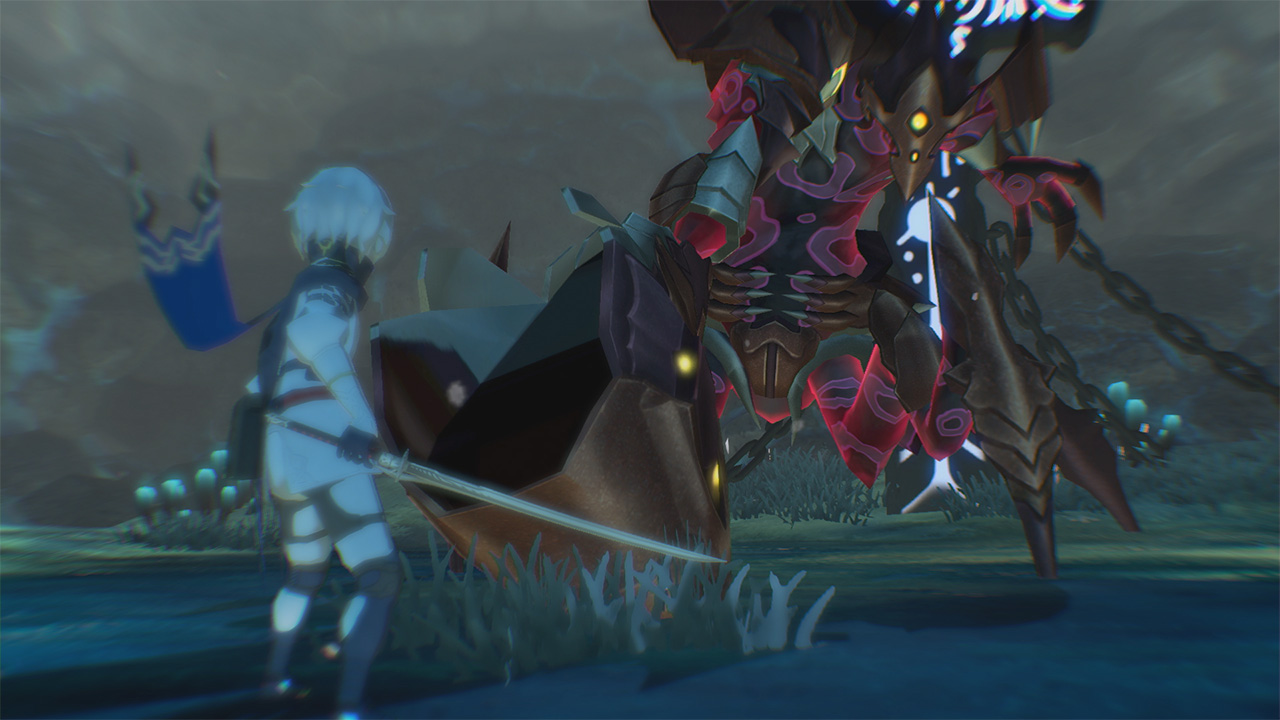 Oninaki ($44.99 from $49.99 until 7/30)
NBA 2K19 ($14.99 from $59.99 until 8/12)
NBA 2K19 20th Anniversary ($24.99 from $99.99 until 8/12)
NBA 2K Playgrounds 2 ($14.99 from $29.99 until 8/12)
WWE 2K18 ($14.99 from $59.99 until 8/12)
Carnival Games ($19.99 from $39.99 until 8/12)
Sid Meier's Civilization VI ($40.19 from $59.99 until 8/12)
Bouncy Bob ($0.25 from $1.00 until 8/5)
Pirate Pop Plus ($3.49 from $4.99 until 8/5)
Hexologic ($1.19 from $2.99 until 8/9)
Runbow ($7.49 from $14.99 until 8/5)
Candle: The Power of the Flame ($4.99 from $19.99 until 8/4)
Crimson Keep ($5.99 from $19.99 until 8/4)
HoPiKo ($1.99 from $9.99 until 8/4)
Vaporum ($17.49 from $24.99 until 8/4)
Crypt of the Serpent King ($1.99 from $2.99 until 7/31)
Ape Out ($10.49 from $14.99 until 7/29)
Automachef ($13.49 from $14.99 until 7/30)
Sales Ending Tomorrow, Wednesday, July 24th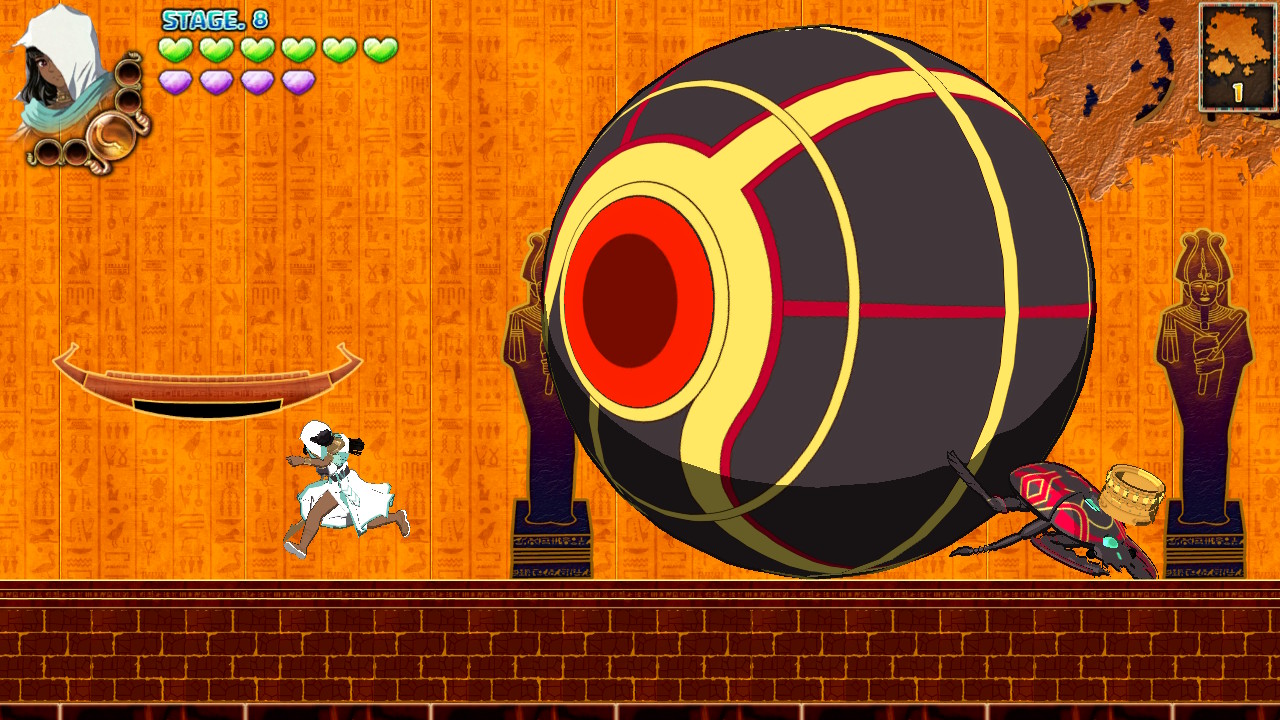 Ankh Guardian – Treasure of the Demon's Temple ($5.59 from $7.99 until 7/24)
Bot Vice ($7.99 from $9.99 until 7/24)
Bubble Cats Rescue ($2.99 from $3.99 until 7/24)
Deployment ($2.49 from $9.99 until 7/24)
Grand Prix Rock 'N Racing ($4.99 from $9.99 until 7/24)
Lost Orbit: Terminal Velocity ($8.99 from $9.99 until 7/24)
Mugsters ($7.49 from $14.99 until 7/24)
Pet Care ($0.29 from $1.49 until 7/24)
Rollin' Eggz ($2.69 from $2.99 until 7/24)
Selma and the Wisp ($2.49 from $9.99 until 7/24)
Super Star Path ($3.99 from $4.99 until 7/24)
The Room ($4.99 from $9.99 until 7/24)
Yoku's Island Express ($9.99 from $19.99 from 7/24)
That will wrap things up for today, friends. We'll have a couple of new releases to look at tomorrow, though neither of them looks particularly grand. There should be some news and new sales to check out as well. And yes, if I can get everything where I want it, we should have at least one review to check out on top of that. There are some huge releases coming up at the end of this week that are sure to leave us all broke, so that should be fun. As always, thanks for reading!