My childhood loves, Hello Kitty and her friends, are back in my life courtesy of a collaboration between Sanrio and Animal Crossing: Pocket Camp (Free). The limited-time collection will last several weeks and span several events. It kicks off today with new themed fortune cookies, new premium items, and a new gyroidite scavenger hunt. To celebrate, all players will receive a special Hello Kitty bow!
The Hello Kitty fortune cookies features – you guessed it! – Hello Kitty items. Fortune cookies are Animal Crossing: Pocket Camp's version of loot boxes, so nothing is guaranteed. You can purchase one cookie for 50 Leaf Tickets (LT, the game's premium currency) or five cookies for 250 LT. The Hello Kitty-themed items include a couch, a bed, drawers, a hat, a table, a chair, a planter, and a dress.
Hello Kitty and Cinnamoroll are featured in a premium item collection that includes one backpack, one wallpaper, and one floor per character. The backpacks will set you back 200 LT, with the wallpapers costing 150 LT and the floor, 120 LT. The second collection will feature Pompompurin and My Melody, and will launch later this month. A third collection starring Little Twin Stars and Keroppi will be released early next month.
The Hello Kitty Gyroidite Hunt has begun, and it will be familiar to players: collect as many gyroidites scattered amongst the world as possible, and craft special themed items. This event only runs for ten days, so get in on it quickly! There's finally a new amenity, the Hello Kitty tent, which will set you back 8,600 bells and 500 gyroidites but it's well worth it. There are also several themed tees to collect, each for 360 bells and 50 gyroidites: Hello Kitty, Pompompurin, Cinnamoroll, Kiki and Lala, My Melody, Keroppi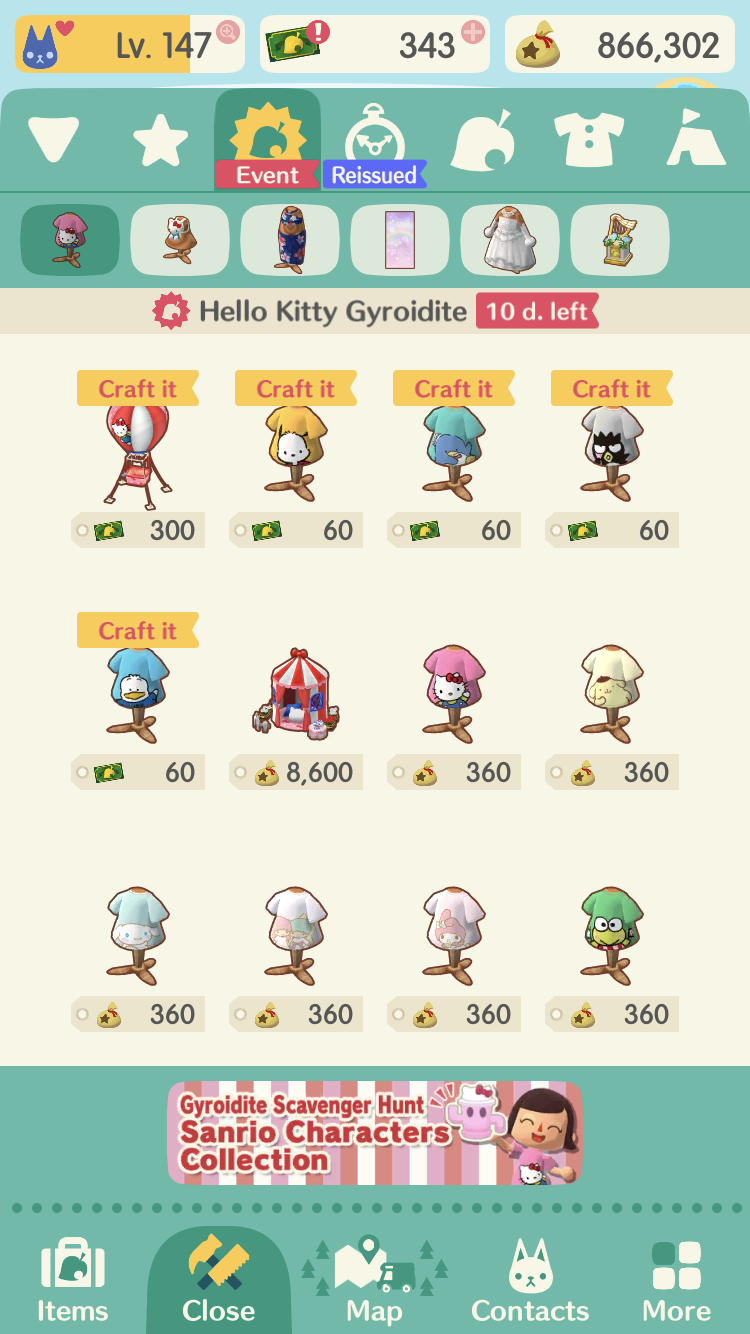 For the ten days the Gyroidite Hunt runs, there are also premium items available to round out your collection. The Hello Kitty balloon will bring her to your camp and costs 300 LT. The four tees – Pochacco, Tuxedosam, Badtz-Maru, and Pekkle – each cost 60 LT.
The collaboration will last at least 52 days, as that's the time set for the fortune cookies and Sanrio Character Goals #1. The goals include tasks such as collection fruit, logging in, and filling requests. The rewards are big, as they include two character maps and two fortune cookies.