Could this be the end of Arena of Valor as we know it? This week sees the release of Errol and details of the May update trickle out from the East. But what is causing far more of a stir is rumors of Kings of Glory (KoG) – the original game Arena of Valor is based on – potentially coming over from China. Let's talk about that in this week's Arena of Valor roundup!
Is KoG Getting a Worldwide Release?

With Top NA jungler Zane streaming just earlier this month, the rumor mill of KoG, Arena of Valor's incredibly popular Chinese counterpart, potentially gearing up to release in the West, many are wondering whether one would replace the other. After all, Tencent could market the game as one of the most popular games of all time given its gargantuan player base in its native China.
With a few topics popping up on Reddit lately, it's difficult to pinpoint where exactly this rumor came from. From what I can gather, Tencent has been bringing players together for a documentary on the game, or has given permission for a documentary to be made as potential marketing material for a worldwide release.
When asked about the potential release during the stream, Zane responded "I've heard it's going to be coming out in the second half of this year. They said the documentary will come out in June or July." Later in the stream, he goes on to speculate that Tencent will "franchise" Kings of Glory and actively advertise it. These days, many people see the lack of Arena of Valor's marketing as the main reason it has struggled to reach mainstream appeal in the west.
Despite Zane's popularity in the scene, this is all just speculation without any real evidence. Arena of Valor was designed to be a reskinned version of Kings of Glory to appear to audiences outside of China, so to suddenly undermine years of work and just release a translated version of the original game seems like a strange move. Stranger things have happened, but June/July isn't too far away. We'll see what happens.
Errol Wants An Arm Wrestle
Back onto the topic of Arena of Valor, Errol released across the Western servers this morning just a few short weeks after Capheny made the jump.
Looking like a mix between Nero from Devil May Cry and a Tyrant from the Resident Evil franchise, Errol "The Tainted" is a melee hero that uses his freaky demon arm to slap people around. Sometimes it morphs into a scythe, other times it's just a gross fist. Is he related to Omen in some way? I'm not finding that lore tab just to find out.
He's quite mobile for a melee hero and might remind some of Maloch with his occasional aerial strike move Demon Claw and massive Boneshaven ability. He's the brawler before Brawler.
No More Testing Heroes In Ranked
Rejoice, ladder climbers! Our time has come! According to YikesAOV on Reddit, as of Patch 1.29.1 players will be unable to lock in as champions with less than 100 proficiency points in ranked. I doubt I even need to explain why that's a good thing, but here we go.
With Tencent trying numerous times to fix the inconsistencies of ranked play – like by introducing the strategy map to help teams fill appropriate roles – there was still the problem of low-ranking players using ranked games as little more than practice runs for new characters.
This usually stemmed during new character release windows where players would jump into new roles just try out a newly release or "OP" hero, essentially throwing many games without good cause.
After the update, players won't be able to lock in as a hero they have little experience with. Instead, they'll need to play them in other non-ranked modes like Quickplay and Arcade to learn the fundamentals before they're able to use them in ranked.
It won't take more than a few wins to circumvent the limitation, but it will at least go some way in ensuring players have a rough idea of how a character works before using them in a ranked match and risk dragging down their team's rank.
10 vs 10 Could Arrive This Month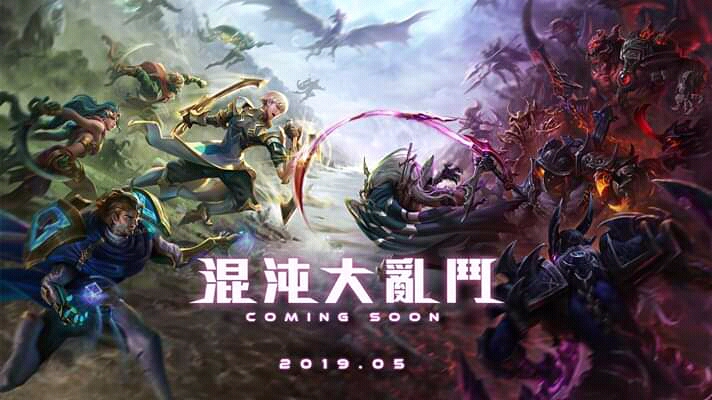 Back on the topic of things announced for other regions, Arena of Valor is about to expand on its traditional 5v5 mode with a wacky 10 vs 10 variant.
It's currently only announced for the Taiwan server and is expected to land with the next update, but Tencent has been quick to release new game modes in other regions in the past. There's no news on whether it's a limited-time event or not, but given it's not so outlandish as the Football Fever game type, expect it to be a permanent addition.
According to some foreign YouTube videos covering the subject, the regular Antaris Battlefield map will be tweaked slightly to accommodate the mayhem. The map should be bigger overall with extra golem buffs dotted throughout.
Due to the growing need to keep international players on the same page for competitions and esports events, patches haven't seen much of a release delay between regions. If that holds up this time around, expect the patch introducing this new mode to arrive in late May or early June.