Revue Starlight Re LIVE (Free) is a new mobile gacha game from the gacha queens over at Bushiroad. If you're a fan of the idol group genre already, you've likely played one of their other games like Love Live: School Idol Festival or the more visually appealing and genre-inclusive BanG Dream: Girls Band Party.
Similar to those two games, Revue Starlight Re LIVE arrived on this side of the pond only around 9 months after the original 12-episode anime premiered. You'll excuse me for never having heard of it before the game's localization announcement, but having the show launch on HIDIVE rather than the more readily available Crunchyroll meant knowing of it outside of the U.S. was probably asking a bit much.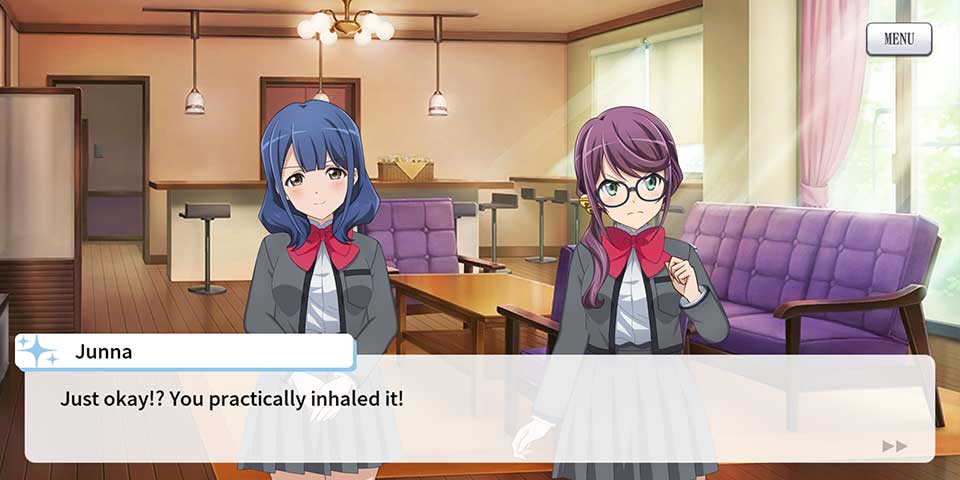 I'm writing this review not long after the game asked me to leave one on its App Store page. These games can go on forever, so if a few hours in is when the developers have essentially shown me their hand, then so be it.
Unlike Bushiroad's other mega-popular idol games, Revue Starlight Re LIVE isn't a rhythm game. While it's primarily a turn-based RPG, it does feature a healthy amount of songs originally performed by the headline girls. Tapping along to the beat won't affect your performance in-game, but adoration of the tracks will obviously add to your overall enjoyment when your chosen song kicks in to signal your team's buffed up combat potential.
Using the very same Live2D animation style used in the BanG Dream mobile game, the big and peppy cast of characters comes to life with expressive animations and facial features that adds a welcome touch to the traditionally flat visual novel-style method of storytelling. Not that I can really tell you what the story is about, though. These aren't the kinds of idols you'd see at the Hollywood Bowl; they're theatre girls.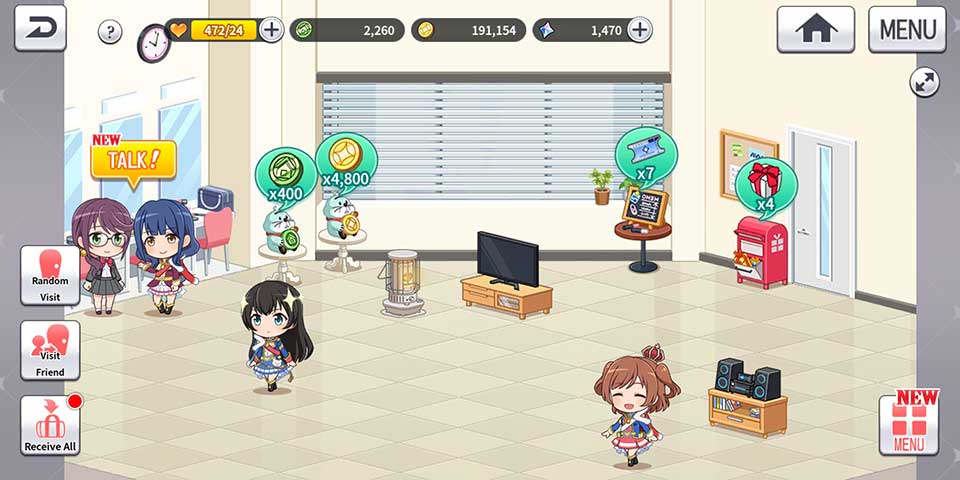 Rather than jam along to the background track and winning over their fans, these girls are being whisked away to slash, shoot, and bash demons hell-bent on stealing the "brilliance" they need to stop the world from forgetting their craft. They're trying their darndest to stay relevant in the ever-changing world of entertainment. It's probably too deep for a theatre novice like me to understand. But as a cinephile, I understand their plight. Things kick off rather suddenly, and seeing these high school girls take up arms against rival schools had me scratching my head.
Given Bushiroad's other games focusing on nothing but song and dance, watching these girls chop each other down while retaining the cute and stylish charm players crave from their all-girl anime franchises, it was clear to me that knowledge of the anime would go a long way. There are a lot of names and faces to remember very early on. Then again, anime school girls have become fighter jets and rolled through fields in tanks before, so this more down to earth setting probably won't surprise the waifu veterans out there.
Just be prepared for a pretty lackluster gacha animation by today's standards. The animation is minimal, the "memoirs" applied to Stage Girls are uninspired anime stills, and the more unique stuff just looks low-res compared to some other high-profile releases.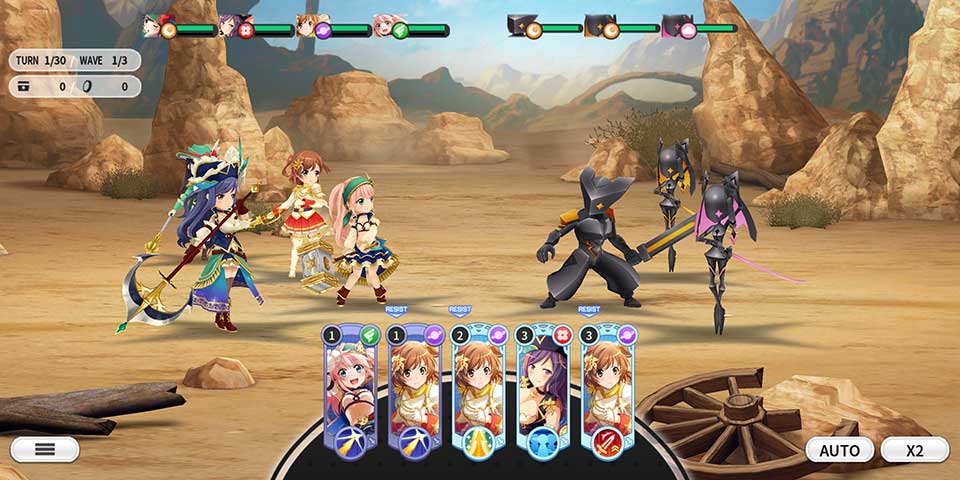 Combat is handled a little differently to most other turn-based RPGs. Rather than a fluid reactionary button mash as characters dish out their attacks, things go at a slightly slower pace here.
Similar to a card game system, the Stage Girls you bring with you into battle are displayed as panels with individual skills and resource costs. You slot these into your attack queue in the order you want them to strike, press start, and watch the round go by before heading back to the input screen to do it all over again.
Once a character has dealt or taken enough damage, they slip into the unfortunately named "Climax Revue" to unleash their own powerful moves or pair up with compatible characters for some gorgeous unison attacks. Stages, like the Main Story or PvP, consist of waves, so mopping up one set of enemies will usually move you onto the next until either side is down for the count.
The tutorial teaches you the "how" but fails to give the reasons "why", meaning that while you can complete most of the game's first chapter with the Auto button, you'll eventually need to start reading your roster and devising some actual strategies before long.
Outside of combat, there's not a whole lot to do here. The game's main story plays out this way, and you'll be bouncing between the stories of each of the four schools involved and their own Revue groups as one unlocks the next.
Powering up Stage Girls takes a mish-mash of currencies and trinkets and can add stages, boost their max level, and upgrade skills. Players of games like Summoners War, Food Fantasy, and Skylanders: Ring of Heroes will find this all alarmingly familiar – it's basically a universal system at this point that rewards tiring daily devotion with slow progression. We get it.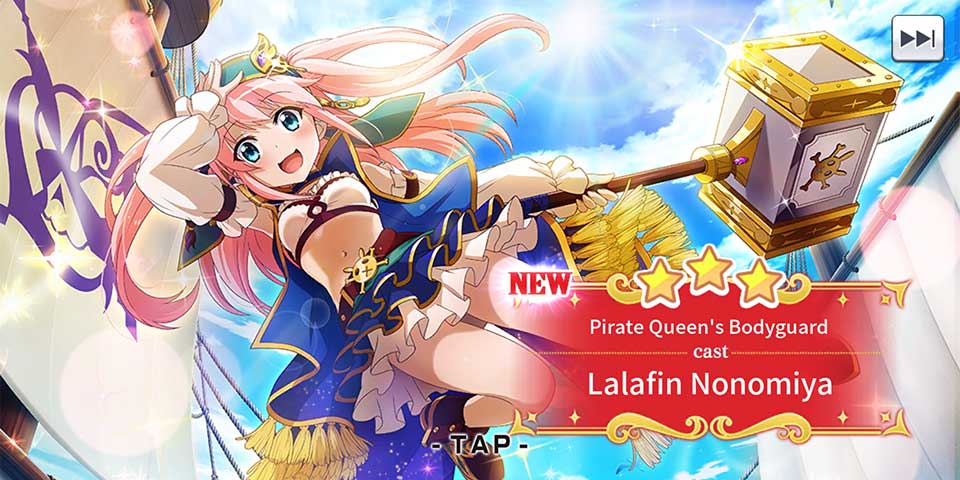 But Revue Starlight Re LIVE doesn't forgo what made it enough of a hit to bring the game to the west – character interactions. The "My Theatre" feature is almost identical to the BanG Dream counterpart in which its countless characters (now reduced to chibi form) chill out and chat in more personal side-story conversations. You can, and will, spend your currencies decorating the space and upgrading stat-boosting furniture, but it's checking in the game's cast that's bound to be the main attraction here.
Revue Starlight Re LIVE is a difficult title for me to get behind having been more or less completely oblivious to the existence of the source material. The battles aren't quite as involved as I'd hoped, but it's clear the ATeam, the game's developers, wanted all eyes to be on the flashy attacks and character synergies on the stage. It's just a shame most of what we see here has already been done to death elsewhere.
Going off what we've seen already, each new gacha set will change a character's outfit, combat role, and their attack animations, giving players a little more than a simple collectible photo with each pull. It's an exciting prospect that will mean a whole lot more to someone who's already invested in the franchise. As you'd expect from any similar idol game, the continued allure of this particular time sink is going to ride on how it satisfies each player's burning desire to be closer to their chosen "waifu".