The idea behind the TouchArcade Game of the Week is that every Friday afternoon we post the one game that came out this week that we think is worth giving a special nod to. Now, before anyone goes over-thinking this, it doesn't necessarily mean our Game of the Week pick is the highest scoring game in a review, the game with the best graphics, or really any other quantifiable "best" thing. Instead, it's more just us picking out the single game out of the week's releases that we think is the most noteworthy, surprising, interesting, or really any other hard to describe quality that makes it worth having if you were just going to pick up one.
These picks might be controversial, and that's OK. If you disagree with what we've chosen, let's try to use the comments of these articles to have conversations about what game is your game of the week and why.
Without further ado…
Bendy and the Ink Machine
I have to admit I was not hip to the whole world of Bendy when we met with the character's creators at GDC this past March to get an early look at the then upcoming mobile title Bendy in Nightmare Run (Free). To my surprise this franchise is immensely popular with extensive merchandise and millions of fans. I guess I'm just an old fart. It all started with the initial release of Bendy and the Ink Machine on desktop in early 2017. A survival horror/jump scare type of game, it was hailed as the new Five Nights at Freddy's as content creators made playthrough videos and fans watched them like crazy. While the endless runner spinoff Nightmare Run seems to have been a huge success already since launching this past August, fans still wondered why they couldn't have the full Bendy game on mobile too. Well developer Joey Drew Studios was happy to oblige and this week Bendy and the Ink Machine ($6.99) launched in full on the App Store.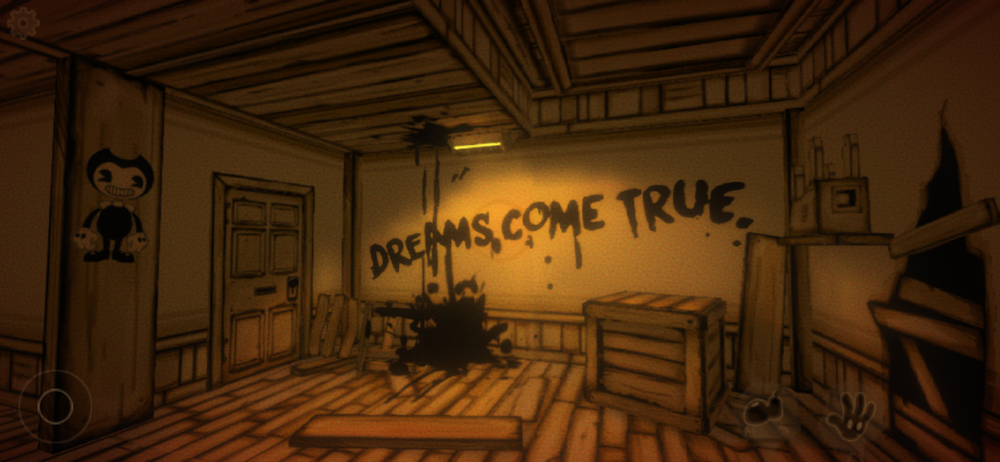 I say launched "in full" because Bendy is an episodic game, and despite initially releasing in early 2017 on desktop it wasn't until just this past October that the fifth and final episode came out. That means that while mobile players did have to wait a lot longer to play the game, at least they'll be able to play the whole thing at once without having to wait for new episodes to be completed. And surprisingly enough, Bendy and the Ink Machine plays extremely well on the touchscreen. It's a first-person game which is mostly spent exploring the massive animation studio where the game takes place, with some environmental puzzle solving and occasional combat (mostly melee-based) taking place. Despite some moments of craziness, the game has an overall leisurely pace that holds up really well to the virtual control scheme. For MFi controller junkies, Bendy supports those too.
So here's the thing. I don't really watch YouTubers, I don't like reaction videos, and I never understood the appeal of the Five Nights at Freddy's games. Like I said, I'm an old fart. But man, with Bendy, it's like I get it now. I don't really get scared at your typical horror stuff, but Bendy most definitely has an unsettling tone throughout, and its jaunty Golden Age of Animation stylings juxtaposes so well with the creepiness of the abandoned animation studio. Well, "abandoned" in massive air quotes I guess. The entirely sepia-toned graphics coupled with excellent audio and voice acting creates an atmosphere unlike anything I've really experienced before.
Beyond that, as absurd as the events are that are constantly unfolding in front of you, the world of Bendy feels totally believable, and there's a rich lore for you to discover by way of audio cassettes spread throughout the game that spill the beans on what's gone down with Bendy and Co. People have compared it to the storytelling and world-building in BioShock, and I feel like that's bang on. This is one of those games that actually feels like it transports you into a different time and different place, and sucks you in completely. Some people argue a tiny mobile screen isn't the best way to experience games like this, but I'd argue that a good pair of headphones and a beautifully high-resolution iOS screen just a few inches away from my face is a fantastic way to play Bendy. So if you enjoy puzzle adventure games but want one with a totally twisted spin, Bendy and the Ink Machine has totally captured my attention and I think it'll do the same for you.