If you thought November was big for Animal Crossing: Pocket Camp (Free), thanks to the first multi-event celebration and its first anniversary festivities, prepare to be blown away with what the game has planned from now through December. An update has gone live, making the game look a little bit different and adding new space, and a holiday celebration will encompass three events,
The major update for the game changes several UI elements and adds the cabin, a new dedicated space to decorate and invite animals. The Friends List is completed revamped. Players can now display their favorite photos, and it is much easier to give kudos and lend a hand to those in need. Small icons show is someone needs help in their garden.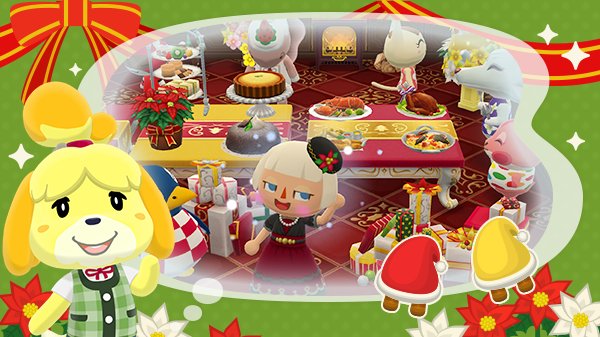 Despite these updates that make the game much more user-friendly when it comes to friend interactions, players seem far more excited about the addition of the cabin. The cabin is a relatively large interior space that can be decorated in addition to the campground. You can even invite villagers. The cabin is currently limited to one room, but my hope is that in later updates expansions will be available, reflecting how houses work in the Animal Crossing series in general.
As of today, Animal Crossing: Pocket Camp is in the holiday spirit, with the Toy Day Decor event putting everyone in the giving (and collecting) spirit! Collect Bell Ornaments by completing tasks during Jingle's Holly Jolly Roundup and the following scavenger hunt and fishing tournament. This is similar to the Anniversary Celebration when users collected Anniversary Candles through three events to earn further rewards. The exclusive rewards to earn include:
Toy Day Tuxedo Jacket
Frosted Yule-Log Cake
Snowy Toy Day Tree

Until now, gardening events have made sense: plant flowers, attract bugs. For whatever reason, the flowers in the events attract… hats. More specifically, elf hats. The flowers at least make sense, as Jingle is requesting you plant Poinsettia seeds in Jingle's Holly Jolly Roundup. The first part of the event runs from now until December 10, with the second part beginning on December 3 and ending at the same time.
During this first part of Jingle's Holly Jolly Roundup, campsite managers need to plant White Poinsettias to attract Red Elf Hats and Red Poinsettias to attract yellow elf hats. In addition to Bell Ornaments, the rewards include:
White Poinsettias, via trading with Lloyd
Red Poinsettias, via trading with Lloyd
Toy Day Fascinator, by catching six Red Elf Hats
Toy Day Evening Gown, by catching six Yellow Elf Hats
Bright Gift Pile, by catching 16 Yellow Elf Hats, 24 Yellow Elf Hats, 25 Red Elf Hats, and 50 Red Elf Hats
Crimson Toy Day Table, by catching 38 Yellow Elf Hats and 80 Red Elf Hats
Regal Toy Day Fireplace, by catching 60 Yellow Elf Hats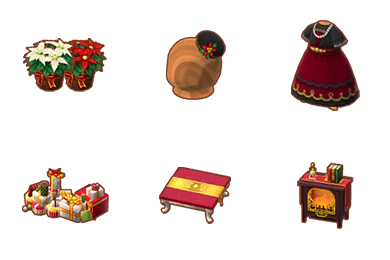 Animal Crossing: Pocket Camp's Toy Day Decor event runs until December 26, 2018. The second part of Jingle's Holly Jolly Roundup being on December 3, with the garden event running until December 10. Following that will be Gyroidite Scavenger Hunt #6 and Fishing Tourney #9.