Each and every day new mobile games are hitting the App Store, and so each week we put together a big old list of all the best new releases of the past seven days. Back in the day the App Store would showcase the same games for a week, and then refresh those features each Thursday. Because of that developers got into the habit of releasing their games throughout Wednesday or very early Thursday in order to hopefully get one of those coveted features spots. Nowadays the App Store refreshes constantly, so the need for everyone to release all on the same day has diminished. Still, we've kept our weekly Wednesday night format as for years that's the time people knew to check TouchArcade for the list of new games. And so without further ado please check out the full list of this week's new games below, and let us know in the comments section which games you'll be picking up!
---
AiRburst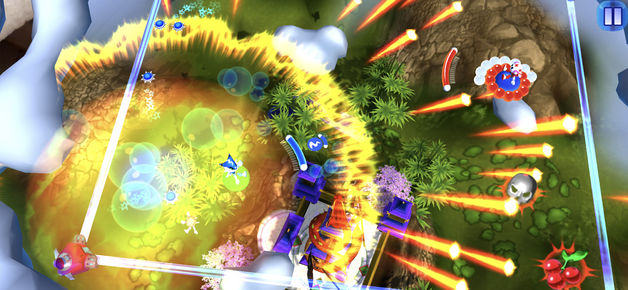 iTunes Description
Pop Pop Pop! Strange Flavour's classic Mac hit AirBurst is finally on iOS and it's coming to your real world in AR!

Guide your bat to deflect the deadly bursters and avoid getting popped out of the sky.
Grab the powerups to change the game and boost your chances.
Charge up your unique Extreme power and use it to tip the balance and pop your opponents!

Play against your friends in shared AR ('accidentally' bumping them so they miss a hit can be a handy tactic if you don't do it too much 😉 ) or play as any of the four characters in single player mode.
Forum Thread: AiRburst (by Strange Flavour Ltd)
---
Ammo Pigs: Armed and Delicious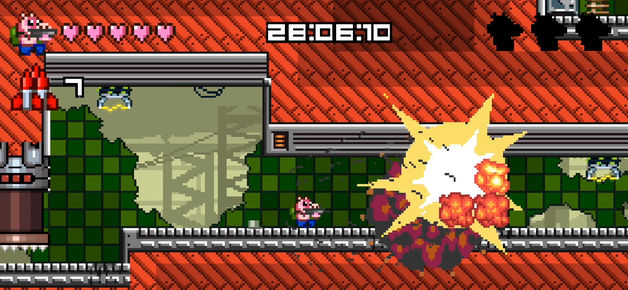 iTunes Description
In the future, there is no man. Only machine. And Pig.

It's the year 2049. Slaughterhouse A.I. controls the surface of the Earth, turning all life into sausage. Only the pigs remain to fight.

Steer your one-pig army through the dangerous hallways of meat factory battlegrounds as you attempt to rescue innocent pigs trapped and waiting for processing.
Forum Thread: Ammo Pigs: Armed and Delicious (by Cascadia Games LLC)
---
Brave Frontier: The Last Summoner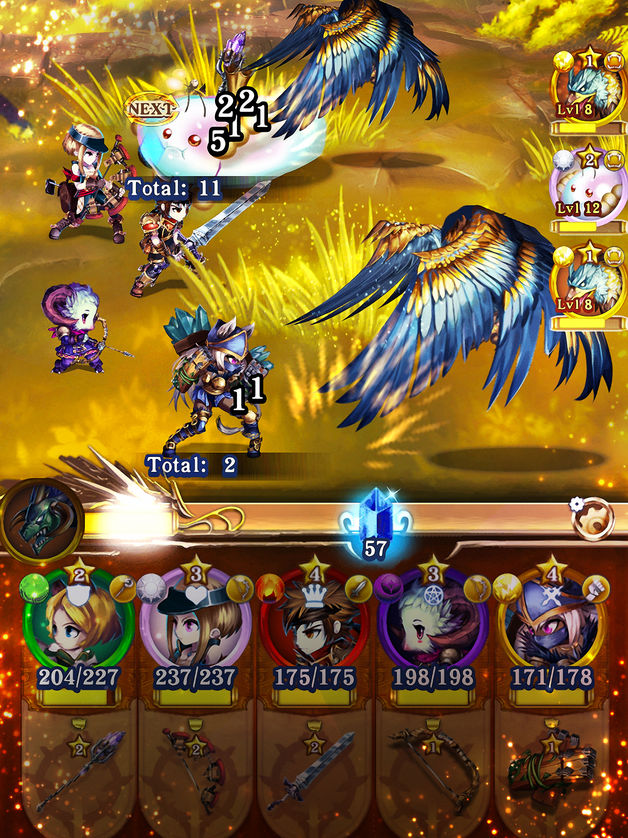 iTunes Description
Embark on a fantastic adventure in the Brave Frontier universe – icon game played by millions – build an army, fight tyranny and reveal the mystery behind a new world of fantasy in this epic turn-based JRPG!

Brave Frontier: The Last Summoner lets your wildest JRPG dreams come true as you get full control over up to 25 characters in a single battle! Feel the freedom of a completely customizable experience as you obtain fantastic weapons, unlock exceptional skills and obliterate enemies with style thanks to an impressive cast of stylish characters! Jump into a brave new world and become the legendary general you were always meant to be!
Forum Thread: Brave Frontier: Last Summoner (by gumi Inc.)
---
Cosmobot – Hyper Jump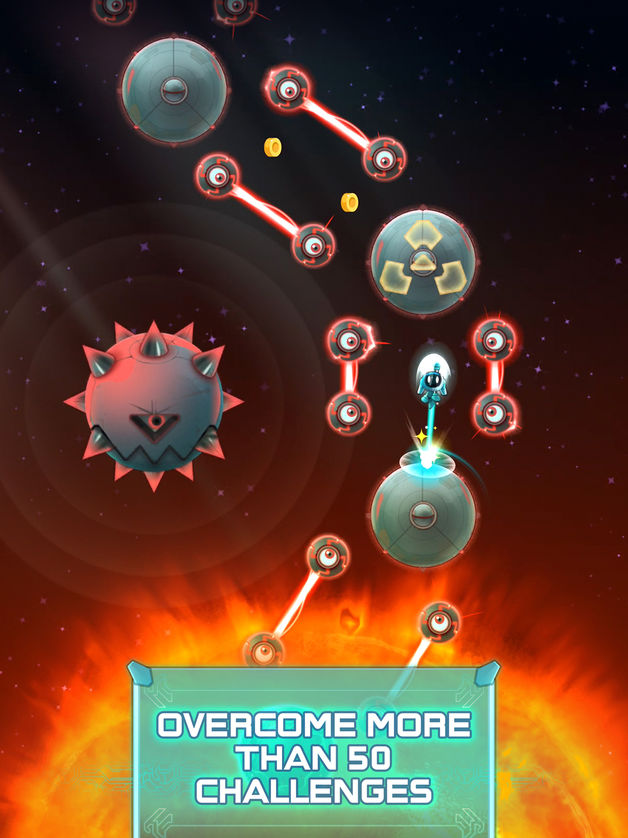 iTunes Description
It's Time for Space Exploration!
Control your best space robots, the cosmobots, and send them off to discover the infinite expanse of space. Gravitate around thousands of planets while venturing ever farther into this infinity.

– TIME FOR HYPER-JUMPS
To explore space, you'll need to gain altitude… At the speed of light!
Forum Thread: Cosmobot – Hyper Jump (by Ankama)
---
Dungeon Princess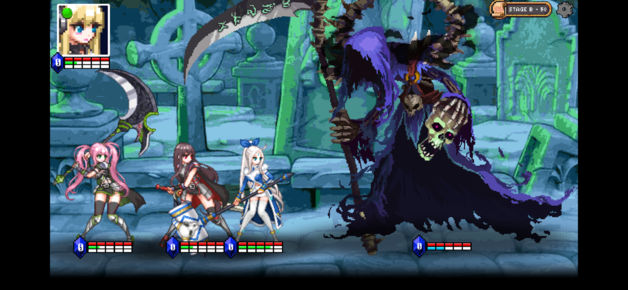 iTunes Description
'Dungeon Princess' is the most popular online virtual game around the world.
The first party who clears the final stage of the Dungeon will be rewarded with fantastic prizes and a female player in this party shall henceforth be named 'Princess' who will obtain extravagant privileges.
'ISM', a gaming genius starts off his journey into Dungeon Princess with the aim to make his sister 'NADIE' into a princess.
Forum Thread: Dungeon Princess (by SSICOSM)
---
Echoes World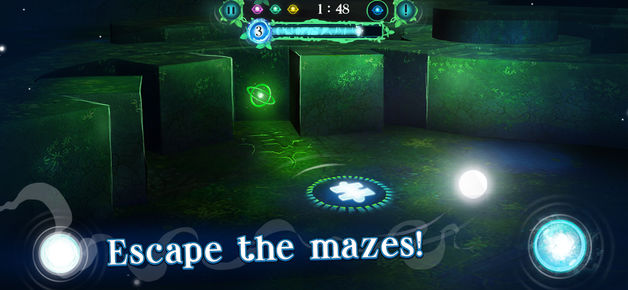 iTunes Description
Once a peaceful place, The Selene Forest, is now under the outbreak of the dark clouds. Kana, the ruler of light and her child Echoes are the only one that can fight the darkness, spreading trough their home.

Unfortunately, the storm took Echoes away from Kana. The only way that the darkness could be stopped, is finding a way back for Echoes, through the mazes in the Selene Forest, that now are dark and stormy. You are Echoes! Try to find your way out!
Forum Thread: Echoes World (by Maximus Ludos Studios)
---
Glowing Gloves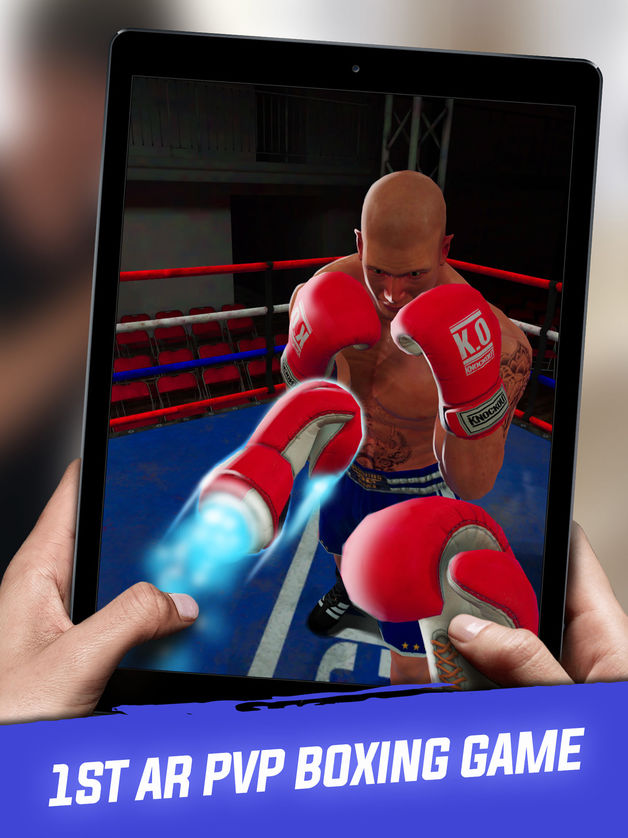 iTunes Description
Become the ultimate champ in the world's first AR boxing game! Join this immersive PvP challenge now! Train hard, Fight harder! See you in the ring!

FEATURES:
IMMERSIVE PVP – Experience unseen real-time PvP. Punch, bob and weave your way to success using motion tracking on the mobile device. Control the game with body movements!
TEAM UP – Challenge friends & players from around the world. Win matches, conquer the belts and become the greatest!
GEAR UP – Earn currency and customize your fighter at the in-app store. Scale the leaderboard for better rewards!
SPEED UP IN TRAINING – Work on those glowing combos at Franky's authentic gym before stepping into the main arena.
SKILL UP – Level up and gain an advantage in the ring. Practice hard enough to unlock new fighting combos and trigger those epic glowing gloves!
ON THE GO – Put the gloves on anytime, anywhere. Keep energy levels high, punch, dodge and counter your opponent to become the ultimate champ.
Forum Thread: Glowing Gloves: AR Boxing Game (by Bublar Group)
---
HTR+ Slot Car Simulation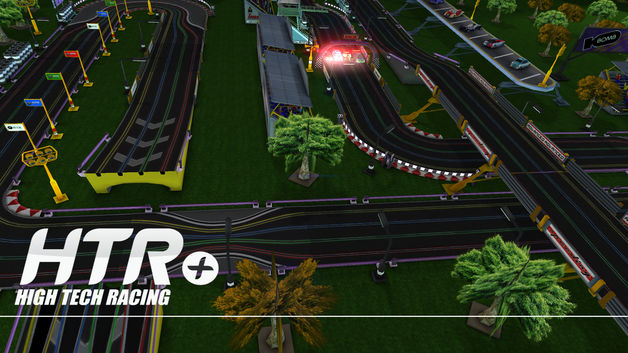 iTunes Description
How about a little trip back to the past with one of the most loved toys? Pull the trigger and put your tiny plastic bolide in a low flying in a huge variety of tracks trying to avoid be throw out by the other insane competitors. Start racing in 3 different difficulty levels and 20 tracks that include several challenges like loops, jumps, tricky crossroads, narrows and high speed curves. You can even build your own tracks with the highly intuitive track editor and share your tracks online with others players.
Forum Thread: HTR+ Slot Car Simulation (by QUByte Interactive)
---
Legend of Dynasty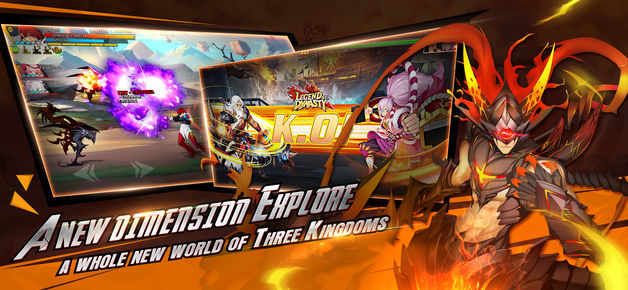 iTunes Description
Hey man! Have you ever seen Xu Chu spin discs? Have you seen Zhen Ji fight tanks? Have you seen Hua Tuo as a young hunk before? Have you seen the Red Hare and Green Dragon Crescent Blade in human form before?

Come take a look! The 2D fighting isn't quite the same in our Three Kingdoms~

The Chinese cartoonist has drawn the world of Three Kingdoms in a new dimension. Our professional engine brings you ultra-high definition native image quality, and the game is optimized for a high frame count sensory feast.
Forum Thread: Legend of Dynasty (by CMGE)
---
Life is Strange: Before the Storm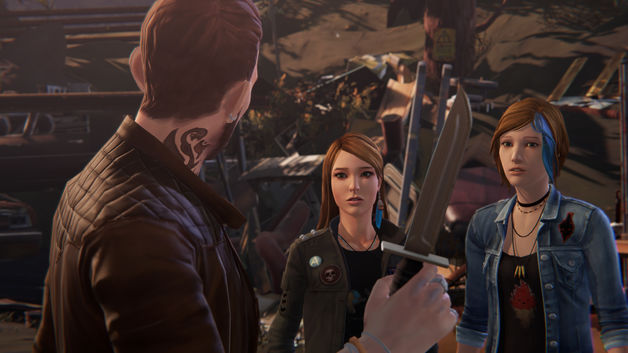 iTunes Description
Life is Strange: Before the Storm features Chloe Price a 16 year-old rebel who forms an unlikely friendship with Rachel Amber, a beautiful and popular girl destined for success. When Rachel's world is turned upside down by a family secret it takes their new found alliance to give each other the strength to overcome their demons.
Forum Thread: Life is Strange: Before Storm (by SQUARE ENIX)
---
Luna: Dragon of Kelpy Mountain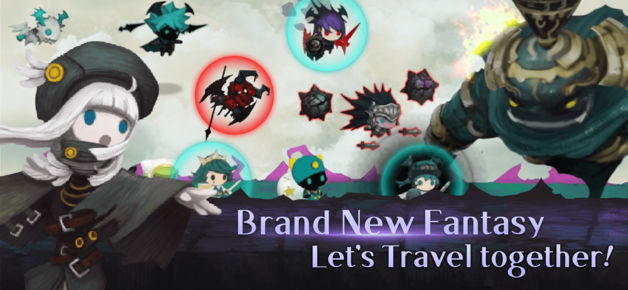 iTunes Description
■ Idle RPG about Dragon hunting adventure of 'Knightess Luna'
At the edge of Stonia continent, there lives a legendary dragon in the Kelpy Mountain. Luna goes on an adventure to hunt down the dragon. Learn various skills, summon new mercenaries, craft legendary weapons, explore mysterious world and defeat unique monsters. Enjoy the game with Knightess Luna.
Forum Thread: Luna: Dragon of Kelpy Mountain (by SuperPlanet)
---
Man or Vampire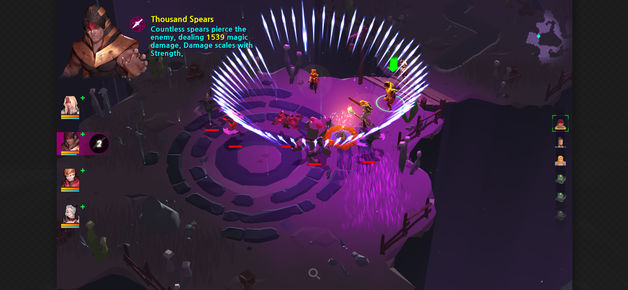 iTunes Description
An unprecedented game, Human or Vampire! Experience it now.

Paradise: a mysterious world in which the souls of dead humans live on.
Now that the end of the paradise is imminent because of the vampires who were guarding the frontiers, only the king of the paradise can save it from the crisis.
Now, an adventure to become the king of the paradise begins.
Forum Thread: Man or Vampire (by HIDEA)
---
Maze: Shadow of Light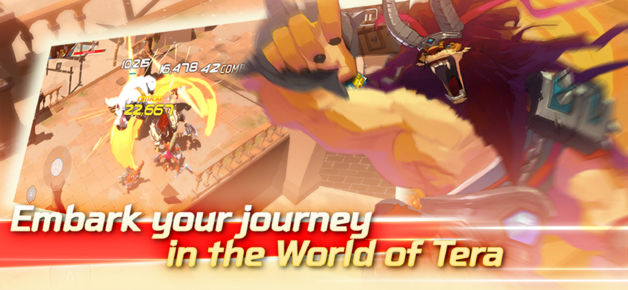 iTunes Description
New Action RPG, Maze: Shadow of Light!

Nothing you have seen in years! The new Action RPG Maze: Shadow of Light.
The most fascinated Action PRG with the unique signature rendering style!

Dynamic game plays and controls with the unique 'Tag Action' system feature included, which enables players to swap between their Heroes and Guardians to activate with combo chains to bring down the enemies!
Forum Thread: Maze: Shadow of Light (by AwesomePIG /THUMBAGE)
---
MeatPossible: Chapter 1.5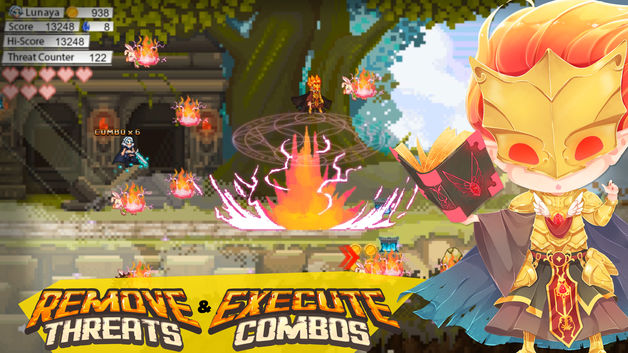 iTunes Description
MeatPossible: Chapter 1.5 is the fast-paced, intense, endless side-scrolling flyer action arcade game of 2018 which depicts the tragical events taking place in the outskirts of Epicton Kingdom. Fight in this epic aerial adventure against the Pigs and the Flies as you bring back peace to your Kingdom. It's one of the best arcade pixel art game 2018 available in Apple App store.
Forum Thread: MeatPossible: Chapter 1.5 (by Common Visual Entertainment)
---
Metal Max Ball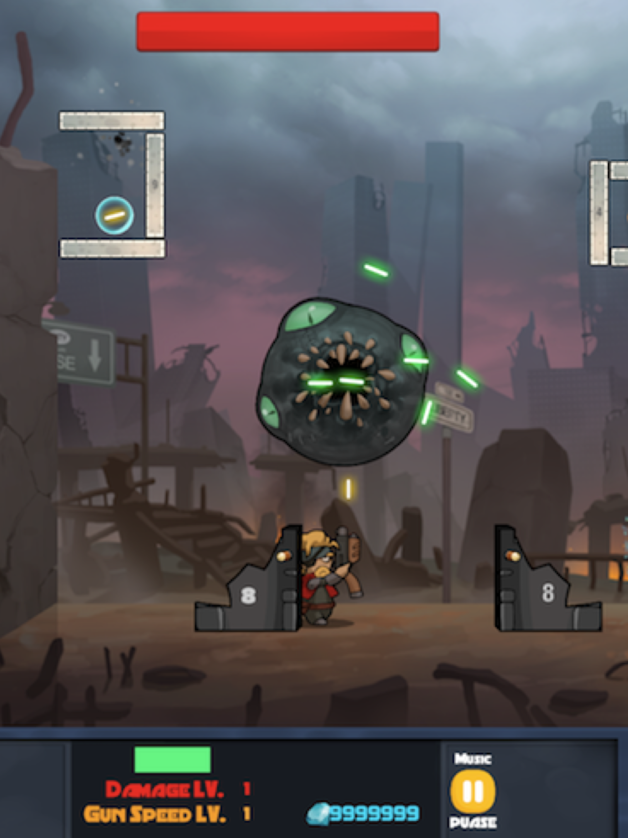 iTunes Description
In the future, the earth and the aliens often fight.
I thought I was going to attack Earth with a state-of-the-art weapon. Surprisingly, they prefer an ignorant way of hitting their bodies.
The planet continues its winning streak, but it is on the verge of a devastating attack on the city.
Help them defeat this insufficient alien ball and find the source and block it.
Forum Thread: Metal Max Ball (by Goinball games)
---
Monochrome Matching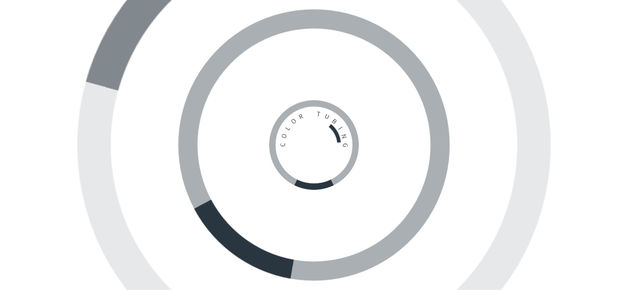 iTunes Description
Are you looking for a REAL challenge? Monochrome Matching requires perfect concentration, timing and skill!

You need to have the ability to concentrate on what you do in order to beat the high score. The longer you play the faster and challenging the game will be.

A game for all who like to play high score games with a high degree of difficulty.
Forum Thread: Monochrome Matching (by Owleet Entertainment)
---
Monochrome Unlocking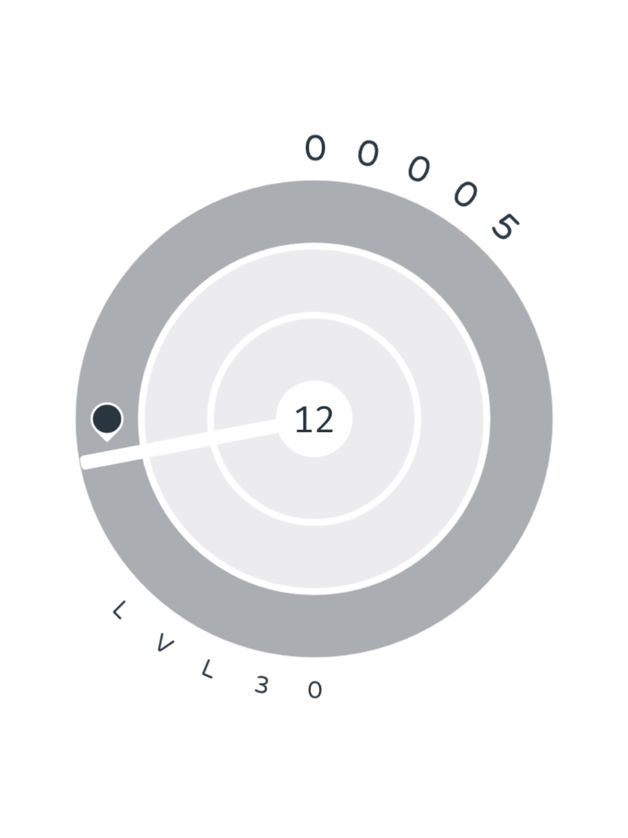 iTunes Description
Are you looking for a REAL challenge? Monochrome Unlocking requires perfect concentration, timing and skill!

You need to have the ability to concentrate on what you do in order to beat the high score.

A game for all who like to play high score games with a high degree of difficulty.
Forum Thread: Monochrome Unlocking (by Owleet Entertainment)
---
Phantomgate: The Last Valkyrie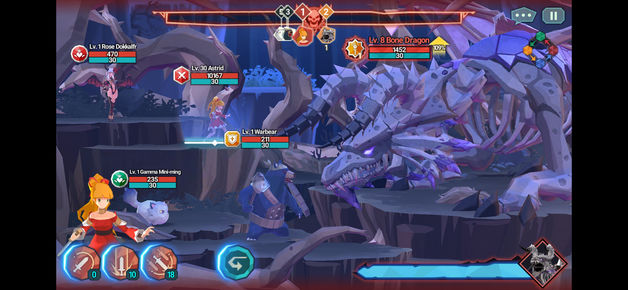 iTunes Description
Enter Phantomgate, where a mystical adventure RPG awaits you in the fabled land of Midgard! Help Astrid, a daring young Valkyrie, save her mother from the clutches of the mad god, Odin, and discover her true hidden powers along the way. Explore a strange, new realm in this Norse Mythology-inspired game, befriending and collecting hundreds of unique Phantoms to help fight by your side.

Journey between worlds, solving challenging puzzles and engaging in strategic turn-based battles with Phantoms ranging from small, cat-like critters to intimidating Orc warriors. Take down the darkness that threatens Midgard and all who inhabit it! Rekindle the excitement of classic RPG adventure titles, and discover the secrets that lie beyond the mysterious Phantomgate!
Forum Thread: Phantomgate: The Last Valkyrie (by Netmarble Corporation)
---
RushARound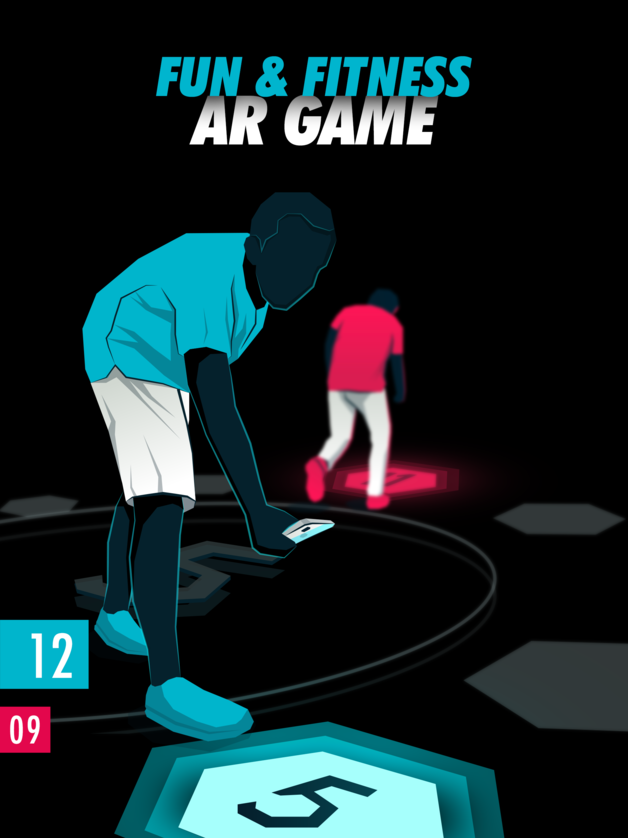 iTunes Description
RushARound is a fun single/multiplayer AR game that makes you fit. Race a clock in a virtual world, get fit in the real world, no sweat! Key features :

– 10 different ways to play the game
– All-round statistics
– In-game achievements to keep you motivated
– iOS Health App integration
– Game Center Leaderboards & Achievements to compete with global RushARs!


Go ahead, RushARound with your family and friends! 🙂
Forum Thread: RushARound (by Jambav)
---
Sailor Cats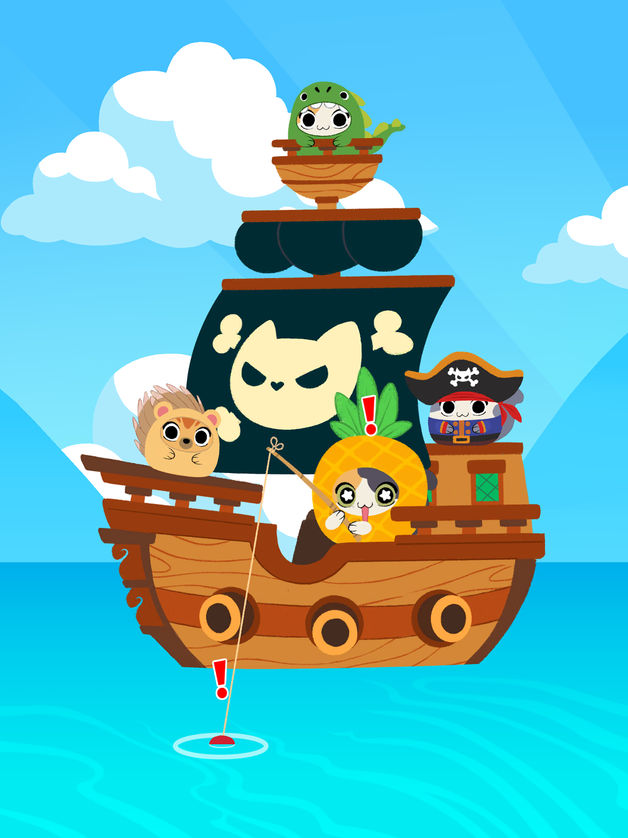 iTunes Description
The cutest fish-and-grow one tap collecting game!

Ahoy, Captain! 😀 Do you need some chill out time? Wanna play a relaxing but super fun adventure game and collect lots of cute and nerdy things? Great! But careful! Because this little felines with frisky paws will steal and melt your heart in a blink <3 Help your lonely fisher cat on its fishing adventure through becoming the most kawaii pirate in the seven seas! Find furry friends to join its happy fleet, collect rare treasures and discover a-meow-zing new worlds full of crazy creatures and paw-some boats!
Forum Thread: Sailor Cats (by Platonic Games)
---
ShinNaZuki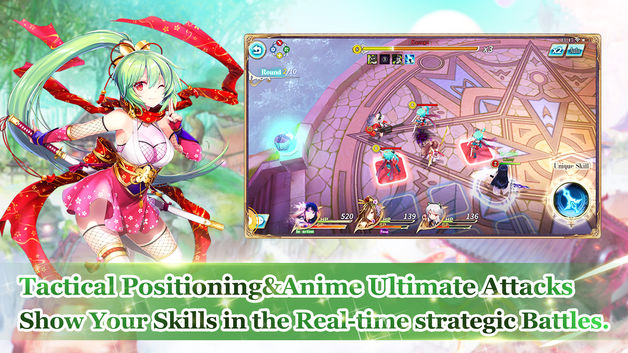 iTunes Description
[Orthodox Japanese RPG — Absolute Audiovisual Feast]
— Six major floating island adventures for super interaction,The chapter story line takes you to experience multiple worlds, and the million-word story takes you to explore the grand world view.
— Fantasy beautiful background music for super sense,Background music is carefully produced by Japanese music master Hitoshi Sakimoto, whose masterpiece is "Final Fantasy Ⅻ"!
Forum Thread: ShinNaZuki (by Wonder Game Technology)
---
Sixteen The Puzzle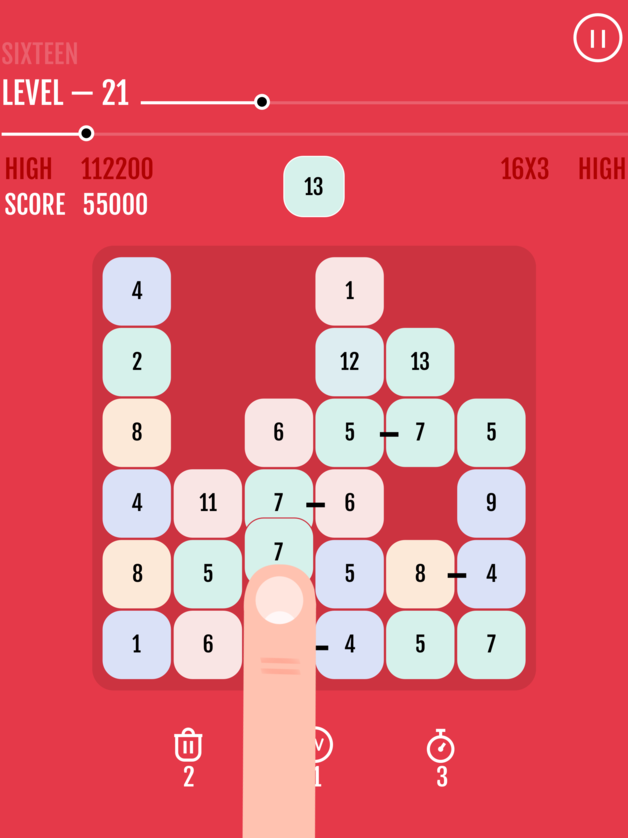 iTunes Description
A minimalist puzzle game that will keep you wanting more! Put your skills to test.
Merge tiles of the same value until you make 16.
Forum Thread: Sixteen The Puzzle (by LHD Games)
---
Stockpile Game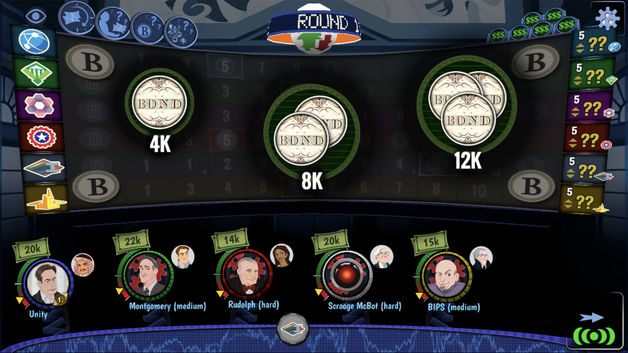 iTunes Description
Stockpile is an economic board game that combines the traditional stockholding strategy of buy low, sell high with several additional mechanisms to create a fast-paced, engaging and interactive experience.

In Stockpile, players act as stock market investors at the end of the 20th century hoping to strike it rich, and the investor with the most money at the end of the game is the winner. Stockpile centers on the idea that nobody knows everything about the stock market, but everyone does know something. In the game, this philosophy manifests in two ways: insider information and the stockpile.
Forum Thread: Stockpile Game (by DIGIDICED)
---
Stone Arena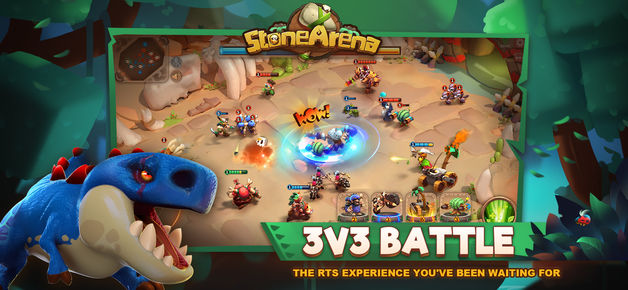 iTunes Description
Experience new gameplay never seen before!
Stone Arena Is a Real-Time Strategy Game (RTS) that combines elements from MOBAs and tower defense games to create a new experience. Take control of a Hero and deploy a variety of different Troops and Units for you to command in battle. With a selection of different Heroes, you must choose the correct units for each hero to maximize your strength! Control your hero and defend against the enemy units and Heroes, or lead the charge and move forward to the enemy base with your deployed Units.
Forum Thread: Stone Arena (by 37GAMES)
---
Sword Man – Monster Hunter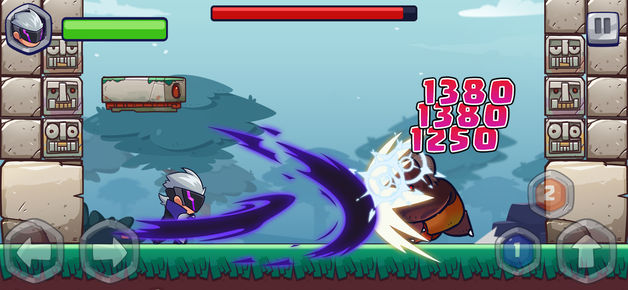 iTunes Description
Sword Man – Monster Hunter is the most addictive 2D side-scrolling RPG filled with collecting various powerful swords through dungeons such as: Bazeguard, Draughtbane, Katana, Ghostwalker,… and more!

#Exciting gameplay and immersive content
Role in a Bounty Hunter, fight against massive monsters, beat giant bosses, avoid traps, complete heroic quests and get more huge rewards through dungeons! There are many hidden areas somewhere in each dungeon. Explore them and find more rewards.
Forum Thread: Sword Man – Monster Hunter (By Gem Mobile)
---
Trixel Rocket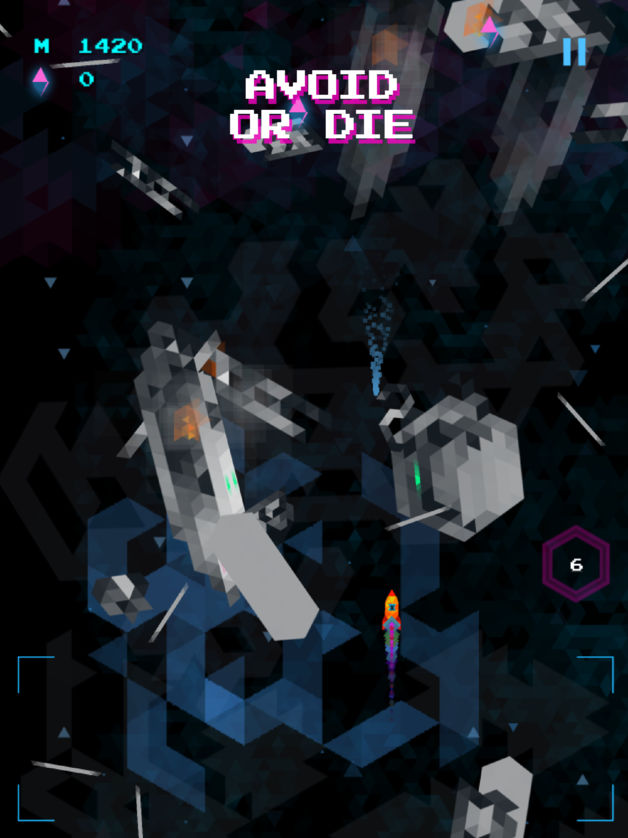 iTunes Description
Play Trixel Rocket today and explore the cosmos in this simple to play action avoidance adventure game. Travel the universe in a variety of ships. Test your skills and reaction with this one finger game. New trixel art style with beautiful space and worlds to discover. Challenge and share your success with friends in the Game Center leaderboard and to social media. Will you survive?
Forum Thread: Trixel Rocket (by Bliz Studio)
---
Warhammer AoS: Realm War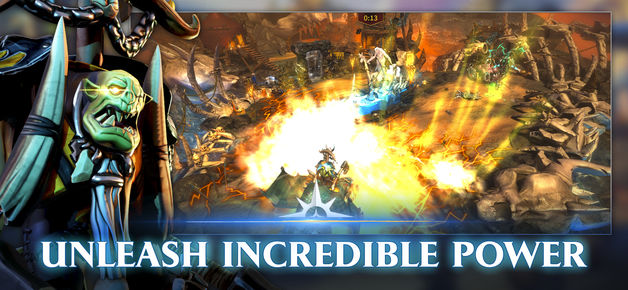 iTunes Description
Experience exciting, tactical, live multiplayer battles with stunning visuals and audio based on the epic fantasy universe, Warhammer: Age of Sigmar. Fight and battle in an ultimate challenge to rule the Mortal Realms! Amass an army of powerful cards including Generals, Heroes and Summons. Collect cards, level them up and use their power to crush your opponents.

Choose from many unique cards to create your own deck strategies. Deploy your powerful units to the battlefield. Enhance your tactics by deciding when to unleash game changing General and Hero Special Powers, designed to combine with infinite potential.
Forum Thread: Warhammer AoS: Realm War (by Pixel Toys)
---
Where Shadows Slumber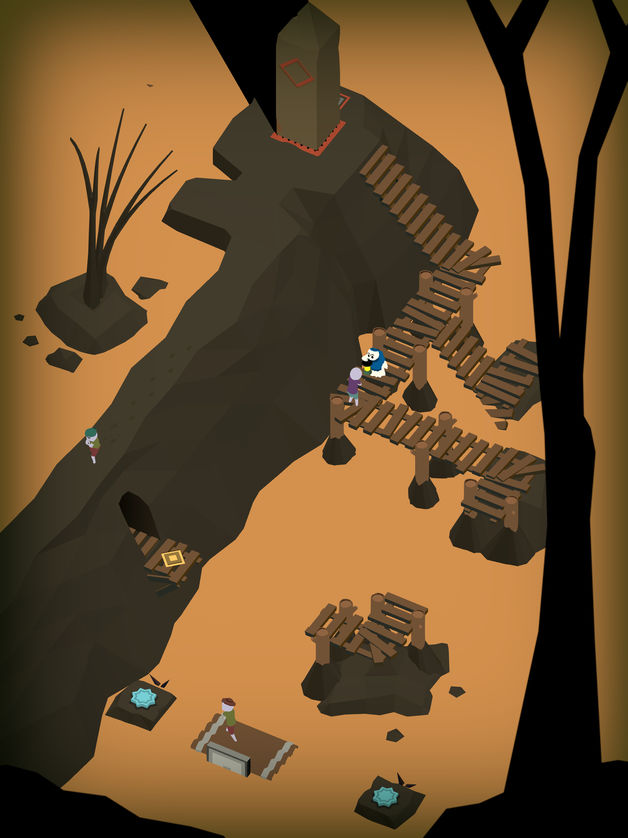 iTunes Description
Where Shadows Slumber is a mobile adventure puzzle game that takes place in a world that has been plunged into darkness. You will guide Obe, an old man who discovers a mysterious lantern in the forest, on one last journey.

The only tools at your disposal are your wits and the chaotic nature of the universe. Anything that is not touched by light has the freedom to change. This governing principle will be your guide in the darkness, but also your undoing. After all, if you are not touched by the light, you have the freedom to change as well.

What will you become?
Forum Thread: Where Shadows Slumber (by Game Revenant Ltd)
---
Wonderful Mini Golf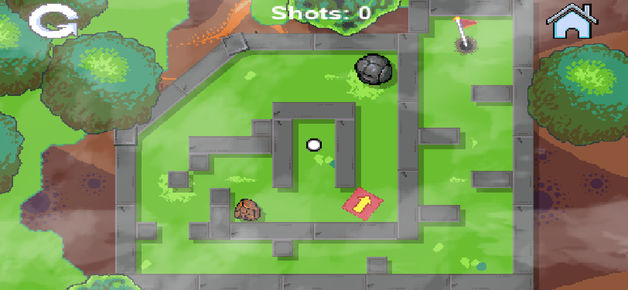 iTunes Description
Minigolf /Mini Golf/ – sport grown on special tracks to play. It consists in placing the ball in the holes at the end of each track, using a special stick (putter in classical golf). The player's goal is to place the ball in the hole with the least number of strokes.

How to play:
Tap and drag to choose a direction and power. Next holes are available after you get required amount of stars.
Forum Thread: Wonderful Mini Golf (by Two Hands Lab)
---
Word Designer: Country Home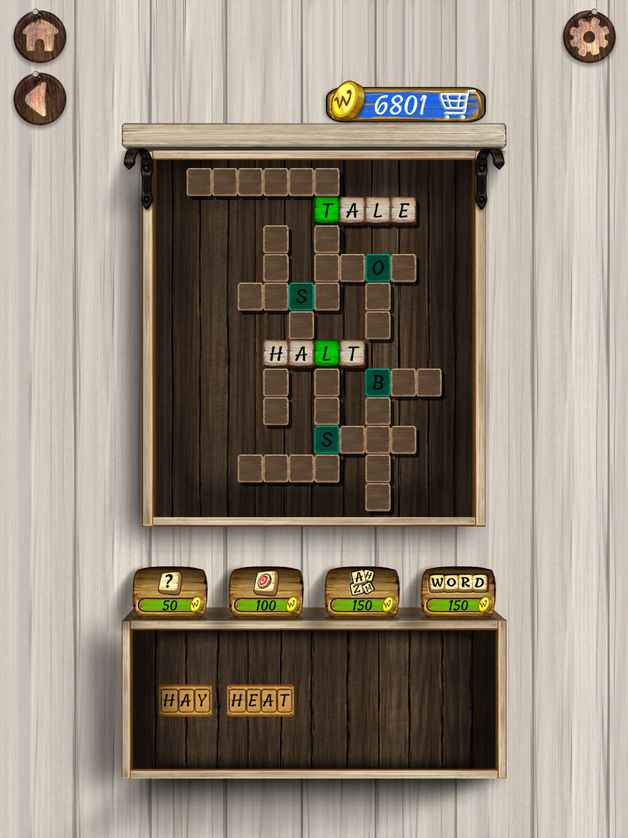 iTunes Description
Come solve these FUN, ADDICTIVE, and RELAXING word puzzles in your own country home! How many words can you design? TWO WAYS TO PLAY!

In ANAGRAM mode, combine letters to form as many words as you can! There's no wrong answer! Every word earns you points!

In CROSSWORD mode, use your found words to solve a crossword and unlock pictures!
Forum Thread: Word Designer: Country Home (by D3PA)
---