Welcome to your SwitchArcade Roundup for September 14th, 2018. Phil here to round out this week of roundups (so stick a-"round"). There is SO much to get through in the news today from yesterday's Nintendo Direct. So much so that I had to take two days to get everything organized, AND so much so that on this rare occasion, I do not have a Game of the Day for you. The news and new releases are much more important this time around. Let's dive into all this excellent (and decidedly not-so-excellent) news from the Nintendo Direct!
News
Special edition Switch hardware for Super Smash Bros. Ultimate has been announced
Off the heels of the Pokemon: Let's Go, Pikachu / Let's Go, Eevee Switch bundles, a new special edition Switch console has been announced. The special edition Super Smash Bros. Ultimate Switch with full branding on the dock, Joy-Con controllers, and download code of the game will launch on November 2nd. Before you get TOO excited, you won't actually have early access to playing Super Smash Bros. Ultimate. It's just like if you pre-loaded the game on your Switch from the eShop. You'll have to wait with the rest of us for December 7th.
New bundle approaching! This upcoming bundle will include a #NintendoSwitch system, Super #SmashBrosUltimate branded Joy-Con controllers and dock, as well as a download code for the game. Available 11/2. pic.twitter.com/x4tXUngnOk

— Nintendo of America (@NintendoAmerica) September 13, 2018
Luigi's Mansion 3 (working title) prepares to haunt the Nintendo Switch next year
Like an old friend (who's particularly ghostly and ghoulish), the Luigi's Mansion franchise is coming to the Switch with its third installment. Sure, we'll get a sample of some Luigi's Mansion haunting action when the Nintendo 3DS port of the original Luigi's Mansion releases next month, but many of us have waited with bated breath for a third entry. Luigi's Mansion 3, as it's tentatively titled, is scheduled to launch in 2019, and it was QUITE the way to kick off yesterday's Nintendo Direct.
New Super Mario Bros. U gets the "deluxe" treatment with New Super Mario Bros. U Deluxe
The Luigi news isn't finished on the SwitchArcade Roundup yet, as Luigi co-starred in 2011's New Super Mario Bros. U and the later DLC expansion New Super Luigi U. Now, as most Wii U exclusives tend to do, both games and their levels are coming to the Switch. New Super Mario Bros. U Deluxe was announced during yesterday's Nintendo Direct, and this has been a long rumored title to be Switch-bound. While there isn't much new content to be found to make the "Deluxe" part of New Super Mario Bros. U Deluxe be all that important, a new playable character was introduced: Toadette, who can funnily enough grab a crown power-up to turn into Peachette. …I am starting to get deeply disturbed by the implications found in the Mario series' lore. New Super Mario Bros. U Deluxe launches early next year on January 11, 2019.
Animal Crossing gets ready for its population to grow even more with an all-new Switch installment
After years of waiting and a mediocre spin-off here and there (I'm looking at you, Animal Crossing: Amiibo Festival!), Animal Crossing is finally returning and welcoming new villagers to its friendly community when it arrives in 2019 on the Nintendo Switch. Nothing but a teaser (and I DO mean a "teaser") trailer with the reveal of the Animal Crossing series's logo was shown, but this announcement of a planned 2019 release should at least get many Nintendo fans and lovers of the Animal Crossing series excited nonetheless.
Game Freak reveals a brand-new IP for the Switch: Town
Town is simply a working title for the studio behind Pokemon, Game Freak's latest project, an extraordinary-looking game that possesses a really nice toon-shaded art style. This Switch game appears to take place entirely in the village of the game. You do battle with encroaching monsters that threaten your humble abode, and get assistance from fellow villagers for when times get tough. Town is exciting not just because it looks promising, but also due to the fact that perhaps this is a taste of what we can expect from next year's Generation 8 Pokemon games… Makes you wonder about the possibilities, doesn't it?
Nintendo Switch Online gets into the nitty-gritty of its features
…Or lack thereof. I'm going to editorialize this specific news post, more so than I usually do with others since this is SO backwards–even when compared with the Wii U. It's never a good sign when it seems like Nintendo put more effort into its promotional overview trailer for the service than its actual online service. Yes, you can have cloud saves for most of your games (except games like Splatoon 2, which if I had interest in still playing that game, I'd be rather ticked to lose my rank and all my gear from over a year of playing…), and, yes, at least you can play on dedicated servers… Oh. It's still P2P? Good luck with this, Nintendo. Cute overview, though. For answers to most questions you might have regarding Nintendo Switch Online, take a look at the FAQ on Nintendo's website. And, no, there isn't any "What the heck are you thinking, Nintendo?" question listed in the FAQ.
Nintendo reveals the NES launch titles for Nintendo Switch Online as well as upcoming monthly additions
As stated in the overview trailer and by Nintendo countless times leading up to Nintendo Switch Online's launch, those who subscribe to the service will have 20 NES games readily available to them, some even offering online play. Such titles include Super Mario Bros., Super Mario Bros. 3, The Legend of Zelda, Donkey Kong, Gradius, River City Ransom, Double Dragon, Tecmo Bowl, Balloon Fight, and Ghost'n Goblins, among many others.
Joining the roster in October is a trio of games: Solomon's Key, NES Open Tournament Golf, and Super Dodge Ball. November will see the launches of Metroid, Mighty Bomb Jack, and TwinBee. To wrap up the year, December has a lineup of Wario's Woods, Ninja Gaiden, and Adventures of Lolo.
To see the full calendar and roster of NES games launching for Switch Online account holders, check out this link.
What do you think about lineup so far?
Switch owners about to be up to their Buster Swords in Final Fantasy goodness
Not one, not two, not three, not four, not five (is he really going to count this all out?), not six, not seven, but eight Final Fantasy games are coming to the Switch–all but two of them have been never-before-released on a Nintendo system. These games include remasters of two previous Nintendo Final Fantasy games with Final Fantasy Crystal Chronicles Remastered and Chocobo's Mystery Dungeon, Every Buddy! (formerly the Wii-exclusive Final Fantasy Fables: Chocobo's Dungeon). The latter includes co-op play for up to two friends, a new feature for the game.
Let's get to the main event, though, shall we? Final Fantasy VII, Final Fantasy IX, Final Fantasy X/X-2 HD Remaster, and Final Fantasy XII: The Zodiac Age are all coming to the Switch sometime next year–making this the first time that these 3D installments of the Final Fantasy series are available on a Nintendo platform. Meanwhile, other games that have yet to hit a Nintendo platform include: World of Final Fantasy Maxima and Final Fantasy XV Pocket Edition HD are 2018 releases with Final Fantasy XV Pocket Edition HD out now.
#FINALFANTASY is coming to #NintendoSwitch, kupo! Many titles from the legendary RPG series are coming soon, including FINAL FANTASY VII, FINAL FANTASY XII THE ZODIAC AGE and FINAL FANTASY XV POCKET EDITION HD. #NintendoDirect pic.twitter.com/qZPHknqZIw

— Nintendo of Europe (@NintendoEurope) September 13, 2018
What's new in The World Ends With You: Final Remix? Look no further!
Speaking of Square Enix, on October 12th, The World Ends With You: Final Remix drops the beat on the Switch with intuitive touch or Joy-Con controls, with the latter allowing for cooperative play. In addition to those new tricks, the Nintendo Switch Final Remix version of The World Ends With You will feature a brand-new chapter in the story, which highlights a new character–Coco. As a lover of The World Ends With You from when it originally released on the Nintendo DS in 2007, I'm more than excited to revisit this stellar offering from Square Enix, this time with new content and updated visuals.
Mario Tennis Aces serves up a major update later this month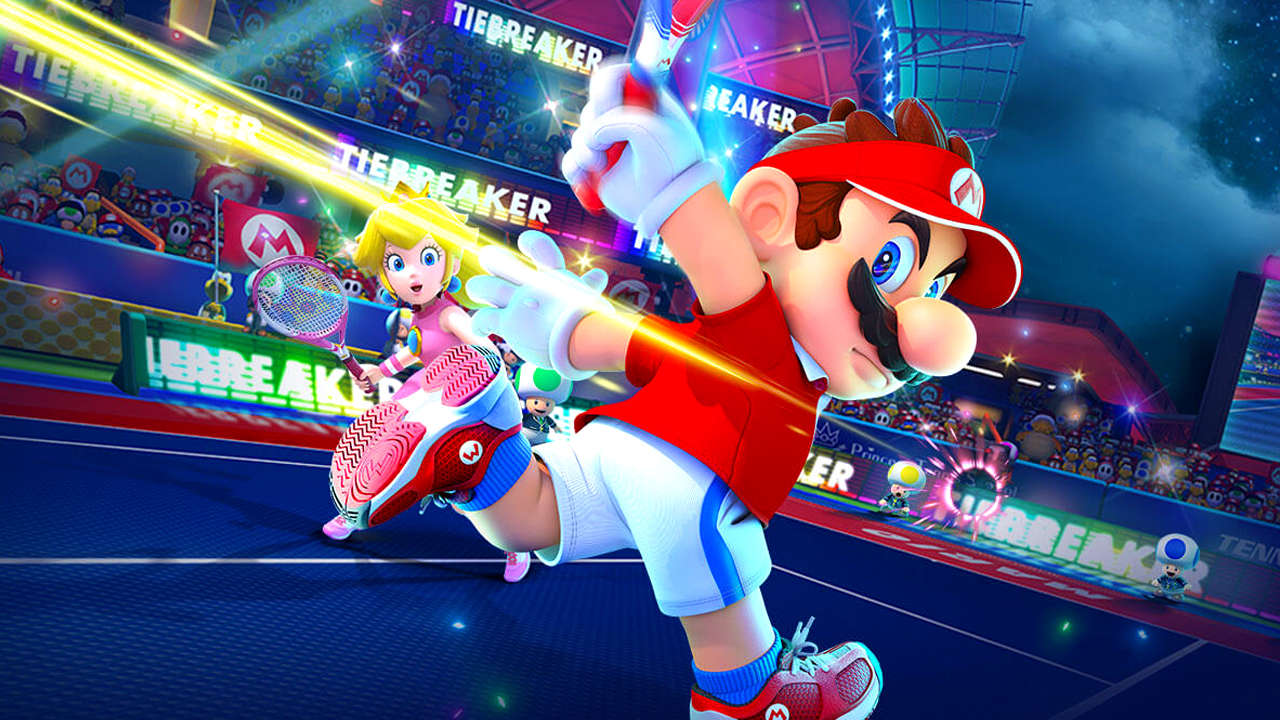 During yesterday's Nintendo Direct, some Mario Tennis Aces update information presented itself: Version 2.0. This version plans to add four new characters to the roster, unlocked via online play: Birdo, Shy Guy, Koopa Paratroopa, and Petey Piranha. Additionally, a new mode called Co-Op Challenge seems similar Mario Kart Wii's online mission mode, but instead of completing missions alone, you're doing so with other players (and of course in tennis-style challenges). Each of the online missions will only be available for a limited time, each offering a new character outfit or recolor for participating and completing them successfully. Mario Tennis Aces Version 2.0 launches on September 19th.
The masterful mobile marvel Downwell is dropping down onto the Nintendo Switch
Devolver Digital has revealed that the mobile gaming success story Downwell is getting ported to the Switch. The original announcement came unexpectedly in the Japanese Nintendo Direct. To alleviate any concerns for purists of the original game, Devolver has made it clear through Twitter that players will be able to enjoy Downwell in TATE mode via holding the Switch vertically. With how much acclaim the game has seen and how much it has just blown up online, it's quite the treat to have this mobile treasure on the Switch–regardless of there being no release date as of yet.
Downwell by @moppppin is headed to Nintendo Switch! #NintendoDirectJP pic.twitter.com/jDaUn1pYaj

— Devolver Digital (@devolverdigital) September 13, 2018
Other News Headlines
Animal Crossing: New Leaf's Isabelle joins the Super Smash Bros. Ultimate roster
Sid Meier's Civilization VI officially announced for a November 16th launch
Warframe battles its way to a November 20th release date
Splatoon 2 reaches Ver. 4–available now
Katamari Damacy Reroll is ready to roll you up into its game later this year
Capcom Beat 'Em Up Bundle gets ready to rock with local and online multiplayer on September 18th
New Releases
Nintendo Labo: Toy-Con 03 – Vehicle Kit ($69.99) – Retail-only
Not too many new releases on the SwitchArcade Roundup are solely available physically, but obviously with a game like Nintendo Labo: Toy-Con 03 – Vehicle Kit (yep, that's STILL a mouthful), part of the fun and the experience is the actual building of the cardboard controllers used for the game. From making a steering wheel with a fully functioning pedal for your car, to building a flight stick for your plane, the Vehicle Kit allows for some truly crafty creations. The added bonus of the actual game being much more in-depth than the initial batch of Nintendo Labo kits makes the Vehicle Kit one that I'm seriously considering getting.
Final Fantasy XV Pocket Edition HD ($17.99 from $29.99 until September 20th)
This is the type of game I struggled with on my iPhone (well, the original Pocket Edition, mind), mostly due to it being an older model iPhone with its own issues, but also due to not being able to fully come to grips with the touch-based controls. I now look forward to being able to play with my preferred method of input for these types of games–analog controls. For those of you who might only own a Switch, now you can finally see what the buzz around Final Fantasy XV is all about–albeit a more streamlined, quasi-Cliff notes version of Final Fantasy XV. Final Fantasy XV Pocket Edition HD is available today, and it's currently discounted until September 20th for its launch. A 40% discount? Niiiiiiiice.
Cities: Skylines – Nintendo Switch Edition ($39.99)
We built this city. We built this city on Nin-ten-do!!! Maybe it doesn't have the same elegance to its as Starship's original song, but I like my lyrics just as well. In a surprise announcement, the critically acclaimed city-building simulator Cities: Skylines has arrived on the Nintendo eShop as of yesterday, allowing Switch owners the opportunity to create and manage their own virtual metropolises. While the Nintendo Direct did not show a pleasant frame-rate for the game, it seems performance is dependent on whether you're playing docked or in handheld form–the latter might actually run better apparently!
Bastion ($14.99)
Bastion is no stranger to consoles, handhelds, and mobile devices. If there is a recent platform to be ported on, you can bet that the critically acclaimed, terrific-selling Bastion is coming to it. Now, for the very first time a Nintendo system sees the launch of Bastion with yesterday's release of the Switch version of the game. If you can believe it, this is actually my first time playing through this action-intensive dungeon crawler, so if you folks are interested in a newcomer's perspective on Bastion–specifically the Nintendo Switch build–then you'll get just that this Monday!
Surgeon Simulator CPR ($11.69 from $12.99 until September 20th)
Hopefully any prospective surgeons are steering clear of Surgeon Simulator CPR. For some reason–and I just have an inkling about this–I believe that using a sledgehammer is NOT the proper medical procedure to resuscitate a failing heart. That said, I'm not a licensed doctor, so I probably shouldn't be speaking out of turn on this subject. So, while it may or may not be proper medical procedure, you can bet your butt that it's sure as hell fun to do! With the addition to Joy-Con gyro movement, you can really get into your work. Surgeon Simulator CPR currently has a week-long launch discount.
Wasteland 2: Director's Cut ($29.99)
Wasteland 2 didn't run that well on the PlayStation 4 or Xbox One. You could say it was a bit of a performance… wait for it… wasteland. (Hey! Who threw that rotten tomato at me!?) That said, the well-received, turn-based tactical gameplay of Wasteland 2: Director's Cut might just be worth soldiering through any performance issues that might arise in this Nintendo Switch port.
Other New Releases
Senran Kagura Reflexions ($9.99)
Sales
New Games on Sale
Baseball Riot ($3.34 from $4.99 until September 19)
Flat Heroes ($7.99 from $9.99 until September 20)
Garage ($11.99 from $14.99 until September 20)
Guts and Glory ($11.99 from $14.99 until September 20)
Hello Neighbor ($31.99 from $39.99 until September 20)
Mr. Shifty ($11.99 from $14.99 until September 20)
Phantom Trigger ($11.99 from $14.99 until September 20)
Punch Club ($11.99 from $14.99 until September 20)
Road to Ballhalla ($11.99 from $14.99 until September 20)
Surgeon Simulator CPR ($11.69 from $12.99 until September 20)
The Final Station ($15.99 from $19.99 until September 20)
Light Fall ($9.74 from $14.99 until September 24)
Spheroids ($5.99 from $7.99 until September 24)
Yonder: The Cloud Catcher Chronicles ($23.99 from $29.99 until September 24)
Bleed ($4.07 from $11.99 until September 27)
Cast of the Seven Godsends ($4.41 from $12.99 until September 27)
Frost ($6.49 from $12.99 until September 27)
Immortal Redneck ($13.99 from $19.99 until September 27)
Inversus Deluxe ($8.99 from $14.99 until September 27)
Slayaway Camp: Butcher's Cut ($5.09 from $14.99 until September 27)
Zen Bound 2 ($9.74 from $14.99 until September 27)
Lost Sea ($6.99 from $9.99 until September 30)
Skee-Ball ($14.99 from $19.99 until September 30)
Zotrix: Solar Division ($11.24 from $14.99 until September 30)
Mecho Tales ($0.79 from $0.99 until October 3)
Plague Road ($0.99 from $15 until October 3)
The Bridge ($2.49 from $9.99 until October 3)
Sales Ending Tomorrow, Saturday, September 15th
Regalia: Of Men and Monarchs – Royal Edition ($21.24 from $24.99 until September 15)
Sales Ending Sunday, September 16th
FullBlast ($4.79 from $5.99 until September 16)
Grand Prix Rock 'N Racing ($5.99 from $7.99 until September 16)
Plantera Deluxe ($3.49 from $4.99 until September 16)
Twin Robots: Ultimate Edition ($5.35 from $7.99 until September 16)
Sales Ending Monday, September 17th
Crash Bandicoot: N. Sane Trilogy ($29.99 from $39.99 until September 17)
Sonic Forces ($23.99 from $39.99 until September 17)
TumbleSeed ($4.94 from $14.99 until September 17)
Where Are My Friends? ($1.19 from $5.99 until September 17)
As someone once said, "parting is such sweet sorrow." That is, unless we both know that we'll be seeing each other again real soon–like, early next week soon! Until then, I always love to read your comments on news stories and subjects posted on the SwitchArcade Roundup, and I'm quite interested in your thoughts on Nintendo Switch Online. Will you be subscribing to the service?
As I always end the SwitchArcade Roundups, keep your Joy-Cons charged and your Switches loaded with great games! See you on Monday!