Welcome to your SwitchArcade Roundup for September 12th, 2018. I'm Phil and I'm feeling fine and frisky on this Wednesday. We've reached the middle of the week, but the news, impressions, new releases, and eShop sales are not slowing down any time soon–especially with a Nintendo Direct occurring tomorrow evening. Oops! Spoiler alert for one of today's news items!
Regardless, before we get into that juicy stuff, let's take a look at the Game of the Day.
Game of the Day
Donkey Kong Country: Tropical Freeze ($59.99)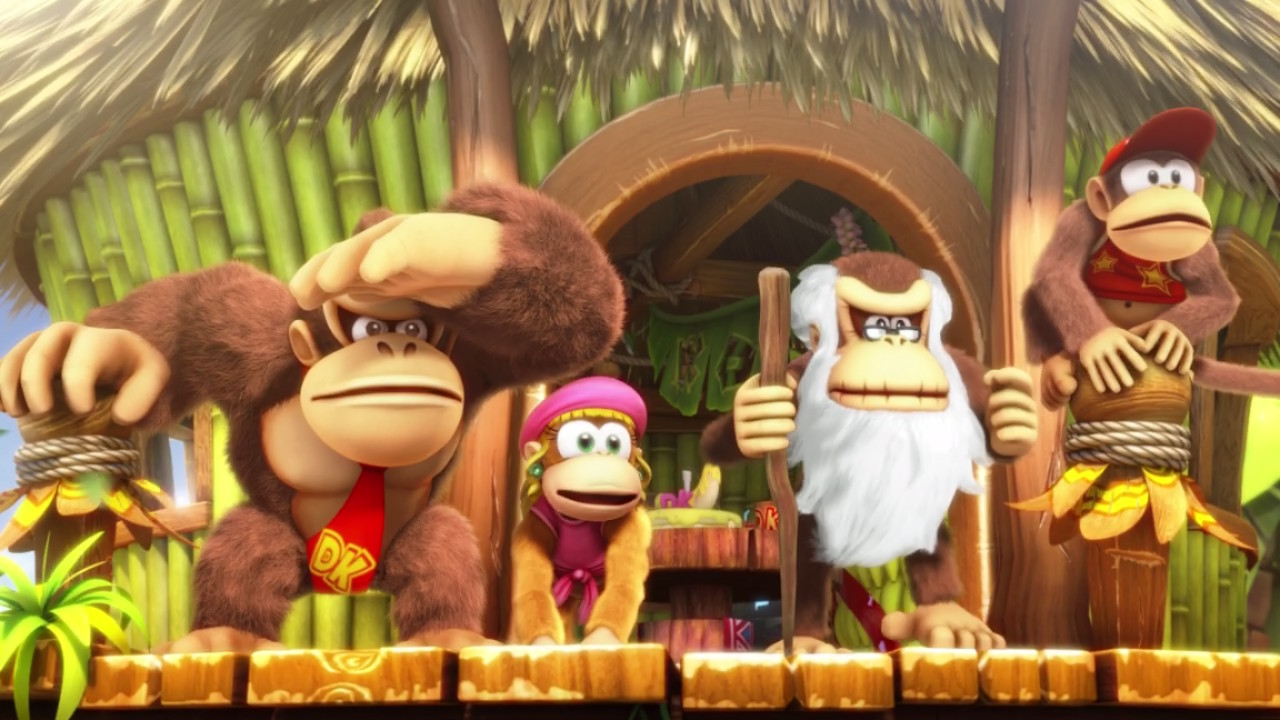 Banished from their home by the nasty Snowmad tribe, the Kongs (Donkey, Diddy, Dixie, and Cranky) must return to the now-frozen-over DK Island, but it'll be no easy task. Countless challenging levels filled with clever ideas, ingenious level design, and dangerous enemies, bosses, and obstacles block the Kongs' path across five different islands in order to reach their home.
I mean no hyperbole when I say that Donkey Kong Country: Tropical Freeze is one of the best 2D platformers ever made. Somehow, it took the crown from Donkey Kong Country 2: Diddy's Kong-Quest as my favorite in the Donkey Kong Country series–something that I thought was blasphemous to even ponder much more to say.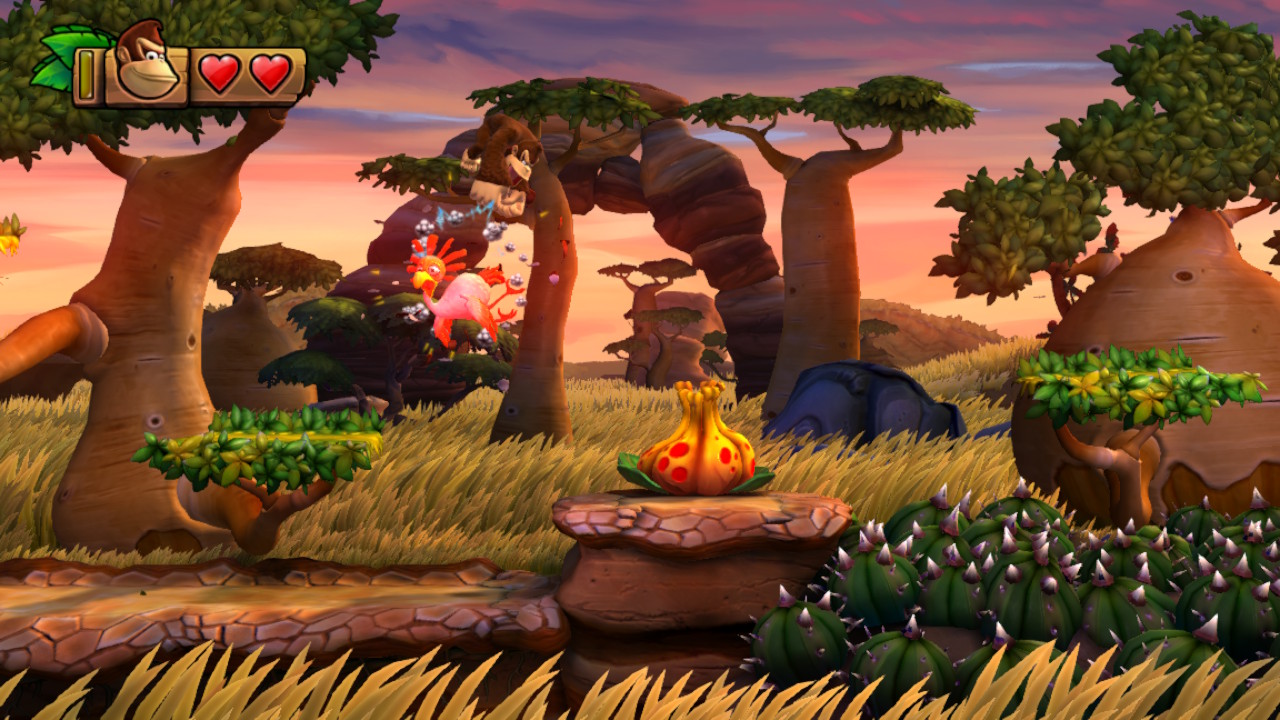 Each Kong has their own use, whether it's Donkey Kong's strength, Diddy Kong's ability to ride DK's back and use his jet pack to carry DK across short distances, Dixie Kong's ability to twirl her hair and give DK some extra height on his jumps, or Cranky Kong's cane that can be used like Scrooge McDuck of Capcom's DuckTales games, bouncing like a Pogo stick across the heads of enemies and across otherwise hazardous beds of spikes and thorns.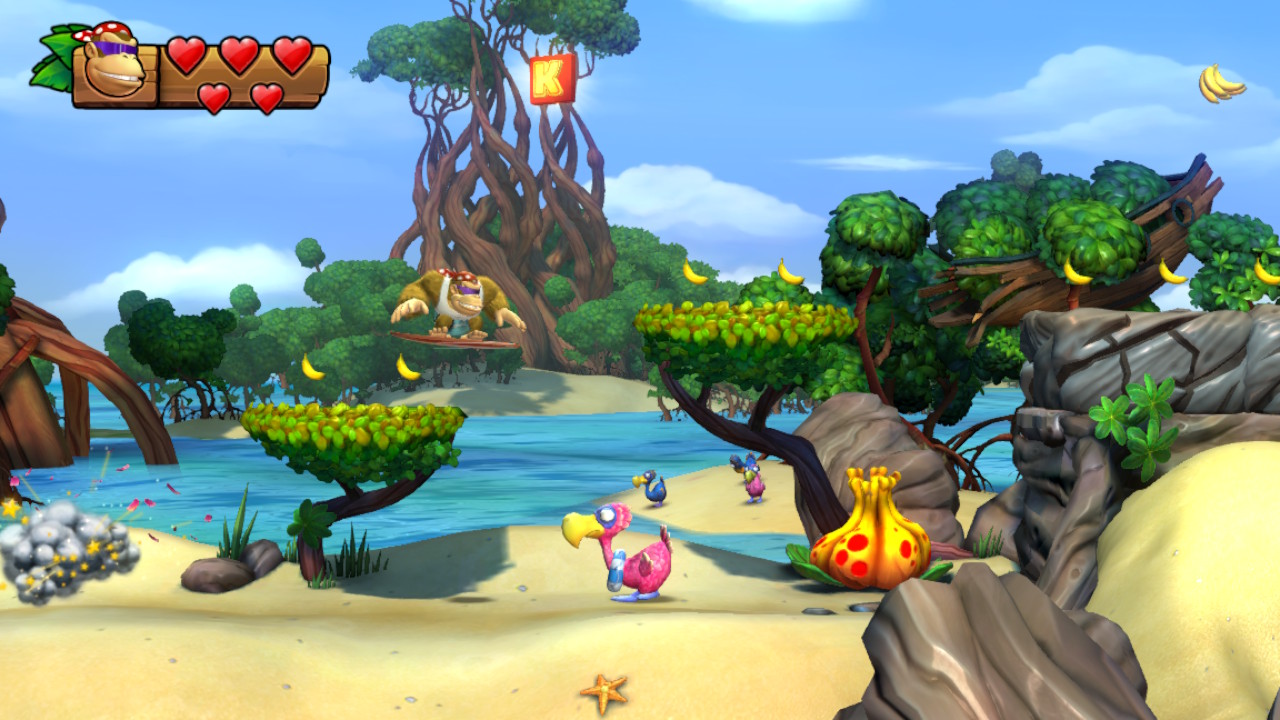 The Kongs will need all of their abilities, as levels are full of challenges and hardships. Between levels with giant spiked fruit chasing after the Kongs, to scaling a series of sliding platforms within a gigantic avalanche, to venturing the aquatic deep as a behemoth-sized octopus pursues, Donkey Kong Country: Tropical Freeze's levels always surprise and never disappoint. If you want to get the most from the game, then collecting the K-O-N-G letters in each level to unlock the super-difficult extra level on each island is a must. These levels will truly test your platforming mettle.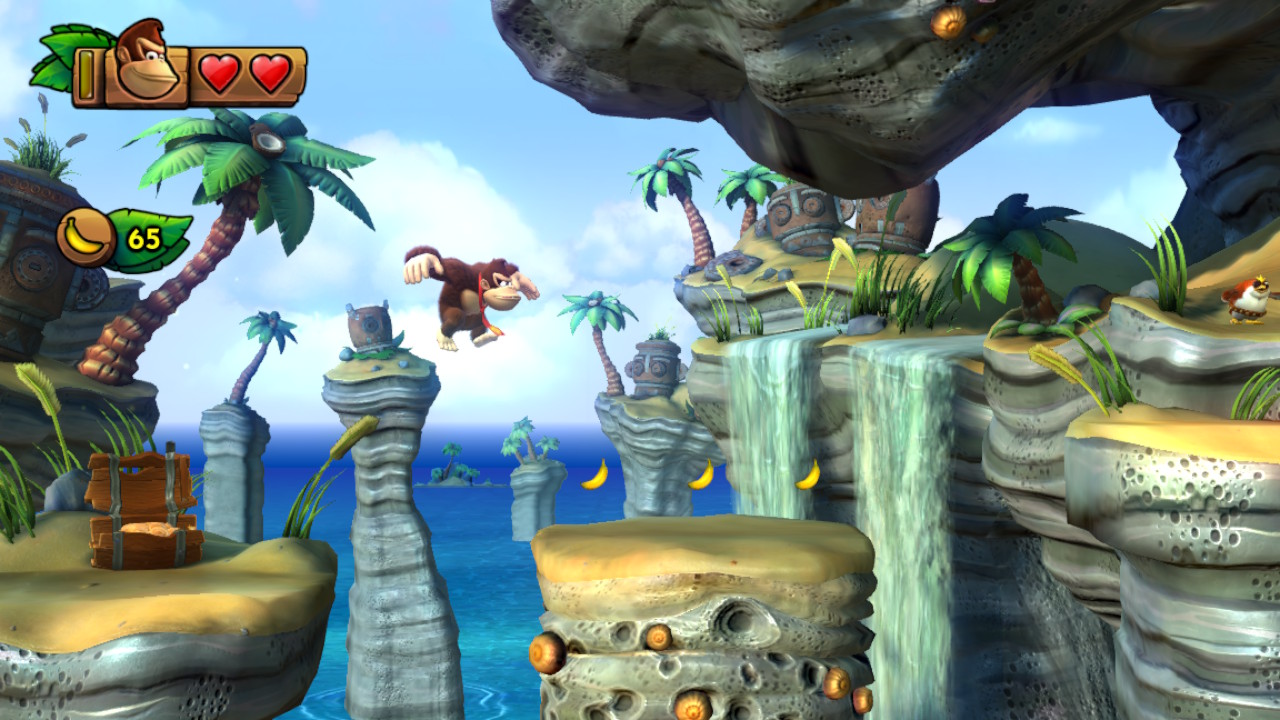 If there are any downsides to Tropical Freeze, it has to do with the length of many boss encounters. They seem to go on for much longer than I would have liked, and this is an opinion shared by many. The bosses require too many hits in order to defeat them, and there are too few opportunities where said bosses leave themselves vulnerable to attack. Thus, fights tend to get a little long in the tooth. Furthermore, the bonus stages where DK and the rest of the Kong crew can obtain some of the game's Puzzle Pieces, which unlock concept art, are often repeated. There are less than ten unique room designs in the game, making for some repetition.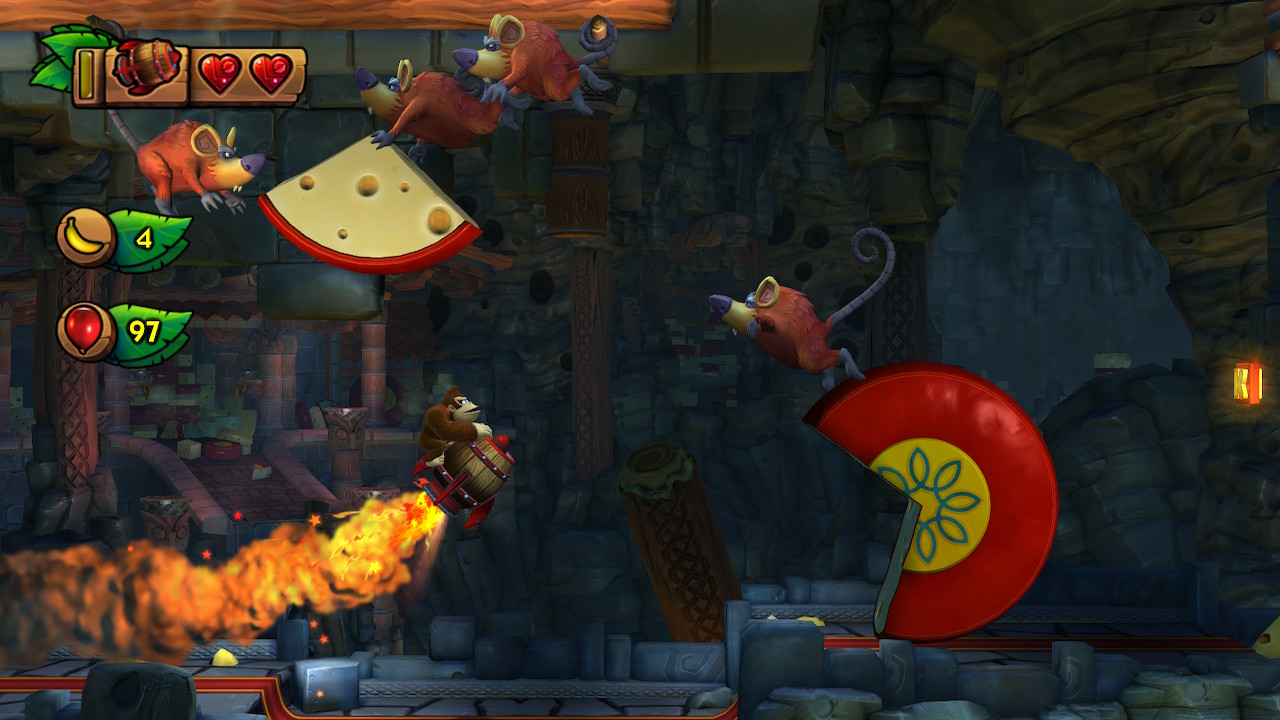 After receiving a ho-hum amount of fanfare when it originally released on the Wii U, I'm more than pleased that Donkey Kong Country: Tropical Freeze rightfully got its fair shake on the Switch with fantastic sales and critical acclaim. This is a very special 2D platformer, whether you're playing it alone or locally with a friend or family member. All in all, Donkey Kong Country: Tropical Freeze is the top banana on the Switch.
News
The delayed Nintendo Direct has been rescheduled after a week's delay
Due to the severe typhoon followed by an even more severe earthquake in Japan last week, Nintendo delayed its planned Nintendo Direct for last Thursday. Now, a new date for the presentation, devoted to upcoming Nintendo Switch and Nintendo 3DS games, will run tomorrow, September 13th at 6 p.m. EST. It's merely a week delay to the hour. Planned to be 35 minutes in total, tomorrow's Nintendo Direct will also have news regarding Nintendo Switch Online.
The Nintendo Direct initially scheduled for 9/6 will now debut this Thursday, 9/13, at 3pm PT. The broadcast will last approximately 35 minutes, and will feature information about upcoming Nintendo #3DS and #NintendoSwitch titles.https://t.co/vZbh2Ng6u1 pic.twitter.com/rwQXYOCIzu

— Nintendo of America (@NintendoAmerica) September 12, 2018
Nintendo Switch Online officially (and finally) has a launch date
A handful of days after tomorrow's Nintendo Direct, Nintendo Switch Online will launch on September 18th. Those wanting to take a membership for a test drive will have the opportunity to sign up for a seven-day trial with no purchase necessary. Interested parties can log into the Nintendo eShop on the membership service's launch date and sign up for a trial there. Nintendo promises to detail more information about the online subscription service and what it entails during tomorrow's Nintendo Direct.
#NintendoSwitchOnline memberships will start on 9/18. You can sign-up for a 7-day free trial from Nintendo #eShop at launch! We will introduce more information during the Nintendo Direct on 9/13.https://t.co/74Hzxk9spt pic.twitter.com/EJVFJH6F4I

— Nintendo of America (@NintendoAmerica) September 12, 2018
Nintendo and the Tailgate Tour get set to "kick off" some Super Smash Bros. Ultimate hype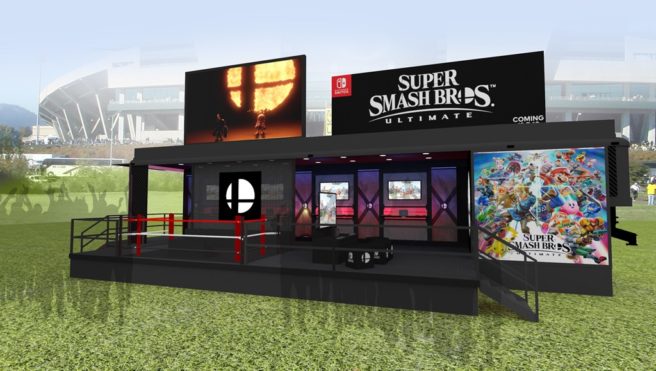 Give me an "S"! Give me a "U"! Give me a "P"! Give me an "E"! Give me an "R"! Give me an "S"! Give me an "M"! Give me an "A"! Give me another "S"! Give me an "H"! Give me a "B"! Give me a–aw, screw this. We'll be here for days at this rate. What was that going to spell? "Super Smash Bros. Ultimate" and I was merely attempting to be cute because Nintendo has decided to join up with the Wendy's College Tailgate Tour to promote the game and bring it to several colleges during the college football season. Play Super Smash Bros. Ultimate before the big game starts while preparing for the release of another "big game" when Super Smash Bros. Ultimate launches on December 7th. To check out the list of games the College Tailgate Tour will be at and on what dates, look no further than this link.
Oddworld: Stranger's Wrath announced for the Switch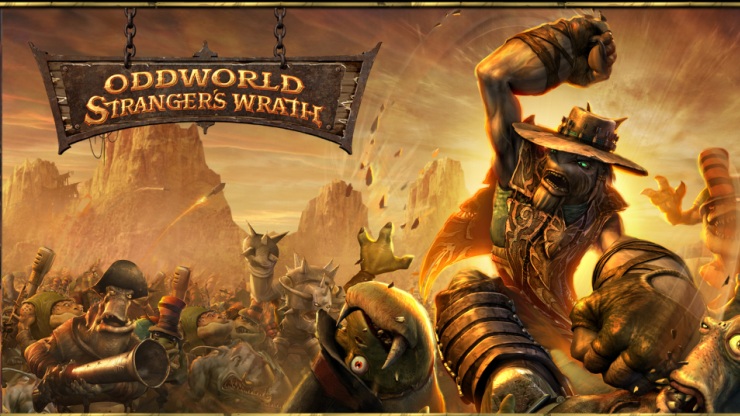 Oddworld: Stranger's Wrath has seen itself arriving on many platforms over the years, ever since its Xbox debut. Despite releasing on so many platforms and systems over the past 15 or so years, Stranger's Wrath has never appeared on a Nintendo console. That is until now. Oddworld: Stranger's Wrath is indeed coming to the Switch, and this news comes from Nintendo itself. While no release date has been assigned to the game yet, Oddworld: Stranger's Wrath will be playable for the first time on the Switch at the upcoming EGX 2018, happening September 20th to the 23rd.
Velocity 2X is set to speed onto the Switch in just over a week
Here's another game running and gunning onto a Nintendo platform for the very first time. The high-octane, fast-paced thrill ride that is Velocity 2X is arriving on the Nintendo Switch. Run, gun, and maneuver through onslaughts of enemies and their bullets as you play through this cross between a platformer and a shmup. Velocity 2X officially speeds onto the Switch on September 20th. Take a look at this trailer to see exactly what Nintendo-only gamers have been missing out on all this time.
New Releases
STAY ($9.59 from $11.99 until September 19th)
Locked in a room with but a computer and a chat room, the character of STAY needs your help to escape. The game plays out in real-time, sort of like a hellish version of Animal Crossing, where if you're not playing the game, the prisoner inside the room is left to his lonesome to suffer. Talk about a guilt trip! STAY features 24 individual chapters with seven unique endings, countless puzzles to solve, and a multitude of means and methods for you to fail and for the main character of the game to die. I'm getting anxious just writing out the premise of STAY, much less thinking about playing it!
Time Carnage ($10.39 from $12.99 until September 26th)
It might be specific, but if you've ever wanted a time-traveling, light-gun shooter where you can pick two weapons out of the game's 25–one for each hand–and eviscerate everything from dinosaurs to zombies (and who HASN'T wanted a game like that?), then Time Carnage is probably the game for you. Available with either traditional analog controls or gyro motion aiming, Time Carnage offers a lot of value for its price–one that is currently discounted for its launch. The only worry I have is that–at least when judging from the trailer–it's a bit difficult to see enemies in the game due to how dark the lighting in this game is. Anyone else have the same worry?
Grandpa and the Zombies ($8.99)
Grandpa may be in a wheelchair, but he certainly can get around! In the formerly mobile-exclusive Grandpa and the Zombies, you play as the eponymous Grandpa, wheeling your way through levels. However, each time you move, you don't stop until you hit a wall or other obstacle. With a strategic mind and always thinking one move ahead, you can reach the goal of each level while grabbing as much candy as possible. This is all the while avoiding all of the zombies that wish to get in your way in the process. I think the Grandpa in this game is damned if he does and damned if he doesn't, because if the zombies don't get him, all of that sugar from the candy will–especially at his age! …Maybe I'm thinking too hard about this.
Sales
New Games on Sale
Four new games have discounts today, and leading things off is Activision's Crash Bandicoot: N. Sane Trilogy. While I think the first Crash Bandicoot is a poorly designed, frustrating game, the other two titles in the collection more than make up for the original. Meanwhile, two of today's new releases, STAY and Time Carnage, have launch discounts.
Crash Bandicoot: N. Sane Trilogy ($29.99 from $39.99 until September 17)
STAY ($9.59 from $11.99 until September 19)
Time Carnage ($10.39 from $12.99 until September 26)
Rock'N Racing Off Road DX ($5.99 from $7.99 until September 30)
Sales Ending Tomorrow, Thursday, September 13th
Tomorrow is the eShop's big update day–what, with it being Thursday tomorrow and all. That means a whole slew of discounts are ending, and a new batch of discounts will pop up. Be sure to check out this list below to see if anything tickles your fancy before the discounts end!
Astro Bears Party ($0.99 from $4.99 until September 13)

BINGO for Nintendo Switch ($2.99 from $4.99 until September 13)
Bleed 2 ($5.09 from $14.99 until September 13)
BRAWL ($0.99 from $9.99 until September 13)
Earth Atlantis ($7.49 from $14.99 until September 13)
Epic Loon ($7.49 from $14.99 until September 13)
Glaive: Brick Breaker ($3.99 from $9.99 until September 13)
Grid Mania ($0.99 from $3.99 until September 13)
INK ($4.49 from $8.99 until September 13)
Jumping Joe & Friends ($0.99 from $4.99 until September 13)
One Strike ($0.99 from $4.99 until September 13)
Paranautical Activity ($2.39 from $7.99 until September 13)
Pirates: All Aboard! ($0.99 from $5.99 until September 13)
Robonauts ($0.99 from $8.69 until September 13)
Space Ribbon ($9.89 from $14.99 until September 13)
Super Ping Pong Trick Shot ($2.99 from $4.99 until September 13)
UNBOX: Newbie's Adventure ($10.19 from $29.99 until September 13)
That wraps up this Wednesday edition of the SwitchArcade Roundup. While there will be the Nintendo Direct tomorrow evening, I'll have the rounded up info from the presentation on Friday's edition due to how late in the day the Direct arrives on Thursday. Until tomorrow, keep your Joy-Cons charged and your Switches loaded with great games!