The genre of game that has players matching items or colors is absolutely nothing new and in fact, it might be one of the staples of mobile gaming and almost a right of passage for anyone who thinks themselves a prolific gamer. If you haven't spent hours trying to match something up on an iPhone, you really are missing out. The newly announced Troisix, created by Gwenn Guihal and Etxeagames, is, without doubt, a puzzler that will immediately look familiar to anyone who has been paying attention to mobile gaming, but to say it is a carbon copy of existing titles would be to do it a disservice. Troisix has the potential to be something familiar, yet completely different.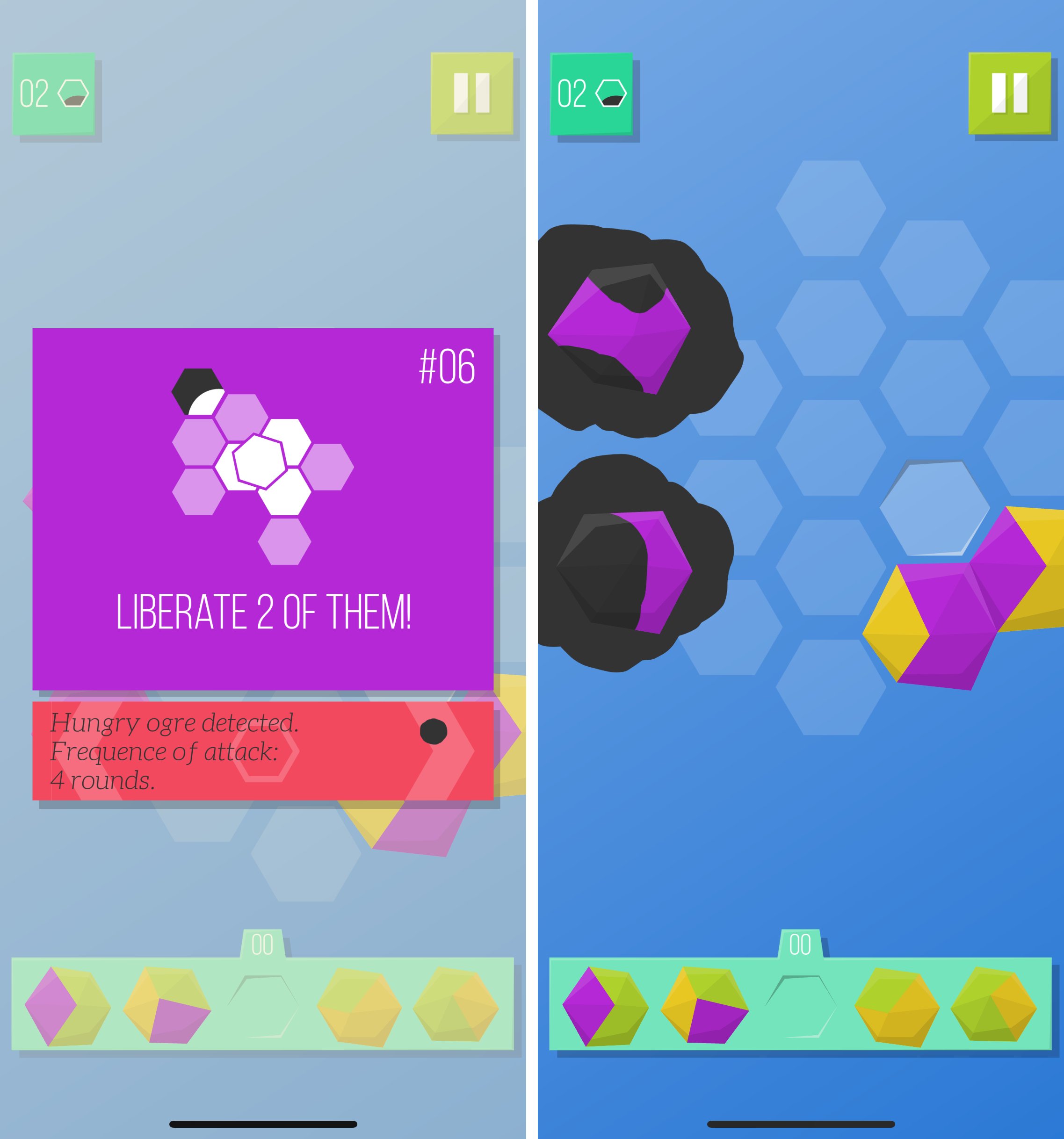 Starting off with the mechanism by which players will tackle the puzzles in front of them, everything is very much a tried and tested formula of matching colors. Gamers are tasked with placing one of seven tiles onto a grid, with that number increasing as the levels progress. Each tile must be placed in a very specific way in order to allow progression, and with 44 levels included with varying difficulty, there should be enough here to keep anyone interested. There's a story to help things along, too, with an ogre that was apparently based on Venom from the Marvel Universe. Said ogre will try to turn your colorful hexagonal tiles into black shadows of their former selves, and it's this which gives you the aim of the game: change black hexagons back into their colorful former glory by reaching and subsequently touching them. How? By matching tiles across the board.
I did say it would sound familiar.
But familiarity is not a bad thing, because it should mean that Troisix will be instantly familiar and instantly playable, and in a world of mobile gaming that's precisely what is needed. With the ogre constantly trying to take the color from tiles and with some levels set to also include strict time limits, there should also be more than enough tension to go around.
Troisix will be available for iPhone and iPad when it goes on sale on September 20th for $1.99 and the game has received localization for both English and French, with Chinese, Japanese and German apparently on the way, too.
I'll be playing the game ahead of time so expect a review, too. If initial impressions are anything to go by, Gwenn Guihal and Etxeagames may be on to a winner.