Welcome to your SwitchArcade Roundup for August 21st, 2018. Gamescom 2018 is officially happening as I type these words and as you read them as well. For those unaware, Gamescom is essentially Europe's version of E3, and many of the bigwigs and smaller wigs in gaming are in Cologne, Germany to announce and promote their upcoming releases. Your first SwitchArcade Roundup of this week is here and is dedicated to as much of the Switch-related news out of Germany that I can muster. So, let's get things started with a quick look at the Game of the Day, and then we'll get right to the news!
Game of the Day
Flip Wars ($9.99)
No, today's Game of the Day has nothing to do with the A&E show of the same name about flipping houses. Instead, Flip Wars is a game that was developed by Over Fence (who sadly filed for bankruptcy not too long ago) and published by Nintendo that puts your characters' rears in gear and has them ground pounding tiles in hopes of eliminating nearby players or getting as many tiles your character's color.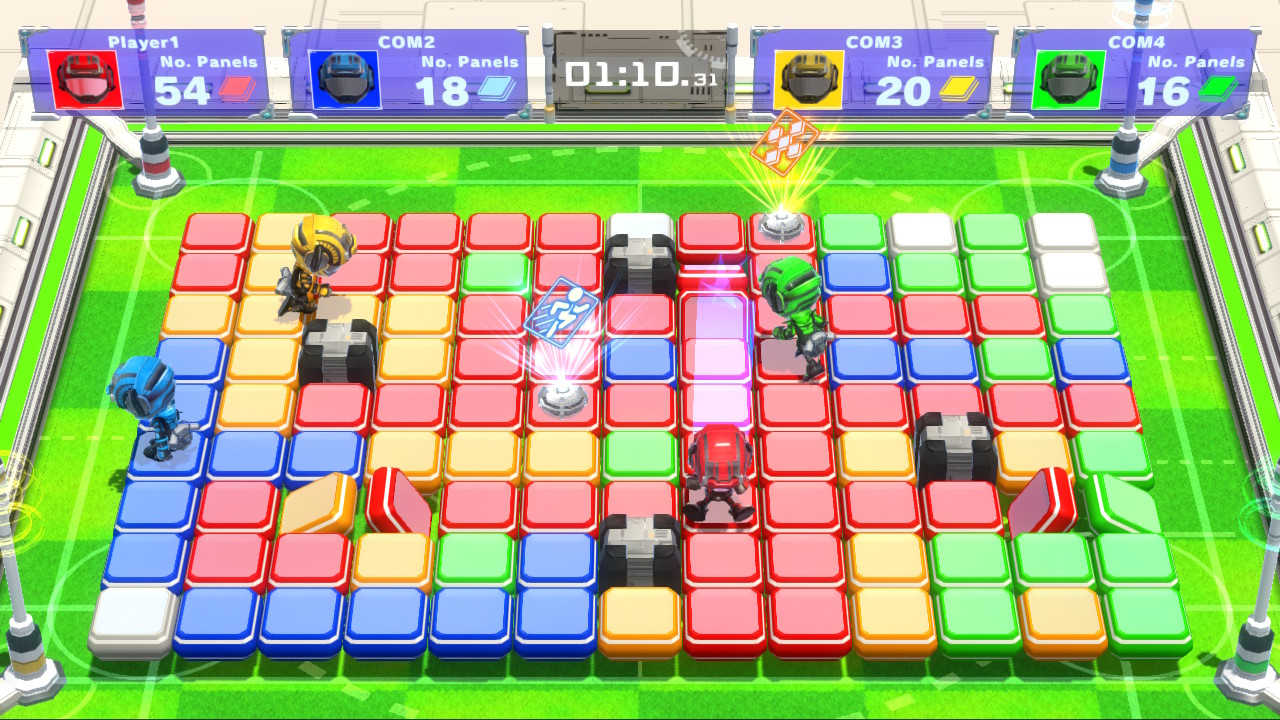 As you hip drop (at least that's what the game calls them, but let's be real–you're smashing your butt into the ground–Ouch.), it makes nearby tiles flip over to your character's color. Depending on your character's collection of power-ups, the tiles can flip in a cross or a diagonal pattern. Players that get caught in your flipping tiles get jettisoned off the screen, allowing you more time to flip more tiles.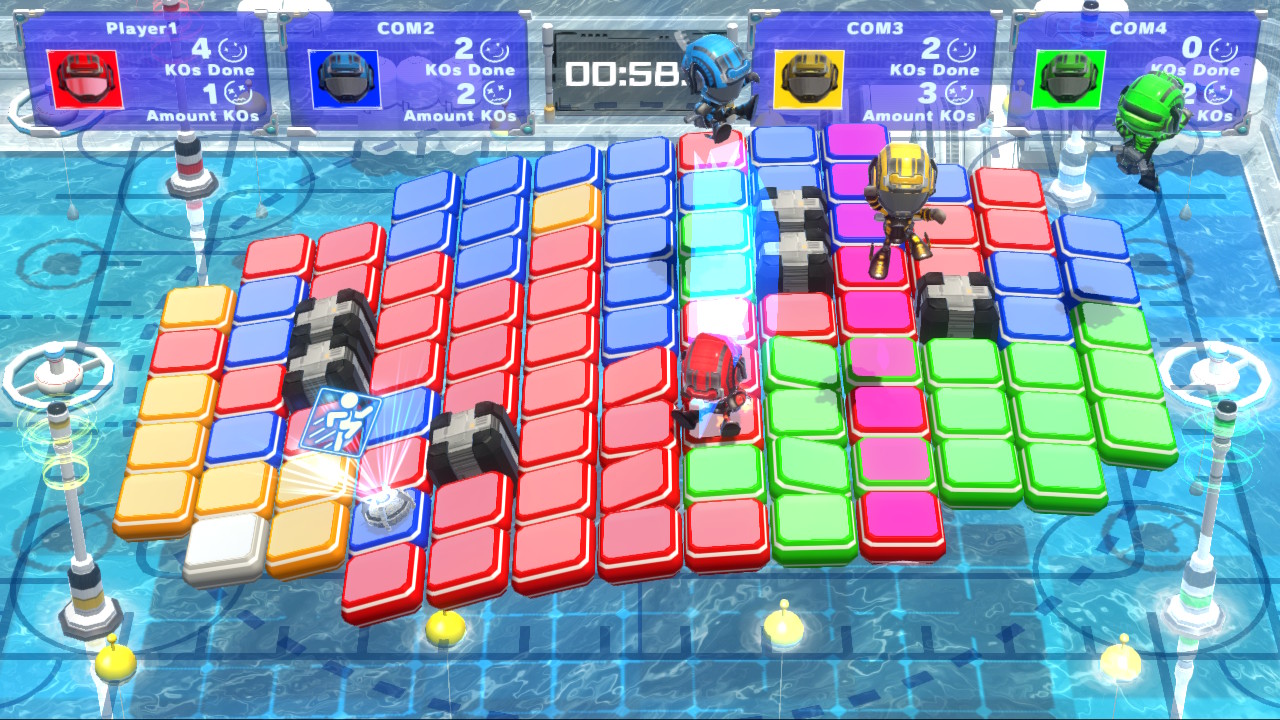 One mode is a knockout-style contest where the player with the most K.O.'s is deemed the winner, whereas a similar battle only gives players a finite amount of lives to work with. Last but not least, there's the mode where you try to flip and claim the most tiles in your color within the time limit. Offering local multiplayer insanity and online play, too–though the latter is emptier than the theater seats to Kevin Spacey's latest movie–Flip Wars is a genuinely solid game that might not have too much long-lasting appeal, but it's great to hop in for a game or two every now and then.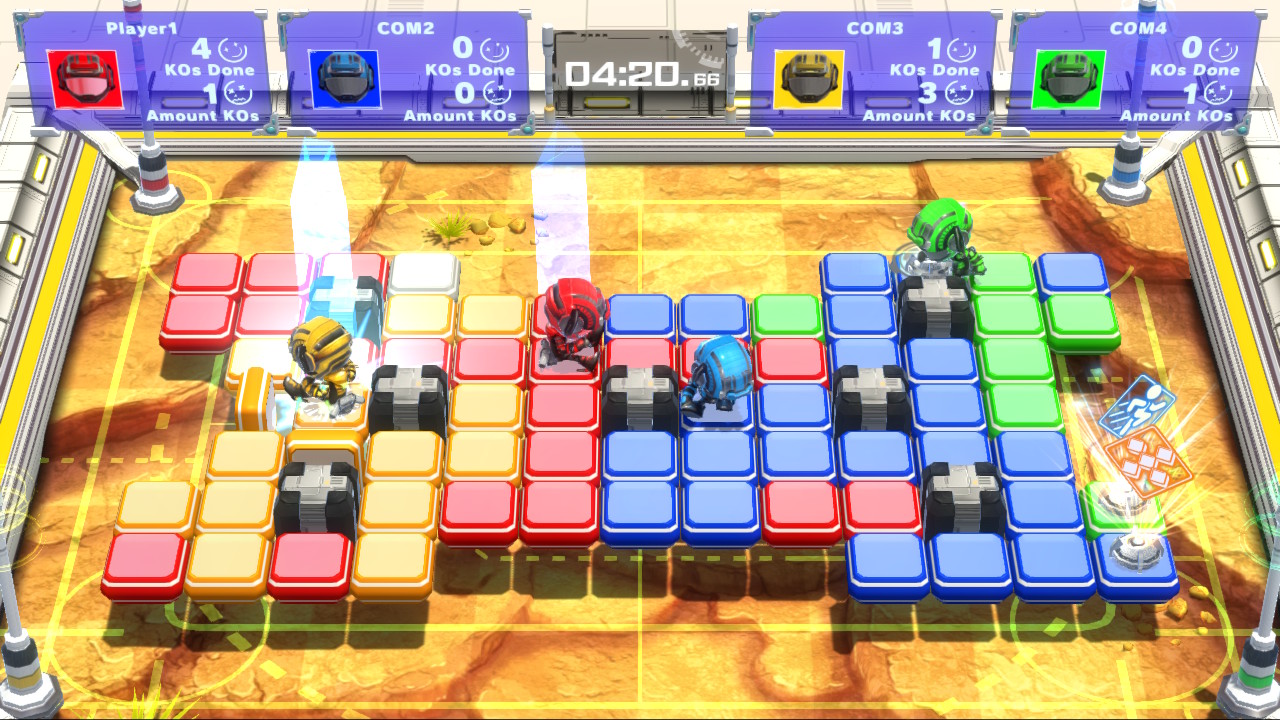 News
Arena of Valor receives new trailer and launch month
It's no secret that the highly popular, free-to-play MOBA Arena of Valor is coming to the Switch. Heck, there's already been a beta for the Switch version. Now, Tencent Games has revealed a brand-new trailer focusing on the features of the game (such as over 30 heroes and playing with anyone, anywhere in the world). At the end of the trailer is a much anticipated announcement, the release date. Okay, okay. More like a release month. Regardless, Arena of Valor will do battle on the Switch in an official capacity in September. For now, check out the trailer I've been speaking about right here:
Starlink: Battle for Atlas's new Gamescom trailer shows off the world of Atlas
In the wee hours of the morning (for those of us on this side of the Atlantic, at least), Ubisoft revealed a new trailer for its upcoming space-adventure game Starlink: Battle for Atlas. This trailer reveals some of the planets within the game, talking about the environments and some game lore. Watching the trailer, I do understand some of the No Man's Sky comparisons being made, whether humorously or not–what, with the combat, the space and planet exploration and such–but let me just end that line of discussion here. Can you explore the No Man's Sky universe as Fox McCloud of Team Star Fox?
Starlink for Switch: 1; No Man's Sky: 0. In all seriousness, coupled with the [albeit optional] toys-to-life aspect of the game, the distinctive differences in battle styles, and an overarching story, I'm quite looking forward to seeing how Starlink: Battle for Atlas shapes up once its releases on October 16th. After all, Nintendo wouldn't provide one of its IPs to be used in a game if the quality didn't meet its standards, right?
Cool Stuff: Comic book subscription app InkyPen arrives on the Switch this November
Announced in time for Gamescom, a new app, InkyPen, promises unlimited access to comics and graphic novels from publishers like IDW and Valiant for $7.99 per month. The app–the first of its kind on the Switch to be worldwide–is confirmed to have the ability to be used in TV and handheld modes, and more publishers are set to join in on InkyPen's fun when it launches on the Nintendo Switch this November. Teenage Mutant Ninja Turtles and Transformers on my Switch? Don't mind if I do!
Kickstarted game Bloodstained: Ritual of the Night receives another delay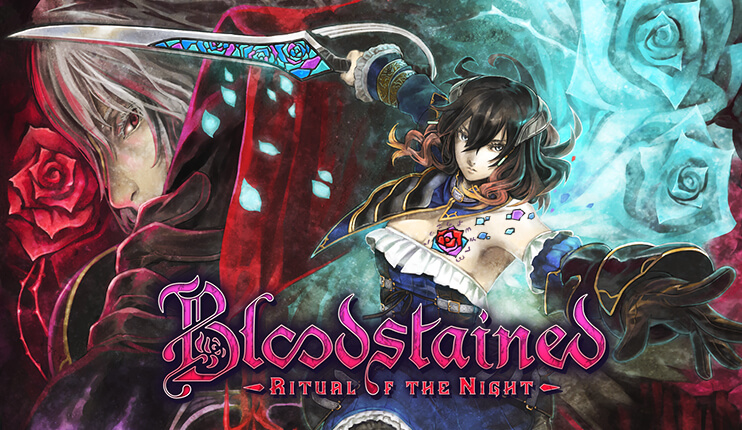 In a statement made by director Koji Igarashi (formerly a director of the Castlevania series), confirmation was given that the crowdfunded project, Bloodstained: Ritual of the Night, is slipping into 2019 from its planned 2018 release year. Before that, the game was planned for 2017, making this the second major delay. The decision to delay Ritual of the Night stems from the feedback from the demo given only to backers of the original Kickstarter. While the demo was hardly a disaster, Igarashi and his team plan on using this delay to further polish the game to meet and exceed fan expectations. Rest assured, gang, despite some similarities, Bloodstained: Ritual of the Night does not seem to be a repeat of the Mighty No. 9 Kickstarter fiasco, as the creators are more focused on polishing the actual game and not trying to turn it into a ill-fated multimedia franchise.
Well received Kickstarter 3D collect-a-thon platformer A Hat in Time sets its sight for the Switch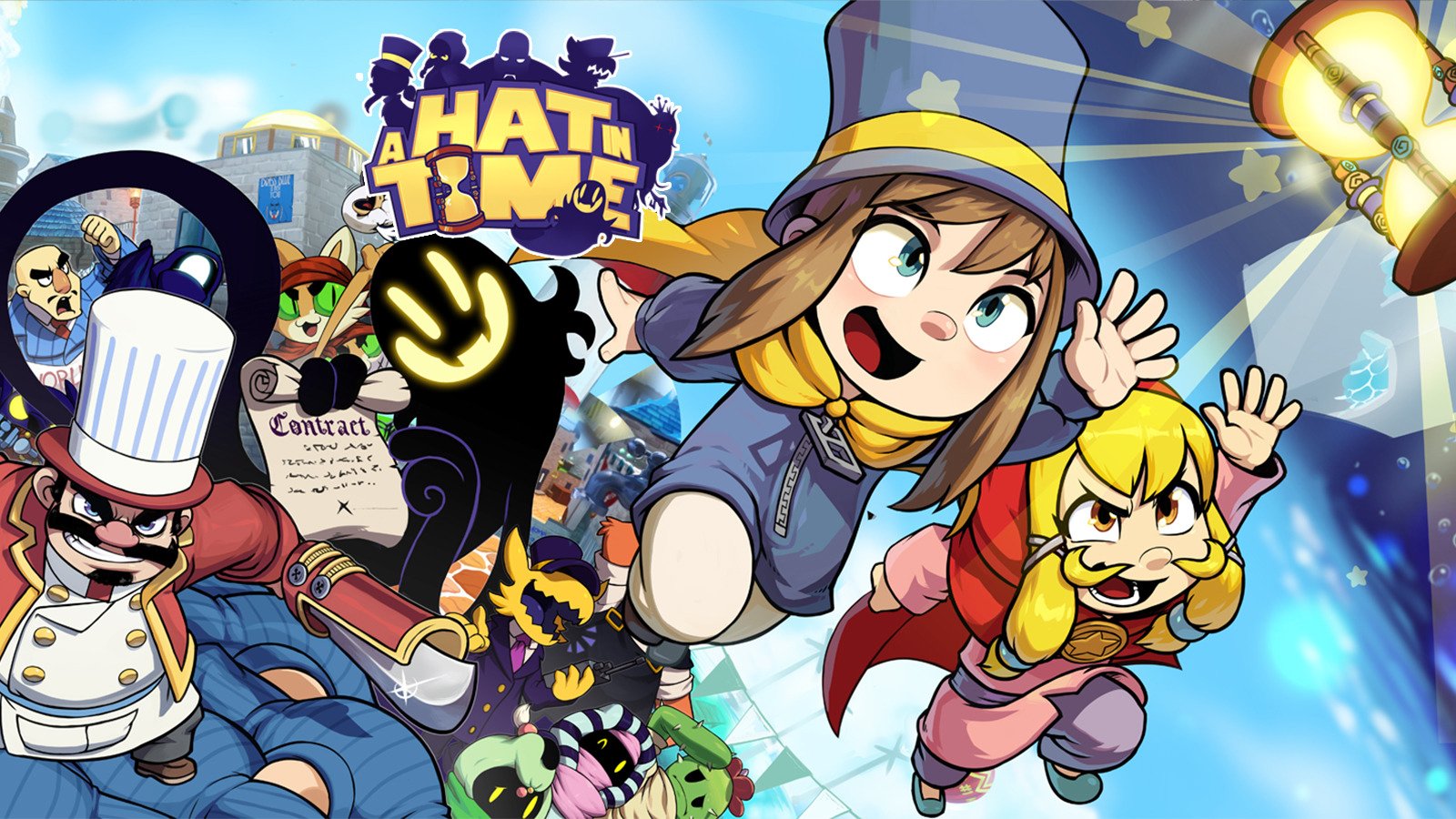 Speaking of Kickstarted games… They said it couldn't be done! …No, really. I'm talking about the developer here as "they", who made it known that a Switch port of A Hat in Time wasn't possible for various reasons (which they've since deleted those tweets interestingly enough). Regardless, a port IS being done! A Hat in Time is officially coming to the Nintendo Switch. While the announced DLC and co-op announced for the Steam version won't currently be coming to console versions, it's nice for Nintendo fans to finally be able to play the game in a genre they welcome with open arms No additional price or release date info has been given apart from the port's confirmation.
Mecha no mistake–never-before-seen gameplay of Daemon X Machina is coming to Gamescom
Announced on Nintendo UK's Twitter, Nintendo's upcoming mech-based action game Daemon X Machina will be receiving new gameplay footage at Gamescom 2018–more specifically this Thursday. The producer behind the game, Kenichiro Tsukuda, will be presenting this footage himself. Tsukuda is notable for his work on the Armored Core series, which no doubt he's been using his expertise and knowledge from to help create this planned 2019 Switch release that was announced at this past E3. Mecha sure you allot some time on your Thursday to check out the new gameplay! Ah, ha, ha. Want me to stop these puns? Just try and mecha me!
#DaemonXMachina producer Kenichiro Tsukuda will show off brand new gameplay in a #NintendoGC RedCube presentation coming this Thursday!

Stay tuned to our #gamescom2018 hub and enjoy this teaser trailer!

👉 https://t.co/GBwNljHGWF pic.twitter.com/9pe2PSsZNr

— Nintendo UK (@NintendoUK) August 21, 2018
Grandia and Grandia II coming to the Switch courtesy of GungHo Entertainment
Both Grandia and Grandia II are coming to the Nintendo Switch in high-definition remastered form, GungHo Entertainment announced yesterday. The news is set to delight Switch owners looking for even more JRPG goodness, as both games have dedicated fan bases to them, and the series as a whole, for a reason. The original Japanese releases of Grandia came out on both the SEGA Saturn and PlayStation in 1997 and 1999 respectively. Only the PS1 version made it to our side of the world, the same year as the Japanese launch. Meanwhile, Grandia II originally released on the Dreamcast before seeing ports for the PS2 and PC years later. Now that the games are confirmed for the Switch, a whole new generation of gamers may find themselves falling in love with these JRPG classics for the first time.
Team Cherry's Hollow Knight is receiving a physical release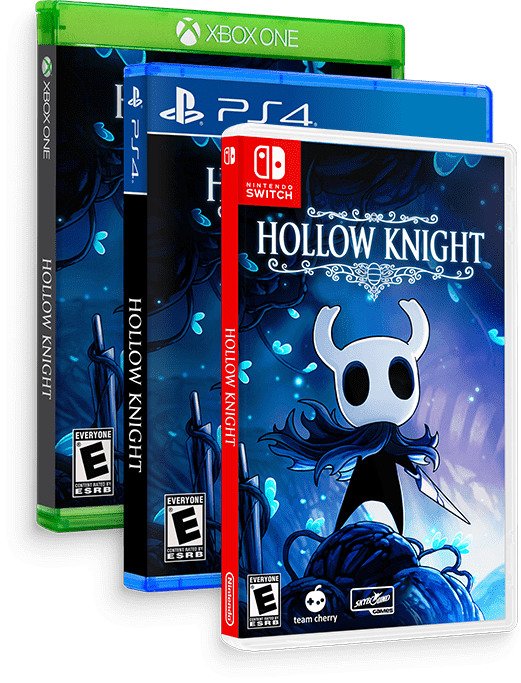 Hollow Knight consistently stays at or around the top of the North American eShop bestsellers charts, and for good reason–it's apparently a damn good game! Not too many games can come close or occasionally even surpass its inspirations, but Hollow Knight is one of those games. *Ahem* Or so I'm told by so many of you, as I still need to play it…
Now, as reported by Variety, thanks to a partnership between developer Team Cherry and distributor Skybound Games, Hollow Knight will officially receive a physical version in Spring 2019. Maybe I can say my excuse for not playing this yet is because I was waiting for a physical version! …You're not buying that, either, are you?
Monkey around with a new character coming to Mario Tennis Aces next month
Each and every month since launch, participating in the month's online tournament by simply playing one match of Mario Tennis Aces unlocks a new character for that month. In July, Koopa Troopa was the possible addition to the roster, while August saw Blooper emerge from the ocean and play on dry land for a fresh change of pace. For the month of September, it's been revealed that players who play one online tournament match will unlock the nimble ape Diddy Kong for use in the game. While these new characters are nice additions, here's hoping some more meaty patches a la Splatoon 2 and ARMS are on their way with new courts, costumes, and modes! (Yes, I'm still salty about the game's launch problems.)
Other Headlines & Game Announcements
From new trailers of previously announced games to new announcements, there's a healthy offering of other news I couldn't get to in the main headlines!
New features… er… featured in SEGA's Valkyria Chronicles 4
FDG Games' Monster Boy and the Cursed Kingdom gets new trailer and November 6th release date
Trials Rising celebrates its February 12th, 2019 release date announcement with a new trailer
Windjammers 2 announced for Switch and aims for 2019 launch
New Releases
While the news is a bit busy this morning (and that's sort of understating things!), the new releases yesterday and today aren't too heavy all things considered.
We have a new entrant in the arcade kart racing genre with All-Star Fruit Racing as well as some "and it's available… TODAY!" surprise launches with Morphies Law, Bad North, and Prison Architect. Check out footage of each game with their respective trailers. Anything look good to you to purchase?
All-Star Fruit Racing ($35.99)
Morphies Law ($19.99)
Bad North ($14.99)
Prison Architect ($29.99)
Spectrum ($9.59 from 11.99 until August 30)
Sales
A whole slew of Ubisoft-published games are on sale for the week, so if you've been waiting for a discount, wait no longer!
New Games on Sale
LEGO The Incredibles ($40.19 from $59.99 until August 27)
Hungry Shark World ($7.99 from $9.99 until August 27)
Just Dance 2017 ($23.99 from $59.99 until August 27)
Just Dance 2018 ($29.99 from $59.99 until August 27)
Mario + Rabbids: Kingdom Battle ($29.99 from $59.99 until August 27)
Mario + Rabbids: Kingdom Battle – Gold Edition ($39.99 from $79.99 until August 27)
Monopoly for Nintendo Switch ($15.99 from $39.99 until August 27)
Pato Box ($13.49 from $14.99 until August 27)
Rayman Legends: Definitive Edition ($19.99 from $39.99 until August 27)
South Park: The Fractured But Whole ($29.99 from $59.99 until August 27)
South Park: The Fractured But Whole – Gold Edition ($44.99 from $89.99 until August 27)
UNO for Nintendo Switch ($6.99 from $9.99 until August 27)
Spectrum ($9.59 from $11.99 until August 30)
36 Fragments of Midnight ($2.09 from $2.99 until September 2)</b
League of Evil ($5.35 from $7.99 until September 2)
Serial Cleaner ($7.49 from $14.99 until September 3)
The Flame in the Flood ($7.49 from $14.99 until September 3)
Sales Ending on Wednesday, August 22nd
AeternoBlade ($8.99 from $14.99 until August 22)
Subsurface Circular ($4.79 from $5.99 until August 22)
The Bridge ($2.89 from $9.99 until August 22)
Wanderjahr: TryAgainOrWalkAway ($5.99 from $9.99 until August 22)
It's time to take my typing fingers and put them in a glass of ice. They're on fire from covering so much today! Don't worry, though, my fingers will be ready to type up more news and coverage from Gamescom 2018 tomorrow. Until then, keep your Joy-Cons charged and your Switches loaded with great games!