The world of game streaming has been growing at an alarming rate, while Twitch has been the default game streaming site for ages now, it's going to be really interesting to see how long they remain dominant in the face of large-scale competition. YouTube Gaming has been surprisingly successful, with Microsoft's Mixer also growing in popularity- Largely due to being the default stream service for anyone with an Xbox One. Well, over the weekend Valve accidentally revealed Steam.tv by doing a test stream of Dota 2.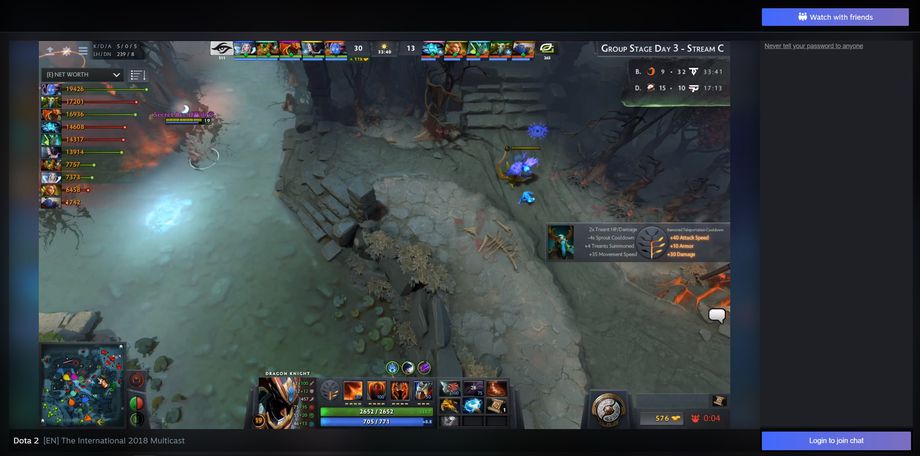 (Screenshot via The Verge)
While it seems unlikely that anything to do with mobile gaming will ever stream on Steam.tv, it sets an interesting precedent. Undoubtedly a Steam update in the future will just allow everyone to stream to Steam.tv with a single click- much like Mixer and the Xbox One. They've got a lot of muscle to flex too with the massive esports events Valve runs, as if they exclusively stream Dota 2's The International over there, that's an instant community of people using your platform.
What specifically interests me about this is that I feel like this could be good to mobile in a very round-about way. We streamed on Mobcrush for quite a while, but never really were able to see much growth beyond the traffic we brought ourselves through the TouchArcade community because people on Twitch and other larger platforms didn't know to look for other sites. As more big players spin up their own portals, it's going to become way more normal to be familiar with the fact that loads of alternatives exist.
In a way, it reminds me of the news of how Fortnite is coming to Android. The more people become aware of these alternatives, the more other folks are going to be able to take advantage of releasing their own. Hopefully streaming starts to work the same way, as I'd love a place like Mobcrush to exist in a larger sense once more people are aware that there's actually a bunch of places to watch specific streamed content, and not just Twitch.