It's been a quiet week for Arena of Valor. There's still no word on the usual monthly update despite the screams from the community likely echoing into the subreddits of competing mobile MOBA titles, and Rourke is still crushing towers even with a bug fix known to exist across the pond.
There's not a lot to report on here. Esport fans will be happy, but those waiting on the Summer Bash skins should prepare themselves for disappointment of the highest degree.
Valor Series Season Two Announced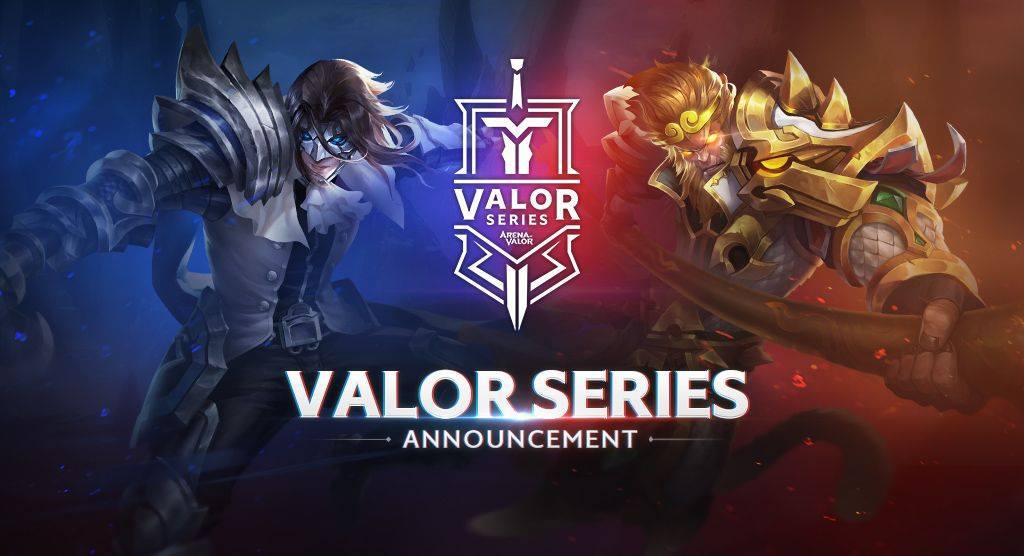 Announced less than a day ago by Arena of Valor's own community manager, the second season of the Valor Series competition is set to kick off on August 23rd at Gamescom in Cologne, Germany.
The Valor Series is a competitive season that invites any Arena of Valor player to participate in for a shot at stardom. This time, players will compete for a piece of a $200,000 prize pool. Registration is already open, so anyone hoping to go pro should start looking to form a team as soon as possible.
You'll need to compete in at least one of the two Valor Series open qualifiers planned for the near future and place within the top 6 teams across either one to progress. These are split between region, though, so that's 6 teams from Europe, North America/Canada, and Latin America. Those teams will then duke it out, with the best of each representing their region at the Arena of Valor International Championship in November.
With just three months between this announcement and the proposed AIC, things are about to move very quickly. The newly established Valor Series website should get you up to speed with any required information. Once you're good to go, head on over to the ESL registration page to fill out the necessary details.
Summer Bash Taara Skin Joins Pendant Shop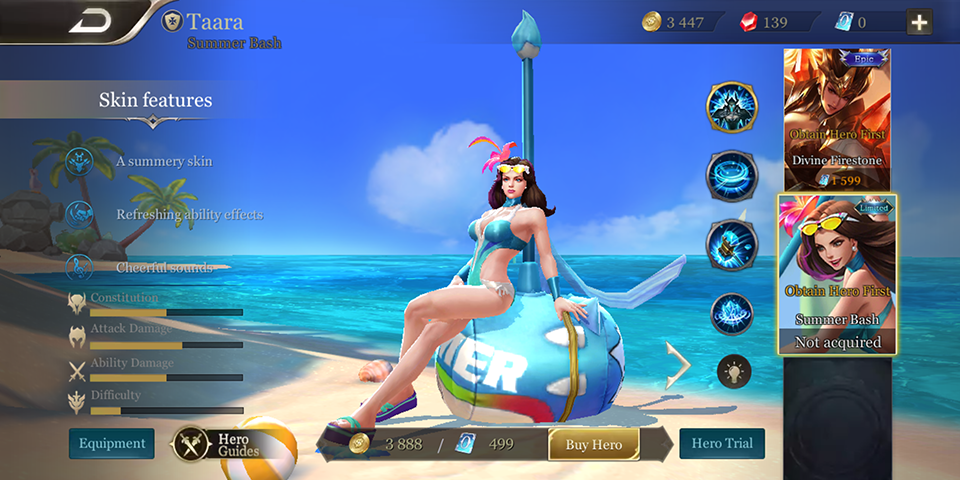 Tencent continues its Summer push by fast-tracking the rest of the Summer Bash skins to the Worldwide servers. The skins, which were revealed just a few weeks ago on the prominent Asian servers, have already started to make their way to the US/EU/LATAM server. New items and heroes usually take months to make the jump to other game clients, but the seasonal timing of the latest bunch looks to have worked in their favor.
Diaochan and Violet are part of this second wave of Summer Bash skins, but only Taara has swum across the ocean so far, landing in the infamous pendant shop just like the less recent Summer Bash Krixi skin.
Being in the Pendant Shop means you can't buy Summer Bash Taara for Vouchers like most other skins. Instead, you'll need to spend those vouchers (or Gems) on Magic Crystals, deposit those into the Lucky Draw and pray for a Pendant. As you might expect from something with a name like Lucky Draw, getting the pendant required for the Summer Bash Taara skin is entirely up to luck.
Your chances increase with each unsuccessful attempt, but it's entirely possible to spend well over $100 without getting one. You might get lucky and score the skin for the equivalent cost of $1, or you might spend your month's rent and get nothing but Gold. If you just have to have it, though, now's the time to try. There's 25% off each attempt from now until Monday. As if Tencent couldn't be any more transparent with what it wants from you.
Idol Liliana Skin Vanishes After Just One Week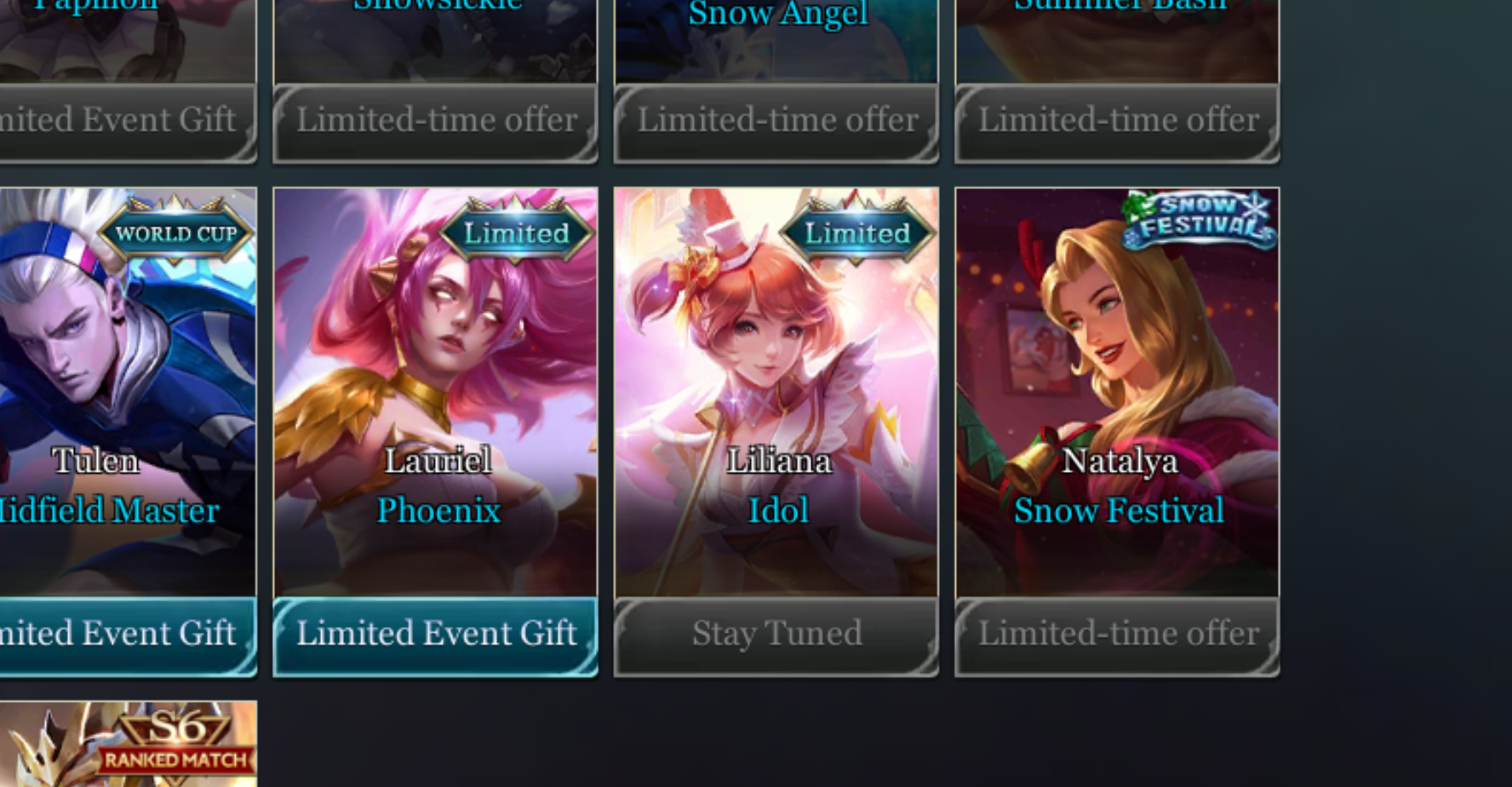 Other than the Summer Bash skins, one of the most sought-after skins was that of Idol Liliana. The outfit embraced idol culture and turned one of Arena of Valor's most popular mages into a pop star complete with her own song and Japanese voice lines.
But after just one week on sale, the Idol Liliana skin has been tossed back into the vault. Perhaps one of the shortest idol tours of all time, there's no mention of when the thing will come back. But a comeback tour certainly looks to be on the table. Tracking down the skin in the in-game store isn't met with the usual "Unavailable" or "Limited-time offer" button typically used on time-limited skins. Instead, Idol Liliana's purchase button reads "Stay Tuned".
We don't know when she'll come back to the world that so desperately needs her, but she's coming back. We hope.