Welcome to your SwitchArcade Roundup for August 15th, 2018! We're halfway through the week, so it's all downhill after this. As usual, I'm Phil here with your latest Switch-related news, game impressions, releases, and sales–all rounded up for your viewing pleasure and convenience. Some big release news leaked today, but we'll get to that in just a little bit. For now, it's time to turn our attention to the Game of the Day.
Game of the Day
Mighty Gunvolt Burst ($9.99 – demo available)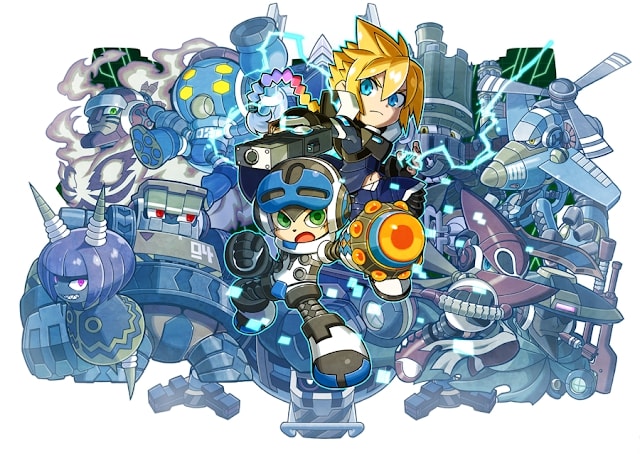 Mighty No. 9 was an unmitigated dumpster fire in all aspects, from the Kickstarter, to the actual game, to the backers who are still in limbo waiting on their Nintendo 3DS and PlayStation Vita builds of the game–which they've all probably come to terms with the fact that they're never getting what's owed to them. However, if there is one diamond to be found in this rough (and I define "rough" as a stinky pile of dog doo), that diamond is Mighty Gunvolt Burst by Inti Creates. In all honesty, Mighty Gunvolt Burst is what Mighty No. 9 should have been quality-wise, but thankfully Burst was limited to two platforms instead of an overly ambitious 200 or so. (I might be over-exaggerating a bit.)
Mighty Gunvolt Burst follows a similar formula and structure to Mighty No. 9. After all, it has an opening tutorial stage, eight levels that can be completed in any order the player chooses, not-Robot Master "Robot Masters" in the form of the Mighty Numbers to take on as bosses, and stays tried and true to its 2D platformer roots. Where Mighty Gunvolt Burst succeeds where Mighty No. 9 failed is a multifaceted reason.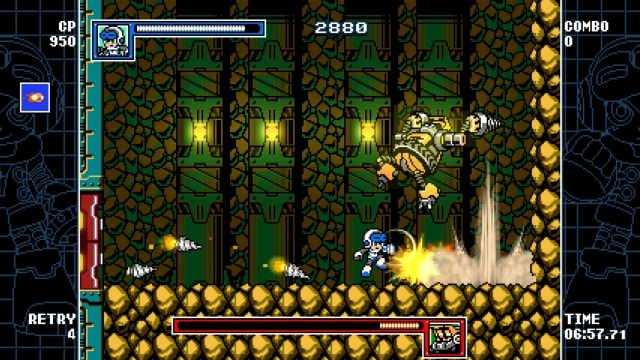 For one, there are no obnoxious cut-scenes that outwear their welcome, extended story sequences, constant jabbering between characters, and other unwanted interruptions to gameplay. Secondly, levels are actually designed well and encourage exploration. Fancy that! There aren't any giant instant KO, spinning, electric wheels of death to worry about dashing under with pixel-perfect precision or vertical shafts lined with spikes that you have to carefully and cautiously hover down. With Mighty Gunvolt Burst, you'll really WANT to replay these levels, searching for items and upgrades you missed and competing for "A" ranks. It's not a chore doing so, unlike Mighty No. 9.
Whereas Mighty No. 9 used a shoehorned mechanic that greatly affected the gameplay in adverse ways, Mighty Gunvolt Burst's is simply avoidable. You don't need to destroy enemies while standing next to them to continue your combo nor enjoy the game–as long as you're not gunning for a high score, that is, but most players probably won't be doing that.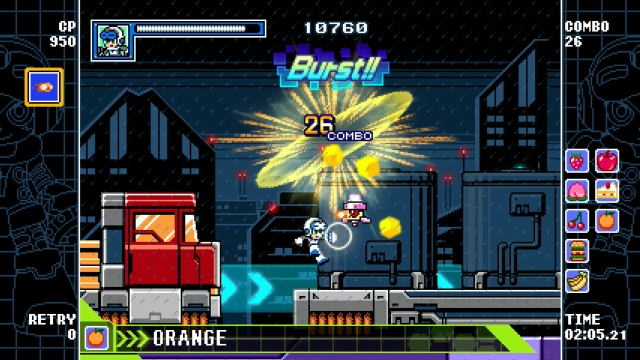 The customization offered by Mighty Gunvolt Burst may seem superfluous at first, but I found it enormously engaging. Earning command points by finishing levels and earning chips to equip to Beck or Gunvolt meant players could build the type of character to suit their play style. The shoulder buttons made it so different load-outs of chips could be switched between on the fly. You could go from a Beck that used fire-elemental shots that pierce through walls to a Beck that shot humongous bullets, up to five at a time, depending on how many command points you had available to you. The command point system also kept players honest by assigning a point value to every chip equipped. This way they couldn't equip high value chips exclusively, encouraging experimentation and strategy in choice.
While Mighty No. 9 left a decidedly horrid taste in my mouth that no bottle of Listerine or Scope will ever wash away, Mighty Gunvolt Burst is a game that is well crafted, smartly designed, and certainly made this player mega satisfied.
News
News of Diablo III: Eternal Collection for the Switch leaks with blowout of information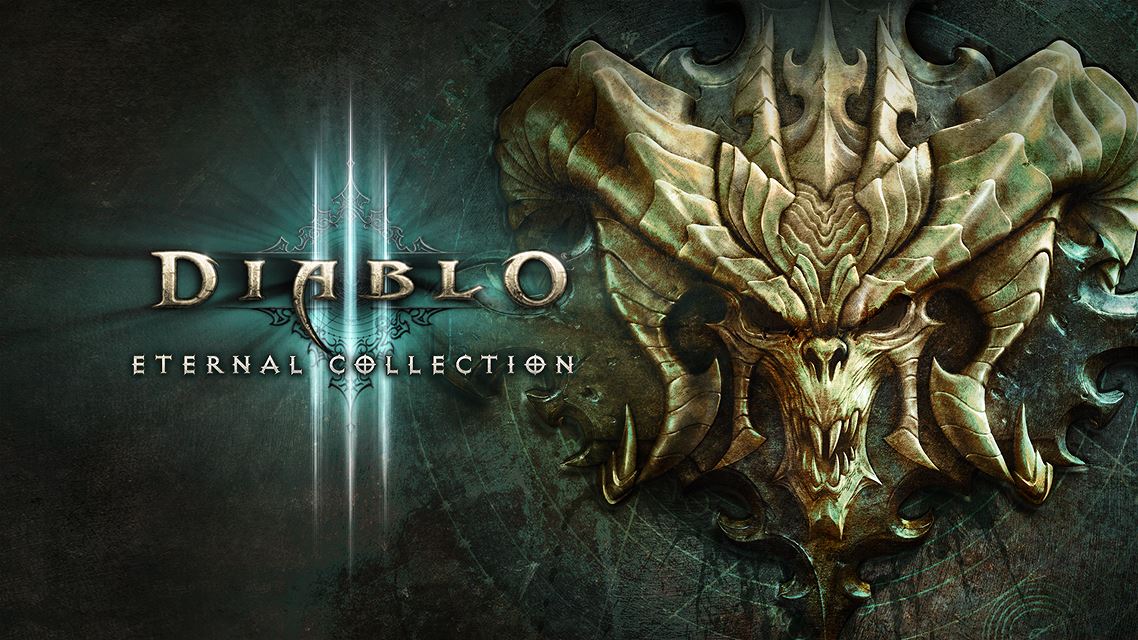 Blizzard previously teased Diablo III's arrival on the Switch with this tweet. Now, accidentally leaked by Forbes.com (where the article has since been removed), it appears that Diablo III: Eternal Collection will be hacking and slashing its way to the Switch very soon. Although the game is six years old now, the full retail price of $59.99 seems worth it, as Diablo III on Switch will feature the two additional DLC expansions, Reaper of Souls and Rise of the Necromancer, any and all updates made to the game since its 2012 launch, Switch-exclusive Nintendo-themed items–such as Ganondorf's armor, docked play, handheld play, online and local play (the latter on multiple Switches or the same Switch), and cloud saving capabilities. Something tells me Diablo III might be the big online game for Nintendo's upcoming Switch online subscription service, which rolls out next month. Could we see an official announcement and release date soon? Signs point to yes on both of these questions.
New Switch bundle arrives exclusively at Walmart on September 5th
Beginning on September 5th, and only in the U.S. at Walmart stores, the Nintendo Switch will be receiving a bundle containing a Switch (of course), and two game downloads: one of Mario Tennis Aces and one of 1-2 Switch. Both games have been tearing up the sales charts worldwide, so this seems like a smart bundle. Plus, you can pick up a Switch at the same place you buy groceries, bank, file your taxes, and curse at those damned malfunctioning self-checkout machines! The Walmart-exclusive Nintendo Switch bundle containing Mario Tennis Aces and 1-2 Switch is priced at $359.99.
Jump into the world of #NintendoSwitch or start your holiday shopping extra early with this Nintendo Switch bundle featuring #MarioTennis Aces and #12Switch for only $359! Available exclusively at Walmart starting 9/5. pic.twitter.com/JSrIaRQFG2

— Nintendo of America (@NintendoAmerica) August 15, 2018
Try before you buy (or get even more hyped) with the Monster Hunter Generations Ultimate demo
Announced on the official Monster Hunter Twitter account, the Switch-exclusive Monster Hunter Generations Ultimate is receiving a demo tomorrow, August 16th. We're left to ponder what will be included in the actual demo, but hopefully the Western demo will be similar to the original Japanese one. That featured a trio of varied monsters to encounter and multiple weapons and fighting styles. All that would be good to practice with before the actual hunt is on when Monster Hunter Generations Ultimate's full version releases on August 28th.
Master all 6 Hunting Styles and all new Prowler abilities on August 16 with the free #MHGU demo! pic.twitter.com/5NdFLSbYoF

— Monster Hunter (@monsterhunter) August 15, 2018
Gone Home goes Switch with a surprise announcement and release date
After originally missing out on the game due to the cancelled Wii U version, Nintendo fans finally get their chance to take the well-received Gone Home out for a spin when it releases next week on the Switch eShop. To be more specific, the release date is August 23rd–next Thursday. In addition to that announcement of Gone Home for the Switch, a physical version of the game is coming to Switch, too, as per a Variety interview with the creator of the game. Will you be planning on "going home" when this highly regarded game (seriously, just check out the reviews on this one) comes out?
ESRB listing Giana Sisters: Twisted Dreams is receiving a director's cut on Switch
The Entertaining Software Rating Board has revealed that THQ Nordic will publish Giana Sisters: Twisted Dreams – DirectOwl's Cut and release it on the Switch. The game was initially released on the Wii U in 2012, followed by several ports on other platforms. This DirectOwl's Cut will feature all of the content from the original game and its DLC, plus a new multiplayer racing mode and additional difficulties (including a much needed easy mode for folks like me who got their butt kicked by the Wii U original). While the ESRB listing provides no date for Giana Sisters: Twisted Dreams – DirectOwl's Cut's release, these listings usually lead to an official announcement from the publisher relatively quickly. In the meantime, check out the original game's trailer below:
New Releases
State of Mind ($39.99)
If the currently discounted Calculation Castle games don't make your brain sweat hard enough like they do with mine, then perhaps you're interested in something a bit deeper. How about something set in a high-tech cyberpunk future that has a story that tackles all kinds of deep, substantial issues that many games in the medium don't talk about? That's where Daedalic Entertainment's State of Mind comes in, offering what appears to be an engaging and engrossing adventure game that might make you think differently about the world we live in. Just make sure you have some storage space on your Switch, as State of Mind requires 7.1 GB of free space.
Sales
There are no new sales that I picked up on in North America for today, but there are a great deal of games exiting the realm of discounts today and tomorrow. Definitely double check this list to see if any appeal to you to pick up while the getting's good (and on sale)!
Sales Ending Today: Wednesday, August 15th
Alteric ($3.49 from $4.99 until August 15)
NORTH ($0.89 from $2.99 until August 15)
One Eyed Kutkh ($3.49 from $4.99 until August 15)
Shovel Knight: Specter of Torment ($7.99 from $9.99 until August 15)
Shovel Knight: Treasure Trove ($19.99 from $24.99 until August 15)
Skee-Ball ($15.99 from $19.99 until August 15)
Sales Ending on Thursday, August 16th
Aegis Defenders ($13.39 from $19.99 until August 16)
Bleed ($4.07 from $11.99 until August 16)
Darkest Dungeon ($19.99 from $24.99 until August 16)
Darkest Dungeon: Ancestral Edition ($27.99 from $34.99 until August 16)
Darkest Dungeon: The Crimson Court ($7.99 from $9.99 until August 16)
Darkest Dungeon: The Shieldbreaker ($3.19 from $3.99 until August 16)
Furi ($11.99 from $19.99 until August 16)
Green Game: TimeSwapper ($1.49 from $2.99 until August 16)
Hollow ($4.99 from $19.99 until August 16)
Maria the Witch ($2.49 from $4.99 until August 16)
Millie ($0.49 from $4.99 until August 16)
Paper Wars: Cannon Fodder Devastated ($4.99 from $9.99 until August 16)
Red Game Without a Great Name ($1.49 from $2.99 until August 16)
Semispheres ($3.99 from $9.99 until August 16)
Slayaway Camp: Butcher's Cut ($4.49 from $14.99 until August 16)
Sparkle 2 EVO ($0.49 from $4.99 until August 16)
The Adventures of Elena Temple ($2.99 from $4.99 until August 16)
The Infectious Madness of Doctor Dekker ($9.09 from $12.99 until August 16)
Three Fourths Home: Extended Edition ($4.49 from $8.99 until August 16)
Violett ($1.99 from $9.99 until August 16)
Zombillie ($1.24 from $4.99 until August 16)
Thanks for sticking through the entire SwitchArcade Roundup! Here's hoping you're just a tad more informed on the world of the Switch than you were when you first started today's column. If you'd like to engage in a discussion about any of the topics featured on today's Roundup, leave a comment or tweet at us. Until later, keep your Joy-Cons charged and your Switches loaded with great games!