Welcome to your SwitchArcade Roundup for August 14th, 2018. I am Phil, your humble guide through the world of Nintendo Switch news, releases, and sales. We start this new week of SwitchArcade Roundups with a release date on Dark Souls Remastered, news of Undertale's western physical launch, and some new releases and sales that will have you fending off the undead, journeying through the stars, and getting a refresher on some basic math skills. I know we could all use that. (Well, at least I could…) Before diving in to all of that, let's do what is customary here to do first at the SwitchArcade Roundup–the Game of the Day!
Game of the Day
Riptide GP: Renegade ($3.99 from $9.99 until August 23rd)
There is no shortage of racers on the Switch or races coming to the Switch. I figured I would spotlight today's Game of the Day due to not only its current discount (which, let's be fair, is a big reason), but also because it's a wild ride of aquatic racing fun. Firstly, let's drop all pretense here–this may be a racer in which you ride waves, but this is by no means a racer like Nintendo's own Wave Race series. If anything, the game is more like the Hydro Thunder series, which makes sense because many of the developers had a hand in creating Hydro Thunder Hurricane. That said, let's get to making a splash with Riptide GP: Renegade, shall we?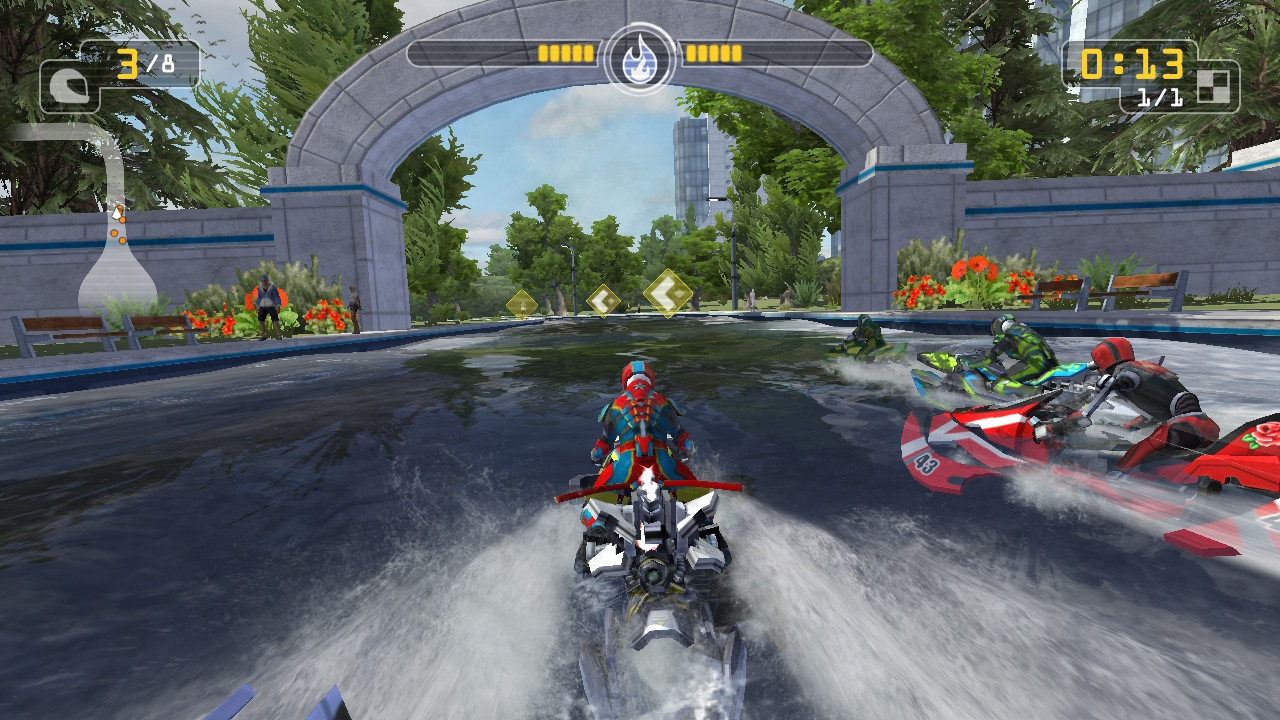 Career Mode is where most solo players will discover the most longevity in Riptide GP: Renegade–though local and online multiplayer are both available. The campaign, sprinkled with unspoken text and dialog, contains myriad events and event types to participate in, from standard races to the finish, to Elimination races, to trick attack Freestyle endeavors. Each event awards you with up to three stars depending on your placement, with winning the event resulting in earning three stars. On top of shooting for stars, competing well in events results in gaining experience and money to level up your racing skills, as well as purchase upgrades for your vehicle in the categories of top speed, acceleration, boost, and handling.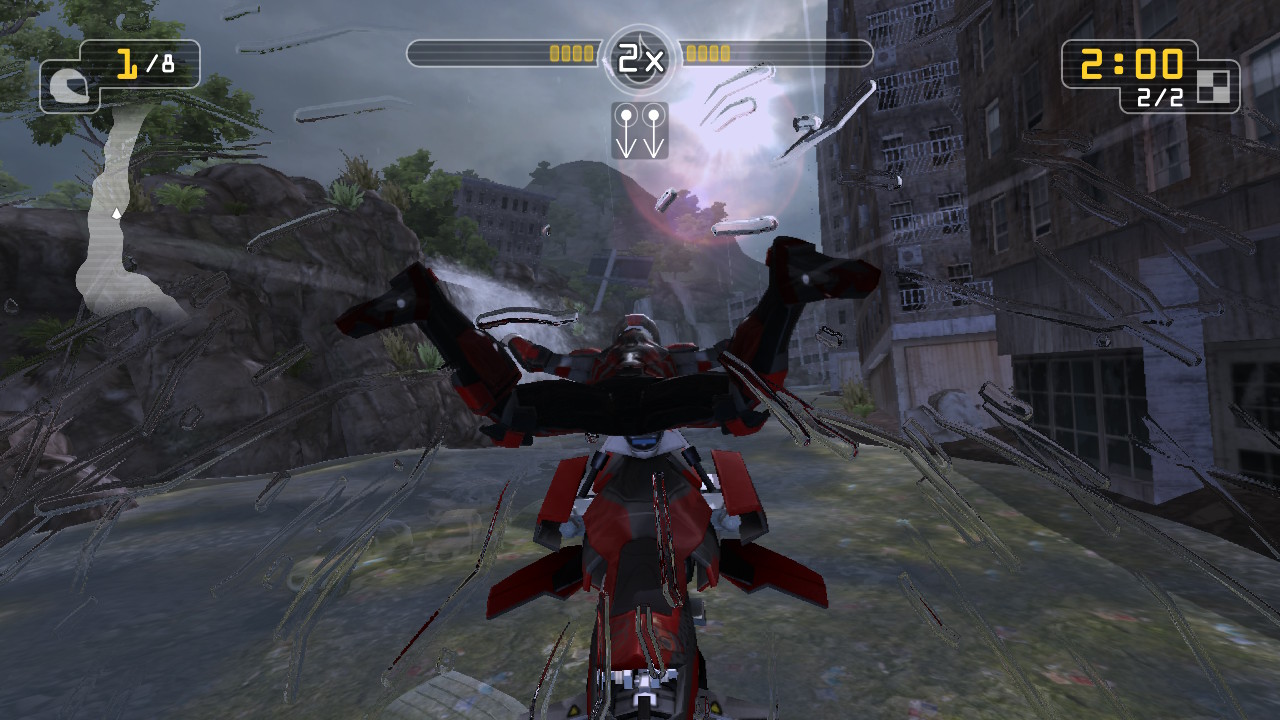 Riptide GP: Renegade boasts nine tracks spread across a variety of locales, such as parks, forests, flooded cities, high-tech bases, ports, and much more. Some races are circuit-based while others start at one point and find you ending the race at another. Which ever type of race you're speeding across waves on, you're sure to get an adrenaline rush as you careen past corners, waft through the waves, and trick off ramps and jumps, all the while searching for shortcuts. All of this racing excitement is helped made more enjoyable by the tight and responsive controls. While starting off with a new vehicle, you won't be making turns as tightly as you might like, but as you upgrade and further improve your ride, you'll be overtaking competitors and staying in front of the pack with ease.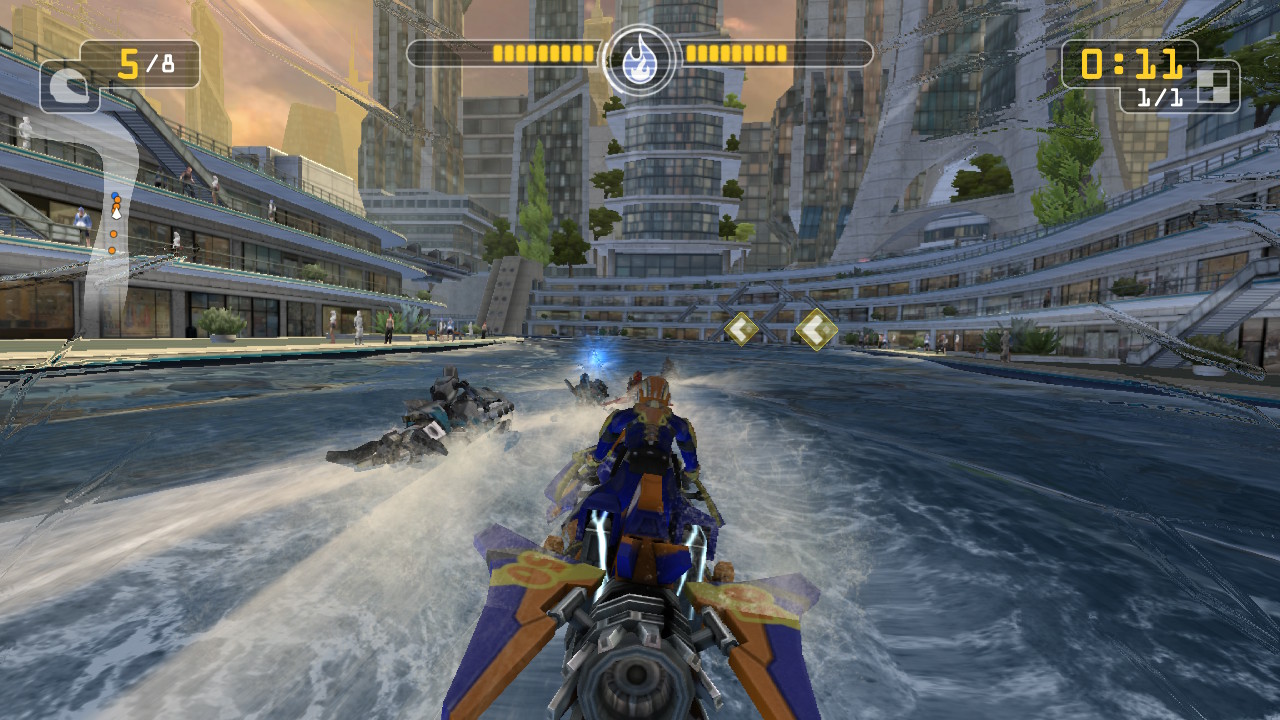 At its launch price, Riptide GP: Renegade might be a little too much for some Switch owners, especially knowing that the game has already been made available on mobile devices for a much lower price. However, now that the game is within mobile pricing range due to its current discount (which you should jump on, unless money is tight for you), there is no better time to jet across the water and cross the finish in first place with Riptide GP: Renegade, today's Game of the Day.
News
Bandai Namco finally sheds some light on Dark Souls Remastered's Switch release date
After months of waiting, Bandai Namco has revealed the finalized release date for the Switch version of Dark Souls Remastered. The game was previously meant to launch in May with the PlayStation 4, Xbox One, and Steam releases, but was given a delay announcement beforehand. Then, after a nebulous "summer" launch period with no signs of an announcement, we now know Switch owners will be able to praise the sun on October 19th when both Dark Souls Remastered and its accompanying Solaire of Astoria amiibo launch. I don't know about you, but I'm really interested in reading about the issue with the Switch port that made it go from a May date, to a summer date, and now finally to an October 19th date. Regardless, an online network test for the Switch version will be forthcoming in the next month or so.
Overcooked 2 adds even more content in the near future to the game with a New Game+ mode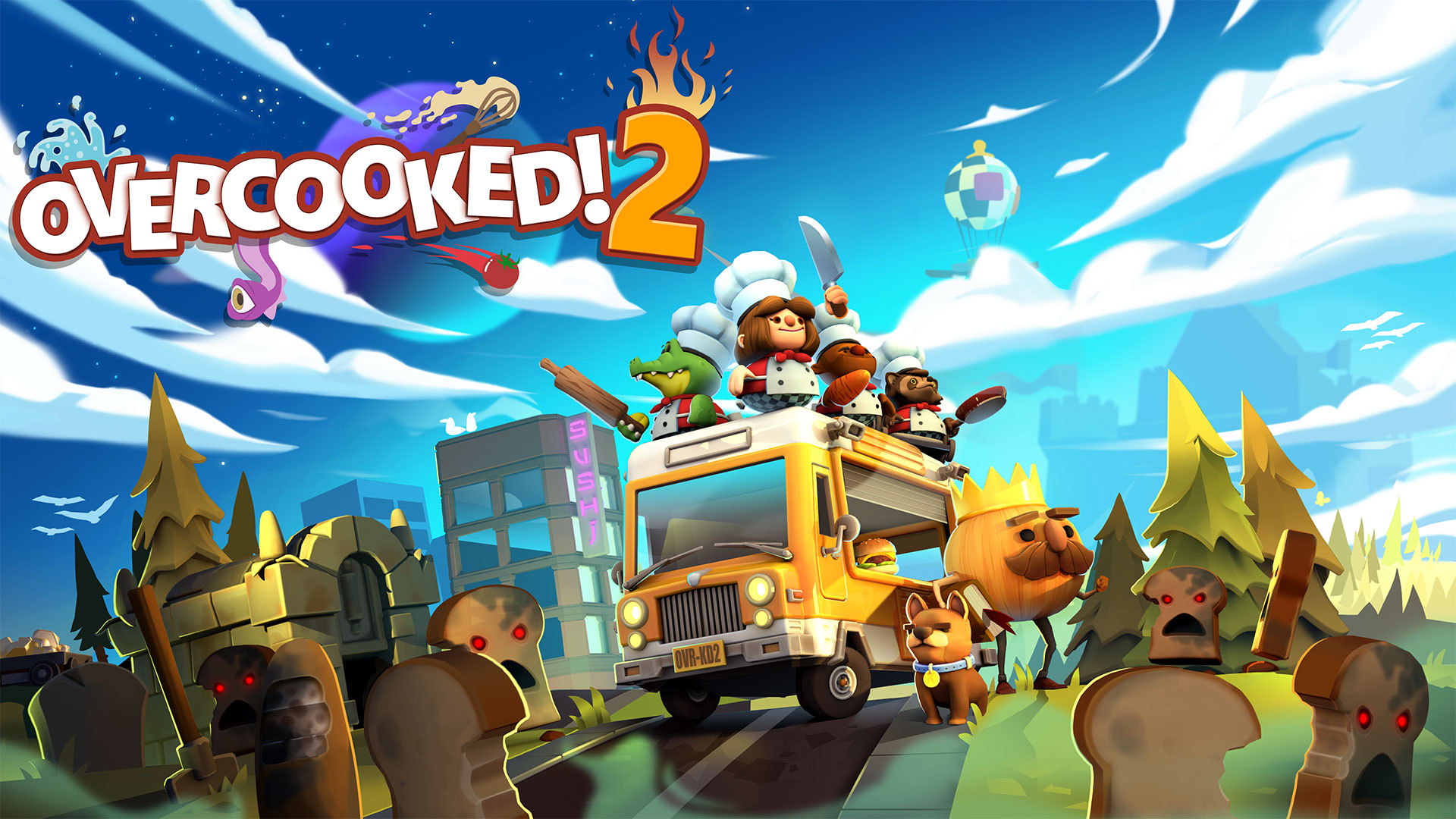 Firstly, a correction–Last week I mistakenly stated that Overcooked 2 was $29.99 instead of its actual price, $24.99 on the Nintendo eShop, so allow me to quickly apologize for that! Regardless, if you've been needing even more of a reason to continue cooking and racing against the clock in an attempt to earn four stars on each and every level in Overcooked 2 (all 45 of them!), then you'll be delighted to learn that a New Game+ mode is coming to the chaotic cooperative cooking game in the near future. According to Overcooked 2's official Steam page, "New Game+ will be coming soon and [the developer] will be sharing more details [later]."
Undertale and its collector's edition officially coming westward this September
We're going over and under on this edition of the SwitchArcade Roundup, it seems! Last week I shared some information that Undertale was officially releasing in Japan next month with a collector's edition. Now, I am happy for Switch owners to state that Undertale and its collector's edition are coming to this side of the world, as well, sometime next month–although no exact date has been given.
As a refresher, the collector's edition includes a physical copy of the game, a soundtrack, two booklets (one pertaining to the game's story and one containing sheet music), a shiny, golden music box locket, and a special collector's box to store it all in. Undertale will also be available by itself in physical form, without all of the collector's goodies. The collector's edition will run for $69.00 while a simple physical copy goes for an MSRP of $29.99. No worries–you digital only buyers will have access to the game on the eShop, too!
UNDERTALE for Nintendo Switch preorders are open now: https://t.co/Qy0ABtndiu

(To celebrate the upcoming launch we're also putting nearly every item in our UNDERTALE collection on sale!) pic.twitter.com/xzP4BinEkO

— Fangamer (@Fangamer) August 13, 2018
Publisher for Protoform, from the developer behind My Time at Portia, announced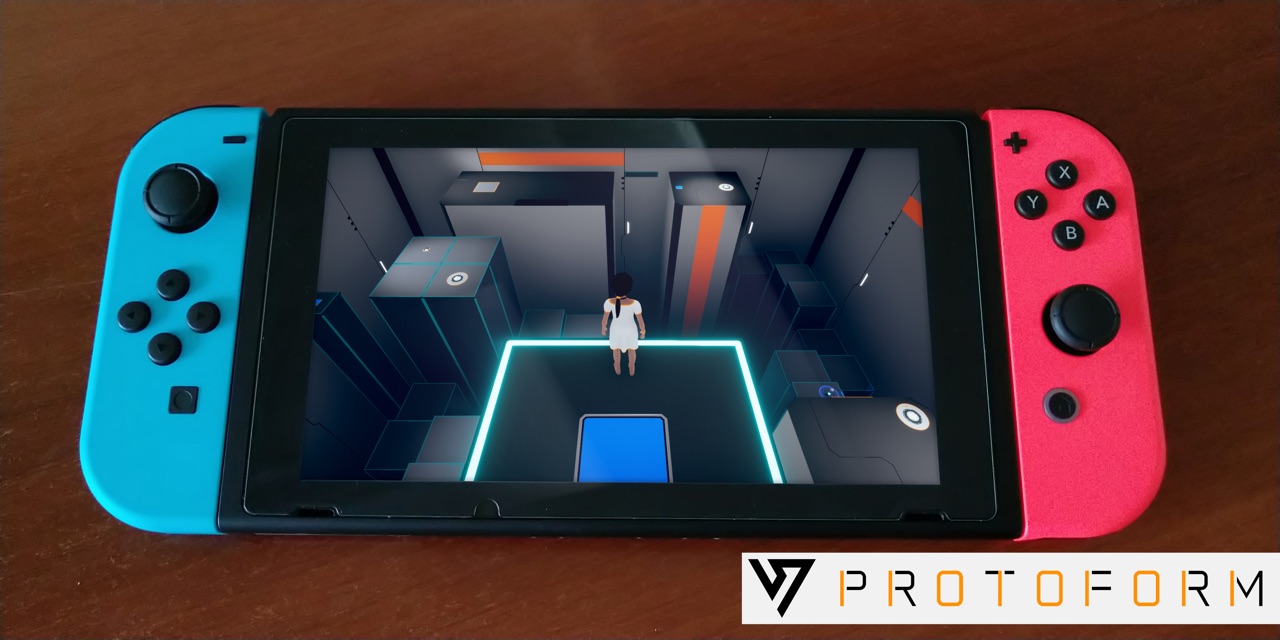 Circle Entertainment has picked up the rights to Pathea Games' newest project, Protoform, which will be coming out for the Switch sometime next year. Even though the developer is waist-deep with its work on My Time at Portia, that hasn't stopped the team from extending themselves for a new project. Directly from Circle Entertainment's PR:
Protoform is a game that'll deliver a clean aesthetic, with gameplay that'll focus upon exploration and puzzle-solving within a large world. In addition it will have an intriguing story to tell, with the goal of drawing the player into the world.
New Releases
The Walking Dead: The Final Season ($19.99)
I must admit that I am not an avid viewer of The Walking Dead… or one at all, but for those who can't get enough of the Walking Dead universe, the supposed conclusion of Clementine and AJ's story happens in all four episodes of The Walking Dead: The Final Season. Currently, only the first episode is available, but by purchasing the game for its $19.99 price, you will gain access to all episodes as they release.
Cosmic Star Heroine ($14.19 from $14.99 until August 28th)
There is no doubt that Cosmic Star Heroine's developers took inspiration from the 16-bit classic JRPGs of the day, most notably, Chrono Trigger. Cosmic Star Heroine has been loved by both fans and critics alike, and if you have any fond memories of Super Nintendo era RPGs or are craving something more old school than what is available on the eShop today for your RPG desires (though I'd never live it down if I didn't recommend Octopath Traveler as well), then Cosmic Star Heroine will do more than satisfy your hunger.
2064: Read Only Memories INTEGRAL ($20.64)
A cyberpunk visual novel, 2064: Read Only Memories previously released on other platforms, but what makes the Switch version especially worthwhile after the fact is how this version is essentially the definitive one, featuring brand-new content in addition to all of its other upgrades. Whether playing it in front of a TV or getting all comfy and cozy on the couch in handheld mode, 2064: Read Only Memories INTEGRAL seems like a…. pardon me for this… integral purchase for those who can't get enough visual novel love from their Switches. (As an aside, if only the game were called "264: Read Only Memories", then the game might just cost $2.64! Oh well, looks worth it for the price as is!)
Other New Releases
FunBox Party ($1.99)
Sales
New Games on Sale
Several releases from today and last Thursday have small launch discounts available to them. If you're finding difficulty ascertaining how much money you're saving with these sales, thenmight I suggest one of the Calculation Castle: Greco's Ghostly Challenge games? They're on sale now to help you sharpen your basic arithmetic skills.
(…I'm just projecting here. I'm going to be the one to download these for my crummy mathematical skills..!)
Unexplored: Unlocked Edition ($13.50 from $15 until August 19)
Frost ($9.74 from $12.99 until August 23)
Cosmic Star Heroine ($14.19 from $14.99 until August 28)
Die for Valhalla! ($8.99 from $11.99 until August 28)
Calculation Castle: Greco's Ghostly Challenge "Addition" ($6.99 from

$9.99 until August 31)

Calculation Castle: Greco's Ghostly Challenge "Division" ($6.99 from $9.99 until August 31)
Calculation Castle: Greco's Ghostly Challenge "Multiplication" ($6.99 from $9.99 until August 31)
Calculation Castle: Greco's Ghostly Challenge "Subtraction" ($6.99 from $9.99 until August 31)
Sales Ending on Wednesday, August 15th
Of the discounts ending tomorrow on the Nintendo eShop, the most notable is Shovel Knight, whether the Treasure Trove pack or the separate download of Specter of Torment. If you haven't already picked these games up before, then go ahead and do it–for shovelry!
Alteric ($3.49 from $4.99 until August 15)
NORTH ($0.89 from $2.99 until August 15)
One Eyed Kutkh ($3.49 from $4.99 until August 15)
Shovel Knight: Specter of Torment ($7.99 from $9.99 until August 15)
Shovel Knight: Treasure Trove ($19.99 from $24.99 until August 15)
Skee-Ball ($15.99 from $19.99 until August 15)
Today's SwitchArcade Roundup is in the proverbial books. I'll be back right here tomorrow with another roundup of news, releases, sales, and more during the SwitchArcade Roundup. I hope you will join me. Until that time, feel free to let me know how I'm doing or if any bit of news today sticks out at you by posting in the comments, or you can tweet at our TouchArcade Twitter account. Keep your Joy-Cons charged and your Switches loaded with great games!