Welcome to the SwitchArcade Roundup for July 17th, where we're going to "switch" things up a bit with a changing of the guard of sorts. Carter has moved on to new pastures, so in his stead, I'm taking over for him for all future roundups for the foreseeable future. Forgive us for last week's SwitchArcade Roundup's absence, as I know all of you were chomping at the bit for your daily Switch fix! However, now's not the time for apologies; now's the time for your SwitchArcade Roundup! Let's get to it, then, shall we?
Starting off with something completely different, we have the Game of the Day. This new segment of the SwitchArcade Roundup brings with it a spotlight on a particular, notable game within the Nintendo Switch library. Now, it's incredibly easy to select something like, let's say, The Legend of Zelda: Breath of the Wild or Super Mario Odyssey, but chances are that if you're a Switch owner, you know of the enormous quality of these games already. Instead, my intent is to dive into lesser known Switch games… and gush over the occasional game like Breath of the Wild, for posterity's sake, of course!
Game of the Day
Runbow ($14.99)
Ah, Runbow… How I adored you when I originally played you on the often ill-spoken Wii U, but now you're on a platform with a controller I enjoy playing with instead of that monster-sized Wii U GamePad. (Sorry, I have little piano player hands, you guys!) Runbow is a party platformer that allows up to 9 players to rush, run, jump, and attack through a multitude of side-scrolling levels. It's as "simple" as getting from the beginning of a given level to its goal. I put "simple" in quotation marks because there's a catch. As you play through a level, the background swipes between different colors, making it so some platforms become solid while others disappear entirely. For instance, if you're standing on an orange platform when an orange background crosses over it, you're going to fall as if the platform vanished — which in this case, it sort of did! Now, imagine having to deal with running and jumping through obstacle-laden levels all the while the background swiftly changes between colors!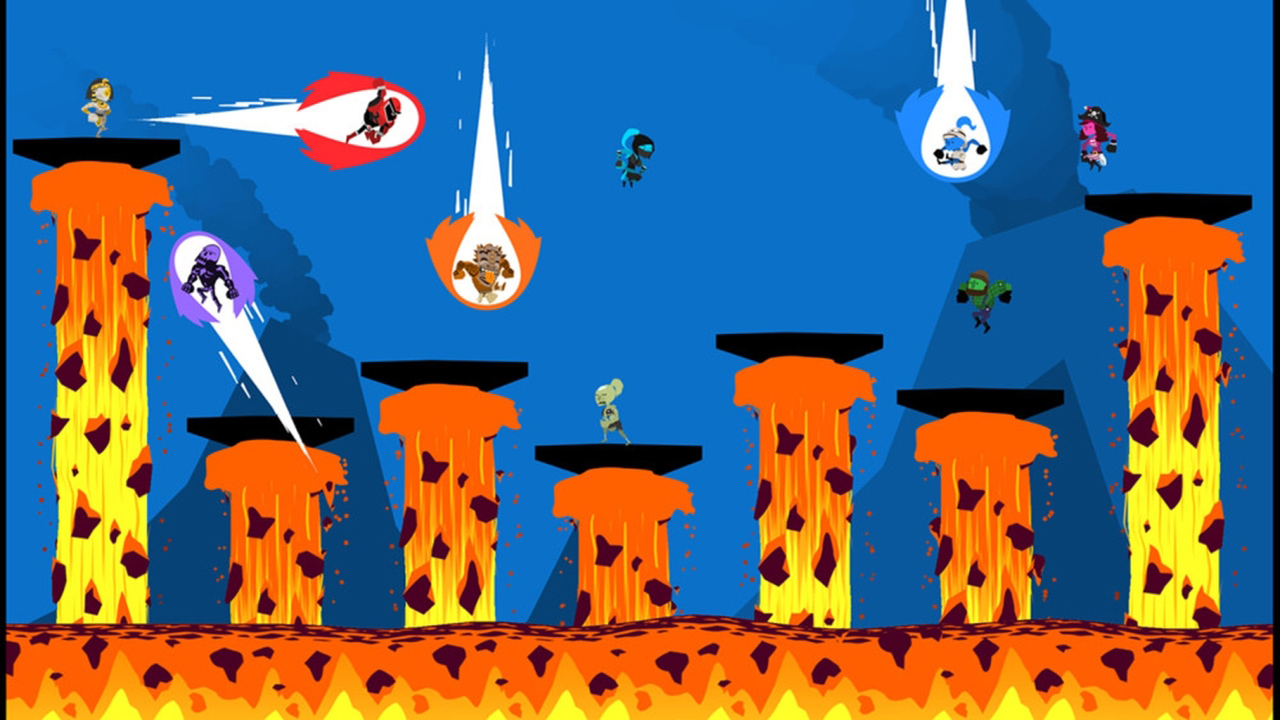 In addition to the Story Mode, containing over 70 levels of solo or multiplayer mayhem, there are several multiplayer-focused modes, such as a Last Man Standing mode, a King of the Hill-inspired mode, and the option to run through a random lineup of levels. Then, there are all the unlockables to consume, such as new characters including an all-star lineup of indie faves (Shantae, Shovel Knight, Juan from Guacamelee, and more), bonus costumes, and concept art to delight yourself with. Runbow is a healthy dose of colorful chaos that can be enjoyed with up to 9 players either locally or online, and it is for these reasons that the game is our first GotD!
(As an aside, Runbow: Deluxe Edition, featuring all of the DLC of the vanilla version included in the package, releases August 10th!)
News
Team Cherry announces release date for Hollow Knight: Gods & Glory
If you're like me (and for the love of all things holy, I hope you are not!), you love a good Metroidvania, and you probably love Hollow Knight from Team Cherry. Now, this sensational release that has already hit over 250,000 downloads on the Nintendo Switch is set to see what the developer calls its largest DLC pack yet. Hollow Knight: Gods & Glory features a host of newness to it, from bosses and music, to new characters and quests to uncover. Check out Team Cherry's short but sweet showing of the upcoming DLC, coming August 23rd:
Mario Tennis Aces version 1.1.2 releases this Friday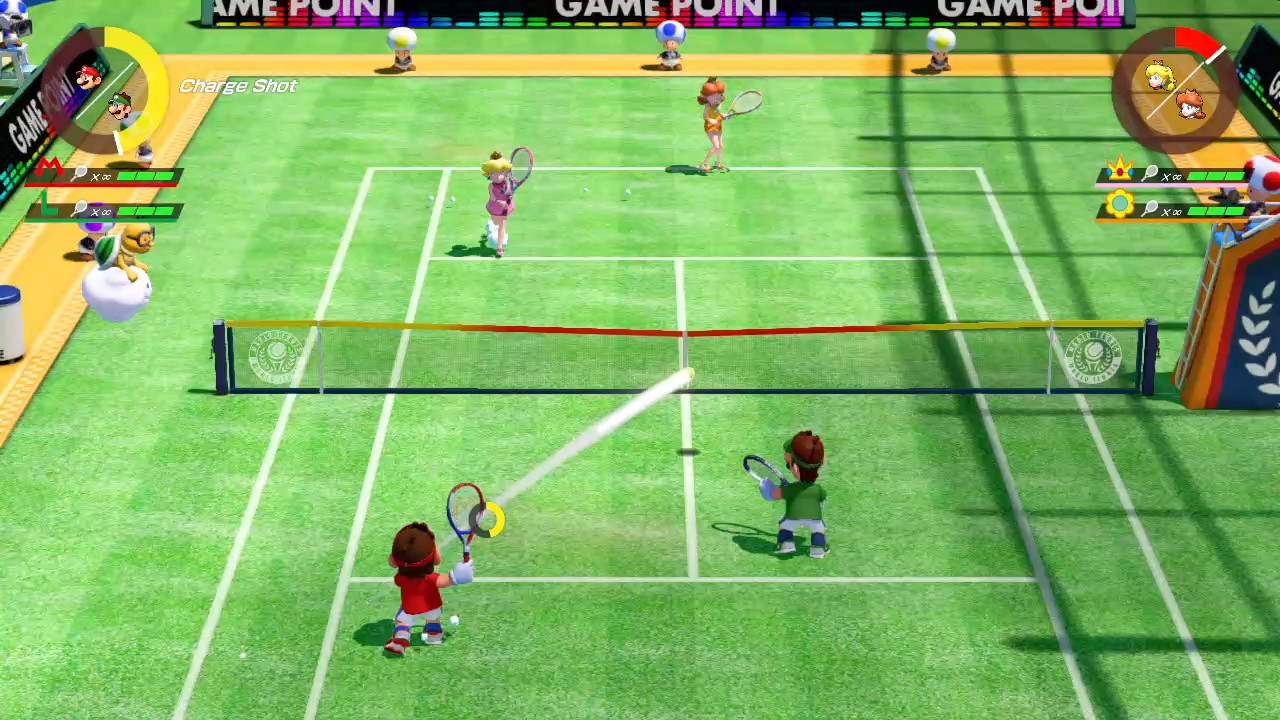 One of the biggest criticisms of Mario Tennis Aces (other than the lackluster Adventure Mode, the short length of matches, the complete lack of unlockables aside from free play courts, the online lag–well, I could go on for ages) is the roster of characters being a bit imbalanced. This especially goes for one Bowser Jr. Well, an upcoming patch announced on Nintendo of Japan's support website (translated by a Reddit user) details a list of tweaks being added to Mario Tennis Aces for a more enjoyable playing experience.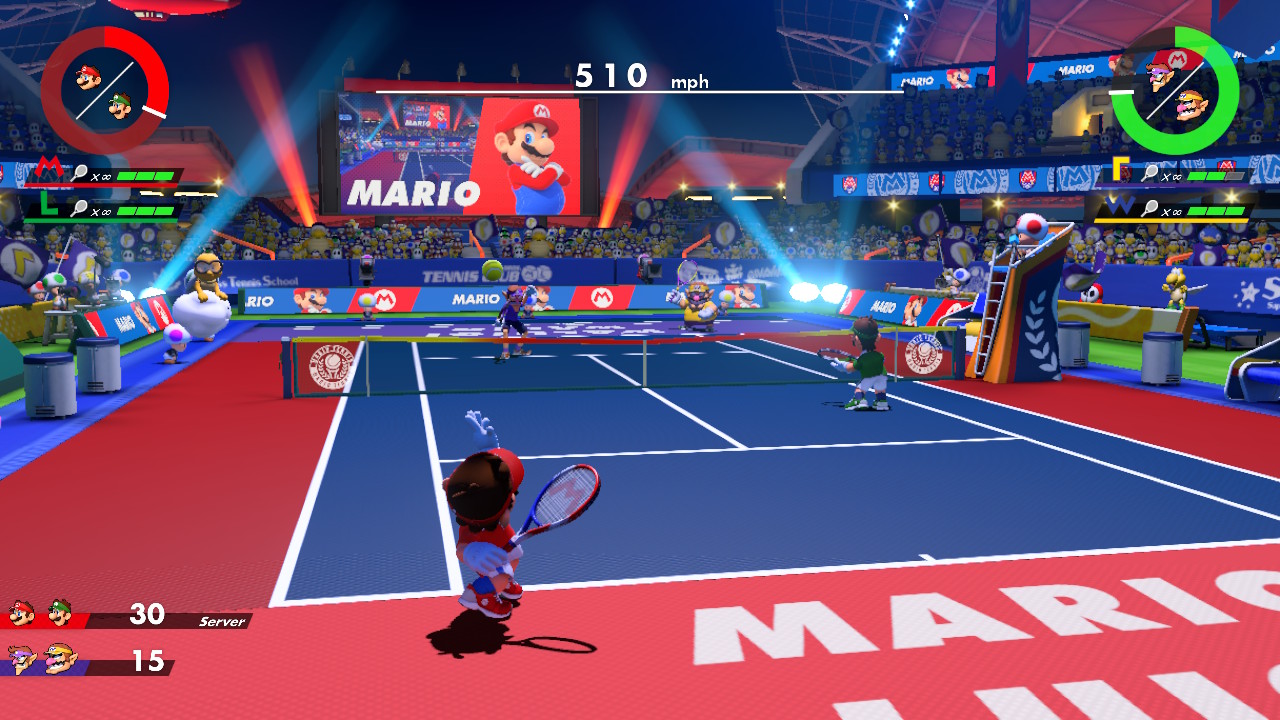 For one, Bowser Jr., a character that I intentionally avoid playing against online due to how broken he currently is, is having multiple changes to him to make him less of a son of a jerk (I'm censoring myself here) than he already is. In addition to that, coming with the August tournament, a whole healthy heaping of balance changes go in effect for the entire cast. What's even better is that the easily spammed Trick Shots will have less range, less energy gauge replenishment, and will just overall have less potential for abuse. Now, all we need is some more unlockables, some mini-games outside of Adventure Mode, and the ability to play more than one set, and we'll be almost golden!
Sonic Mania Plus gets retro-inspired infomercial for its release
A riff off a classic commercial from SEGA back in the day, this Sonic Mania Plus infomercial brings with it a different comparison this time around and not "Sonic the Hedgehog versus Super Mario World" II: Electric Boogaloo. It's a comparison between a bog-standard "AAA" game and Sonic Mania Plus. Personally, I'm with the customer on this one. Give me more of one of Sonic's better 2D games rather than "A Far Cry from the Call of Duty" or whatever the heck the game on the left is supposed to be. Sonic Mania Plus features two new playable characters to the original game (Mighty and Ray), remixed levels via Encore Mode, four-player splitscreen, and a… ahem… "bonus" bonus stage. Better yet, if you already have the vanilla Sonic Mania on your Switch, it just costs five dollars to upgrade. Or, if you're a physical collector like me, then you'll HAVE to buy the retail release with the holographic cover and 30+ page booklet inside.
Sonic Mania Adventures Part 5 continues the saga on the day of Sonic Mania Plus' release
You mean… there's more?! Yes, not content on just providing a clever throwback to its 90's era marketing, SEGA and its official Sonic the Hedgehog YouTube channel has Part 5 of Sonic Mania Adventures. This part showcases the ultimate showdown between Sonic and Metal Sonic… as well as some old, familiar faces to support the Blue Blur in his battle for the Chaos Emeralds.
South Park: The Stick of Truth arrives on the Nintendo Switch this quarter
Directly from Ubisoft's first quarter 2018-19 sales results is a tasty piece of information stealthily placed on the last page of upcoming releases for this quarter (i.e. by September's end). That piece of info is that South Park: The Stick of Truth is coming to the Nintendo Switch in a digital format only. After South Park: The Fractured But Whole, now Switch players will get to play that game's excellent predecessor for another way to head on down to South Park and meet some friends of mine.
Hello Neighbor moves onto the Switch later this month
The stealth horror game Hello Neighbor takes up residence on the Nintendo Switch on July 27th, where it is receiving both an eShop and retail release. Discover what your neighbor is really hiding in his basement, and do your best to enter and escape his house as your neighbor's AI catches on to your tricks, changing his strategies accordingly.
New Releases
Hand of Fate 2 ($29.99)
The sequel to the much beloved original Hand of Fate, Hand of Fate 2 takes the foundation of its predecessor and adds even more card-based, action-oriented gameplay into the fold. The deck transports you into dungeons where real-time hack-and-slash combat occurs. The cards you get dealt is what you enter into battle with, and this can make the difference between supreme victory and utter defeat. As they say after all, it's all in the cards! Hand of Fate 2 is sure to deliver a satisfying hybrid and enough hacking and slashing to keep players engaged for the long haul. Really, the only card I need is the ace of spades, the ace of spades! *Rocks out*
Adventure Time: Pirates of the Enchiridion ($39.99)
The Ice Kingdom has melted, turning the world of Ooo into something straight out of Hyrule from The Legend of Zelda: The Wind Waker. Partake in small doses of exploration, turn-based RPG battles, and the charm and humor we've all come to expect from the Adventure Time cartoon with Pirates of the Enchiridion.
Mugsters ($14.99)
Mugsters pits you against a multitude of open, sandbox levels–all containing objectives to complete, enemies, traps, puzzles, and more to overcome. Each level presents every tool that you will need to finish the level, and in a sense, you have to "MacGyver" your way through levels by figuring out how to take these tools and successfully use them. The freedom of choice in how you can go about finishing off missions makes for a game in Mugsters that has a lot of replay value and potential, possible outcomes. I'm quite interested in checking it out and blowing myself up repeatedly, as that's the kind of thing I do.
Hungry Shark World ($9.99)
Ubisoft dropped this game onto the eShop out of nowhere, but it's a most welcome addition to the Switch's online storefront. Hungry Shark World has you controlling one of 20+ sharks, eating everything in sight, plundering for treasure, rescuing trapped, fellow sharks, and battling bosses of all sizes. With a lot of content packed into this meaty and savory game, you might need a bigger boat… or at least, depending on how many games you have, a bigger SD card!
Touhou Genso Wanderer Reloaded ($49.99)
All right… I know what some of those words mean… In actuality, Touhou Genso Wanderer Reloaded is the ultimate edition of the niche roguelike, which features brand-new dungeons, characters, items, and much more. The "much more" part being lots of chibi-style anime women/girls.  Touhou Genso Wanderer Reloaded promises a metric ton of gameplay hours, so if you're looking for a great, rewarding time-spender, Touhou's roguelike Switch outing has got you covered.
Let's Sing 2018 ($39.99, or $54.99 for the bundle)
Do you remember when the days when singing games like PlayStation's Singstar were wildly popular? Pepperidge Farms remembers. Cliche jokes and references aside, Let's Sing 2018, releasing in North America today after being out in Europe for over half a year, seems to be a terrific karaoke game, with its 30 song playlist (which pretty much has a song for everyone), four game modes, avatar collecting, and the ability to expand your playlist with DLC. Sure, you might not hit those high notes as well as Aretha Franklin, but you'll at least have fun trying, right?
Beat Rush ($4.99)
From one music game to another, like so many Switch eShops games, this game just released without much fanfare–just plop! Dropped on the eShop with no fanfare at all. Allow me, then, to provide the fanfare for the game–DA, DA, DA, DAAAA! ….Ahem. Beat Rush is a rhythm platformer, somewhat similar to the Runner series in gameplay appearance. The difference here is that Beat Rush currently only contains five levels (though the developers promise more in the future), and it's obviously priced as a budget title. If you feel the need to leap with the beats, completing levels, and unlocking new characters, you might want to give Beat Rush a spin.
Sales
New Games on Sale
Aegis Defenders ($14.99 from $19.99 until July 19)
LEGO CITY Undercover ($14.99 from $29.99 until July 21)
LEGO Marvel Super Heroes 2 ($29.99 from $59.99 until July 21)
LEGO NINJAGO Movie Video Game ($24.99 from $49.99 until July 21)
LEGO Worlds ($14.99 from $29.99 until July 21)
LEGO The Incredibles ($41.99 from $59.99 until July 21)
Atomine ($6.99 from $9.99 until July 22)
Castle of Heart ($13.49 from $14.99 until July 22)
InkSplosion ($3.99 from $4.99 until July 22)
Midnight Deluxe ($3.74 from $4.99 until July 22)
Robonauts ($5.99 from $8.69 until July 22)

Super Destronaut DX ($4.24 from $4.99 until July 22)

Super Toy Cars ($6.99 from $9.99 until July 22)

Agatha Knife ($9.59 from $11.99 until July 23)
Cast of the Seven Godsends ($3.24 from $12.99 until July 23)
Bomber Crew ($11.99 from $14.99 until July 24)
Bomber Crew: Deluxe Edition ($14.99 from $19.99 until July 24)
Slime-san ($5.99 from $11.99 until July 24)
Bleed 2 ($5.09 from $14.99 until July 26)
Frederick 2: Evil Strikes Back ($0.49 from $4.99 until July 26)
Goetia ($4.99 from $9.99 until July 26)
INK ($4.49 from $8.99 until July 26)
NO THING ($0.99 from $1.99 until July 26)
Qbik ($1.24 from $4.99 until July 26)
Shadowbug ($4.94 from $8.99 until July 26)
Sparkle ZERO ($2.49 from $4.99 until July 26)
Timberman VS ($1.59 from $1.99 until July 26)
Vostok Inc. ($11.99 from $14.99 until July 26)
Zotrix: Solar Division ($12.74 from $14.99 until July 26)
Grand Prix Rock 'N Racing ($5.99 from $7.99 until July 29)
Space Dave ($4.99 from $9.99 until July 30)
Bouncy Bob ($0.99 from $4.99 until August 1)
The Way Remastered ($10.49 from $14.99 until August 1)
Sales ending Wednesday, July 18th
Guilt Battle Arena ($4.99 from $9.99 until July 18)
Tower of Babel ($4.99 from $9.99 until July 18)
TurtlePop: Journey to Freedom ($12.99 from $19.99 until July 18)
That concludes the inaugural SwitchArcade Roundup under new management! Same, similar roundup, new roundup smell! What did you think? Do you think the roundup is in good hands? What games would you like to see spotlighted on future installments of the roundup? Give a comment below or send us a tweet!