I've been trying really hard not to typecast myself as someone who plays and reviews only a couple of different game genres. I'm pretty sure I'm failing if the games you guys mention to me over on twitter are anything to go by. So, I have decided I may as well just roll with it, and write about the games I clearly love, even if most of them are a dungeon or battle card rogue-like. This brings us all the way to Look, Your Loot! (Free) by Igor Suntsev, an awesome card crawler game which also happens to use King's Defold game engine.
You choose one of eight cute little dressed up mice, to be your hero- Although you begin with only the fighter mouse, unlocked and use the gold you collect to unlock the rest as you go. Then you choose between a four, nine or sixteen card grid to move you adorably little champion through the dungeon. There are villains to vanquish, spiked traps and poison to avoid, elixirs to drink and fireballs to cast. Add to this the extra help you can collect such as knives, shields and cheese and your little heroic rodent will be zooming through the dungeon like a pro.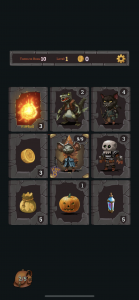 Look, your Loot! has a tutorial stage to help you learn the ropes, though honestly you could probably skip the tutorial and work the game out on the fly. Game play is so uncomplicated even my 4 year old nephew can have a go with very little instructions needed. The super simple style of play in no way makes this an easy game to win, you are going to need your wits about you, to stay alive long enough to collect high levels of money.
Even when you think you are using a great strategy and nothing can possibly go wrong, you will find your hero cornered with no way to get out of impending death on your next move. You can play a seemingly endless mode where a boss comes along after a set number of moves to level you up, or a mode where you have 54 cards and clearing them lets you win the game. I've won once on the limited card play through, its note my favorite style to play however. So I haven't played enough games of this type to judge if it is hard to win.
Here, we have another game which offers the player an in app purchase to remove unwanted adds, to sweeten the deal, the developers of Look, your Loot! have thrown in a free random booster at the start of each game. There are originally four boosters available to buy with your hard won gold, if you do make the in app purchase and receive one for free each time, there are still three left for purchase. It's a great way to start a game with extra boosters.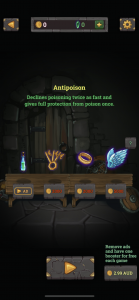 The boosters can make all the difference in how far you can crawl into the dungeon, they offer things like, extra HP, keys to unlock chests, and even a revive to let you cheat death once. The whole goal of playing is to collect as much loot as you can, that's it. Use the equipment you find to help you get further ahead and stock pile that gold to unlock the other seven heroes.
The artwork is adorable and detailed, helping you feel like the poor little mice are really deep in a big dark dungeon fighting for their lives. The cards appear to be pieces of stone, hollowed out so the little creatures are standing in their own tiny little room. The color scheme is eerie and dark with glowing green lighting reminiscent of old dark castles and horror movies. Overall the visual graphics are simplistic, just like the rest of the elements of the game.
As simple as it is there is something slightly irresistible about Look, your Loot!, you keep starting another game to see if you can get further, get more gold, find more loot. It helps of course that there is leader boards to climb and achievements to unlock, I don't know about you but I am a total sucker for ticking off achievements. I get a little thrill every time I see the little achievement text pop up in a game, it is one of the things which keeps me playing a game over time, rather than having just a quick look when it is first released.
There hasn′t been much buzz about the game in our forums yet, which is surprising considering how awesome and fun Look, Your Loot! is. The developer has set up a Facebook page to help support players however, which is busy and talks about what action bosses and some cards take, as well as talking about updates and game play in general.
Even without all the fanfare, and chatter in our forums, Look, Your Loot! is a game I really recommend to anyone who likes dungeon or rogue-like games. It has a familiar feel to many other games in its genre but still has enough difference in its game play to feel like a game which can stand alone in a field of its peers. Even if you don't find it to have a single novel idea, it is still such an amazingly entertaining and slightly addictive game with hours of replayability.
I have loved every minute spent playing this game, in fact I have played it to the detriment of other aspects of my life, If you have been missing my reviews of late, you can blame this game. Every time I sit down near my computer I end up thinking I need just one more screen shot, one more run through in case I missed something. Now, I've got to go and catch up on housework, or maybe I′ll do the dishes after just one more game.