Welcome to the SwitchArcade Roundup for June 29th! This…is a busy day. New major ports, a bunch of news, a ton of new sales on the eShop, let's quit noodling around and get into the news. Nintendo is now releasing new content for Splatoon 2 on a monthly basis, with June 30th seeing a drop of new stuff. The New Albacore Hotel is the new level, a spacious level with plenty of water hazards. Meanwhile, there are four new weapons, and the Ranked mode map rotation for July are available on the official Splatoon Tumblr, which is a thing. Nintendo releases detailed patch notes and has a Tumblr now, they're hip!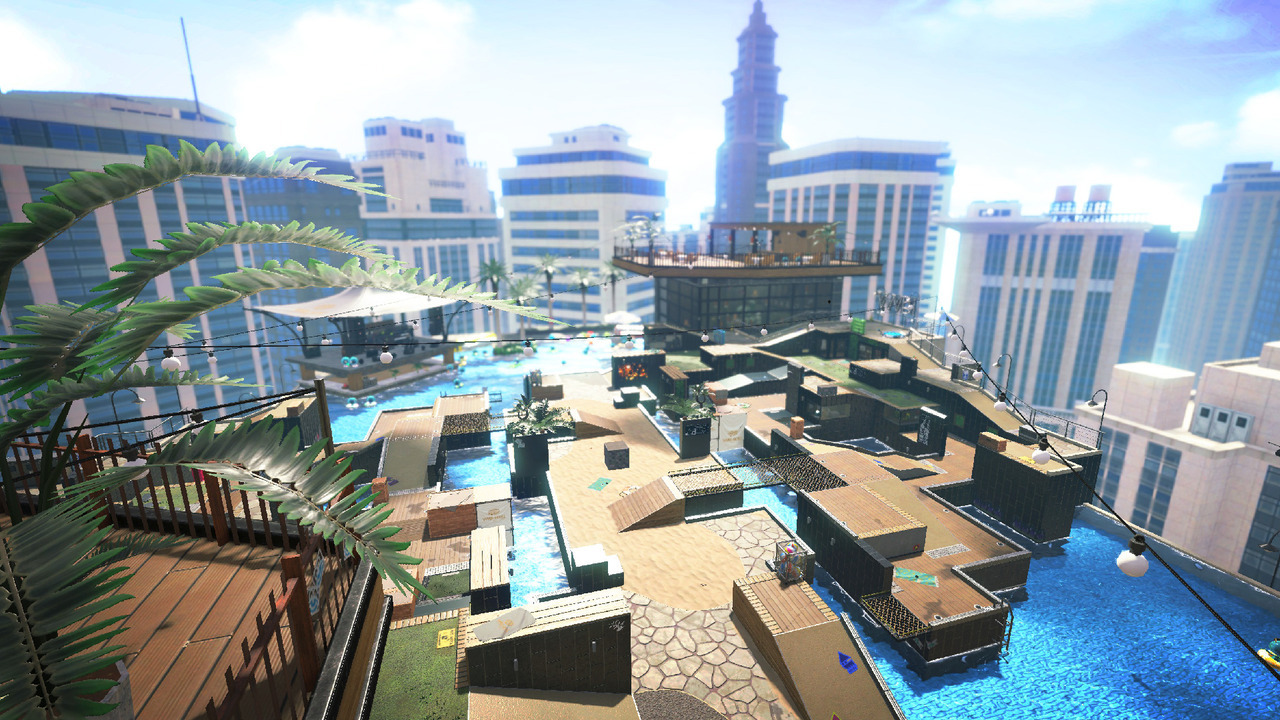 Mario Tennis Aces 1.1.1 adds Elo-style rating, and balance changes
The first post-launch update for Mario Tennis Aces adds in the Rating feature that will launch with the July tournaments. Additionally, there are some balance changes coming for characters. Don't nerf my beloved Bowser Jr. too much, I need any help I can get! Nintendo also has a list of the new characters coming in the next few months. Blooper's going to curve his shots around you, you fool!
Scribblenauts Mega Pack coming to Switch?
I'd be down for a compilation of a bunch of Scribblenauts games. Good news is that the Taiwan rating board has a listing for Scribblenauts Mega Pack for all the consoles, including Switch! I remember the original Scribblenauts, would love to check that out again!
Miles and Kilo footage and discounts explained
The rad Miles and Kilo lands on Switch on July 5th, and some YouTubers are already uploading footage of the Switch version. What's worth knowing is that if you pre-order the game, you get the prequel Kid Tripp for free. And if you have Kid Tripp, you get the sequel for half-off. Miles and Kilo was fantastic on mobile, and you should definitely get excited about this.
Sonic Mania Plus unboxing and footage
Oh hey, it looks like Sonic Mania Plus comes with a cool, shiny outer cardboard cover. That's along with the inner case having a reversible Sega Genesis cover. A Nintendo game with a Genesis cover is downright blasphemous, but I'm totally into it. This livestream archive also has a bunch of footage of the first level from the game's Encore mode, and the four-player mode of the game.
Nicalis has western release date for Blade Strangers
August 28th is when Nicalis' crossover-laden fighting game, out now in Japan, makes its way to western shores. Various stores, including Amazon, have this one up for preorder now.
Hack 'n slash Next Up Hero confirms cross-platform multiplayer
Another game gets cross-platform multiplayer! The action-RPG Next Up Hero, which is out now on Steam and Xbox One, with a Switch release coming soon, confirmed on Twitter recently that the Switch version will play nicely with those other platforms. Okay, Sony, this is officially going to be a thing whenever a game has cross-play and your system doesn't, so…you know, get on that.
Yes, you can Cross Play on those four!

— Next Up Hero (@NextUpHero) June 28, 2018
Bloodstained: Ritual of the Night story trailer, demo available on PC for $60 backers
I'm going to get that game name right this time, Curse of the Moon is the Castlevania 3 expy that released last month, Ritual of the Night is the Symphony of the Night expy. Anyway, backers at the $60 tier or above for RotN got their hands on a PC demo for the game. And now, there's a new story trailer for RotN as well. Might we see this game this year?!
ToeJam and Earl: Back in the Groove new trailer
While the developers of this Genesis revival confirmed that they won't be published by Adult Swim Games any more, the new ToeJam and Earl is still in the works, and actually nearing the Switch certification process as they plan on self-publishing the game. Apparently Adult Swim Games' schedule is getting a bit full, so they decided to part ways. Bring back the funk soon!
New Pool Panic trailer
One of those Adult Swim Games releases filling the schedule is Pool Panic, which looks really fantastic. A new trailer for the game ahead of its July 19th release is available now. It's looking quite goofy, and one of the most Adult Swim-y games that their publishing arm has put out yet. Like, it looks like the animated style of one of their shows.
Barack Fu is a real thing
The developers of Shaq Fu have a bonus game for owners of physical copies of the game, and it is a doozy: Barack Fu. Words fail me.
New Releases
Wolfenstein 2: The New Colossus ($59.99)
Bethesda continues to bring some solid singleplayer games to the Switch, this time with the acclaimed second entry in the latest Wolfenstein revival. Without spoiling anything, this game goes to some ridiculous places with its plot and setting, while also having some serious moments. There isn't any multiplayer here, either: it's all about singleplayer goodness. The DLC isn't out yet for the Switch version, but it's certainly possible that it might come someday.
Check out some comparison video between the PC version and Switch version. Reports seem to indicate the game runs well on Switch, but you definitely lose some visual fidelity.
The question is whether you want to pay a premium for portability with the Switch version of not. The console and PC version went on sale shortly after release last year, but that was likely due to the holiday season. However, Bethesda is slow to put out sales on Doom and Skyrim, so you might have to pay a premium for the Switch version, no matter what. Still: this is an acclaimed, over-the-top, singleplayer first-person shooter available on the Switch in a perfectly cromulent portable port.
Crash Bandicoot N. Sane Trilogy ($39.99)
For a brief moment in the 1990s, Crash Bandicoot had effectively replaced Sonic as the counterpart to Mario, due to the floundering of the Saturn and failure to get a new mainline Sonic game out. Crash was Sony's Mario. The catch was that Sony didn't actually own Crash, and gamers were moving away from 'needing' mascots associated with different systems as the culture changed. Also, Crash ran into an issue where the post-Playstation games didn't pick up the same acclaim as his first few entries. And really, that's a lot like Sonic: the original game is remembered as the defining title, but really isn't that good in comparison to what the next two titles added in. And from my memories, Crash Bandicoot 2 and Crash Bandicoot: Warped were brilliant 3D platformers that utilized 2.5D structure and some fun levels and challenges to test players, while toning down some of the frustration of the original game.
So I'm really excited to play this one. Is Crash Bandicoot as promising-but-rough as I thought 20 years ago? Are the next two games as brilliant as I recalled? We'll find out, but the reception to the PS4 release last year makes me think I might have been on to something. Let's make Crash Bandicoot a thing once more, find some talented developers to bring back this series the way Sonic Mania did.
Also, how crazy is it that now Nintendo is the home of Mario, Sonic, and Crash Bandicoot? Nintendo's gonna have a Halo game on it someday, I'm calling it now.
Waking Violet ($6.99)
This top-down puzzler has you pushing boxes around to solve puzzles, along with using other obstacles and items in the world to try and make it to the end in one piece. The catch is that you can also rewind time, which should help you with the devious puzzles in this dangerous dreamscape…
Anima: Gate of Memories ($19.99)
Anima: Gate of Memories – The Nameless Chronicles ($19.99)
Anima: Gate of Memories – Arcane Edition ($29.99)
This action RPG based on the tabletop game Anima that has you questing to destroy some interesting bosses, and recovering memories, all as part of a war between shadowy forces. You can swap between two different characters on the fly, and the campaign in the main game is supposedly quite lengthy. The Nameless Chronicles is a sequel with new bosses, and characters. You can pick up both games as a bundle in the Arcane Edition, and if you like third-person action-RPGs, that bundle might just be worth it.
Sales
New Games on Sale
Super Bomberman R ($29.99 from $39.99 until July 2)


88 Heroes – 98 Heroes Edition ($14.97 from $29.95 until July 5)


Conga Master Party! ($5.97 from $9.95 until July 5)


Guns, Gore, and Cannoli ($6.69 from $9.99 until July 5)


Ninja Shodown ($8.97 from $14.95 until July 5)


Sparkle Unleashed ($5.99 from $7.99 until July 5)


Super One More Jump ($5.11 from $7.99 until July 8)
Axiom Verge ($14.99 from $19.99 until July 9)


Heroes of the Monkey Tavern ($4.99 from $9.99 until July 10)


Beach Buggy Racing ($3.99 from $9.99 until July 12)


Bleed ($4.07 from $11.99 until July 12)


Dimension Drive ($10.39 from $12.99 until July 12)


Koi DX ($4 from $5 until July 12)


Late Shift ($9.09 from $12.99 until July 12)


Mecha Storm ($14.99 from $19.99 until July 12)


Nine Parchments ($9.99 from $19.99 until July 12)
PAN-PAN A tiny big adventure ($4 from $5 until July 12)


Puzzle Box Maker ($9.99 from $14.99 until July 12)


Riptide GP: Renegade ($3.99 from $9.99 until July 12)


Shelter Generations ($17.99 from $19.99 until July 12)


Sine Mora EX ($11.99 from $29.99 until July 12)


The Jackbox Party Pack 2 ($12.49 from $24.99 until July 12)


This is the Police ($11.99 from $29.99 until July 12)


Tiny Troopers Joint Ops XL ($10.39 from $12.99 until July 12)
Infernium ($17.46 from $24.95 until July 15)


Pirates: All Aboard! ($2.99 from $5.99 until July 15)


Superola and the Lost Burgers ($3.59 from $5.99 until July 15)


Guilt Battle Arena ($4.99 from $9.99 until July 18)


Tower of Babel ($4.99 from $9.99 until July 18)


TurtlePop: Journey to Freedom ($12.99 from $19.99 until July 18)
Sales Ending by Monday
BRAWL ($7.49 from $9.99 until June 30)


Mad Carnage ($3.74 from $4.99 until June 30)


Grid Mania ($2.99 from $3.99 until June 30)


Tactical Mind ($2.24 from $2.99 until June 30)


Layers of Fear: Legacy ($15.99 from $19.99 until July 2)


Castle of Heart ($13.49 from $14.99 until July 2)


Masters of Anima ($13.99 from $19.99 until July 2)


Super Bomberman R ($29.99 from $39.99 until July 2)
Keep an eye out every weekday for more SwitchArcade Roundups! We want to hear your feedback on Nintendo Switch coverage on TouchArcade. Comment below or tweet us with your thoughts!