Welcome to the SwitchArcade Roundup for June 21st, where we're talking about some intriguing new Switch news and today's most interesting new releases! Let's start with…Kickstarter?! The Flip Grip is a vertical controller grip for the Switch and Joy-Cons, designed for those classic arcade games and shoot 'em ups that support playing in portrait while you hold the system in handheld mode. I normally don't care for Kickstarter, because I don't trust game developers to deliver things in a timely manner, and sometimes they're just kinda like…nope! However, physical products, especially ones that seem completely reasonable, are often a decent call. I remember buying a great case for my Microsoft Surface off of Kickstarter that solved a lot of problems I had with transporting it, even if it was convoluted and once confused a TSA bootlicker who tried to open it up.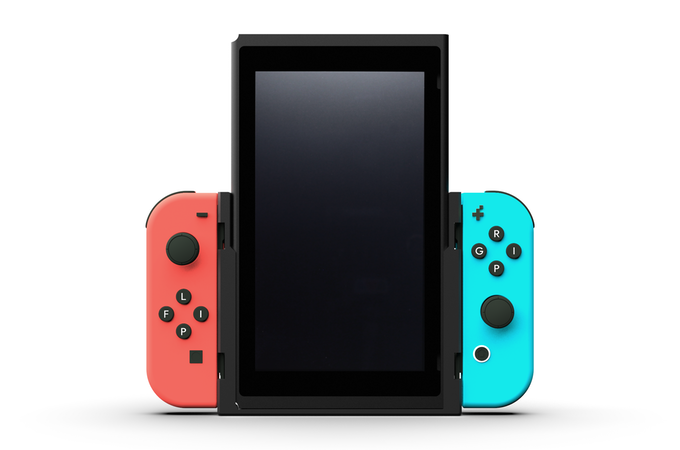 What I'm saying is that this Flip Grip by game journalist Jeremy Parish of Retronauts, designer Mke Choi, and Fangamer (themselves a reliable producer of goods for Kickstarter projects and beyond), has a high chance of coming to fruition. It lets you play portrait-mode games with the Joy-Cons. You can't charge the system while using the Flip Grip, and while it does partially block vents, the design of the grip ensures that air is still flowing through the system, and even Breath of the Wild won't melt the system down. For $12 plus $3 shipping, this might just be cool enough to take a risk on backing, as the risk is minimal.
Another cool Kickstarter project is the Genki, which is a USB-C Bluetooth audio adapter that supports aptX Low Latency and dual connections. This one doesn't quite have the pedigree of the Flip Grip, but it's not exactly a crazy project! USB audio adapters that support this codec already exist, this is just a matter of making a Switch-optimized product. And it looks rather cool:
The concerns are now voice chat with Fortnite supporting it (the project creators say they have the hardware for it, it's just a matter of whether Nintendo supports USB audio input that they need to research) and also passthrough charging? I get why people are asking about it, but USB-C is such a complicated protocol to support and anything that adds charging is pront to potential issues. Also, seriously, what is wrong with wired headphones for your Switch, a system in your freaking hand? Keep a pair of something like these MEE audio IEMs in your Switch case if you're ever on an airplane. Seriously, people. Think with your brains.
Pocket Rumble releases on July 5th
An official release date for the Neo Geo Pocket Color-inspired fighting game Pocket Rumble has been confirmed for July 5th! That's like two weeks away, what the heck? Where did July go? The game features online multiplayer with GGPO, so it should feel really good. At least that's what I'm hoping! I'm glad this one's finally coming to fruition, and having it on a portable system is just perfect, of course.
Dragon Ball FighterZ Switch release date confirmed, comes with preorder bonus
Arc System Works' acclaimed 3-on-3 fighting game featuring DBZ Characters gets its Switch release on September 28th. What's cool is that if you preorder the game, you'll get Super Saiyan Blue Goku and Super Saiyan Blue Vegeta immediately unlocked, as well as a copy of Dragon Ball Z: Super Butoden, originally only for the Super NES in Japan. A nice little add-on there if you decide to pick this up on Switch, or if you get it for the first time.
Switch hackers getting banned for playing cartridge dumps
This story's kind of confusing, but it looks like if you're hacking your Switch, and even if you dump your cartrdiges to the SD card, those copies of the game don't work. now, confusion settled in as to whether the cartridge itself was banned, which could create all sorts of issues with used games, as if Nintendo bans a cartridge from playing online, some unscrupulous people could dump games, and then drop them on the used market, where someone would get a game they couldn't completely use. However, it appears that the original game itself still works online, when you use the cartridge, it's just the dumped file that doesn't work, the cartridge works fine on official firmware.
Looking at conversations on discord, when people are dumping their own cart and attempting to play online with the dump on CFW, they get an error too. If they switch back to OFW the cart works fine.

— Obi-John (@VegaNovus) June 20, 2018
Look, I'm of the mind that from practical terms, if you want your games on an SD card, you can literally just buy them that way now. Dumping your own cartridges semes unnecessary. Yet, I'm all for people using the software they own in the ways they want. And if Nintendo isn't banning the individual cartridges, then I can't complain too much. Seriously, I'd get this back in like the Nintendo DS and GBA days when I dumped my own stuff, but nowadays, you can easily have your library digitally. And honestly, Switch cartridges are so small that you can carry more than a reasonable amount around with you!
New Releases
Minecraft ($29.99)
For real this time! Apparently the releae got pushed back to 10:00 PM PDT worldwide so it kinda released yesterday! Regardless, it's out now. This is the Bedrock version of Minecraft, bringing cross-platform play, progression, and achievements to Minecraft on the Switch. It's free if you own the previous version of Minecraft. Microsoft and Nintendo sure are having some fun with Sony about the whole cross-platform thing, with Sony getting a ton of flak about not enabling it on Fortnite and now on Minecraft. They seriously put out a collaborative ad about it!
Maybe this issue being brought to the forefront will convince Sony to stop being jerks. Granted, Sony has the lead in terms of consoles, but I mean, if this becomes a bigger trend and Sony's getting excluded, it's gonna hurt them. Sony might not feel compelled to make a move yet, but wait until Season 5 of the Fortnite Battle Pass rolls around. If Sony sees a drop in revenue then, they'll have to make a move. Or maybe they won't. But remember, Sony: you lost the lead in the console market with bad decisions before. You can lose it again. Make the right call.
The Journey Down: Chapter One ($9.99)
A fantastic point-and-click adventure game sees its release on Switch this week. Inspired by Afro-Caribbean people and mythology, you get thrown into an adventure to find Underland. There are puzzle to solve, and some fantstically written and acted scenes to go along with the game's distinctive visual look. The entire triology releases on Switch in the coming weeks, and you get discounts for buying each episode, so if you want to start with The Journey Down, start here!
Destiny's Princess: A War Story, A Love Story ($14.99)
This historical Japanese romance game sees your castle attacked by demons, and five heroes from different worlds wind up in yours to protect your castle and your people. And it'll be up to you to work with them, and possibly even romance them! While I can't confirm that any of these strapping heroes are dads, you'll want to call them daddy after you play this. Thus, this game wins the Carter Dotson Most Hottest Dads of the Week Award. D3Publisher is 2 for 2 so far, can they repeat next week?
Keep an eye out every weekday for more SwitchArcade Roundups! We want to hear your feedback on Nintendo Switch coverage on TouchArcade. Comment below or tweet us with your thoughts!