Welcome to the SwitchArcade Roundup for June 13th! The announcement bursts of E3 have calmed down, but the Switch releases keep on keeping on, and Splatoon 2's big DLC goes live tonight! It's not live in the game yet, but it might be out by the time you read this! This expansion enables playable Octolings in multiplayer, and contains a bunch of new singleplayer levels that look quite crazy. I haven't dug much into the singleplayer at all, but I bought this DLC in part for the cosmetics and also because the levels look really cool.
8bitdo reveals new controllers
The manufacturer of Nintendo-inspired wireless controllers has a few new entries coming out. The SN30+ is a full-size gamepad with hand grips and control schemes to mach the Game Boy, SNES, and Super Famicom. Meanwhile, the base SN30GP is getting a bunch of new Game Boy Pocket-inspired colors. That red one brings back some memories, my first Game Boy was a red Game Boy Pocket. The N30 Pro 2 adds in new colors, new buttons, vibration, and motion controls. Meanwhile, the Zero 2 is freaking tiny and comes in Game Boy Pocket-inspired colors: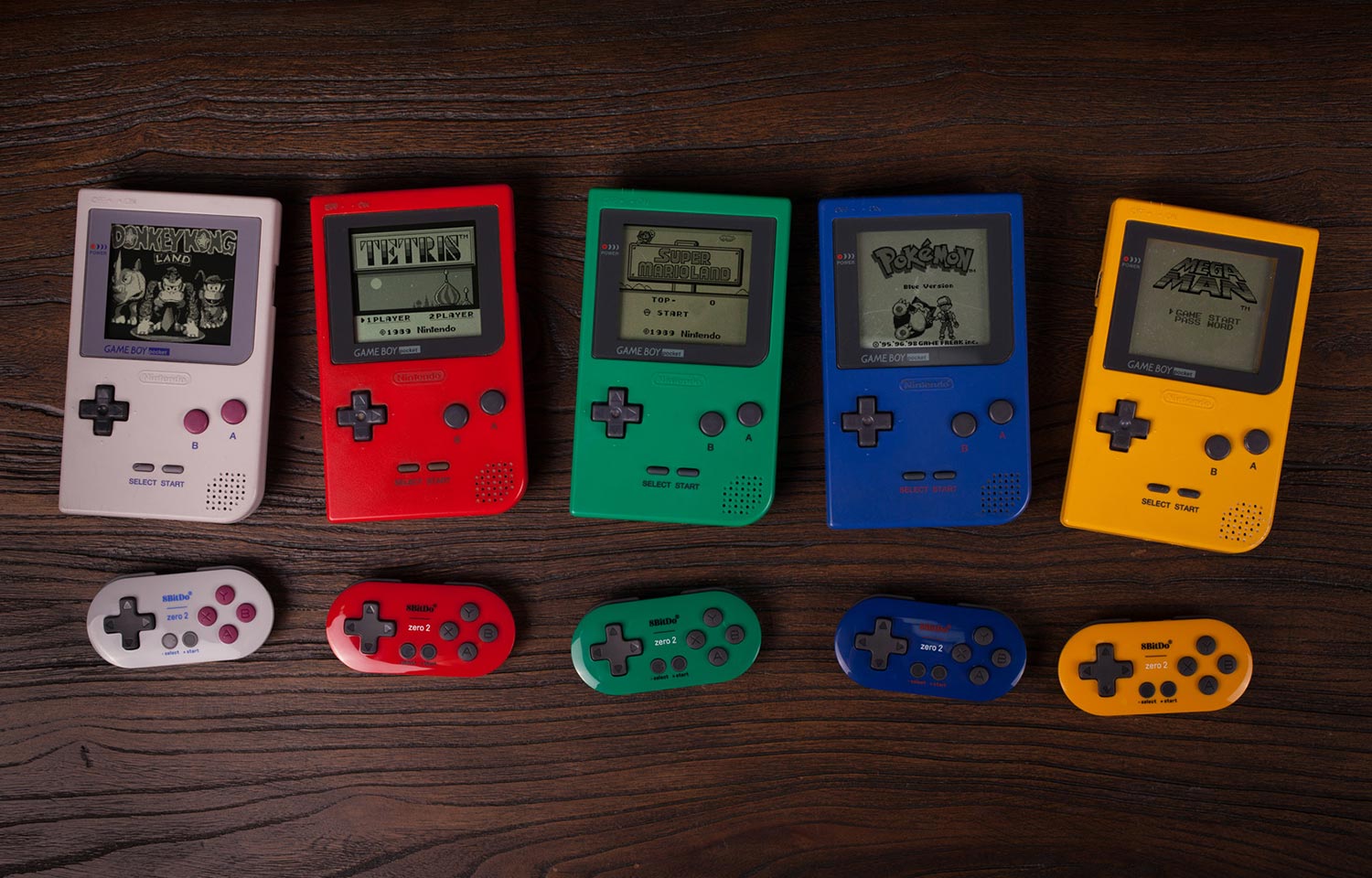 But you catch that? Switch compatible, and it has motion controls. Based on its cost, it could be a perfect replacement for extra Joy-Cons for multiplayer games, or just a handy option if you want to play retro games in tabletop mode. All of these should be available later this year.
INK coming to Switch
Zack Bell Games' colorful wall-hopping platformer looks really slick, and not just because it's leaving paint everywhere. Levels are invisible, and you have to paint the level to discover it. You also explode into paint when you die. The Switch version also adds in a co-op mode. Check it out on June 19th!
Double Fine confirms Broken Age and Grim Fandango Remastered for Switch
If you like point-and-click adventures, Double Fine's got a couple coming your way! Broken Age is the two-part adventure that perhaps kicked off the age of retro revivals getting big Kickstarter bucks. Meanwhile, Grim Fandango Remastered is pretty much what it says on the tin: the cult hit game revived with enhanced visuals.
Galak-Z Variant S coming to Switch
Hmm, so the mobile version of this has been in soft launch for a while. And GungHo says that this $9.99 version will come with $25 of in-game currency. I've enjoyed my time with this one on Steam, and I'm interested if the "Variant" for mobile systems works out…I need to dig into the long-running soft launch version! At least there aren't any control issues to worry about with the Switch version, though I could see some complaints over not just bringing the original game to Switch? Still, I'm keeping an open mind.
SplitSphere DX releases on July 2nd
So, it looks lot like a take on Pong but with all sorts of powerups and a Game Boy Zelda aesthetic to it, which I am here for, especially since there's multiplayer play and a story mode with boss fights! This one hits on July 2nd, and I'm really intrigued!
Sonic Team Racing gameplay trailer
Here's a trailer with some gameplay of Sonic Team Racing, letting you check out how the racing works, and some teases of the team modes in the game. Also, the music is by Crush 40, so if you like Sonic music from the post-Adventure days, this might be the game for you.
Dragon Ball FighterZ direct feed footage
Wanna look at how the DBZ fighting game looks on Switch? Here is some footage recorded in 1080p60, captured via HDMI, so while you'll have to wait for some nerds to figure out if the game's scaled or anything like that, you can check out a glimpse of how the game's performing right now.
Nintendo's GameCube controller plans for Switch reiterated
Nintendo is releasing a new GameCube controller, and the one kind of annoying thing about it is that it's not a USB controller for Switch, but instead is, well, literally a GameCube controller. You have to buy a GameCube to USB adapter for $20 to use it with Super Smash Bros. Ultimate. The adapter has four controller ports, so it's not necessarily a terrible problem, and if you have the adapter already, you can use it on the Switch. And hey, the Melee players need new GCN controllers. Hopefully that PowerA GameCube controller that leaked recently is still coming out, because that will connect by USB and have a full complement of buttons. Why did Nintendo not have a ZL button on the original GameCube controller? Why?
New Releases
Fortnite (Free)
You might have heard of this one? While there is controversy surrounding the game over the controversy with PSN-linked accounts not able to login on the Switch, the game was downloaded over two million times already, so I'm sure things will work out fine for Epic Games, regardless. Plus, the anger was skilfully directed by them to Sony. Some frame rest testing shows the game running at 30 FPS, and resolution testing indicates that the game dynamically changes resolution as necessary. The game looks and runs fine, and Epic potentially can optimize the game in the future, based on work they've done on other platforms.
The only thing it needs now is motion controls, but I managed to win with a controller (ironically a DualShock 4 via the 8bitdo Bluetooth adapter), so maybe I just needed to believe in myself all along.
First solo Victory Royale…game #2 on Switch. #NintendoSwitch pic.twitter.com/BV8FcaiFbC

— Carter Dotson (@wondroushippo) June 13, 2018
Hollow Knight ($15.00)
A gorgeous Metroidvania, revealed at E3 to be getting a Switch port right after the E3 Direct! Great reviews for this one based on its PC version, and it's apparently quite the meaty game. Not that I need another one for the backlog, but…here we go.
Paladins Founder's Pack ($29.99)
Hi-Rez's take on the hero shooter genre, a la Overwatch, is out now on the Switch, but this is kind of an early access release. The game is normally free-to-play, but that version isn't out yet. Instead, you have to buy the Founder's Pack, which comes with all the heroes, to get access to the game right now, before the totally free version releases later this year. The game definitely has more of a fantasy feel than Overwatch, and Blizzard refuses to release that on Switch, so this will have to do. Also, this game has mounts you can ride into battle, which is objectively cooler than Overwatch.
Jolt Family Robot Racer ($4.99)
This on-foot racing game looks a lot like it takes after Speedrunners, which really ought to come to Switch, eh? You use a JOLT, a charged burst of speed, to get an advantage on opponents and interact with certain objects in the environment. What's fun is that players that get knocked out can still mess with the game through the VOID, which can sabotage the other players. Neat! You can also build your own robot, and craft the avatar for the machine that will someday crush you under its boot when the anthropocene extinction finally comes.
Alchemic Jousts ($9.99)
This seems to have an interesting mix of styles, as you deploy elementals into battle, but can also craft and collect new ones like a card game. You have a deck of 12 different elementals that you use, as you compete to destroy the other side's tower. Sadly, there isn't any online multiplayer, which would be great, particularly with the collection mechanic.
Hexologic ($2.99)
This released on mobile not long ago, and was judged by our Sarah Saunders to be a hidden gem on the App Store! If you would prefer playing it on a Nintendo system, here's your chance. It's kind of a mix of sudoku and picross, where you fill hexagons with dots to make the number of total dots in the line of hexagons match up with the mentioned number. And it has hexagons, so it's a real game. Granted, it's $0.99 on mobile, and $2.99 on Switch, but if you complain about that you're a dweeb.
Bloons TD 5 ($14.99)
Minimalism is for dweebs. Maximalism is for winners. And the Bloons TD series is all about maximalism. I've seen this game on mobile get so bogged down with stuff on screen that you'd have to calculate it at seconds per frame. It's a fun TD series packed with stuff, and I'm curious to see just how far this can push the Switch in action!
Keep an eye out every weekday for more SwitchArcade Roundups! We want to hear your feedback on Nintendo Switch coverage on TouchArcade. Comment below or tweet us with your thoughts!