Hello everyone, and welcome to the week! It's time once again for our look back at the noteworthy updates of the last seven days. So, keep this on the down-low a little, but this past weekend marked the five-year anniversary of my first article being published on TouchArcade. That's a good chunk of time. Will I also have a ten-year anniversary here one day? I'd like to think so, and I'd like to think I'll be marking it just like this one: with some sweet updates to some great games. Of course, you can keep an eye out for updates yourself using AppShopper or by participating in the TouchArcade forums. This weekly summary is just here to fill you in on the things you might have missed. Let's dig in!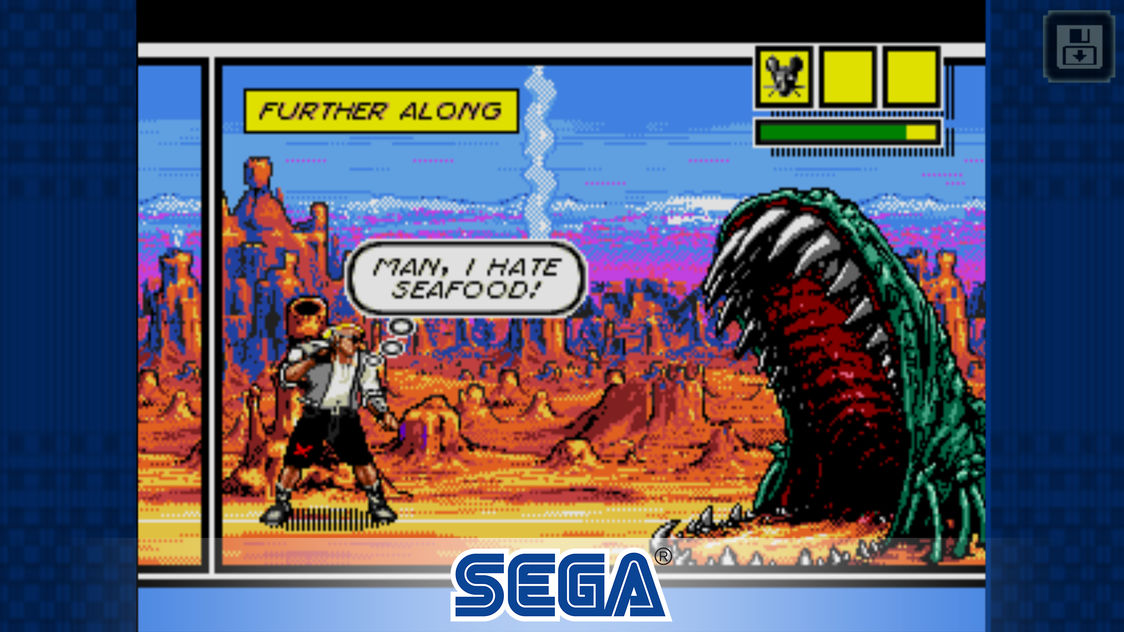 Comix Zone Classic, Free SEGA Forever may not be the newest collection of 16-bit SEGA games around anymore, but the company hasn't completely forgotten about it. Comix Zone, which was among the earliest batch of releases for this initiative, has received a pretty big update with the latest version of the emulator. That means it now supports the rewind feature, graphics filters, customized controls, and support for haptics, provided your device offers such. You might notice a few other improvements in terms of emulation quality here and there, as well. Do Phantasy Star 2 next, SEGA!
Exiled Kingdoms RPG, Free Hey, right on, some new content for a game that already feels quite complete in my opinion. Anyway, here's what you get: some new areas in northwest Ilmara, some new quests including one that is companion-specific, a battle arena where you can win rewards, expanded teleporation abilities, traders inside the Grey Library, visible hoods and helms, and improved translations in many supported languages. Since nothing else is really grabbing my eye at the moment, I'll give this one the coveted UMMSotW award for the week.
Shadowverse CCG, Free Shadowverse, the collectible card game for those who want to play Hearthstone but don't want to play Hearthstone, has another of its regular updates on offer. This time around, that means some new cards from Dawnbreak and Nightedge, some new main story chapters, a handy new ability to view related cards, and previous score reward sleeves in the shop for those who want to grab them. Nothing too exciting, but the game is pretty stable at this point, so it doesn't really need any flashy tricks, I think.
Prizefighters, Free Prizefighters, the entertaining riff on Nintendo's Punch-Out!!, has some cool new treats to check out in its latest version. Marvel at the new quest system that sees you completing daily quests in exchange for glorious coins! Awe at the new ability to customize the appearance of your opponents! Dazzle at eight new achievements and five new leaderboards! Thrill at… er, new flags! You'll now get 25 coins for winning online casual matches, and you can tap with more than one finger to get back up if that's your jam. All this, and other improvements and/or bug fixes! And I'm all out of exclamation points, so let's move on!
Disco Ducks, Free What we have here is a pretty expected update for a mobile matching puzzle game. That means a new episode with a bunch of new stages to play. The theme this time around is that the Ducks have gone undercover, giving you 30 stages of spy thrills. And hey, there's even a cool new spy theme song to rock out to while you match those pieces. After all, this is Disco Ducks, friends. It just wouldn't do to have the same old tunes.
Injustice 2, Free Batman Ninja is a pretty darned cool take on the Caped Crusader, and it seems like the developers of Injustice 2 think so, too. This update adds two new agility-class heroes to the roster in the forms of Batman Ninja Catwoman and Batman Ninja Robin. And if you think that's just the start of the Batman Ninja additions coming to the game, you're right. In non-ninja news, Red Hood makes his appearance as a tech-class hero. You can get him through raids or in the Leagues Store. This is all part of Injustice 2's one-year anniversary celebration, which will also include some upcoming special offers. Plus, chapter five of the story has been added, along with some fixes and balance tweaks.
Shadowgun Legends: Online FPS, Free Woof, this is another big update. Must be something in the water this week. In this new version of the game, you can check out the new co-op mode, which comes complete with over 150 missions and more promised for the future. Daily missions will see you revisiting all of the Epic and Side quests, earning some unique rewards for your troubles. Voice chat? Yeah, that's a thing now. So are some new dungeons: Brothers of Fire and Hive Mind. New armor sets, new maps, new weapons, and more, more, more. If you want to see it all, feel free to check out the update notes on your own. There's quite a bit to dig into.
Subway Surfers, Free Some people stand in the darkness, afraid to step into the light. Luckily, that doesn't describe the Subway Surfer kids, who are headed to Venice Beach to do that thing they do. Pick up the new surfer Dylan, and try to unlock his rad Lifeguard outfit. New board? Yes, there is a new board. It's the Renegade Board, and it has no time for your chill, my friend. It has rules and hearts to break, and there are no two ways about that. Also, if you make any purchase right now, you'll get Boombot, a cheerful breakdancing robot as a freebie. Who doesn't want a free breakdancing robot? Stand and be counted, monster.
Minion Rush: Running game, Free You know, when I first reviewed this game five years ago, I never would have expected (a) that the game would still be active a half-decade later and (2) that I would still be kicking around TouchArcade to write about it. But here we are. Here we are, indeed. So what are the Minions up to this time? The usual Minion stuff. Getting in on that whole soccer hype with a soccer event where you collect soccer gear, a new costume that can be picked up using Market Tickets, and so forth. Apparently the next event takes place inside some pyramids? This game will still be updating long after we have all become dust.
Cytus II, Free Let's bring things to a gentle close with a look at the latest update to Rayark's wonderful Cytus 2. This version adds a Black Market system that allows you to buy song packs that you want. There are two brand-new song packs you can buy this way, too. Some of the characters have had their level caps raised, which of course means some new story content for the lot. Besides that, you can look forward to some of the usual optimization and bug fixes. I'm sure we'll be seeing plenty of song packs in the future for this game. Such is the way of Rayark, and their fans wouldn't have it any other way.
That about wraps it up for last week's significant updates. I'm sure I've missed some, though, so please feel free to comment below and let everyone know if you think something should be mentioned. As usual, major updates will likely get their own news stories throughout this week, and I'll be back next Monday to summarize and fill in the blanks. Have a great week!