Arena of Valor fans had a tumultuous week for reasons we'll detail further into this week's segment. With so much set to happen that ultimately didn't, we've all been feeling a little lost. It's like nothing could go right for the game whether you were playing casually, watching the professional eSports scene, or doing your homework to get a leg up in competitive play. Let's take a look at everything that's happened over the last week, and grieve over the numerous losses.
May version update delayed
The biggest disappointment came in the form of a delay. The massive May Version Update – set to bring Batman to the states, Death Match to the world, and a host of design changes – was shot down well beyond the last minute.
Scheduled to go live yesterday, Thursday, May 24, the May update was delayed; not before it's scheduled release date, but during. EU players flooded the game's subreddit in the early morning, far before the other side of the world were due to wake up, asking why nothing had changed. Attentive fans pointed their comrades in the direction of the game's Spanish Facebook page, where a lengthy delay announcement had already been posted.
Eventually, Zazzer – head of the English-speaking side of the community – issued the official statement. It came in the late afternoon for the EU players, but at a reasonable time for the US side that he watches over. No future date was specified for its eventual release, but he assured fans that the team would be working hard over the weekend to minimize the disruption. Diaochan will have to wait a little longer for her massive buff.
Note: Due to the TouchArcade downtime, this AoV roundup was ultimately published late. The May version update launched on Saturday, May 26, after some lengthy downtime
Team Upsla drops out of the Valor Cup
Imagine fighting through qualifiers, preliminaries, and quarterfinals for months just to have to drop out when a scheduling error rears its ugly head. That's exactly what happened to Team Upsla during the Valor Cup this week.
Comfortably sitting at fourth place in the rankings after six weeks of tireless competition, Team Upsla had earned themselves a spot in the next leg of the tournament set to take place during E3 in the coming weeks. Neither side went on record to fully explain the 'schedule conflicts', but the Arena of Valor Esports Twitter handle confirmed that Team One Trick would take their place as the next in line on the rankings.
It might have been a tough pill to swallow for Team Upsla and their fans, but imagine being on Team One Trick when news broke that they had another shot of making it big. Want to watch those two teams go head-to-head? They did just that last week.
Due to schedule conflicts @TeamUpsla will not be able to attend #AoVE3. The 5th place team @OneTrickAOV will be taking their place. #ArenaofValor #ValorSeries pic.twitter.com/s0qoayP9tz

— Arena of Valor Esports (@AoVEsports) May 22, 2018
ESL Play Go4 Cup series comes to an end
Since even before the release of the game across America, Latin America and Canada, EU players were regularly competing for cash through weekly Go4 Cup online tournaments handled through ESL Play. That will soon come to an end for both sides.
DippyNikki, the EU/NA ESL coordinator, broke the news through the AoV ESL Discord group, alerting all potential players that Sunday's event will be the final Go4 cup across both locales, with the monthly final (where the money sits) taking place on June 2nd.
"Caring for this community has indeed been memorable and you've honestly been the best community I've ever had the pleasure of supporting. " said Nikki in the heartfelt goodbye message. And while those across the EU and North America can no longer compete in Go4 Cup events, Spanish players, for whatever reason, still have the Wiko Cup to aim for.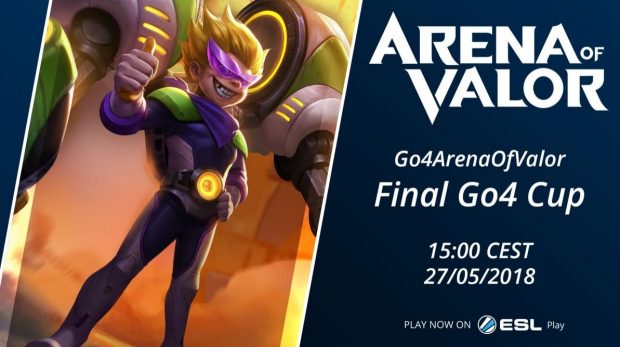 Annette Arrives On The Test Servers
Anyone who pays attention to what's going on with Arena of Valor's other clients and servers across the world will know that the EU/NA side of things is still missing a good amount of characters. Just like how Europe still has a handful more than North America, most of Asia, like China and the Philippines, reap the benefits of launching far earlier than other regions.
The latest in that long line of new characters is Annette, a new Support character making the rounds on places like YouTube. Now accessible on an exclusive testing server over there, Annette can heal herself by reaching 10 stacks gained through attacks, cast a small AOE field that ticks and slows those within, can teleport forward to knock back enemies in a circle around her, and can stun with a long-range projectile shot that nudges her backward upon cast.
She may not be able to grant health to her allies, but her survivability and control effects should make her just as handy to have around as Alice. We wouldn't expect to see her on the EU/NA servers for quite some time, but it's never too early to strategize for or against her.
Hopefully we'll have some better news next week. Sorry about that.