Welcome to another Arena of Valor news roundup! We'd like to say "It's that time again!", but circumstances halted our original plan to have the first go up on a Friday. Assuming all has gone well, the publish date of this particular issue is Friday, May 18th as opposed to Monday, May 22nd. Expect these on a Friday is what I'm trying to say here.
So what's been going on across the Antaris Battlefield and beyond since last time? Not a whole lot, honestly. A bunch of new (and potentially expensive) skins arrived in town, but it's news of a big impending update that's really making the rounds as we close off the week. Let's get to it!
The Flash makes a splash in the EU Valor Cup.
With the US leg of the Week 6 Valor Cup behind us seeing Allegiance continue their uncontested win streak against Immortals, the EU leg of the tournament – which should wrap up tomorrow – saw Team Noob sweep Artic Gaming in the Quarter Final with a Justice League composition complete with the newly released Flash. Packing the Execute skill was shown to be a wise choice with his speedy assassination techniques. It's clear Joker was picked to spite Arctic Gaming's decision to ruin a potential Justice League match after banning Wonder Woman.
Soon after, For The Dream, a team comprised of ESL Go4 Cup regulars, won their first round against Team Queso by also utilizing the newly released Justice League member. Team Queso, noticing the potential threat, banned The Flash for Game 2. Despite being without their lighting-fast attacker, For The Dream secured the match by sticking with that lightning theme by using Tulen in place of the fastest man alive. Even just being a week old at this point, various professional teams have managed to unlock the power of The Flash to the point where he's getting locked out in place of meta bans like Liliana and Xeniel.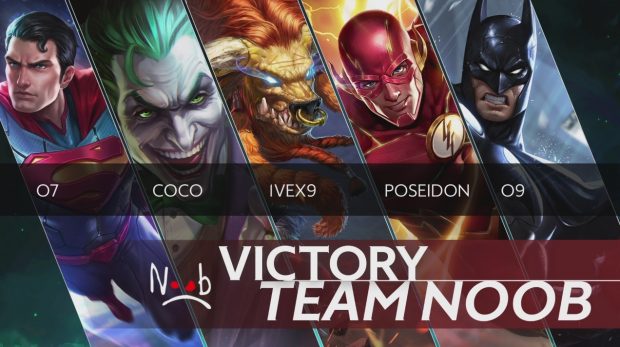 New version countdown begins
Tencent are a secretive bunch – especially when it comes to release dates. We're rarely gifted an exact date of when a patch will launch, with the details typically left to trickle out in the days leading up to its mysterious release. With mention of the May version update coming last week – then known as Beta 14 – today saw the in-game announcement page kick off the traditional numberless countdown.
We likely won't know exactly what to expect until it lands, but a preview page – complete with gorgeous Krixi artwork – teases things like new login rewards (please change Lucky Spin), a main menu overhaul and tweaks to the sign-in system, new 'active' equipment, balance changes, and even 'art optimization'. We're not sure what that last one means, but it could relate to lowering resource usage to reduce some of the navigation lag seen on less powerful devices. While I'm honestly more hyped to see the visual overhauls, most will probably want to check out the new Death Match mode: especially considering you'll nab Batman for free just by trying it out.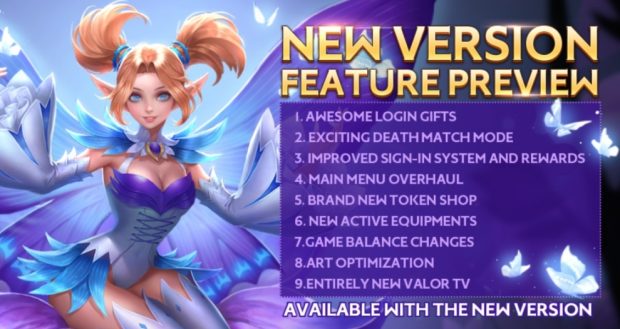 Cybercore Nakroth wants your cash
Just like the Technoblade Butterfly skin, the newly released Cybercore Nakroth is a futuristic skin that demands a chunk of your future income. As an 'EVO' skin – not to be confused with the famous beat em' up tournament – the visual flair of Cybercore Nakroth is entirely dependant on how far you level it up.
You'll need to buy 'Nakroth Evo Crystals' at 98 vouchers a pop to upgrade the skin through its 5 available levels, with each requiring more and more of an investment. Just like before, a single crystal can fill the gauge 2 or 5x more than another, but it's entirely down to chance. It's thought that maxing out an Evo skin could cost as much as $150, but it's widely considered that Level 3 is when Cybercore Nakroth reaches his most drastic visual turning point.
Released today, Cybercore Nakroth was shown off earlier in the week through the  'Origins of Cybercore Nakroth' animated video. In it, both Wukong and Murad make an appearance, leading to the thought that they'll be receiving the Cybercore skin treatment next.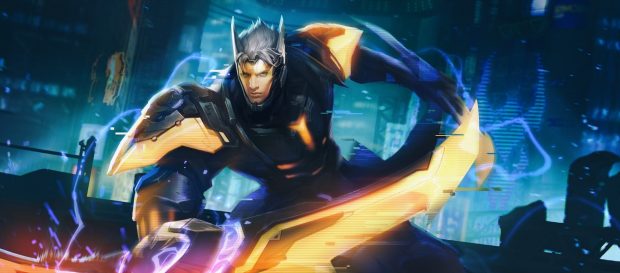 Skins galore!
As Tencent teased one of the more striking (and expensive) skins we've seen in some time this week, the Valor Fest celebration continued to drop a few more noteworthy skins. Superset Ormarr is the cheapest of the bunch at just 299 vouchers, but the burly viking's workout gear will be thrown back into the vault in just a few more days. Blood Knight Zanis arrived earlier in the week priced at 1199 vouchers, giving Zanis players something to tide them over until the Ascended Zanis is awarded to Gold-level players at the end of the current ranked season.
Just like last week, Prom Queen Diaochan is still available through the Diaochan Skin Diamond Chest box, with those with a few extra gems to spend can still try to grab Count Maloch through the Lucky Draw system.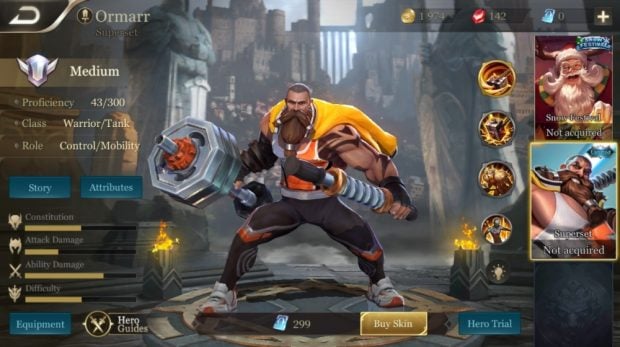 And, well… that's about it for this week. There isn't much to talk about in terms of actual Arena of Valor gameplay, but we're expecting to hear more about these new items and hero balance changes as the May Version Update draws closer. Can Flash dodge a nerf?