Zero/Sum (Free), is a nifty little concept wrapped in a big box of awesome. Sean Kearney and his indie studio Squeezebox Software have worked long and hard to present us with the perfect formula for a simple yet addictive game. It has a unique feel best described by a quote from their website, "It's Sudoku meets Die Hard".
Zero/Sum is a very welcome and fresh addition to the puzzle genre of games. While the whole aspect of the game is to cure cancer with math, you do not need to be a great mathematician to enjoy or even complete the storyline or daily challenges. The timed trials can be a little more intense mathematically speaking, but are still not overly difficult, unless like me you start panicking as soon as your brain is under pressure.
This is a game you can use to impress others with your amazing intellect without needing knowledge of advanced mathematics. It's math, for dumb people, yet still fun enough for a brainiac to want to play. If you love playing Sudoku and completing crosswords this is definitely the game for you. My imagination has Zero/Sum arriving about nine months after Mrs Sudoku accepted Mr Crossword's dinner invitation.
I love a good puzzle game, so I was excited to be given the opportunity to look at Sean Kearney's latest release. I was also quite apprehensive, as you probably are because it is a game of Math. It's much, much more than just maths though, it's a game that is a laidback puzzler with a storyline which will have you laughing aloud.
Not only is the game play fresh and something you haven't seen in the App Store before, the story is presented in an innovative way with real people delivering lines in greenscreen cut scenes. You play Sarah Jacobs (fantastic name for a hero by the way.), a college student, who has helped her professor develop algorithms which will cure cancer. No, I didn't typo, maths has cured cancer. Enter the terrorists…
Again, not a mistake, we have math terrorists. Fortunately, your professor, Claire Liddy, saves the cure from falling into the clutches of evil by erasing parts of the formula. Now it's up to Sarah to fill in the blanks. The equations are easy once you get the hang of what you are doing. You insert plus and minus symbols, or numbers from a short list to make each calculation equal zero. The cut scenes are hilarious, woefully, yet purposely underacted with a cheesy storyline. You will cringe and ask yourself WTF, but you will also laugh and enjoy the completely self-effacing dialogue.
There are three modes of play: story mode, time trials, and daily challenge. In story mode, you have eight acts each, with ten sequences to solve. Time trials are five sequences which you complete as fast as you can and then try and beat your previous best time. The daily challenge is again ten sequences of varying difficulty; once completed you wait for the next day's challenge. In my opinion the time trials would be a great way for kids to have fun while exercising their brain; imagine a few minutes of peace and quiet where you don't feel guilty because they are technically doing something educational.
Zero/Sum is truly one of a kind, I have not seen its puzzles or greenscreen story style in games before. There are other ways in which the game play stamps its individuality, some of which I do not necessarily like. I am used to hitting pause and being given the opportunity to restart a level if I have made a silly mistake, but this is not an option for this game. If you press pause you are given the option to turn music and sfx off or return to the main menu.
If you do return to the main menu before completing your ten sequences the game does not save your progress. When you return to that act you will need to begin it from the first sequence, so if you must close the game before finishing an act I wouldn't wipe it from your multitask list. If you miss getting three stars on a sequence, there is no option to replay that equation. This one really messes with my perfectionistic nature, I hate going forward with a star missing.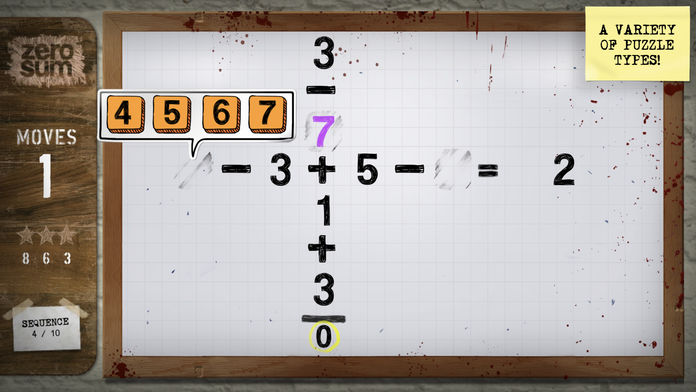 When you have missed stars in story mode and want to go back and get them, you cannot just choose the sequence you missed the star/stars on. You have to replay the entire 10 sequences, which would be much less of a big deal if there was a way to skip the cut scenes after you have watched them a couple of times. These issues are pretty minor and while slightly irritating don't subtract (yep, that's a maths pun) from my new-found passion in mathematical crosswords.
The story line is nicely wrapped up in the eight acts, the hero saves the day (and her grandmother), of course no one ever doubted someone called Sarah would prevail. It took less than two hours to play through story mode as it's not a game with a boring and convoluted narrative. The cut scenes are big and dumb, with guns, explosions, and for some inexplicable reason terrorists for antagonists, just like any of the '80s action movies it's based on. 
So why should you be downloading Zero/sum? Well it's a great game, especially if you love the puzzle genre and are looking for sum fun (I'm on fire). You can play it for the awesome story, or to help train your brain. It is beautifully polished and for any one who has been following its production from the very beginning, this game is unquestionably worth the wait. Once you've played the game head on over to our forums and let us know your favourite quote from the storyline.