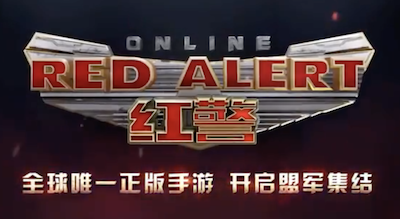 Command & Conquer is a franchise that spans decades and has built up a hardcore following of real-time strategy fans over the years. Arguably the most famous and popular branch of the series falls under the Red Alert umbrella of titles where Soviet and U.S. forces would do battle across battlefields full of tanks, infantrymen and ballistic weapons. About a decade ago when the App Store was first launching and gaining in popularity, EA released a Red Alert game onto the App Store and it had RTS markings all over it. Although many fans complained it lacked the meat or real structure of the PC-based franchise, it retained all the strategy markings of the bigger siblings (here is the review in case you missed it). Sadly, it is no longer available on the App Store.
Now it appears that the franchise will be making a comeback on mobile, albeit in China and from a different publisher. This time it will be the Chinese game publisher, Tencent, known for mobile MOBA Arena of Valor (Free) and PUBG Mobile (Free), among many others. It will also be called Red Alert Online thus the focus should be on multiplayer this time around.
Here is the announcement trailer for the game:
Since the trailer was released some gameplay videos have also surfaced, although in Chinese, showing how the game will play out. Here is one of these videos for you to check out:
Many fans expressed concerns after seeing the initial trailer, but the gameplay videos seem to show it will be an RTS game at heart. The gripe I have from watching these videos is how the game is very much tailored for iPhone (rather than both iPhone and iPad) and portrait mode with one finger clicking. There also seem to be the talking heads present common in some mobile games that show portraits appear right in front of the display when someone says something.
These small gripes aside, the game has some firepower as you can see from 1:30 in the gameplay vid above. It also seems to have at least some basic base building in place with different types of infantry and machinery to unleash.
There is still no word yet on the game's release date or if it will be available outside of China, but we'll keep an eye out for more information.