Welcome to the SwitchArcade Roundup for May 10th, where we're covering the big new releases for today and the latest news! First, let's start with the reveal of the official Nintendo Switch charging stand.
The Switch has two hardware design flaws, in my estimation: the built-in kickstand sucks, and you can't charge and use the kickstand at the same time. Nintendo is solving this problem by manufacturing a new external stand that has a USB-C port for the Switch to dock into, and provides multiple angles, as well as a USB-C female port on the side for charging. This should come into handy, even if companies like Nyko and Amazon already make good, travel-size stands that provide multiple angles and room for the USB-C port. This stand will be available for $19.99 on July 13th.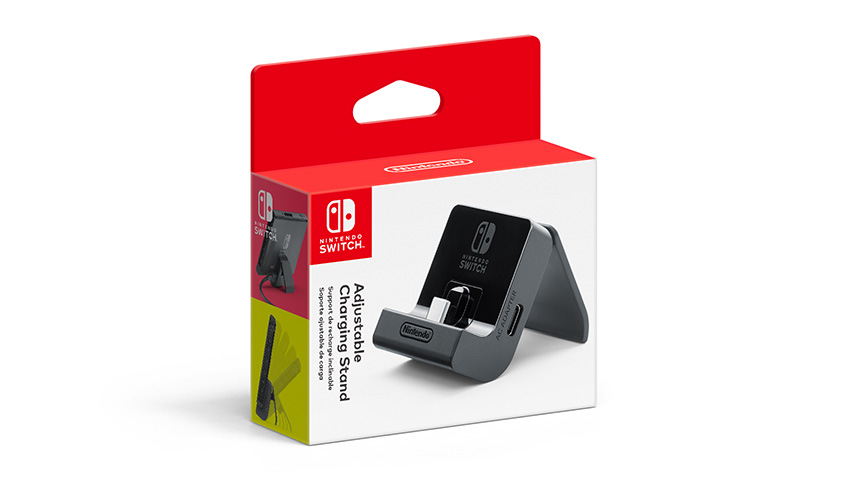 ARMS demo now available
Nintendo's still pushing ARMS, and has a free demo for the most obviously-named game in history. A friend of mine once asked "What was that game with those arms?" And I had to inform them that it was ARMS. They walked away in exasperated anger. I can't blame them. If you missed the Testpunch, or were unsure after playing that, here's your chance to see if ARMS is right for you.
Isaac from Binding of Isaac will be in Nicalis' Blade Strangers
This is a fighting game that's meant to take after the four-button fighting games on the NeoGeo, and it features an eclectic roster of characters. It's developed by Studio Saizensen of Code of Princess and Sayonara Umihara Kawase fame, and features characters from those titles. Nicalis is publishing it, and they're bringing titles from their library, such as Cave Story's Curly and Quote. Now Isaac from The Binding of Isaac will be playable in the game. Also, Gunvolt from Azure Striker Gunvolt, which has no relation to either developer, will be playable as well? To quote the late, great, Vince Lombardi: "What the hell's going on out here?!"
ISAAC Crawls out of the Basement!
He's brought Mom's knife and other surprises from #TheBindingOfIsaac!
Playable in #BladeStrangers on #NintendoSwitch #PS4 #Steam summer 2018! pic.twitter.com/o6dflaSRAu

— Nicalis, Inc. (@nicalis) May 9, 2018
Nicalis announces puzzle-battler Crystal Crisis
Nicalis is all about crossovers, because they're also releasing Crystal Crisis with many of the aforementioned characters from Blade Strangers…and Atom from Astro Boy?! Wait, is there a chance that Treasure's awesome Astro Boy: Omega Factor sees a revival? Nicalis is publishing Ikaruga by Treasure, after all. If you never played it, I highly recommend the game, it would have the same reputation as Gunstar Heroes if it released 10 years earlier. Crystal Crisis basically looks like Puzzle Fighter, and since Capcom's shutting down the mobile Puzzle Fighter, this will more than do! Also, Nicalis is including crossovers with characters from games that haven't even been announced yet. Wow.
Dead Cells will get a physical version
Motion Twin's upcoming Metroidvania roguelike Dead Cells should be on your radar, because it's really cool; I've enjoyed the Steam Early Access version. Of course, the experience will likely be best on the Switch, because all games are best on the Switch. Motion Twin is partnering with Merge Games to release a physical version of the game on the Switch, and there is a rough release date of August for the game!
We're super-excited to be working with @MotionTwin to bring #DeadCells to #PS4 and #NintendoSwitch
We'll be releasing physical versions of the game alongside the digital releases in August!#Indiedev #Switch pic.twitter.com/Pasa893LFE

— Merge Games (@MergeGamesLtd) May 9, 2018
New Releases
Immortal Redneck ($19.99)
This roguelike shooter involves a redneck tourist who wakes up mummified in a pyramid, and now he has to blast his way out. He's going to make Indiana Jones look like the archaeologist of the year. Despite the silly name, this game boasts a whole skill tree with nine different classes, not to mention 50 ridiculous weapons. If you like Doom, or want Strafe on the Switch, this might be the game for you. The Steam version has very positive feedback! Also, this all takes place in the Temples of Giza, which reminds me of the new Sleep album, and the amazing song title, "Giza Butler," a reference to Black Sabbath bassist Geezer Butler.
Super Chariot ($19.99)
Some people, after they die, cast a shadow that continues to affect the living. In the case of this king, apparently he's so picky about where he wants to be buried that he's forcing you and a friend to carry his chariot to different resting places to find the one that's just right. Developed by Frima, this one has been on virtually every console so far (even the Apple TV and Wii U!) and this version includes the base game and the Royal Gadget Pack DLC. IF you want a co-op platformer on Switch, this is a great way to go, and there is a free demo to check out.
Garage ($14.99)
tinyBuild's brutal top-down shooter is out today, exclusively on the Switch. Inspired by 1980s B-movies, you have to deal with zombies, undead monsters, and evil humans that get in the way of your copious amounts of firepower. The top-down action looks like Hotline Miami, which would be interesting to see on the Switch at some point, now that GameMaker runs on the Switch. And hey, Nintendo clearly has far more relaxed standards for games than they once did!
Arcade Archives TERRA CRESTA ($7.99)
HAMSTER restores another game from the depths of retro arcade culture. Developed by Nichibutsu, this lets you pick up powerups to form formations of ships to wipe out your enemies. Like many of these games, you might want to pick this up if you're into the original game, or if you just like the 1980s style of shoot 'em ups and want to dig into as many as possible.
ACA NEOGEO SUPER SIDEKICKS 2 ($7.99)
NeoGeo soccer action! If you picked up Super Sidekicks last year, this offers more teams and improved gameplay. There are two more games in the series, so don't be surprised if sometime next year we're talking about Super Sidekicks 3 or The Ultimate 11.
Also, have you seen the that NeoGeo Mini that's coming out? I love the concept: put 40 games on one device that you can either play as a portable mini-arcade, or on your TV with a couple of NeoGeo controllers included. That's just cool. I'm sure HAMSTER will still have a market given the low degree of effort that surely goes into releasing these emulator-wrapped games. But hey, considering that Nintendo lets them release their arcade titles, with the Virtual Console dead and buried, even if HAMSTER runs out of games or reasons to release NeoGeo games, there's still plenty of business awaiting them, I'm sure.
The Fall ($6.99)
You have a high-tech combat suit, so it's time to…solve some puzzles. And blast some enemies. Over The Moon's side-scroller delivers on both, and has gotten positive reviews from the Steam community since its launch in 2014, with the sequel also on sale on the eShop right now. The original is on sale for $6.99 at launch, and that sale is happening on Steam as well as Switch, so you can choose your platform based on what works for you.
Three Fourths Home: Extended Edition ($8.99)
This former IGF finalist brings an interactive fiction experience to the Switch. You play as Kelly, driving through a storm in Nebraska as she moves back to Nebraska, and learn more about the relationship between the protagonist and her family, primarily through dialogue choices. This version of the game includes an epilogue to the main game's story.
ONE PIECE Pirate Warriors 3 Deluxe Edition ($39.99)
Namco releases this Omega Force-developed action game based on the popular anime series. If you don't know Omega Force, you know of their games, including the Dynasty Warriors series, which have you fighting massive, massive hordes of enemies. Here, you play as the One Piece crew, facing off against endless hordes of piratical foes. The release timing is certainly coincidental with Hyrule Warriors releasing on Switch this month, but if you love the whole musou concept, this is the game for you.
Suicide Guy ($7.99)
You know, if you have to put in your description that "Despite the title, the game is NOT at all about suicide or depression," maybe you should find a different game name? Considering my experience with friends and family and suicide, this title makes me just a bit uneasy, perhaps because it's being callously used in a game that has nothing to do with the topic. Surprised Nintendo allowed this one with this title to get through.
Anyway, if you can get past the title, I'm seriously not judging, that's your personal taste, don't let my editorializing get in your way. It's a first-person puzzle game, where lots of weird stuff happens in the dreams of the protagonist, and you have to use objects and physics effects to get through 25 levels. The name kicks in where each solution winds up with you dying, to kick you into the next dream. Apparently, if you die in your dreams, you wake up, which is how it works. Inception was wrong!
Kitten Squad (Free)
This PETA-sponsored action game is free to download. You and a few friends control a squad of kittens, out to free orcas from a Sea World analogue, and sheep from the evil Sheep Puncher robot. I mean, the whole thing is propaganda for PETA, but it's fun propaganda! And it's a free four-player co-op game! I just got done eating a hamburger for lunch, so it's rather ironic to download this, but eh, oh well!
Keep an eye out every weekday for more SwitchArcade Roundups! We want to hear your feedback on Nintendo Switch coverage on TouchArcade. Comment below or tweet us with your thoughts!