Welcome to the latest SwitchArcade Roundup, where we discuss the latest Nintendo Switch news, sales, and releases! A few new titles dropped today, and there's a bunch of sales still to discuss. As far as news goes, if you missed the Nintendo Switch "Nindies" video presentation, you missed out on a first look at some fun-looking games coming to the Switch this year, including both ports and original titles. Here's the entire presentation:
And the full list of games with links to new individual trailers:
Mark of the Ninja: Remastered by Klei Entertainment
Fantasy Strike by Sirlin Games
Just Shapes and Beats by Berzerk Studio
Garage published by tinyBuild
Reigns: Kings and Queens by Nerial and Devolver Digital
The Banner Saga trilogy by Stoic and Versus Evil
New Releases
Swim Out
Lozange Lab's swimming puzzler is out now on the Switch. You have to move from tile to tile, swimming through a pool, while avoiding all the red swimmers. You move, and then they move, and you have to not crash into any of the swimmers at all. The puzzles quickly get tricky, because these pools are full of monochromatic swimmers, some of whom swim at their own paces. Oh, and some of the pools shoot jets of air that freeze you for a turn. Good luck with that! Some of the puzzles have multiple objectives, and you can throw a beach ball that you find at swimmers. Good times are sure to be had.
I prefer playing Swim Out with touch controls instead of physical controls, because of the short delay between pressing a direction to move, and when the player character actually moves. I think this is due to the time that the finger spends on the screen making the swipe gesture: it feels more natural to have the character move shortly after that. The relaxed pace means that going fast feels anathema to the experience, so perhaps this is a nice way to force players to slow down. But hey, if you want to play with touch controls, you can do just that!
If you enjoy logic puzzles like these, you'll have a good time with Swim Out. Give it a shot if you haven't played it on mobile yet. It's got 100 levels with multiple objectives to complete, so there's plenty of length and replay value if you're looking for something with depth here. Get it, because swimming pools?
Attack on Titan 2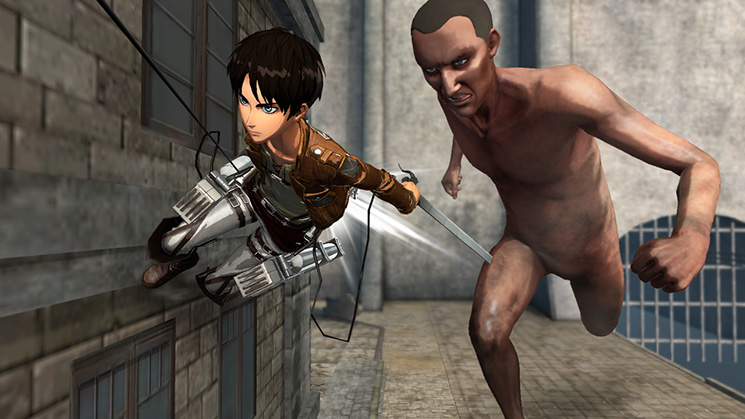 Shantae and the Pirate's Curse
WayForward's third entry in the Shantae series – a weird sentence considering the first game was a Game Boy Color game released a year after the Game Boy Advance came out – has Shantae working with noted nemesis Risky Boots to save Sequin Land in another Metroidvania-style platforming adventure. Perhaps they can have the "We're not so different, you and I" talk: they both rock the bare midriff, after all. WayForward generally makes solid games (that Adventure Time dungeon crawler they did was a rare miss) and Shantae is still a ton of fun. If you picked up Half-Genie Hero and want to see what an earlier title from the franchise is all about, this is your chance.
Sales
Uurnog Uurnlimited ($10.49 from $14.99 until March 25th)
Raw Fury and Nifflas picked up an IGF nomination for Excellence in Audio, and the game is on sale for the next few days to commemorate the occasion. This puzzle platformer has you solving puzzles and collecting animals, with shared-screen co-op functionality. The game features algorithmic music, which adapts different aspects of the soundtrack to what's happening in the game. Wear headphones (or bust out the good speakers) and enjoy this unique soundscape. Possibly an award-winning one!
Poly Bridge ($10.49 from $14.99 until March 29th)
Build a bridge and get over it. Wacky bridge-building games are all the rage now, it seems. Here, you can play in 105 levels, building wacky bridges to help get different vehicles across. Use drawbridges, loop-de-loops, anything that will get the vehicles across to the other side in one piece. The passengers…not so much. They'll be fine.
Nine Parchments ($13.99 from $19.99 until March 29th)
The Trine developers must love games where you work with other characters, because their action-RPG Nine Parchments is all about co-op play. You can play in four-player co-op (with online play) with a bunch of elemental wizards, who skip training to just go searching for the eponymous parchments. This one has a demo to check out, but if you need some hack 'n slash action with friends, this seems like a solid choice.
Spelunker Party ($14.99 from $29.99 until March 22nd)
The 1983 game of platforming and exploring the strange underground gets a modern coat of paint. Expect some clunky controls here in the style of the 1980's, but if you're down with that, then you'll have a good time. There's also online co-op play if you need to explore the unknown with some help. Check out the demo to see if this one's a good fit for you, but make your decision quickly as the sale ends soon.
Dead Synchronicity: Tomorrow Comes Today ($11.99 from $14.99 until March 20th)
This point-and-click adventure game has you playing as Michael, as you investigate two strange events: the Great Wave of natural disasters, and a strange pandemic that turned humans into the Dissolved: they've got special powers but also eventually dissolve into blood. Seems like a poor tradeoff. Oh, and you've got dangerous time travel elements, weird events, and tricky puzzles to solve as you try to solve the mystery. Sounds intriguing…but I don't want to turn into a puddle of blood.
Letter Quest Remastered ($9.59 from $11.99 until March 29th)
What once started as a word-based RPG for mobile eventually saw a release for platforms including the Wii U, and in the proud tradition of all noteworthy Wii U titles, it sees a revival on the Switch. Fend off monsters by spelling words to do attacks and cast spells, but watch out as enemies can attack your tiles and your character. Different skills can modify the tiles you use to your advantage, though. It's an interesting take on the word game genre, and I'm glad to see it get a second life outside of mobile.
Keep an eye out every weekday for more SwitchArcade Roundups! We want to hear your feedback on Nintendo Switch coverage on TouchArcade. Comment below or tweet us with your thoughts!