NetEase has announced beta testing for their game FortCraft, which looks like a shameless Fortnite ripoff, also shamelessly announced on the day that Fortnite for mobile opens beta testing. Seriously, there's no way to beat around the bush on this one. NetEase already made several PUBG-inspired games (Rules of Survival (Free) being the most popular of the three or four), but it sure seems like as Fortnite started to take over the world, they began work on a cartoon-y battle royale game with building elements. And well, if Epic announces Fortnite for mobile, you better get that beta announcement out ASAP, huh? Seriously, just look at this: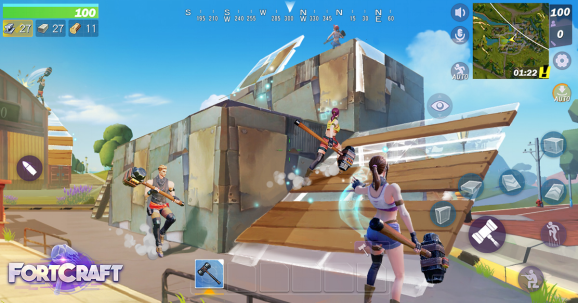 That, combined with opening up testing hours before Fortnite starts its testing, is hilariously blatant. Having played FortCraft, let me assure you: it's basically Fortnite. They implemented the building controls well enough, and I like the one-tap fort building button, but seriously, it's obvious just where FortCraft's inspiration lies. And when there's going to be real Fortnite to play, why play FortCraft instead?
lollllllll nevermind the games are so fucking similar I was confused by people talking about the ripoff FortCraft not Fortnite. https://t.co/P4DxlaJQlT

— Eli Hodapp 🌊⛵️🏴‍☠️ (@hodapp) March 12, 2018
Now, granted, Fortnite itself isn't the most original game since it lifts the battle royale concept from PLAYERUNKNOWN's Battlegrounds, but at least it has a totally different visual look, and the building feature adds a differentiating dynamic. Even PUBG takes inspiration from the movie Battle Royale. Good artists copy, great artists steal. FortCraft looks a lot more like it's the former than the latter, but perhaps testing will show that it's doing some interesting things itself. But come on, man.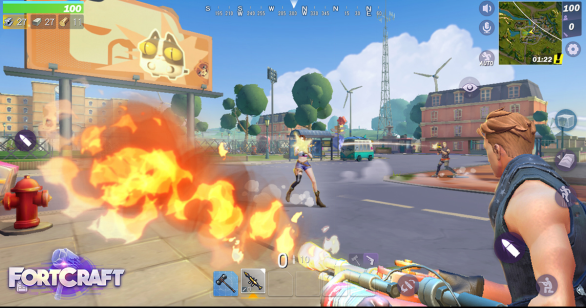 The good news is that if you're an Android user, or have an old-ass iPhone, testing is open to you. You can sign up for a Testflight invite here, and sign up to the Google Play beta testing link at this spot. And NetEase makes a point of saying "the game will run on many older smartphones to be as inclusive as possible." Some players were angry that Fortnite supports only the iPhone 6S and later. Which I understand, it's frustrating if a hot new game doesn't work on your phone, but I certainly wouldn't call Epic Games lazy the way that I've seen some folks on Twitter do, because they got a freaking modern console/PC game running on a two and a half year old phone. And heck, even FortCraft isn't lazy, because even while NetEase clearly has the technology to crank out battle royale games, getting a title like this to run on mobile is impressive! It's just the most shameless ripoff in the history of mobile gaming.