Hello everyone, and welcome to the week! It's time once again for our look back at the noteworthy updates of the last seven days. Something tells me that developers were caught slightly off-guard by the iPhone X's penchant for breaking apps. That 'something' is the positive deluge of updates for random apps that do nothing more than add iPhone X compatibility. Besides those, however, there were also some noteworthy content updates. Of course, you can keep an eye out for updates yourself using AppShopper or by participating in the TouchArcade forums. This weekly summary is just here to fill you in on the things you might have missed. Let's dig in!
Dungeons of Chaos REVAMPED ED., $5.99 We're never very far from the next Dungeons of Chaos update, it seems. If you can believe it, there were three updates to this app this week. The first activated the new Symbiant birth feat, along with a few adjustments to other things. Next, a couple more birth feats were added, including Soul Harvester and Foul One. Finally, the last update made the two easier difficulty settings a little, well, easier. It also adds a guide for tackling six of the toughest boss monsters in the game. It's hard to imagine a busier beaver than this game's developer, if you ask me. Which you didn't, but I'm writing the feature, so nyeah.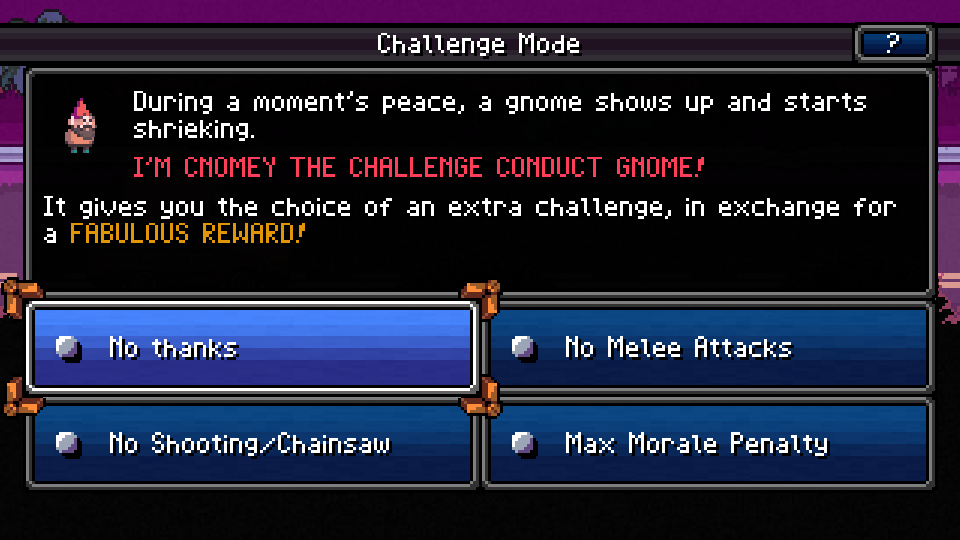 Death Road to Canada, $14.99 Let's take a quick eyeball at the latest update for Death Road to Canada. Because it's called 'EYEBALL', you see? A little levity for your Monday morning, in true TouchArcade fashion. The game has 12 new text events, including one involving a futuristic toilet. There are lots of other tweaks and adjustments, including upgrades that make rare events happen more often, some new ways to get Zombo Points, and making hay bales flammable as they ought to be in any proper world. I liked this game a lot when it came out and it has only gotten better since. One coveted UMMSotW award for proper toilet appreciation!
Demon's Rise 2: Lords of Chaos, $7.99 Both of the excellent Demon's Rise games got updates this week, with most of the new stuff shared between them. Both games now allow you to change your party members freely, and you can now select which quick battle you'd like to embark on rather than just being dealt a random one. Characters can now be rotated in the character select screen, so that you can better check out the walking cannon's butt before you choose it. The games also have improved animations and various other graphical improvements. The one new thing Demon's Rise 2 got that the first game didn't is a new character. The Succubus uses a mix of swordplay and demonic powers to provide a potent boost to any team. Be careful with that new character rotation, eh? It may just cost you your soul.
Iron Marines: RTS offline game, $2.99 Iron Marines looks like it'll be following a similar update schedule to its elder Kingdom Rush brethren. That means this update brings some new missions for everyone to enjoy, and some new premium heroes for those who want to pay a little extra to enjoy. This update also includes iPhone X support because it seems that bad boy wreaked havoc on just about every game, and some bug fixes because you can never have too many of those.
Bubble Witch 2 Saga, Free Every once in a while, I like to include a King game in these update articles. Why? To remind you they exist, probably. Which they do. 20 more levels. Always 20 more levels. New gimmicks? Who knows? New themes? Maybe! Not many people are actually going to see these levels at this point, to be honest. But they exist. They're as real as TouchArcade Towers. Er, as real as it was before Dave the Puppy blasted it into space during one of his regular revenge schemes, anyway.
Subway Surfers, Free The Subway Surfers are heading to a new location, and it may the most treacherous and deadly yet. Yes, they're heading to Washington DC to surf through grand avenues and museums. Get a classic pilot outfit for Lauren and ride the subway using the new unlockable Eagle Board. You'll need to collect plane models from the tracks to earn these rewards and more. And you know what, I'm going to pass on the usual location-specific jokes because I've seen what those can do to comment sections when it comes to this particular topic.
World of Tanks Blitz - 3D War, Free Frankly, the update notes for World of Tanks Blitz seem to get more vague and uninformative each time. I know, I could probably seek this stuff out more assertively, but aren't Mondays already bad enough? Let's ask Garfield. Actually, let's skip on that. Anyway, there are apparently some new British tanks including the Sherman Firefly, some special bonuses and discounts related to Black Friday, and the requisite balance adjustments, bug fixes, and tweaks. Beyond that, you're on your own, I'm afraid.
Vainglory, Free Luckily, Vainglory doesn't skimp on its notes. The highlight this time around is a new character named Lorelai who can use single-target cleanses and shields. You can also now show your support for your favorite pro teams by buying support badges. You'll get their logo on your loading screen, and the proceeds will be split between the team and prize pools for Vainglory tournaments. There are a few new skins, and a bunch of balance adjustments, enhancements, and bug fixes. This all seems very ESPORTS. Sadly, I don't know a lot about ESPORTS. But I think if I type the word ESPORTS a lot, this article will get more hits, which will help me stay fed. ESPORTS.
Subdivision Infinity, $4.99 This is a really fun shooter with some slick visuals, and I'm glad to see it still getting updates. So what's in the box? A new mining mode, for one thing. With the new mining beam laser you just need to point at an asteroid and fire. Sure, it's only a few fewer presses than usual, but every little bit counts. The biggest news, I think, is the new ability to control your velocity. Just drag your finger up and down the screen to go slower or faster as necessary. This update also includes some bug fixes and performance improvements. Because it has to. It has to, by gum.
That about wraps it up for last week's significant updates. I'm sure I've missed some, though, so please feel free to comment below and let everyone know if you think something should be mentioned. As usual, major updates will likely get their own news stories throughout this week, and I'll be back next Monday to summarize and fill in the blanks. Have a great week!