With the physical instruments scene long past peak popularity, the folks over at Harmonix, in conjunction with Hasbro, have moved on to something that's quite a bit different from the Boston developer's previous games. DropMix (Free) is a physical board game that's a delightful mix of approachable card-based gameplay combined with amazing music the Harmonix pedigree. Sure, the gameplay is a little basic, and like music games some of your enjoyment is based on your love of the music included, but damn if it isn't simply fun to play with other people.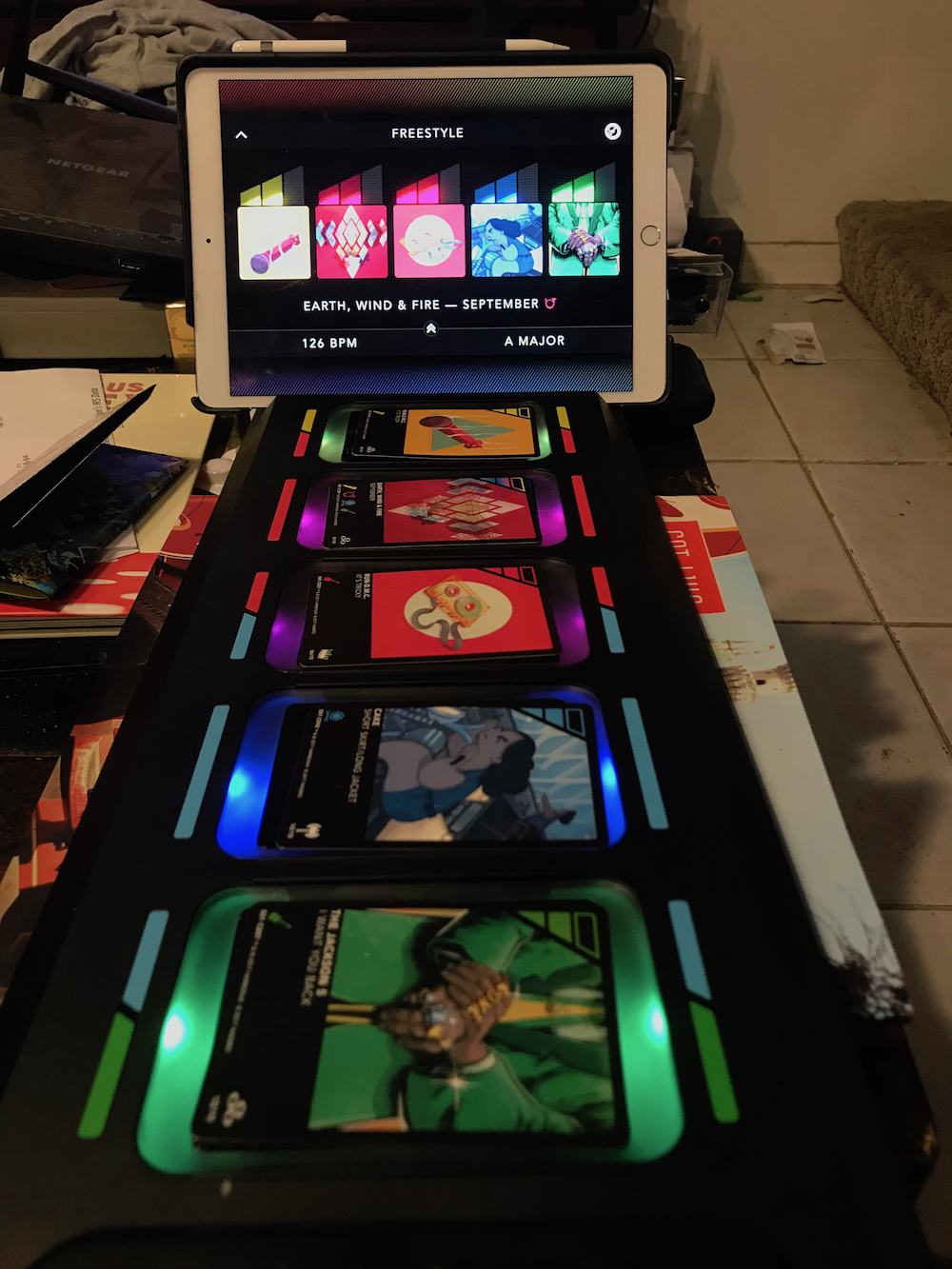 Before we get into gameplay specifics, let's talk about the DropMix cards themselves, which are the star of the show. Each corresponds to a specific song and a specific track from that song. For example, yellow cards are vocal tracks, red cards are instrumentals, blue cards are drums, and green cards are rhythm tracks (such as bass guitar). Special universal cards have all the tracks for the song and will play whatever tracks are allowed on that particular slot. Each card also has a strength meter attached to it, which both indicates how loud that track will play compared to the rest of the mix and also acts as a barrier when actually playing a competitive game (you can't drop a lower level card on top of a higher level card). The DropMix Board itself has five slots that correspond to one or two of each of the above colors. Regardless of the game mode selected, the goal is to always match cards to the corresponding color on the board.
The magic really happens once you start putting the cards down on the DropMix board, which is connected via Bluetooth to your mobile device (which acts as the brains for the board itself). Each card has technology within it that allows the board to read the track and tell your mobile device to start playing it. What makes DropMix amazing is how well the game adjusts to any track you put down and seamlessly merges it with whatever else is playing. Want to play the vocals to Cake's Short Skirt with the bass guitar of Jackson Five's I Want You Back? How about Skrillex with Bruno Mars and Weezer? DropMix will gladly oblige, adjusting the BPM and key of the mix to make it sound as good as it can. You can even instantly save the complete track that you make for future playing.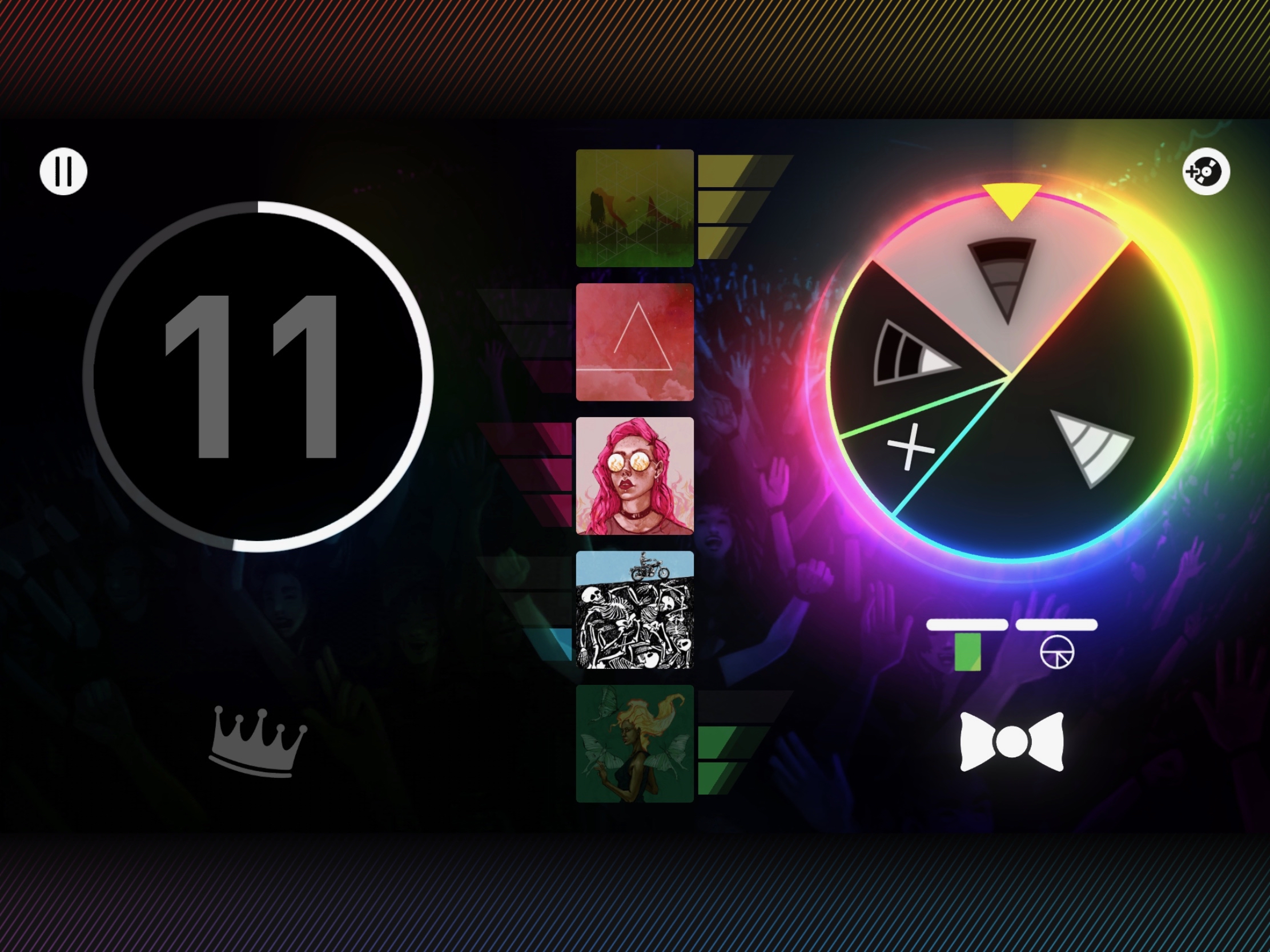 DropMix can potentially combine the tracks of eight different songs (assuming you're using universal cards on the right tracks) at any one time, and the amazing thing about it is that it usually just works. Playing in Freestyle Mode really makes you feel like a cool DJ dropping tracks down onto a master mix. The cool flourishes whenever you play a rainbow card also do a great job of just creating that feeling of fun. Combine the music mixing with the fun light show that moves to the rhythm of your track on the board itself, and it's pretty easy to see why DropMix would be so appealing.
I've had plenty of fun simply playing various tracks and creating a cool mix, but the game's competitive mode is also pretty entertaining. From a gameplay standpoint, DropMix's Clash Mode offers an experience that does a good job of balancing basic, approachable gameplay with the possibility of decent strategy. Two teams (2 v 2 or 1 v 1) challenge each other with a goal of reaching 21 points first. Points are provided by playing cards, satisfying supplemental goals (such as playing a specific type of card), dominating the board and playing special move cards. The rules are simple to learn, but the underlying strategy makes for some pretty smooth multi-point moves. An always available move is to slam down on the DropMix button, which starts a wheel of card strengths. Whatever strength the wheel lands on, your opponent has to remove their corresponding cards (as well as points). It's typically a desperation move but can lead to some interesting results towards the end of the game.
Clash Mode isn't going to win any points for deep gameplay, but as I've mentioned before it nails the accessibility element. It shouldn't be too hard for any player to get the basic elements of playing to 21, while the nuances of special moves and objective completion will come in time. The DropMix app also has some great quality of life features, such as keeping track of turns and the amount of cards each player should have at any time.
As mentioned earlier, there are two other modes besides Clash Mode, but those are primarily focused on enjoying the mixing capability of the game. Party Mode has all players team up to satisfy specific card requests from the App while Freestyle Mode lets you mix any cards together at any time to come up with the perfect song mix to save. Regardless of the move you choose, DropMix keeps the music as the star of the show (as it should).
While I highly recommend DropMix as an awesome game to experience, it comes with some caveats. First, this is a party game first and foremost so if you don't have at least one other person to play with, there will be a lot of enjoyment left on the table. Second, the amount of tracks the base game comes with is a bit low, and currently expansion packs are really hard to come by. There's also the fact that with a large amount of genres represented, there's a fairly good chance you'll have a lot of cards with tracks that you just don't know or care for. On this last point, however, I implore you to give the game a chance: that track you play from a song you may not care for might work really well with whatever other Frankenstein mix you're making.
Folks interested in checking out DropMix can certainly view the bevy of videos at the game's website. Otherwise, the game can be found at most electronic big box stores (as well as Amazon). At a $100 for the base game, it certainly isn't a cheap experience. However, for those with friends willing to give it a chance, you won't be disappointed.