Goat Simulator ($6.99) is without a doubt my favorite game to write about on TouchArcade, as I can just immerse myself in the series' quirky, eccentric and entirely irreverent humor and manage to get away with it. There are somehow five Goat Simulator games on the App Store thus far, and all of them are hilarious, wacky and bug-filled romps that are worth playing and all relatively unique experiences to boot. Recently, every Goat Simulator title has been updated with iPhone 8 support, and to celebrate such a momentous occasion each title has been reduced to $0.99 for a limited time. For goat completionists amongst us, here is a full list of the simulation series that is featured in this dollar promotion:
This mass dollar sale for the Goat Simulator titles marks the very first reduction for the most recent PAYDAY entry, as well as the lowest price of the other three spin-off games. I'd recommending taking a look at my previous articles on the various Goat Simulator sales and releases for more information – the fact that 'rob a bank as a wheelchair-bound dolphin' featured in the title of the PAYDAY game launch perfectly encapsulates what to expect from the series. While my heart lays firmly with the original game, I greatly enjoyed the sci-fi themed Waste of Space iteration, and through the numerous varied satirical takes on common genres there is something for everyone amongst Coffee Stain Games's catalogue of crazy animal simulators. You can even turn into a giraffe, which is a favorite feature of the loyal and committed comrades on our TouchArcade Discord server.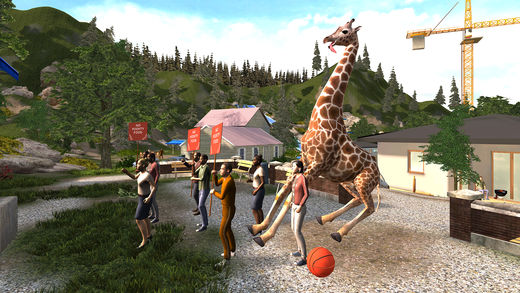 With no indication of how long this Goat Simulator series sale will last, take a look at any of the five titles for only $0.99 as soon as possible. As long as you don't go into any of the games expecting the next Ocarina of Time, you're almost guaranteed to have a good time. Download the games from the various App Store links above, and let us know your impressions on our Discord server.