Apple announced a new feature to iOS 10 which was Replaykit Live. Which allows you to stream iOS games straight from your iPhone/iPad if the developer integrates Replaykit in their app. While iOS 11 is coming along and there's a nice hidden feature that even Apple themselves didn't show off; that's ReplayKit 2. Replaykit 2 allows for streaming straight from your iPhone/iPad's home screen instead of having to wait for the developer of your favorite game to add Replaykit, Apple has helped you and integrated it straight into the control center; it's as easy as a tap of a button. Though, it can be very confusing for people wanting to stream their favorite games on iOS and knowing what the advantage of Replaykit in a game vs. in the control center and many other things to streaming on your iOS device and other things like choosing a game, your audio/video setup, and much more.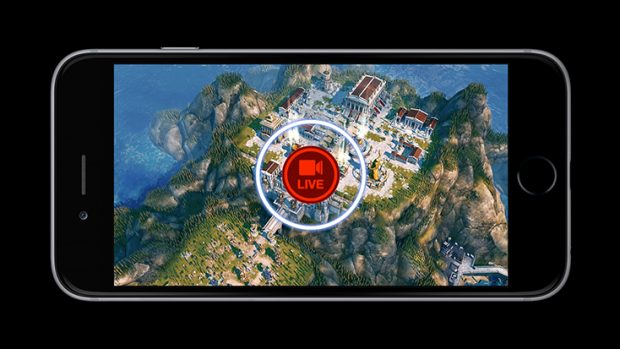 This guide will walk you through everything from choosing a service to your safety of streaming with your iOS device. Have fun streaming!
Supported Devices
Before you even go off and even think about streaming on your device, you'll need to find out whether you can even stream. Not all of Apple's devices are supported by Apple's ReplayKit live. I've made a list below listing all the supported devices.
iPhone 5S or later
iPad Air or later
iPad Mini 2 or later
iPod 6th generation
Choosing a Service 
Now you know your device is supported it's now time to pick a streaming service. Picking a streaming service to will be the most critical part to streaming on iOS. The first thing you should know is that there's a lot of services to pick from, some are dedicated to just mobile streaming and most are dedicated for PC, Console, Mobile, etc. I've made a list of all the current streaming services that in some way support Replaykit and what their pros and cons are.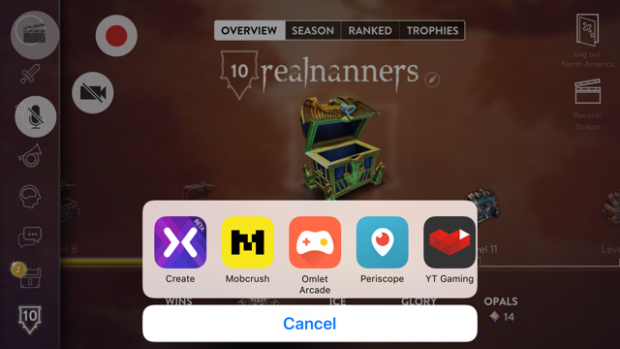 YouTube/ YouTube Gaming:
Pros: + Stream saves to YouTube so your viewers can go back and watch.
+ Custom Title, Private stream, and Monetize stream.
+ Able to share stream straight through ReplayKit.
Cons: – Hard to find mobile streamers on YouTube Gaming.
– Black screen when trying to stream (happens here and there)
Mobcrush:
Pros: + Mobile only platform
+ Chat notifications
+ Share stream straight through ReplayKit
+ Very little stream delay
+ Easy to find mobile streamers
Cons: – Lack of labeling games (this could be due to ReplayKit though)
Periscope:
Pros: + Able to share stream to Twitter
Cons: – Large amount of delay
– Quality is typically poor
– No, way to see chat unless you use another device.
– Hard to find mobile streamers
Mixer:
Pros: + Advanced controls like audio balancing, chat moderation, optimize bitrate, many other controls as well.
+ Easy game labeling
+ Keeps previous streams
+ Easy sharing to other platforms
+ See all your Mixer stats straight from the Mixer Create app
Cons: – Hard to find mobile streamers
Omlet Arcade:
Pros: + Communities for mobile gamers.
+ Easy to find other streamers.
+ Stream to Twitch, Facebook or Omlet Arcade.
+ Saves stream to your Camera Roll.
+ Easy to share stream to other social channels.
Cons: – You can only stream "up to 480p" using replay kit.
Twitch:
While Twitch doesn't officially have support for ReplayKit there is a way you can stream to your Twitch channel. Omlet Arcade is the way you can stream from your iOS device to Twitch. Simply install the Omlet Arcade app and create an account. Once you've done that simply open the game that you would like to stream and find the button in-game that says something like "Start Streaming". Once you've done that you should see "Omlet Arcade" as an option; choose that. Next, tap on the "Twitch" button and log into your Twitch account. Afterwards, title your stream and tap "Start Streaming". Now you're ready to stream to your audience!
What Games Should You Stream?
With iOS 11 you can actually stream any game you want with ReplayKit 2. Though if you stream straight from the control center you'll have less control of the stream. Things like pausing stream, face cam, and lack of other setting controls are a problem if you're wanting to stream any game. Though, if you pick a game that has support for ReplayKit already you can do those things like pausing stream, using face cam, and many other controls if the developer enables it. Mobcrush has a great and up-to-date list of all the supported games/apps that have ReplayKit support.
Audio Setup
Audio is a large part of streaming in general. You can do two things, stream with a mic or stream without a mic and only produce audio coming from your device. I would recommend streaming with a mic because isn't that the whole reason someone streams is to interact? So, if you're not going to stream with a mic I would just disable your microphone and skip to the next section (Video setup). You can do a few things for audio. The first thing you can do is to just use the microphone in your iOS device and call it a day. Though you'll hear your fingers rubbing on the mic, quality won't be as great, and game audio will sound like an echo. The second thing you could do is use a pair of headphones that have a microphone that you can chat with. You'll get much better audio quality (depending on the headset) and you won't hear an echo or your fingers rubbing against the microphone. The third thing you could do buy a lighting microphone and connect either Bluetooth headphones or just wired headphones (depending on the iOS device) and you should be just fine.
Video Setup
Luckily, with iOS streaming, you don't have to do anything with video besides your facetime camera. If you're not using a microphone then you can ignore this part of the video setup. If you are using a microphone and want to use face cam then you'll have to use a supported game that uses ReplayKit and has support for a face cam (most games do). You currently won't be able to use ReplayKit from the control center to begin streaming as it doesn't currently have support for face cam recording. Along with setting up your video, make sure you have "Do not Disturb" as if a notification pops up and you don't want your viewers to see them; they'll see them unless you have this setting turned on. If you're recording in a game using ReplayKit and not by the control center then you can completely discard what I just wrote.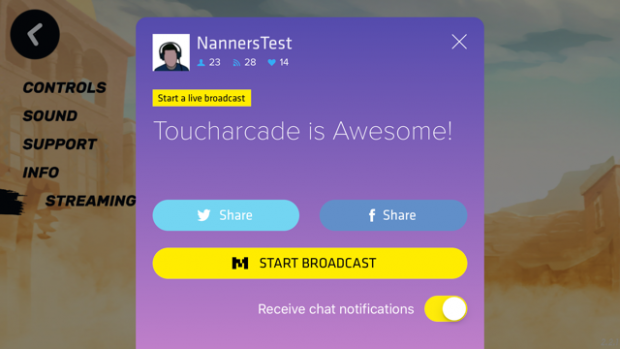 Starting Your Stream
Now you've got your whole setup ready to go and stream but what do you do and how do you get to streaming? Well, if you're streaming in a game typically in the settings it will show a "record" or a "live stream" button or option for you to choose from. If you're wanting to stream any game or app you'll need to add the "Screen Recording" button to your iOS 11 control center by following these steps. Settings > Control Center > Customize Controls > press the + next to "Screen Recording". Now simply swipe up from to receive the control center, next 3D touch/ long press the button that looks like a recording icon and tap on the supported installed streaming app.  Then you're set to go! Press "Start Broadcast" when you're ready!
Tricks & Tips
I've personally been streaming mobile games for a little over two years now and over 4 years of streaming so I know my share of tricks and tips for streaming on your mobile device.
– Buy a stand/ make a stand to place your iOS device on while you're streaming so the camera isn't completely shaky and is a mess. Next, connect an MFI controller and stream without a hassle! If you don't have any of those as an option then I would recommend holding the phone as center to your face as you can. This may take some time to get used to but once you do, you and your viewers will be very happy.
– Have a charger nearby. Streaming and playing games at the same time is a serious battery killer even for your 12.9inch iPad Pro. Keep you and your phone to the nearest outlet and thank me later.
– Find an area with great lighting if your using face cam and find a good place where it's quiet and you'll be able to hear the least amount of background noise.
– Share the stream with your friends and family! While this may not be the first thing you'll think of this really does help. The more people you have come onto your stream, it's very likely you'll get more people to join and faster than you'll know it you'll have a strong community!
– Use a second device. While you can get away from just using one device to stream a second device would make it better to tell how you're stream is and you'll be able to interact and moderate chat much better than just on one device.
– Don't get struck by the copyright police! Don't play copyrighted material unless you've asked. Escaiplay on bigger platforms like YouTube where they really crack down on you if you play copyrighted material during you streams without fair use.
– Have fun! This is for whatever reason seems like it's the hardest thing to do while streaming. Just have fun and don't look at the number of people coming into your stream. Imagine you have a hundred people watching and just enjoy streaming. Don't make it seem like you're just streaming because there was an option to stream.
Safety
To end this guide off I wanna talk a little about safety. This is most likely the last thing you think of before starting your stream; there are some serious things you should know before you start the streaming. Firstly, you should know is that there are "Trolls" out there which love to say the worst things about you, mess with you, and make your stream uncomfortable at times. Another thing I should point out is you're on the internet and streaming isn't like a tweet where you can edit what you want to say and then tweet it; streaming is live and everything you do is caught on stream and anything you do will be saved (in most cases). Lastly, do not click on any links that you aren't sure of, those links could very possibly be dangerous. Just keep these things in mind as streaming that streaming can be very fun but also dangerous if you don't know what you're getting yourself into.