Any TouchArcade readers who have been following the website since 2013 will not only be awesome people, but will also likely remember an incredibly, err, eccentric game by the name of Alpaca Evolution (Free) from Japanese developer COCOSOLA. Even with some of the bizarre experiments released on a weekly basis on the App Store, the cannibalism/mutation simulator of Alpaca Evolution really stood out at the time for its inexplicable premise, and was well received in our TA Plays feature around its launch. While we have heard little from the developer since its breakout release, their latest title dropped onto the App Store out of nowhere this weekend, and it's certainly a major shift in direction from COCOSOLA's previous releases. The Witch's Isle (Free) is an incredibly intriguing point-and-click adventure game with some beautiful pixel art, and the Sword and Sworcery ($3.99) vibes I get from the screenshots can only be a good thing.
Considering their last major release featured cartoon graphics and alpaca cannibalism, The Witch's Isle is a significant step up in scope, scale and complexity. An ordinary villager in a town is visited by a witch, who condemns them to death unless they can find the witch's stolen url by 4am. In an attempt to escape this curse, you must explore an island and learn about its inhabitants while a timer in the top-left corner ticks away ever closer to your 4am deadline. The premise of The Witch's Isle, combined with the ominously bleak yet stunningly intricate pixel art, emphasise the lurking presence of death in the game, and the aforementioned Sword and Sworcery influences are perfectly complimented with Ghost Trick or The Legend of Zelda: Majora's Mask elements. The ability to make the camera follow other islanders is a particularly neat one, and means this point-and-click game isn't solely limited to interaction with a static environment, but also requires observation and patience amidst a ticking time-bomb of the curse.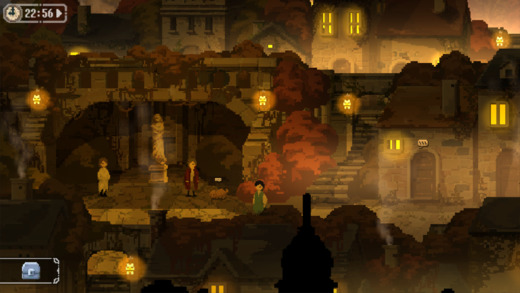 The Witch's Isle, as far as I am aware, came out of nowhere to launch on the App Store this weekend, and it's hard not to be a little sceptical whether the developer can make such a major step up into the point-and-click genre, with all its meticulous and complex storytelling. However, early signs are promising, and the prospect of seven different endings suggests it may have the longevity that many similar games lack. As a free-to-download game with an option to donate a certain amount to the developer, The Witch's Isle is definitely worth a try, at the very least. If you decide to give the game a download, or want to know more about what to expect in The Witch's Isle, take a look at our forum thread for more information on this haunting adventure title.