The idea behind the TouchArcade Game of the Week is that every Friday afternoon we post the one game that came out this week that we think is worth giving a special nod to. Now, before anyone goes over-thinking this, it doesn't necessarily mean our Game of the Week pick is the highest scoring game in a review, the game with the best graphics, or really any other quantifiable "best" thing. Instead, it's more just us picking out the single game out of the week's releases that we think is the most noteworthy, surprising, interesting, or really any other hard to describe quality that makes it worth having if you were just going to pick up one.
These picks might be controversial, and that's OK. If you disagree with what we've chosen, let's try to use the comments of these articles to have conversations about what game is your game of the week and why.
Without further ado…
Death Road to Canada
When I first heard of Death Road to Canada ($14.99) back in 2013, the idea itself just sounded great. Madgarden and Rocketcat, two of my favorite developers who previously collaborated on the amazing Punch Quest (Free), together again? A warped take on the Oregon Trail formula where you're trying to outrun the zombie apocalypse from Florida to Canada while simultaneously lampooning the zombie video game trope at every turn? PUGS WITH MACHINE GUNS?? I was sold right off the bat, and although it took a lot longer than I hoped it would, Death Road to Canada has finally arrived on its original intended platform of mobile, and honestly not only has it lived up to the 4 years of hype I built up in my mind but has easily surpassed it in every way.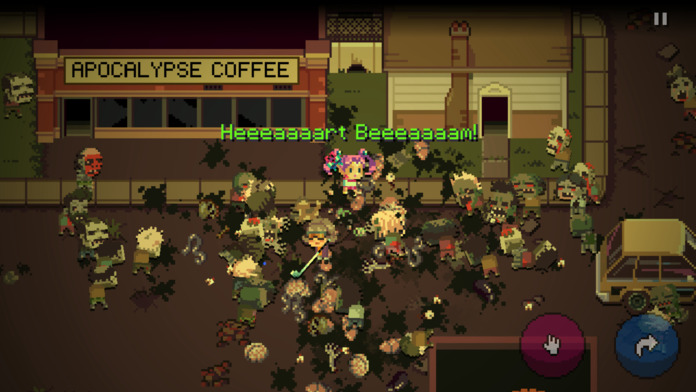 Like many of my most favorite games, I find it hard to put into words just what it is about Death Road to Canada that's so special. Luckily, someone has already done it for me. Our forum member Dankrio, who has been playing Death Road nonstop and providing some amazing recounts of his adventures, has left us with this nugget of wisdom in our forums concerning the game: "…if one changes the 'win mentality' to 'fun mentality', it's going to be an hell of a ride, even when you die."
Yes, the old cliche of "It's about the journey and not the destination" is perfectly fitting in Death Road to Canada. Yes, there's an ultimate goal of making it to Canada, obviously, but the most memorable parts are the adventures you have along the way. Much like the original Rogue and the countless games it's inspired, swapping stories of particularly brutal deaths or getting the shaft from the RNG gods is what Death Road is all about. Sure, you can "beat" the game, and there will even be occasions where you'll beat it when pretty much all the odds are against you, and that will be an epic moment in your gaming career. But by and large I feel like you'll get the most enjoyment out of Death Road to Canada by enjoying the ride and all the wacky secrets waiting to be discovered.
The fact that the developers have stuffed so many little details into the game and don't hold your hand too much or spend much time explaining the ins and outs means there's something new to discover just about every time you play. So hey, Canada is great and all, but maybe there's something more to be said about dying in spectacular fashion on your way there. And you will die, and die again and again and again. Revel in it. This is one of the most enjoyable, replayable, and content-rich roguelikes around, and in my eyes Death Road to Canada was well worth the 4-year wait and is an easy choice for Game of the Week and will no doubt be in the discussion when it's time for picking our Game of the Year.